If you follow me on Instagram, you may have seen that I mentioned my computer finally bit the dust last week. I've had it for seven years (I know, I know…that's too long.) so it had a pretty good run, I suppose. It had actually been running horribly for about a year. It was painfully slow. I mean pain.ful.ly. you guys. It was terrible.
I made a trip to the Apple store last night and two hours later, I emerged with a fully wiped clean laptop. It's working much better now – still not perfect, but better. I'm going to try living with it until it just truly won't work anymore, and then I guess I'll bite the bullet and buy a new one.
Anyway, a few weeks ago I shared with you the "before" of our basement makeover [here]. Brandon is turning it into his man cave, and I'm quite positive this is his favorite project yet.
In my last update, we had just about finished drywall and were getting ready to start on the ceiling. Plans changed and we decided to put in the flooring before the ceiling. So, drywall has all been painted, flooring is finished, and we have been working on trimming out windows and the little mini-fridge. Trim and the ceiling will be next, but I wanted to share a quick update so you can see where we're at so far! I'm getting quite excited by how well it's all coming along. I can't wait to finish this project because I have been dying to replace the siding for so long and that will be next! M&M Home Exteriors was our first choice for siding replacement so we hope they will be free when we are ready!
You can see that this little window is a little strange – it's actually under our porch so it doesn't let any light in at all. There's not really a way to fix that short of ripping off our porch and that would be crazy, so I guess we'll have to deal with it!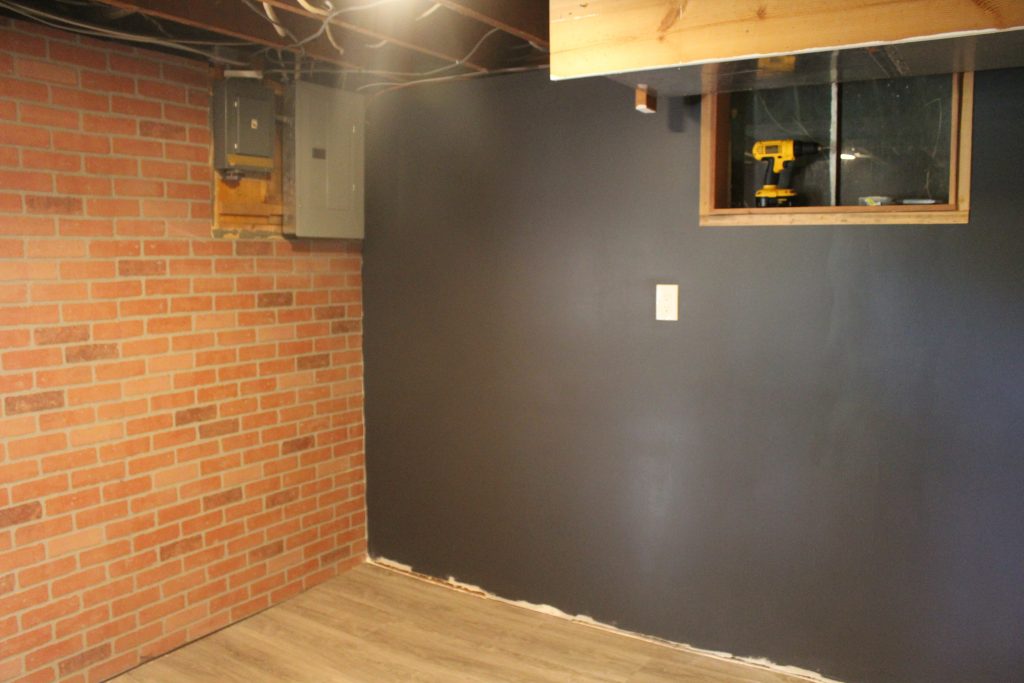 The electrical panel will be covered somehow – I think Brandon will build a little box or something to go over it. We'll think of something.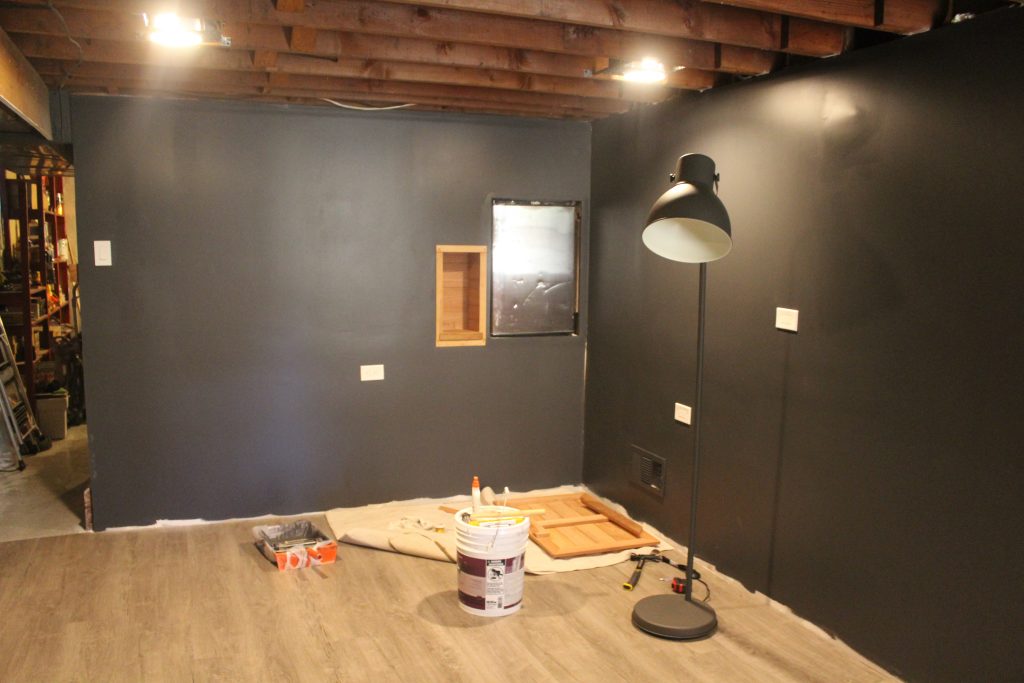 I'm obsessed with the color! It's "Mark Twain Gray Brick" by Valspar. It's the perfect mix of gray, black, and blue. We wanted the room to feel cozy, and Brandon obviously wanted it to feel manly (since it will be his "man cave") so we opted to go with a dark color instead of a white or greige that we have done in the rest of the house.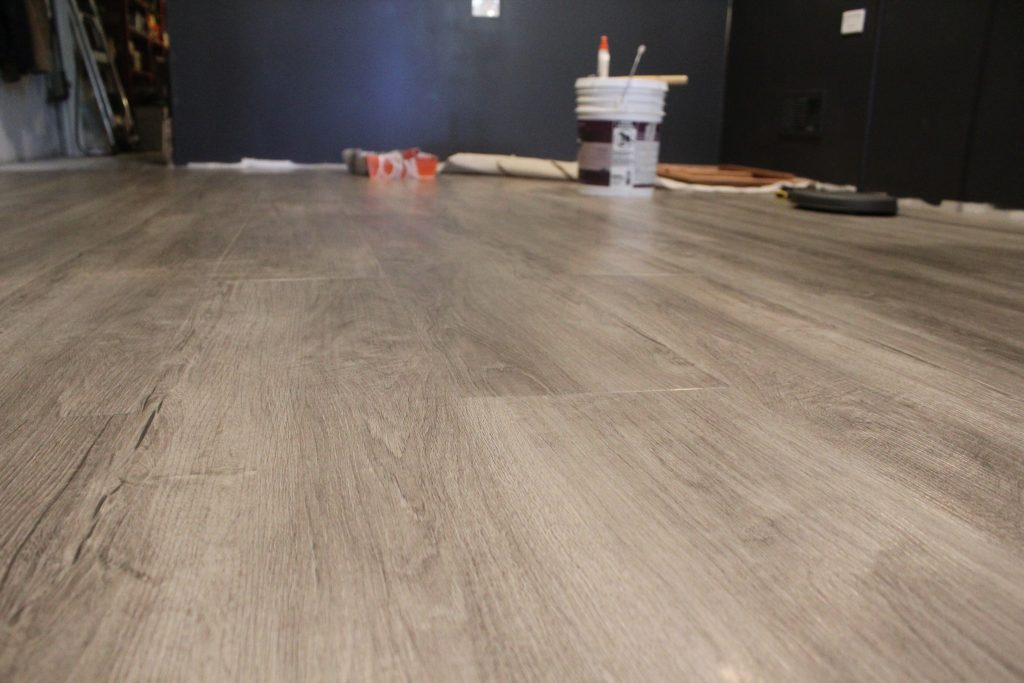 There's a closeup of the flooring. IT IS SO PRETTY! It's a "luxury vinyl" so it will be really durable and easy to clean. I love the gray, weathered wood look it has.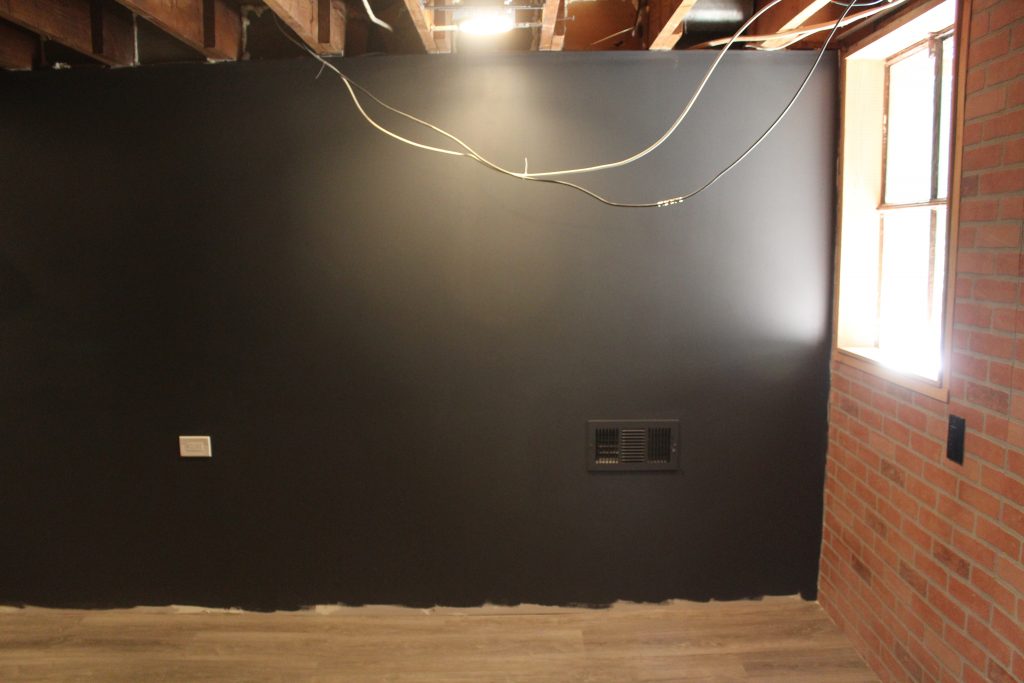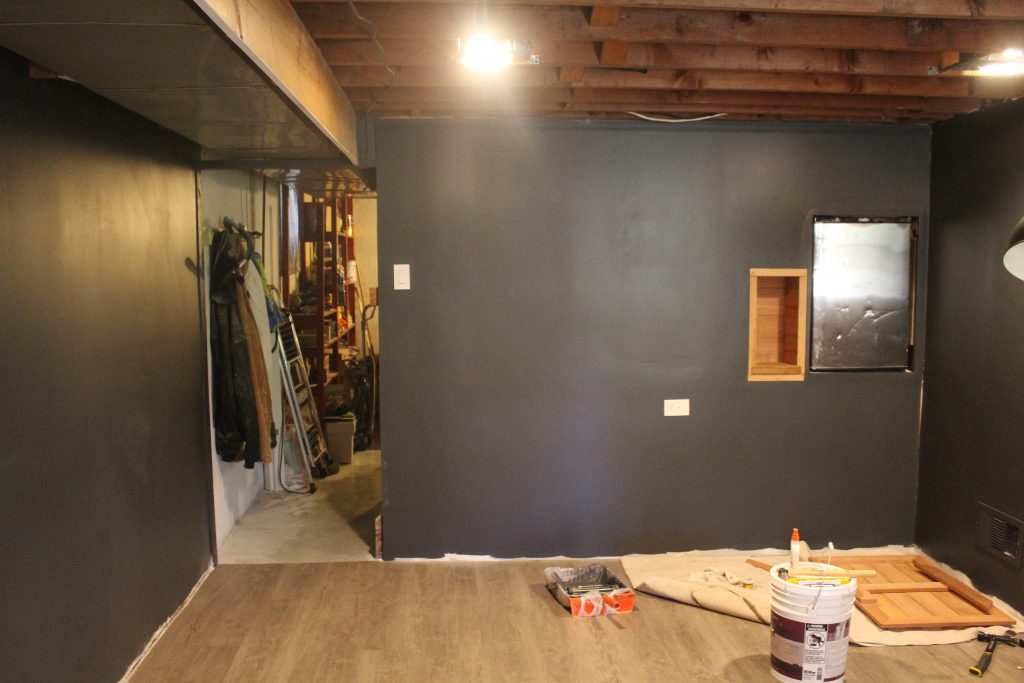 The refrigerator door is pretty sad looking. This was actually my mini fridge in college, but it still works great, so we're building a really cute little barn door to go over it! We're not quite sure what we'll put in that little built-in shelf yet, but we will think of something.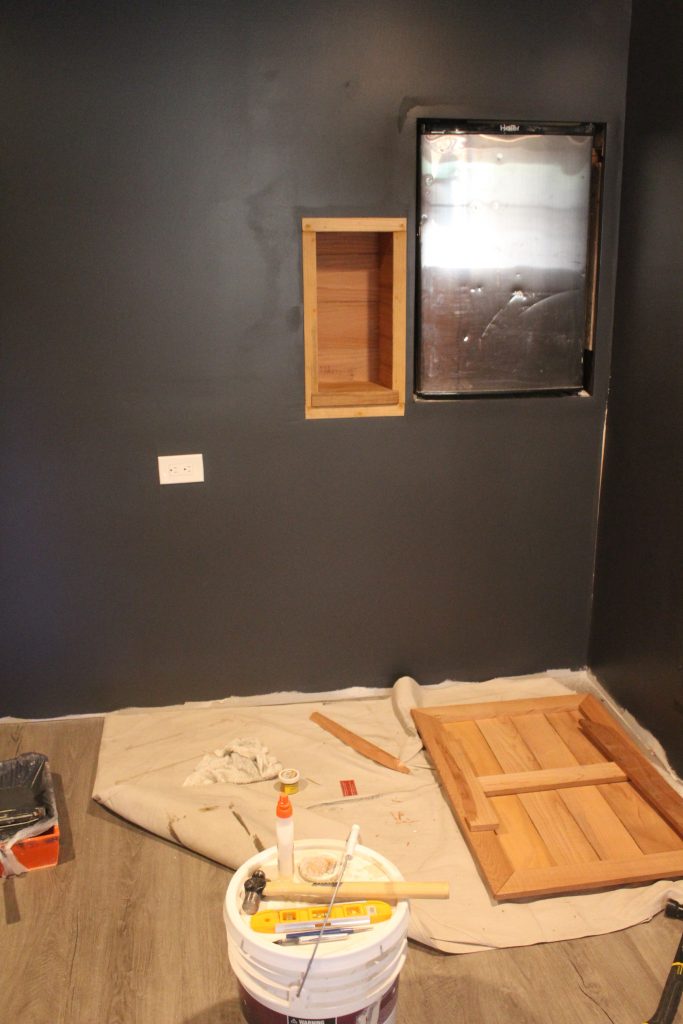 That's it! What do you think? I'm seriously amazed at how different this space looks and feels already, and it's not even finished. I'm thinking that I might pick up a basement air purifier to make it a clean air space for the husband. It's down at the bottom of the house so we don't know how great the air quality actually is down there, getting one can help if it's not the best.
Don't forget that you can sign up to receive my emails – I send one out every time I publish a new post, so you'll never miss out on anything that's happening on Shady Lane! There's a signup form at the very top of the page. Let me know if you need any help!
I'm all over the web – follow me! Instagram, Twitter, Snapchat (lifeonshadylane), Facebook, Pinterest, and Bloglovin'.
You might like to read these posts next: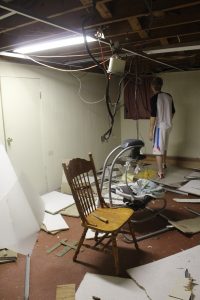 Basement Remodel: We have baseboards and a fridge door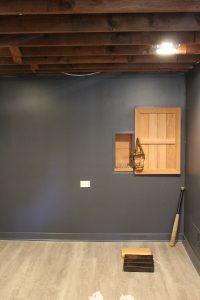 Basement Remodel: A Hanging Bar