Happy Labor Day, friends! I hope you all enjoyed your long weekend. Even the long weekends never seem long enough, do they?
There are a few rooms in our home that I have never taken ANY photos of, which means that I have never posted about them on the blog. When we moved in, we were in a hurry to get our first floor into a livable state before Henry was born and since then, we have been focused on continuing to renovate…you guessed it. The first floor. Homeownership is a never-ending project (luckily we love home-related projects!).
But GUESS WHAT! We have started working on the "man cave" – and by we, I mean mostly Brandon. Although I will say, I've helped carry and screw in some sheetrock. ;)
Before we built our screened-in porch, Brandon did a little negotiating…he'd build me a porch if we could start working on the man cave next. Ummm…hello. No-brainer. I'm in love with that porch, so this one was a fair deal!
When we moved into our house, we basically unloaded the u-haul into this room. It's in the basement and was already "finished"…sort of. The previous owners had put up some paneling and red vinyl flooring, threw in some questionable electrical work and called it good. It needed a lot of work, but it has worked as a kind of catch-all storage space for the past year.
Brandon spent a couple evenings hard at work tearing out all of the old drop ceiling and paneling, and since then has been taking out old wiring and fixing outlets, hanging brand new can lights, and hanging sheetrock.
It's already such an incredible transformation. I barely wanted to step foot in this room beforehand, but now it's so fun to go downstairs and check out all of the progress!
Here are some photos from the demo stage – it's such a mess!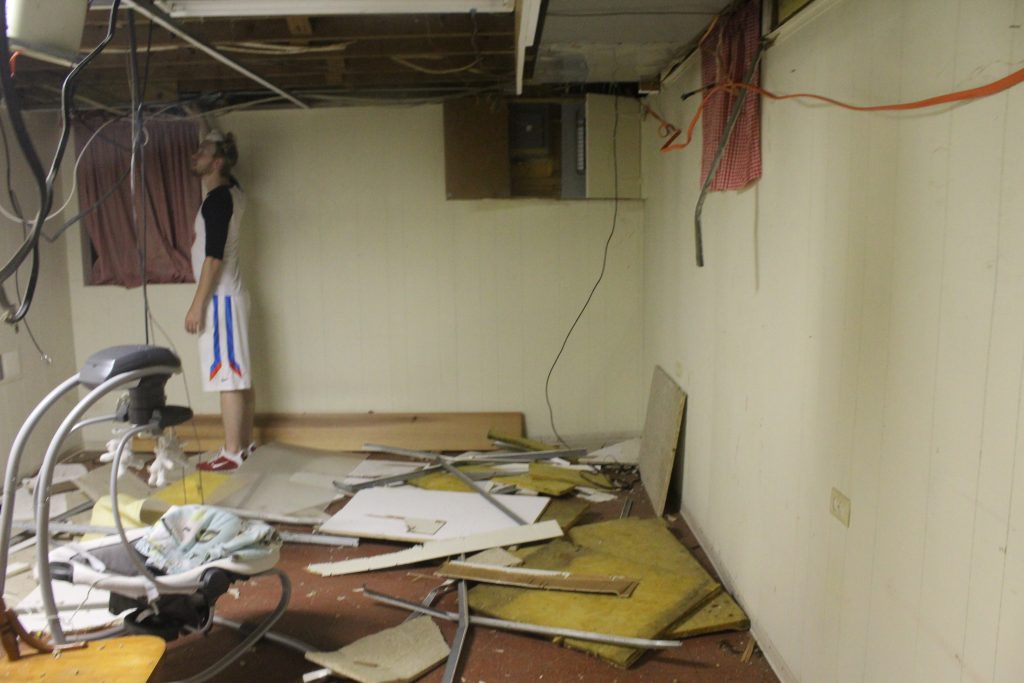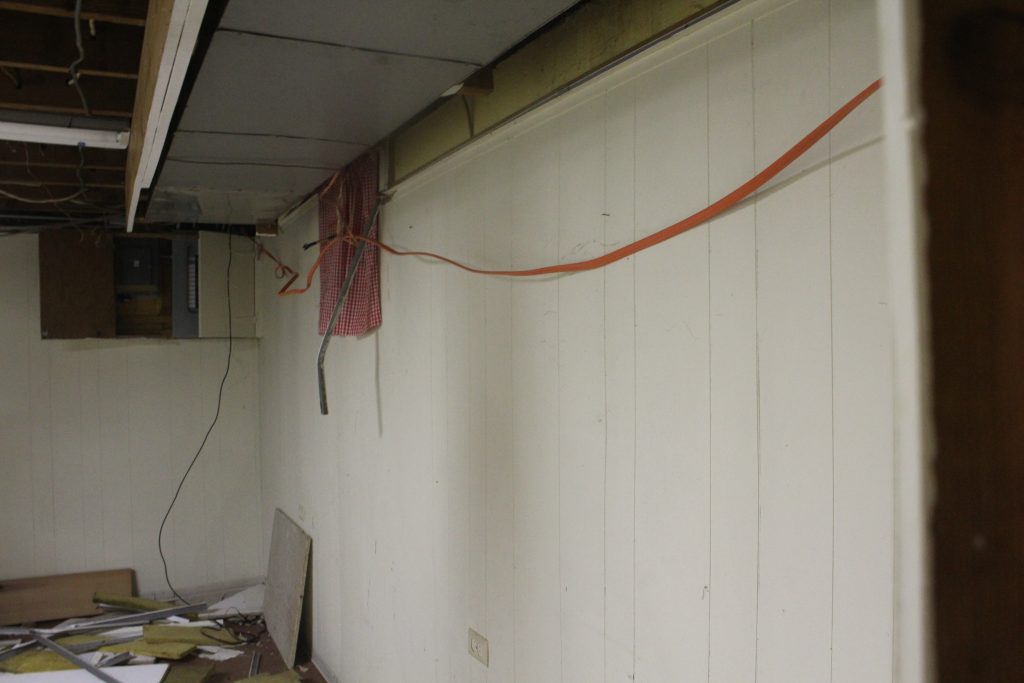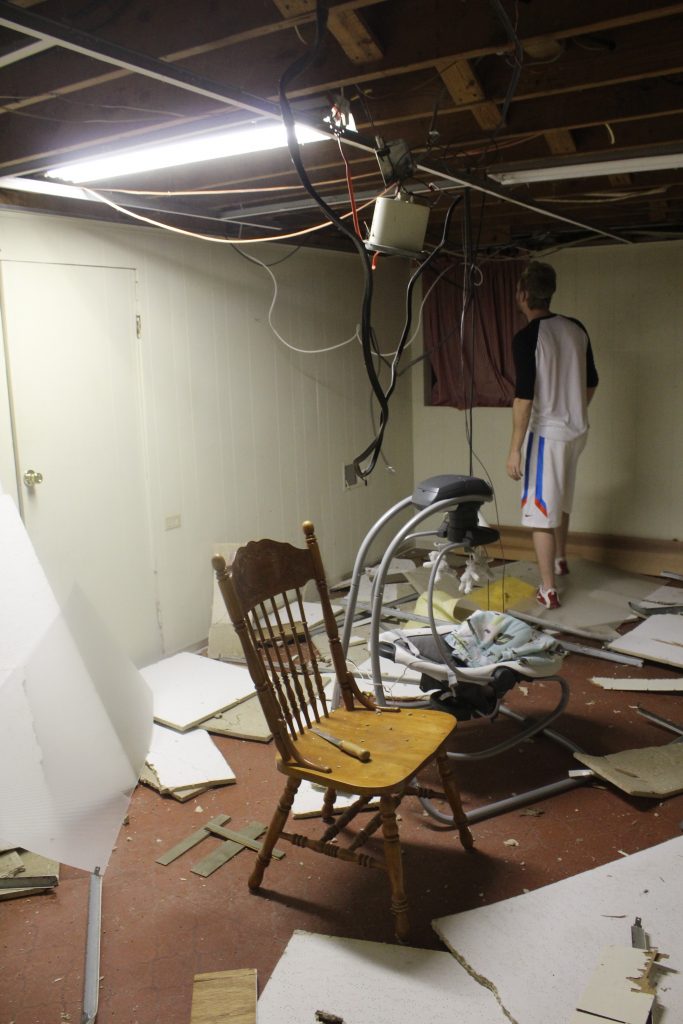 (PS the baby swing was quickly moved out of the room after I realized Brandon was literally tearing out the walls and ceiling around it!)
Look at all that drop ceiling!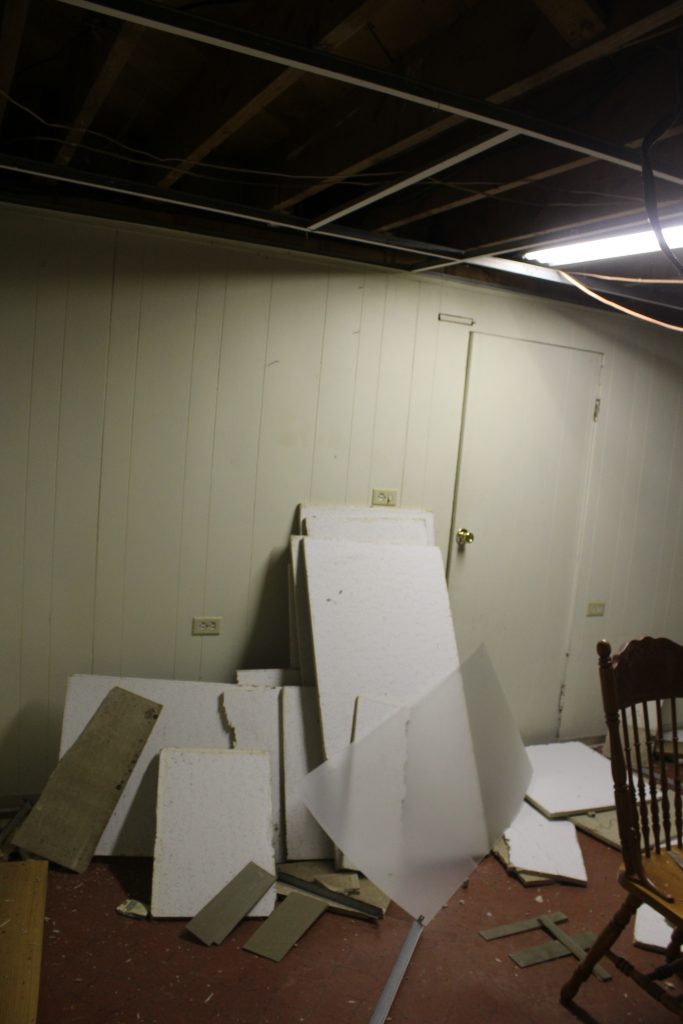 And here is where we're at now – sheetrock! It's not finished but holy cow…what an improvement! Also, notice how that weird door into the garage is gone? Woohoo!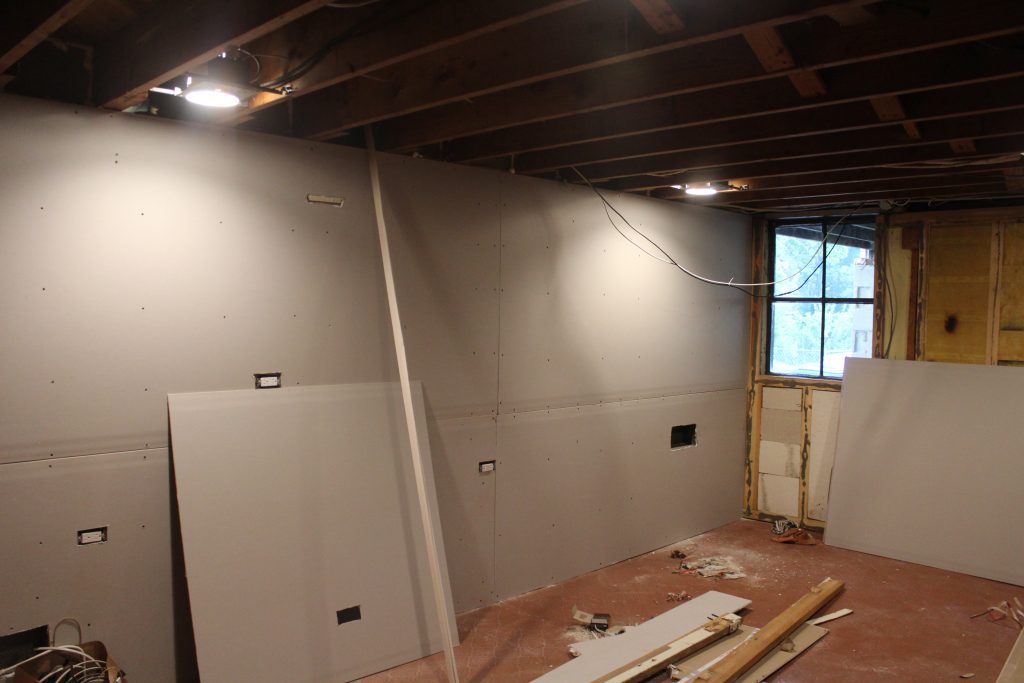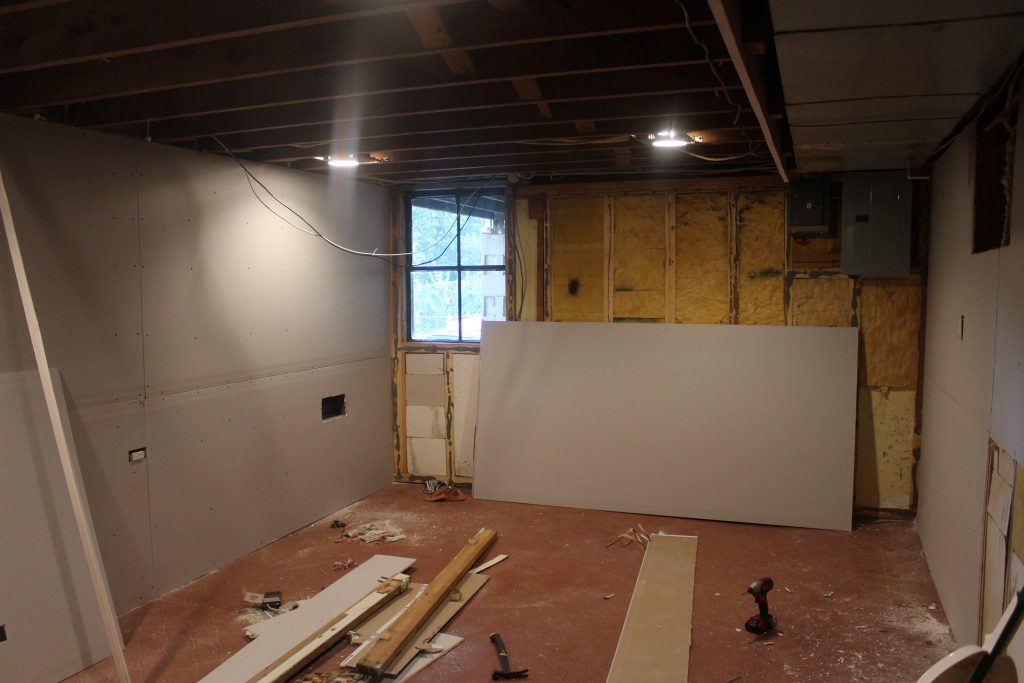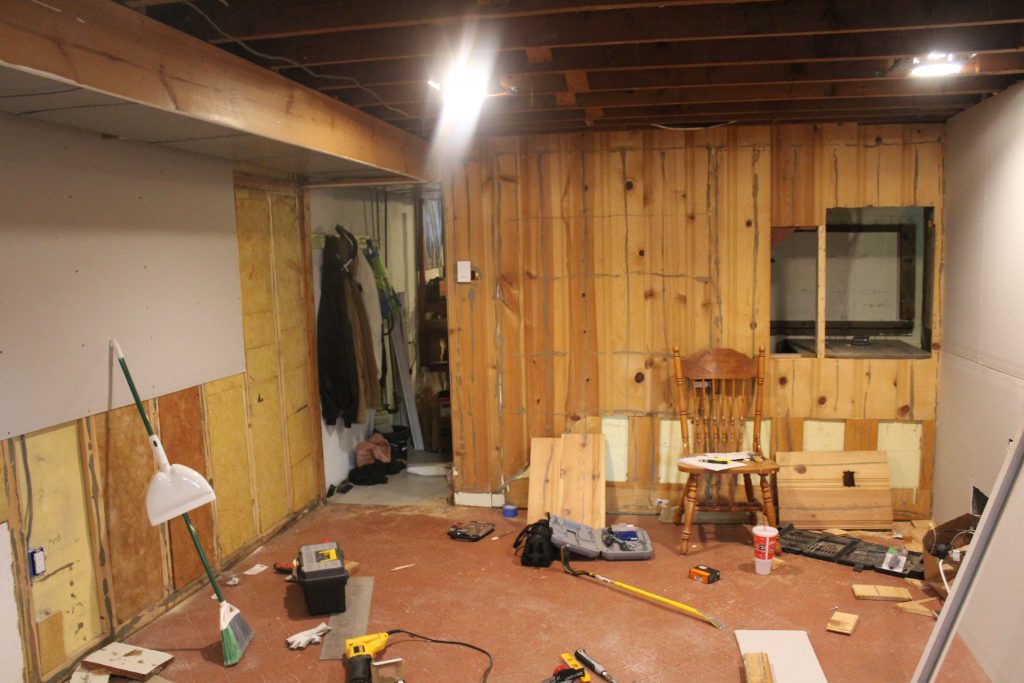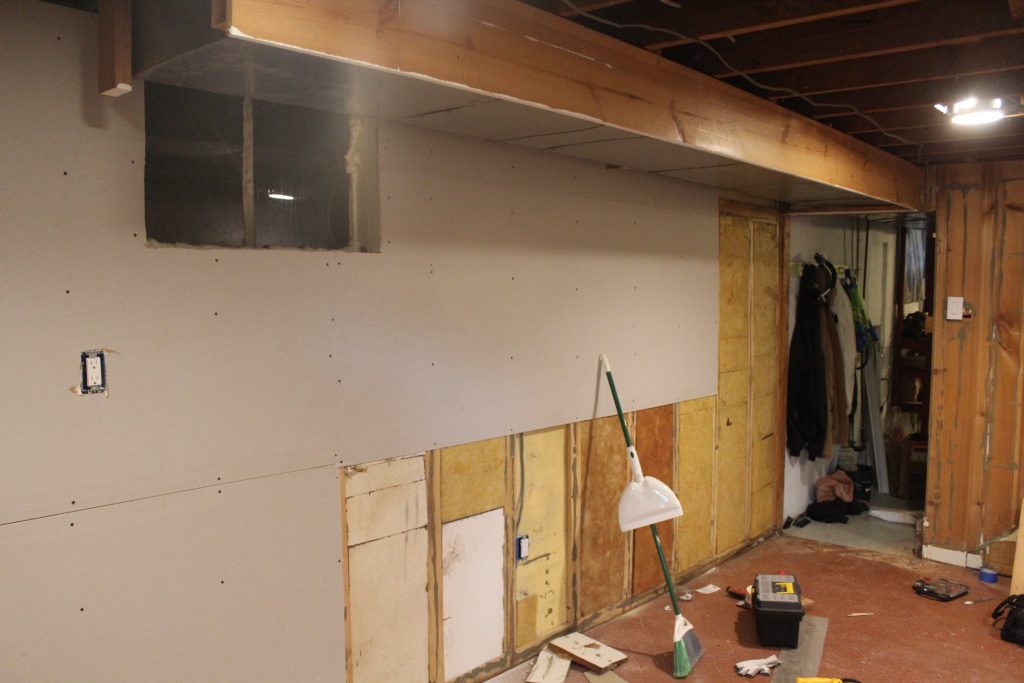 We have fun plans for this space. I can't wait to show you more pictures – stay tuned!
Don't forget that you can sign up to receive my emails – I send one out every time I publish a new post, so you'll never miss out on anything that's happening on Shady Lane! There's a sign up form at the very top of the page. Let me know if you need any help!
I'm all over the web – follow me! Instagram, Twitter, Snapchat (lifeonshadylane), Facebook, Pinterest, and Bloglovin'.
You might like to read these posts next:
Basement Remodel: Painted Drywall + Flooring!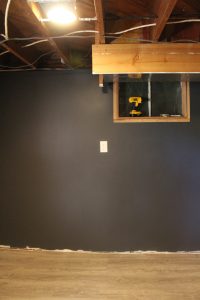 Basement Remodel: We have baseboards and a fridge door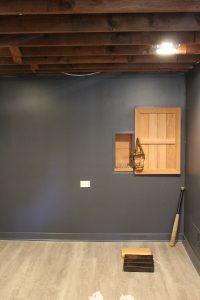 Basement Remodel: A Hanging Bar