Merry Christmas, everyone!! I took a break from blogging to relax and spend time with family and friends, but I'm baaaack! Did you miss me? ;)
Several people asked over Christmas whether we had any home projects going on at the moment. I think the recent order of cement sealants proves that we have got quite a few significant projects on the go currently. We told them that our main focus lately has been our basement renovation…although really we've just been working on decorating the space some more. We already had waterproofing contractors near me come in and waterproof it when we moved in so we don't need to worry about anything major like that. If you are thinking of getting your basement done up, then you might want to take a look at the costing out your basement to give you a better idea of how much this sort of project might cost you. Everything in the room is complete with the exception of the pallet ceiling and we also still need to make a door for the electrical box. But other than that, construction-wise, this room is finished!! You can see how it looked before we moved furniture in [here]….or you can see what it looked like immediately after we moved in [here] (warning: its scary).
Here's just one of the "before" photos when we used the room as our catch-all space for things without a home. It was this way for about a year after we bought the house.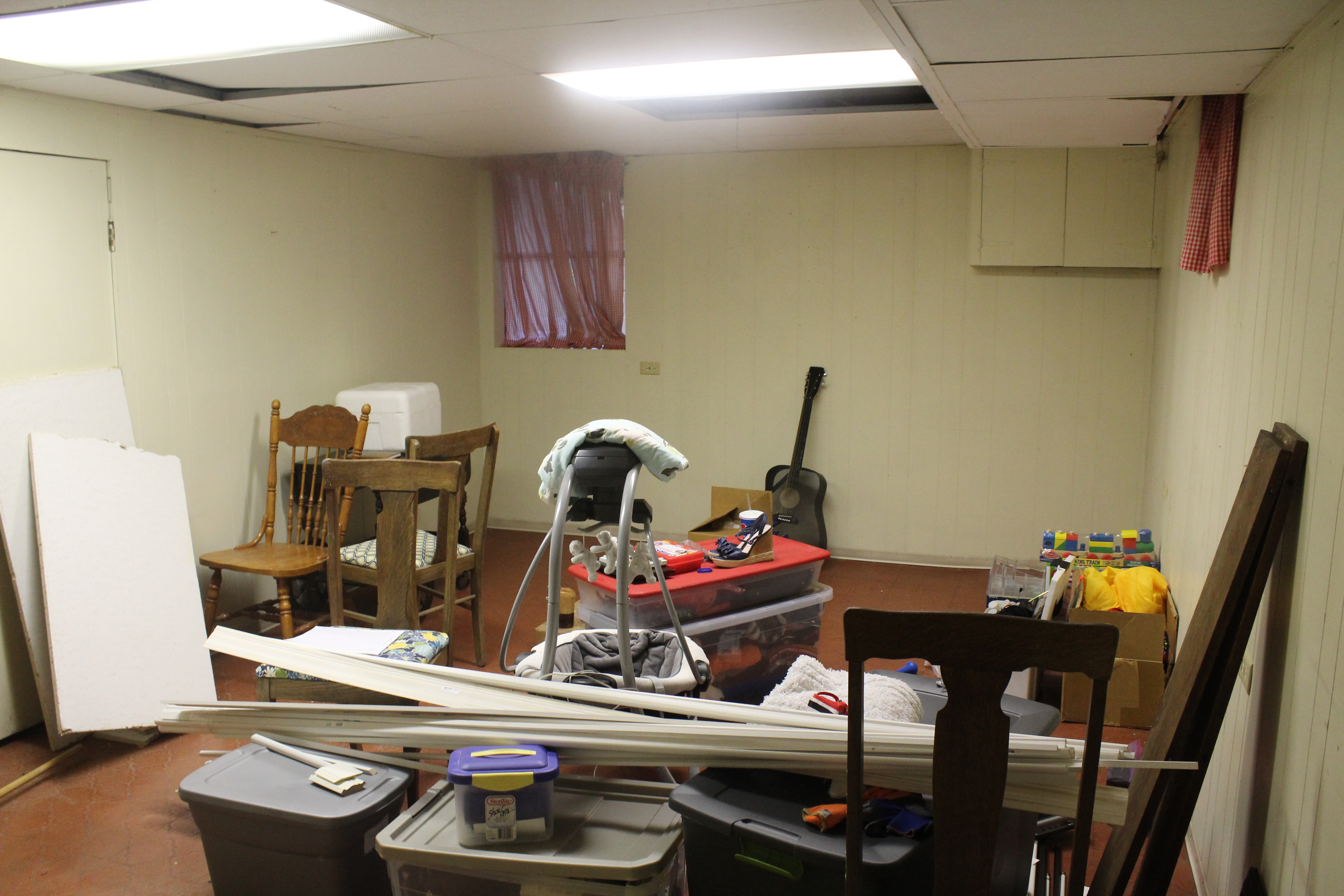 Brandon really wanted a space that was his "man cave" – a place where he could watch football, play poker, and do…whatever else guys do. He wanted the room to feel masculine (the rest of the house is a good mix, I think, but the man cave is definitely not girly), grown up, and he also wanted to incorporate vintage sports memorabilia and some steam-punk aspects (think: tools, gears, etc.). I'm loving the way it's turning out!
We already use this room a lot and it really expanded our living space so I'm glad we decided to renovate it. Like I said, the ceiling still isn't finished and we need to make a door for the electrical box. In terms of décor, we're looking for some kind of TV stand. We're using a turquoise table as a stand-in for right now – Brandon isn't thrilled but it's better than setting the TV on the floor, right?! He also would like to have some kind of poker table but I'm not sure it'll fit. We'll see what happens…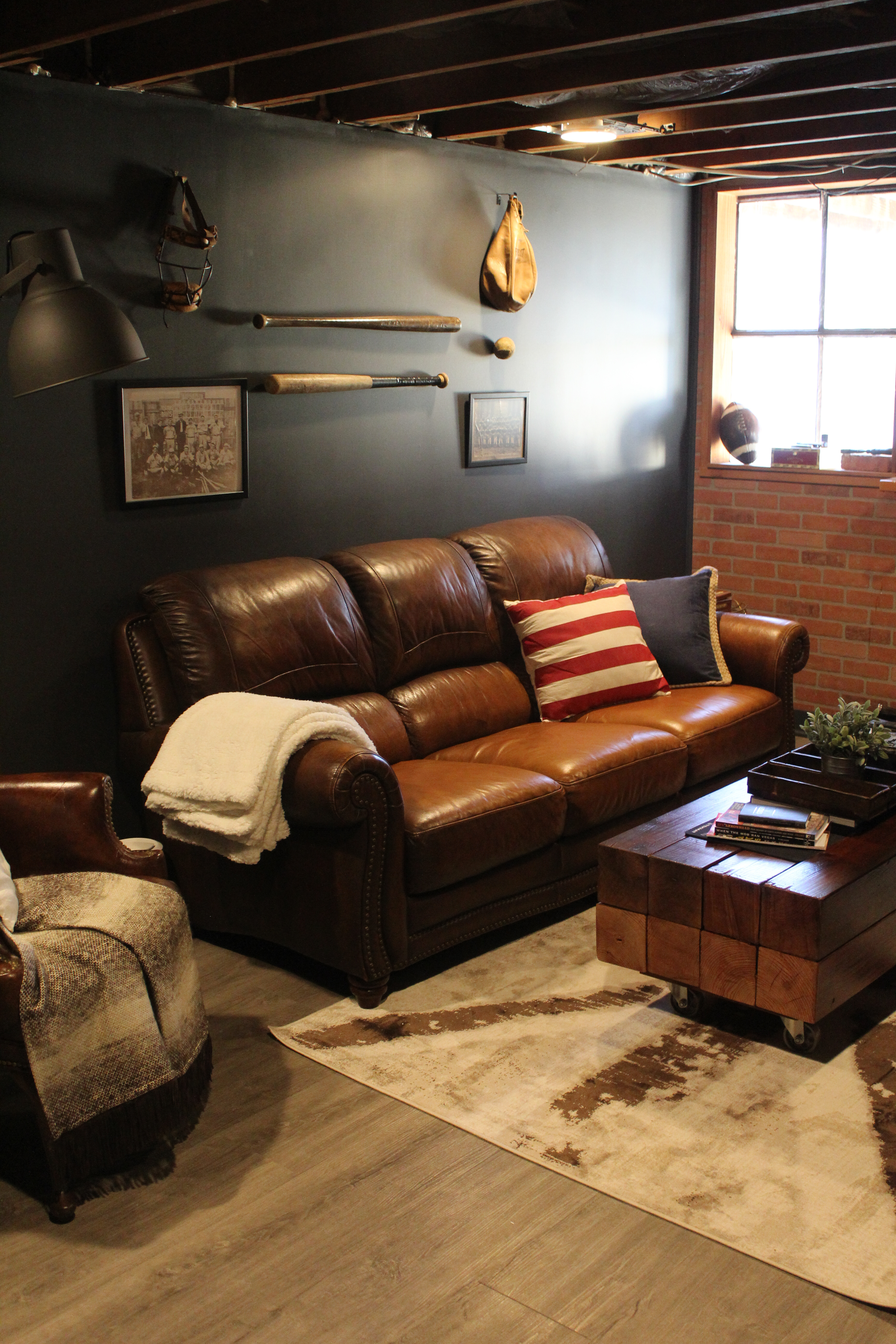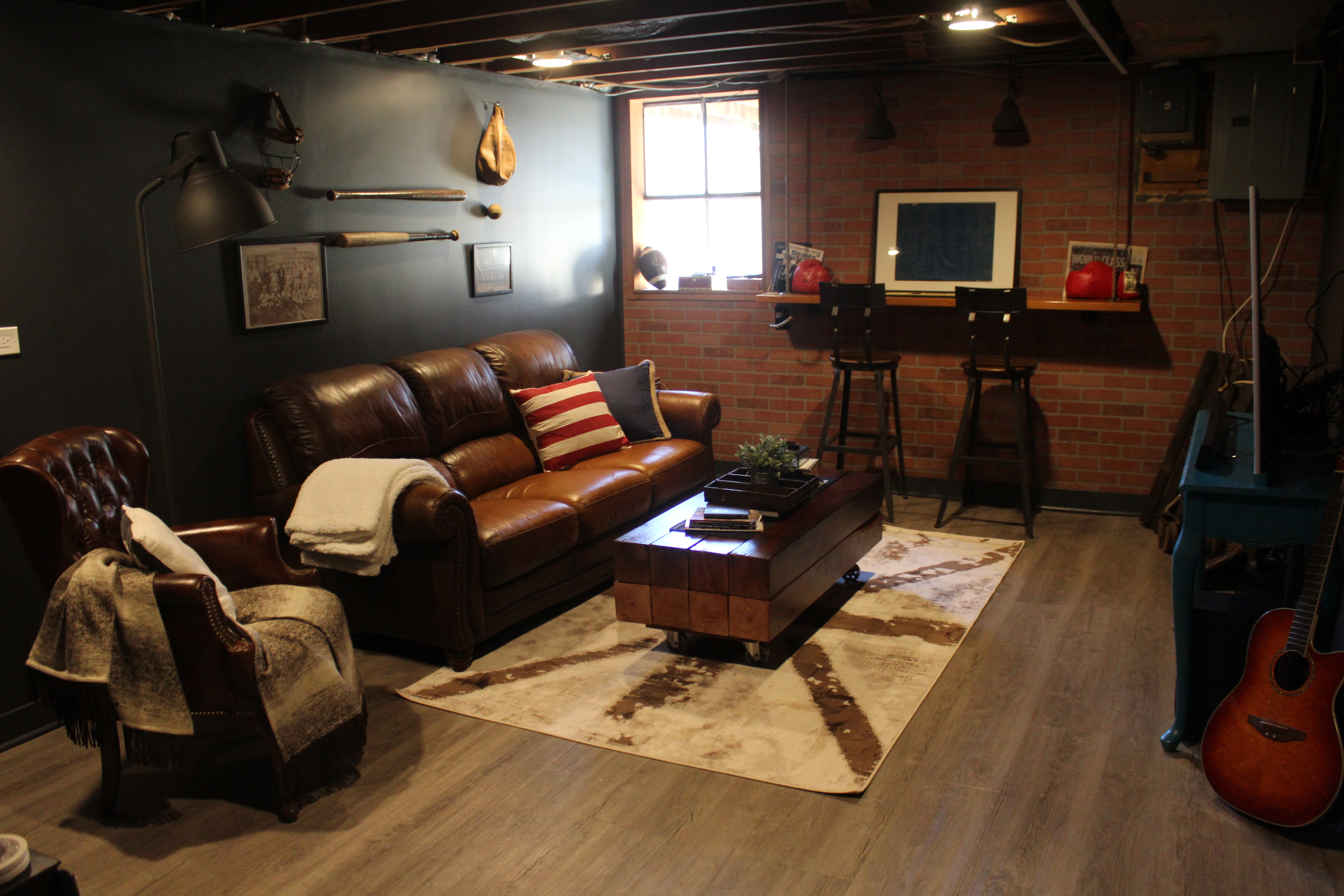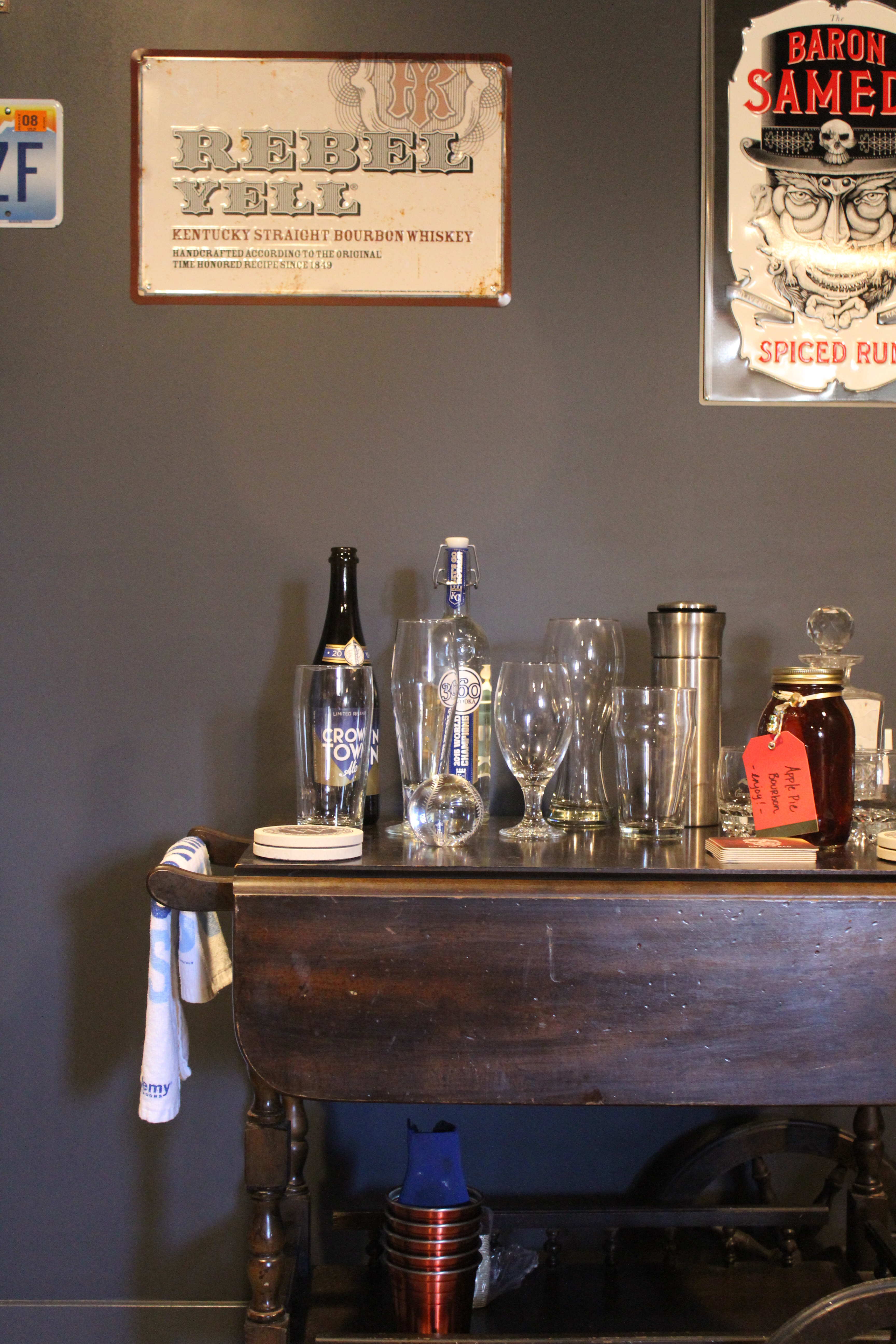 Do you see my homemade apple pie bourbon? I gave it to Brandon for Christmas last year and again this year. You can find the recipe [here].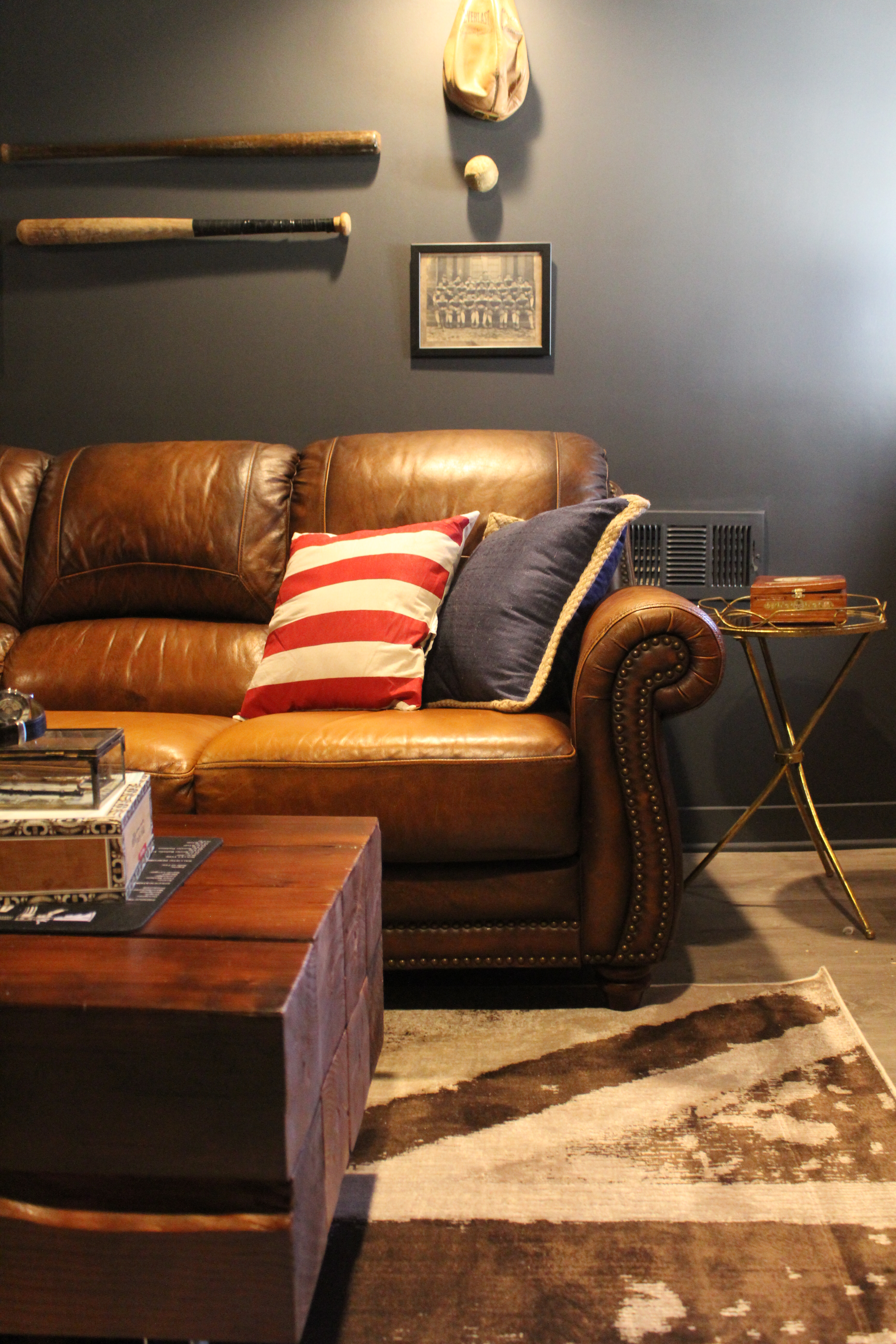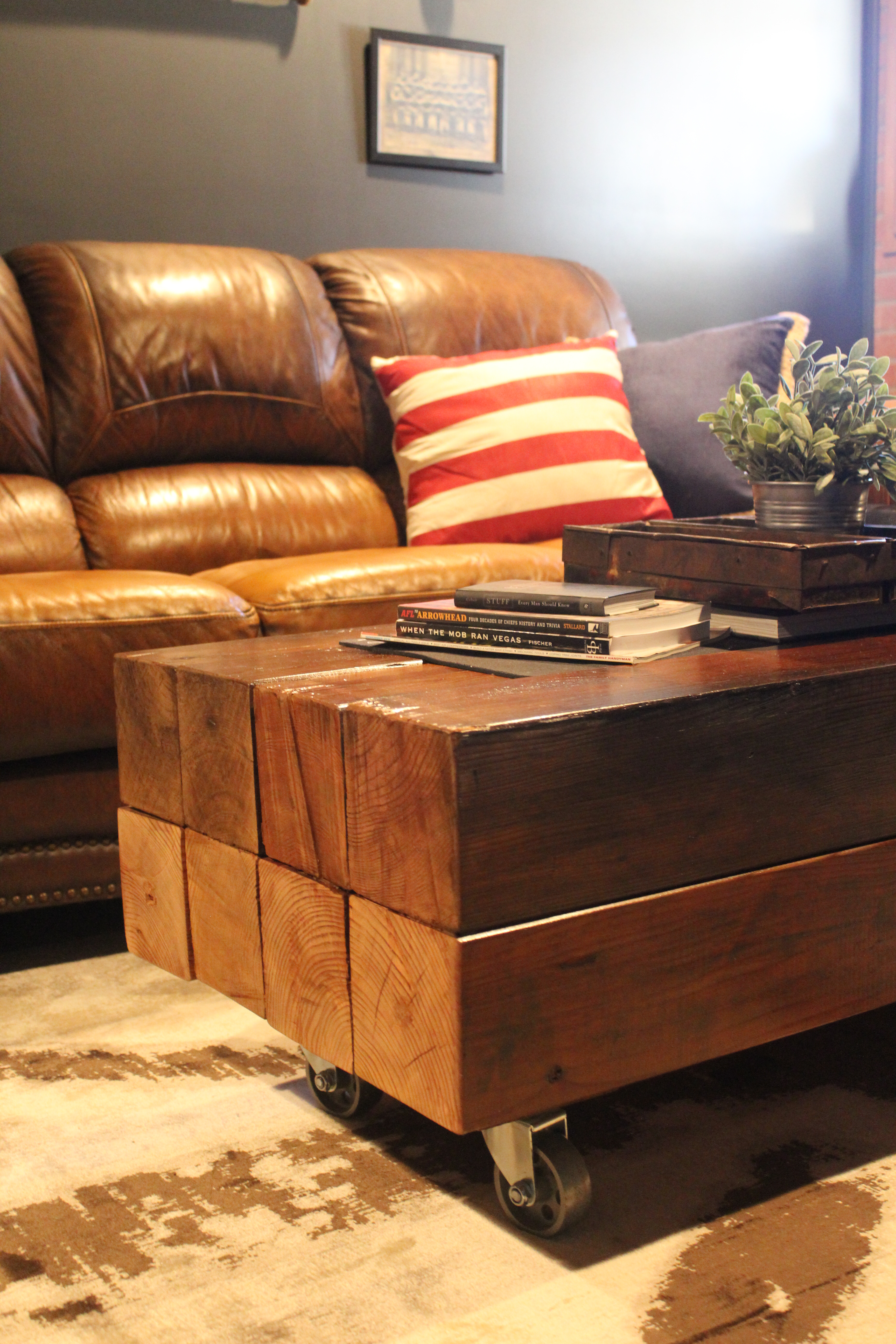 The downloadable directions for our DIY coffee table are [here].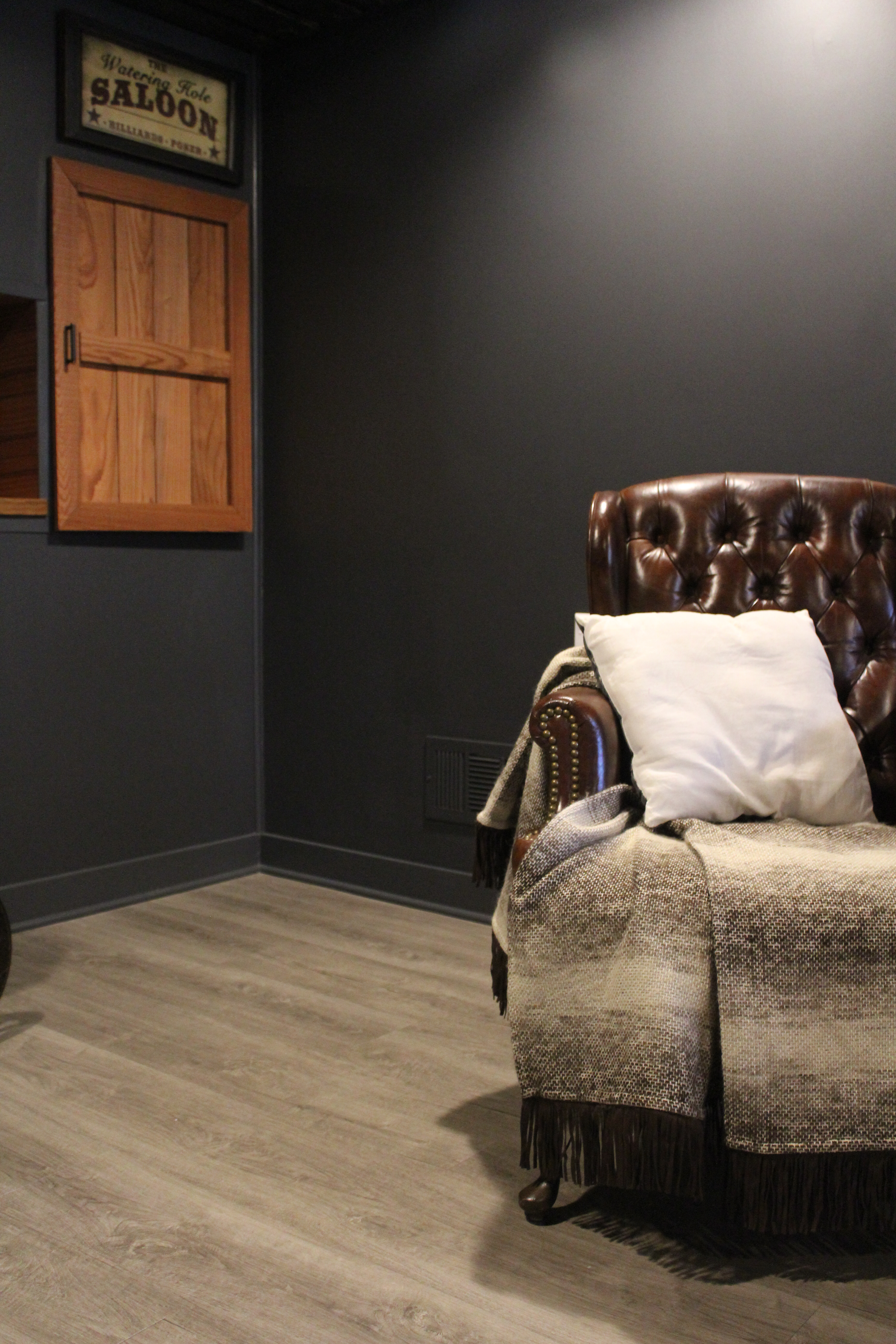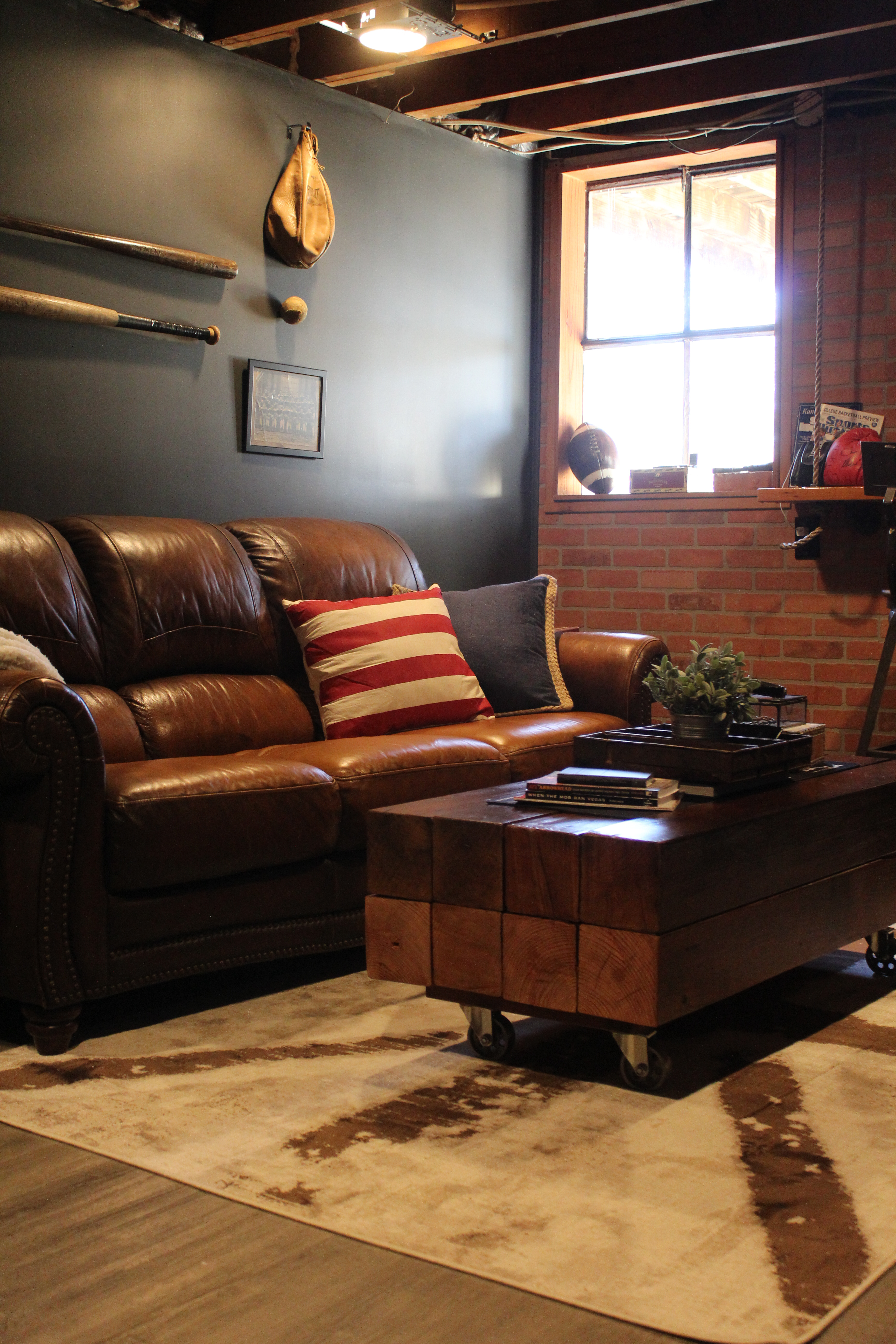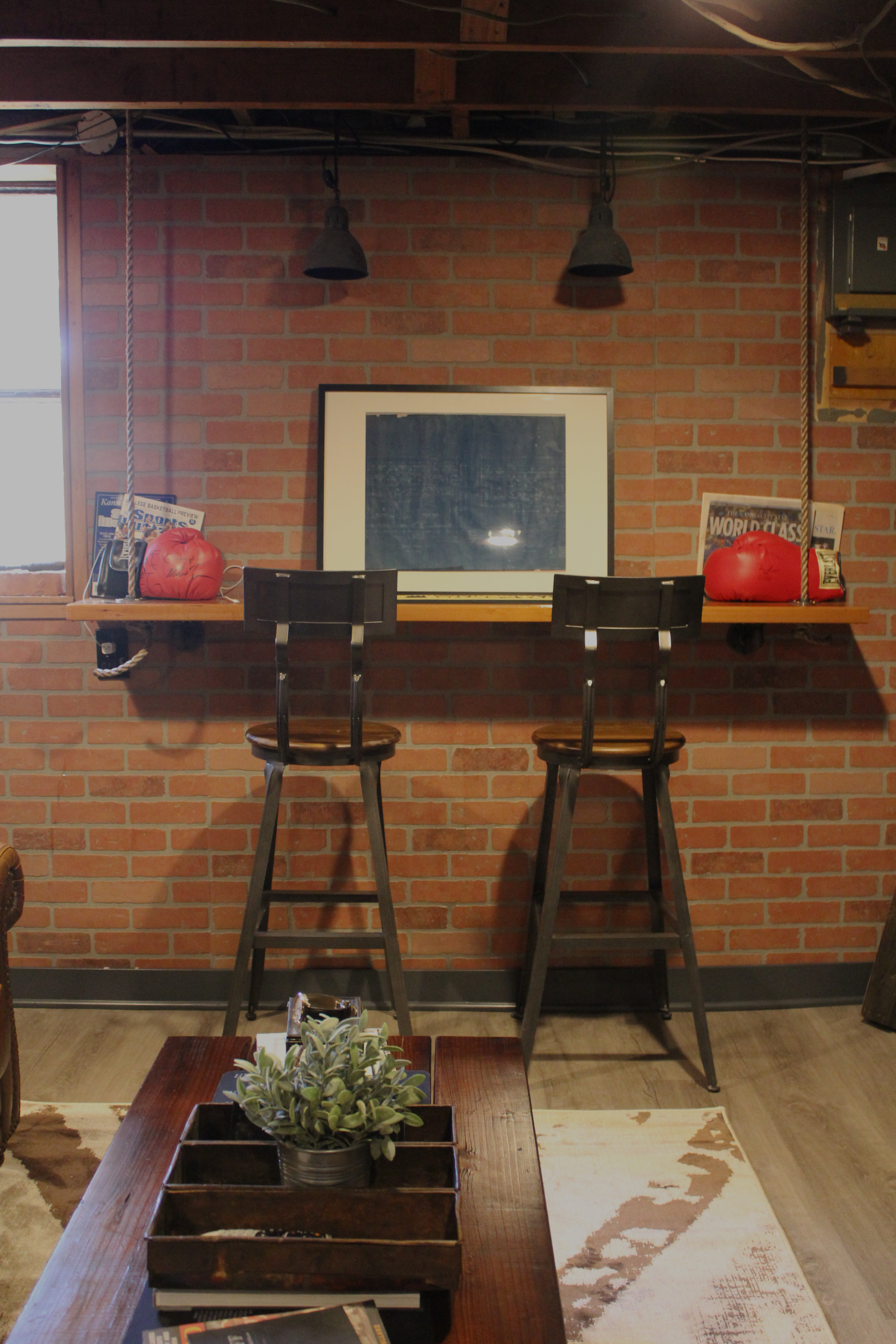 Sitting on the bar are the original house plans for our home! I found them way up on the top shelf of our closet shortly after we moved in, and we decided to frame them. It's cool because we can see how the house's layout has changed since it was built. You can see more about our hanging bar [here].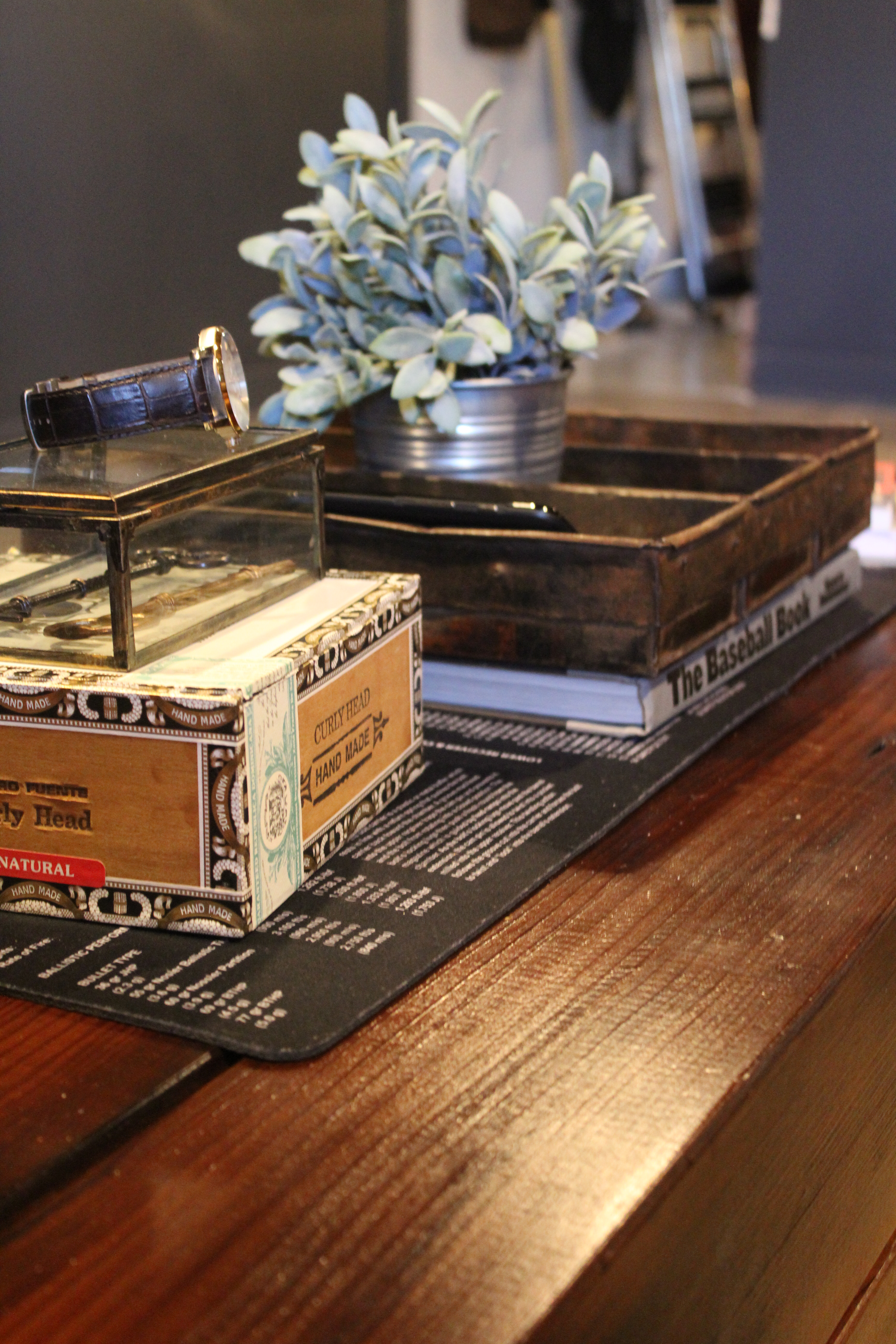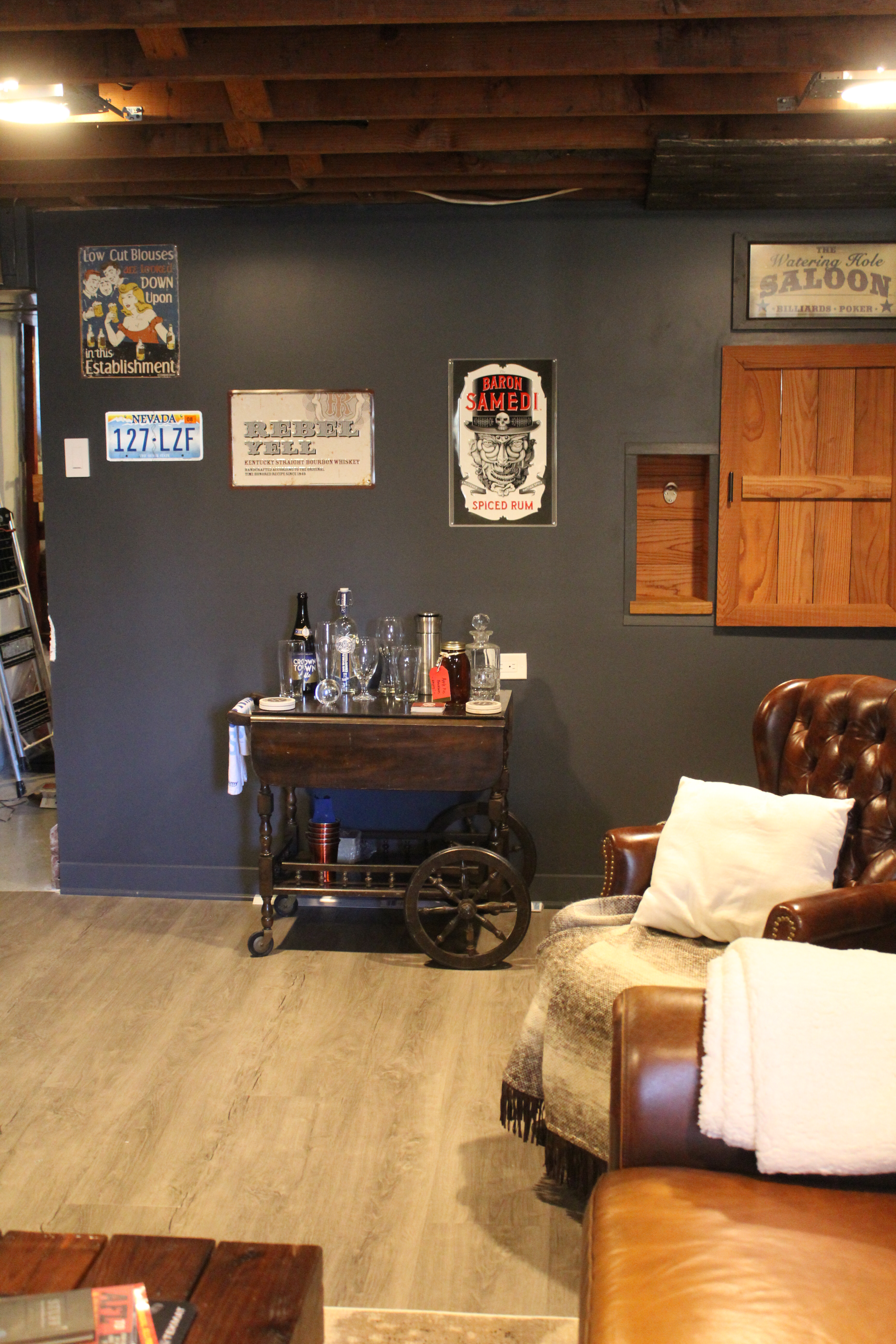 We're planning on filling this wall with mostly bar signs so it'll be a work in progress for quite a while. Also, that little door is a built-in mini fridge! It's not a huge room so we were happy there was a perfect spot to build it into the wall. Right next to that door is a little cut out where Brandon has a bottle opener. We're planning on putting a small bowl in there to catch the bottle caps.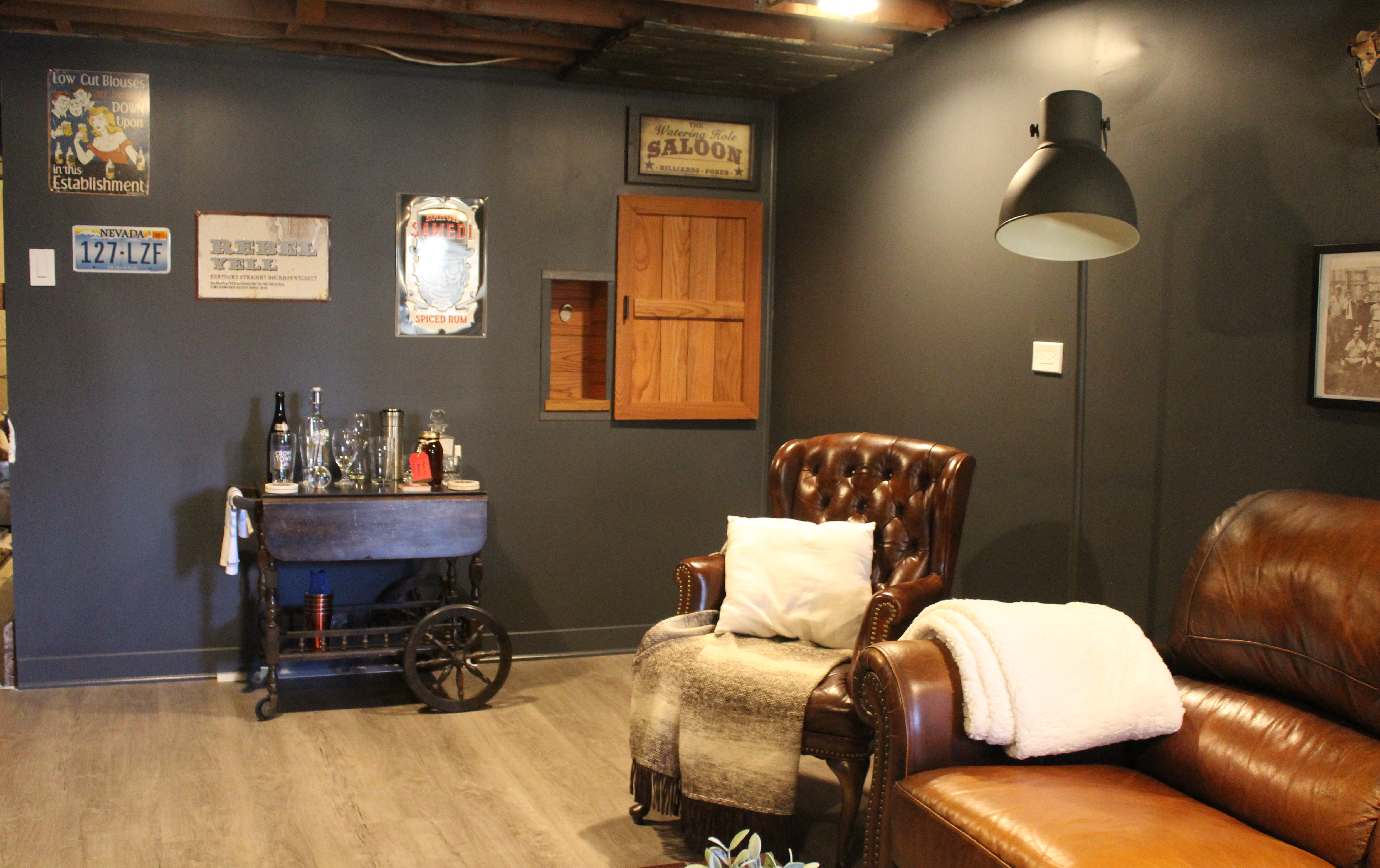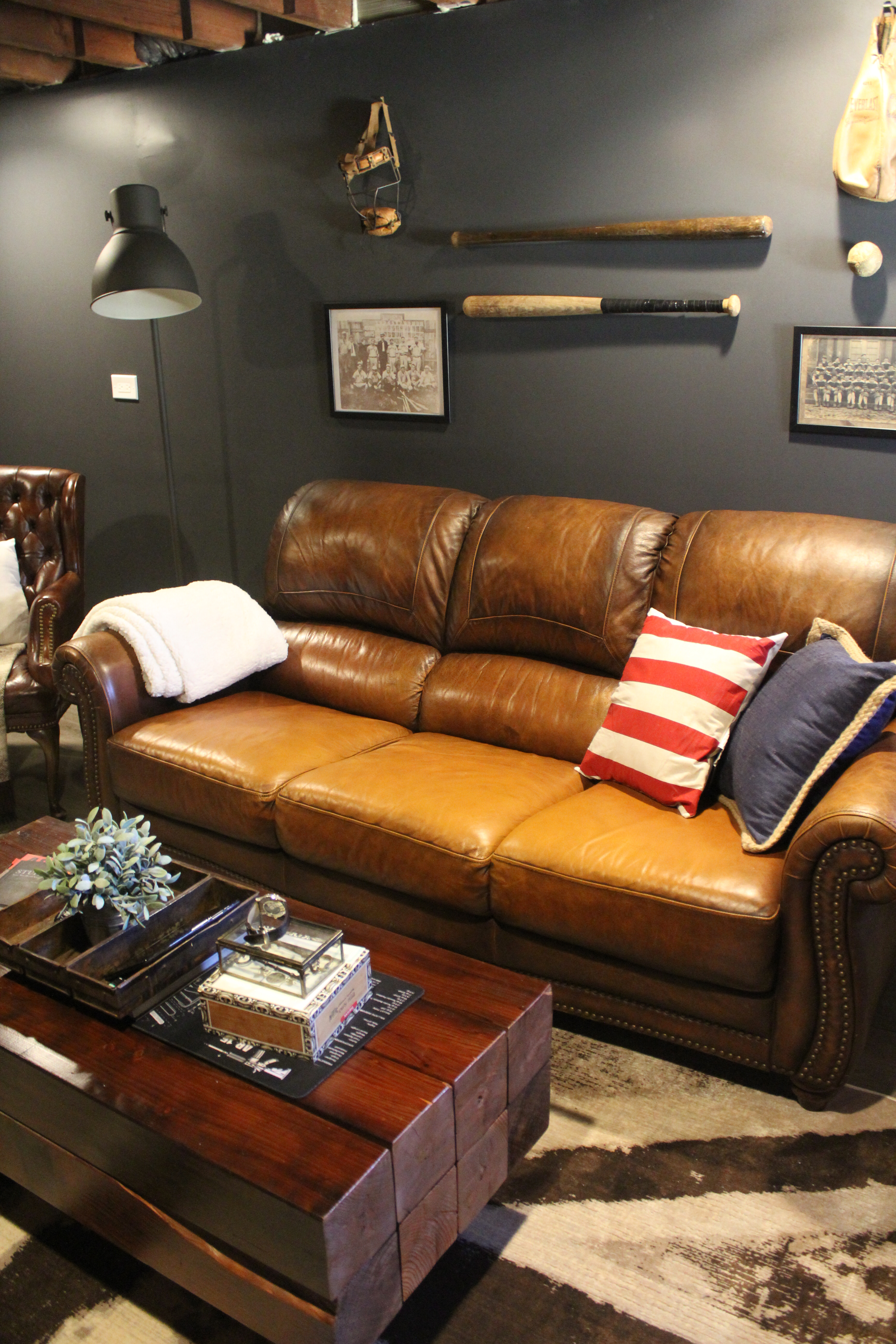 The wall above the couch is also a work in progress that will probably take longer than the other wall. Brandon is hanging all of his vintage sports stuff here. The rug is from Rugs USA.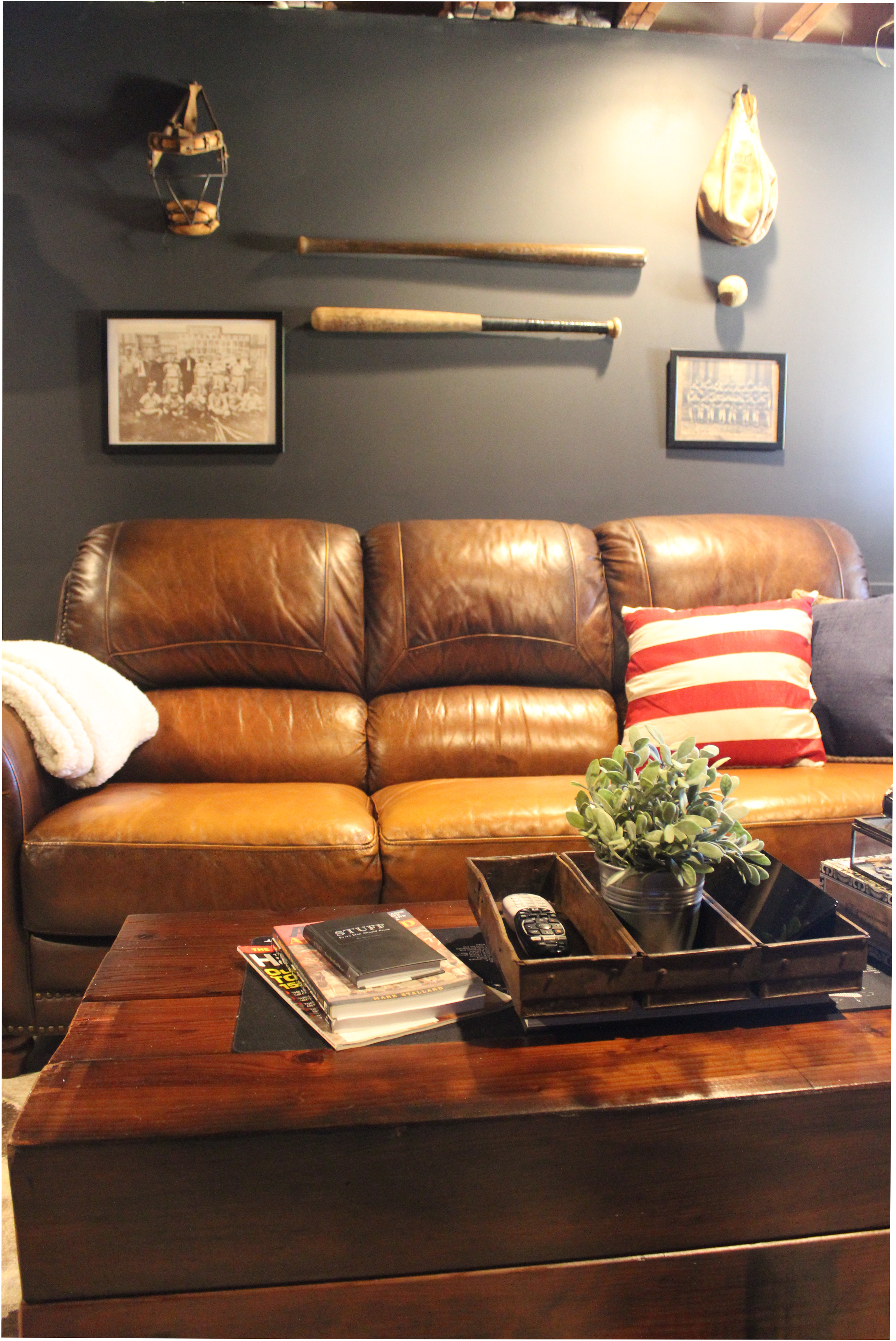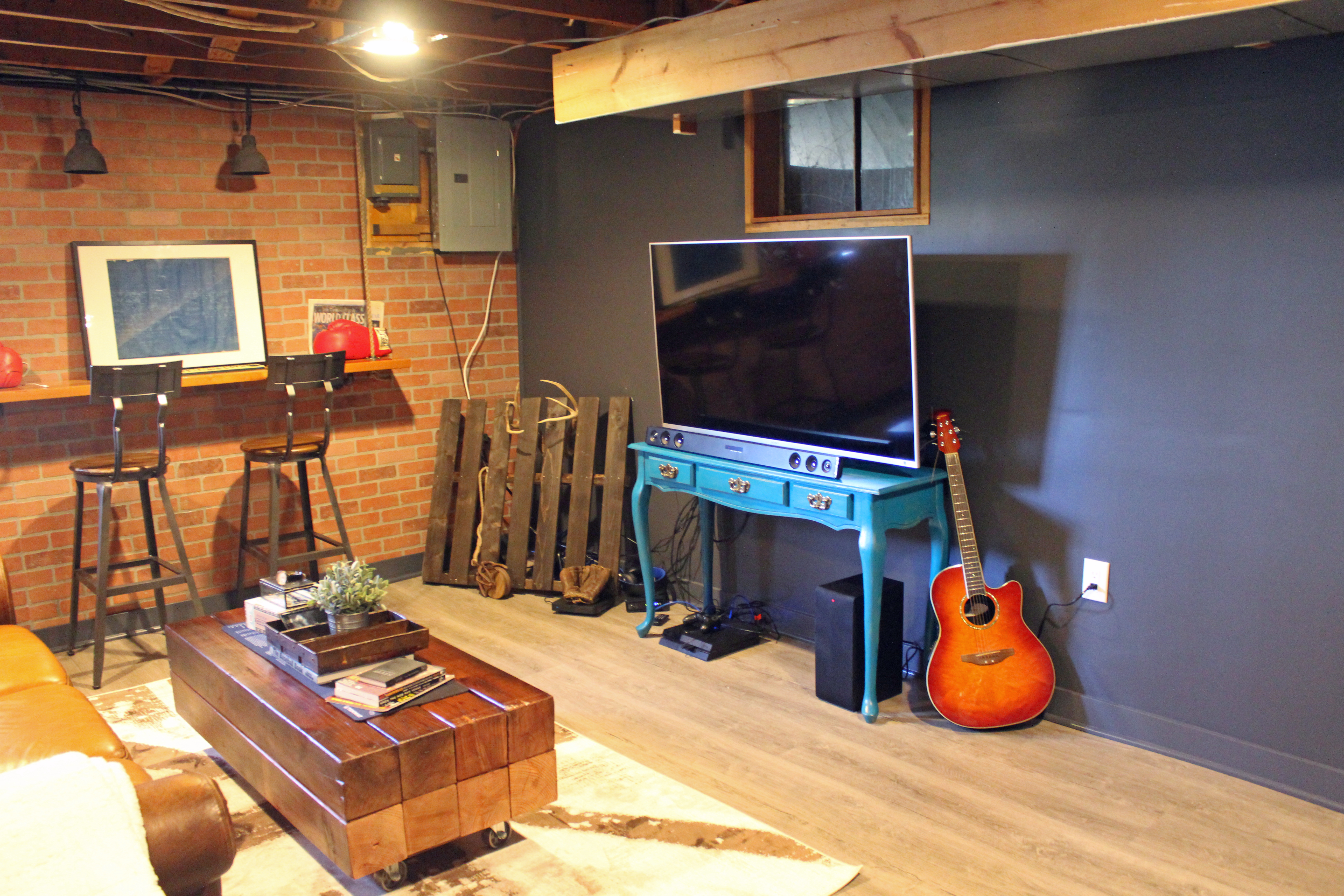 There's that turquoise table I told you about. It cracks me up because it looks so ridiculous down there but we haven't found the "perfect" TV stand yet so for now it'll do! The pallet is hiding all of the wires for the time being.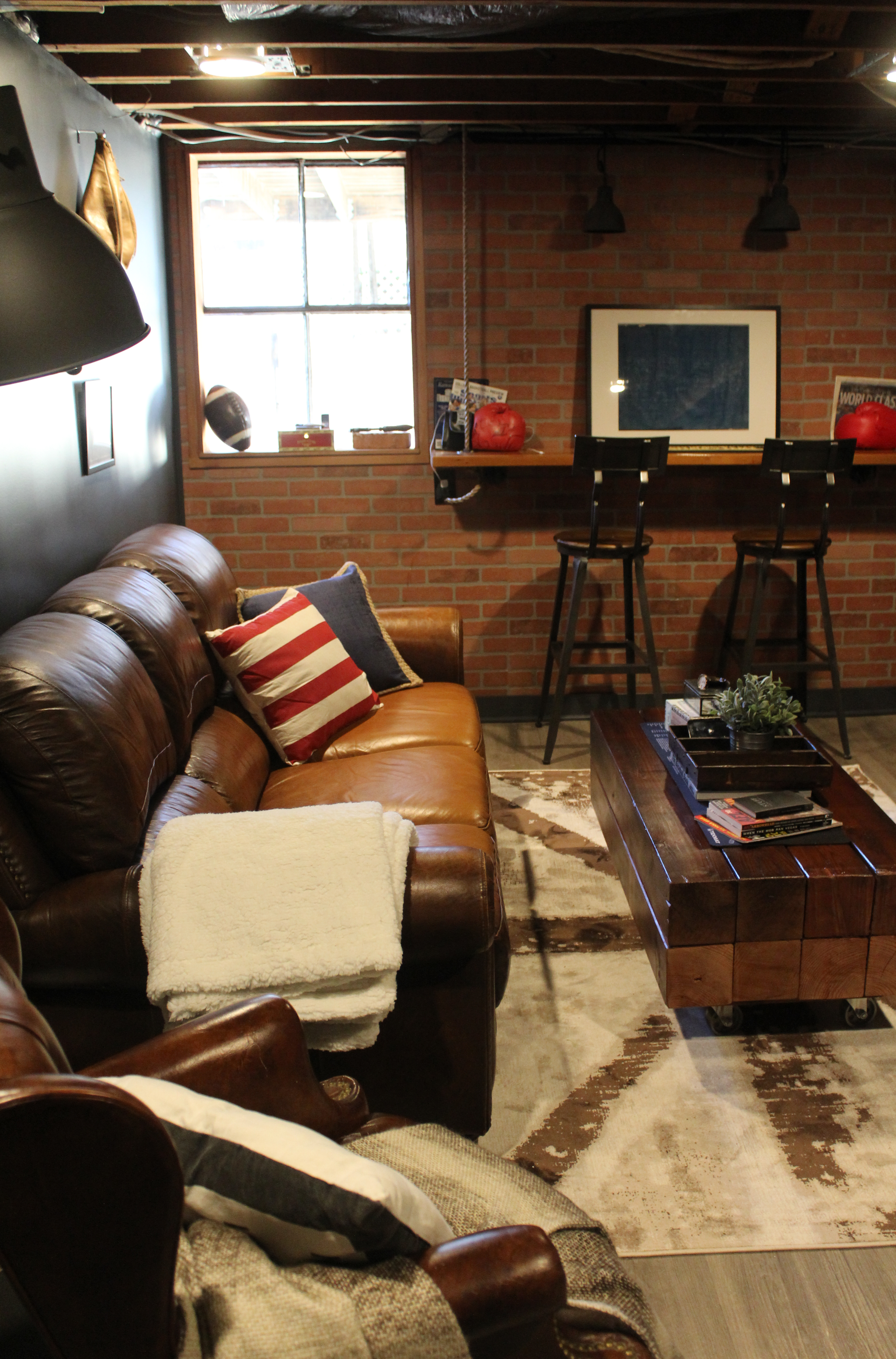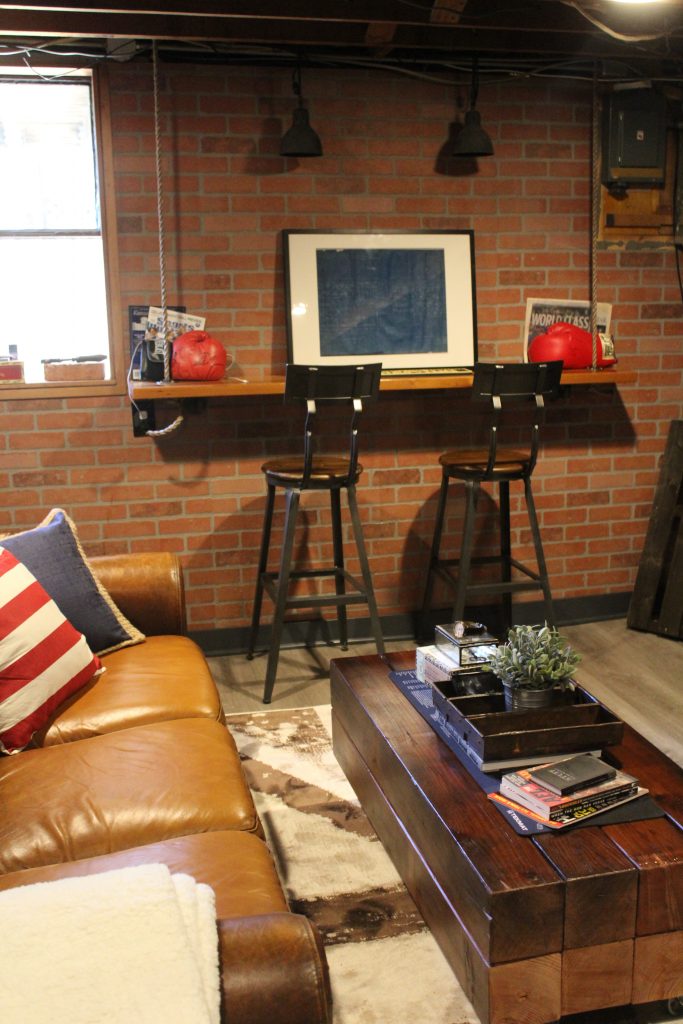 You can see that the room still isn't finished – I just wanted to share some photos and let you know where we're at with this project! I hope you had a very Merry Christmas. What are your plans for New Years?
Don't forget that you can sign up to receive my emails – I send one out every time I publish a new post, so you'll never miss out on anything that's happening on Shady Lane! There's a sign up form at the very top of the page. Let me know if you need any help!
I'm all over the web – follow me! Instagram, Twitter, Snapchat (lifeonshadylane), Facebook, Pinterest, and Bloglovin'.
You might like to read these posts next:
Basement Remodel: A Hanging Bar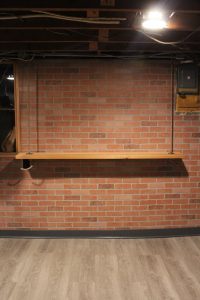 Basement Remodel: We have baseboards and a fridge door!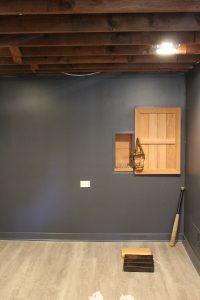 Basement Remodel: Painted Drywall and Flooring