Hi! I know it's been a looooong time, but I'm still alive, I promise!
I mentioned the other day over on Instagram that we had an exciting announcement to share, and that's the main reason for my absence on the blog. I still haven't shared and…I still can't announce it just yet (sorry!) but we're getting closer! A little hint: it's house related!
The start to our weekend was a little rough. I woke up with a stomach bug Friday morning and by Friday evening, Brandon had it too. Henry has managed to avoid it for now, so I'm knocking on wood that he doesn't get it. We spent the majority of Saturday recovering and then this morning ordered take out pancakes for breakfast (pathetic but so delicious). We spent the rest of our Sunday getting stuff done around the house and holy cow guys, it feels SO GOOD to be productive around here again! Like I mentioned, we've been pretty busy lately and haven't done much work on the house. The lull in projects had me feeling a little uninspired but the nice weather we've had lately is getting me back in the groove. Does anyone else feel like a little warm air and sunshine just brings their spirits back up?
One of the projects I worked on today was beginning to paint one of our upstairs bedrooms. I have NEVER shown any of our homes' upstairs because we have literally done nothing to it, with the exception of pulling carpet from the stairs/hallway and sanding the floors underneath. There are two bedrooms and a bathroom upstairs, and we're planning on essentially gutting the bathroom (because shag carpeting. gag.) and re-carpeting the bedrooms. We want to move our bedrooms upstairs because the rooms are bigger and get more sunlight. Before we get an Austin carpet company to re-carpet for us though, I want to get everything painted.
So, brace yourselves…today I'm sharing a never-before-seen and semi-scary view of what will someday be our bedroom. The walls are lavender, the carpet is old, and it's just overall a hot mess. I really need some wall art from Blue Horizon Prints
to liven it up a little! I'll share more photos after the room is painted, but for now you get to enjoy the "before!"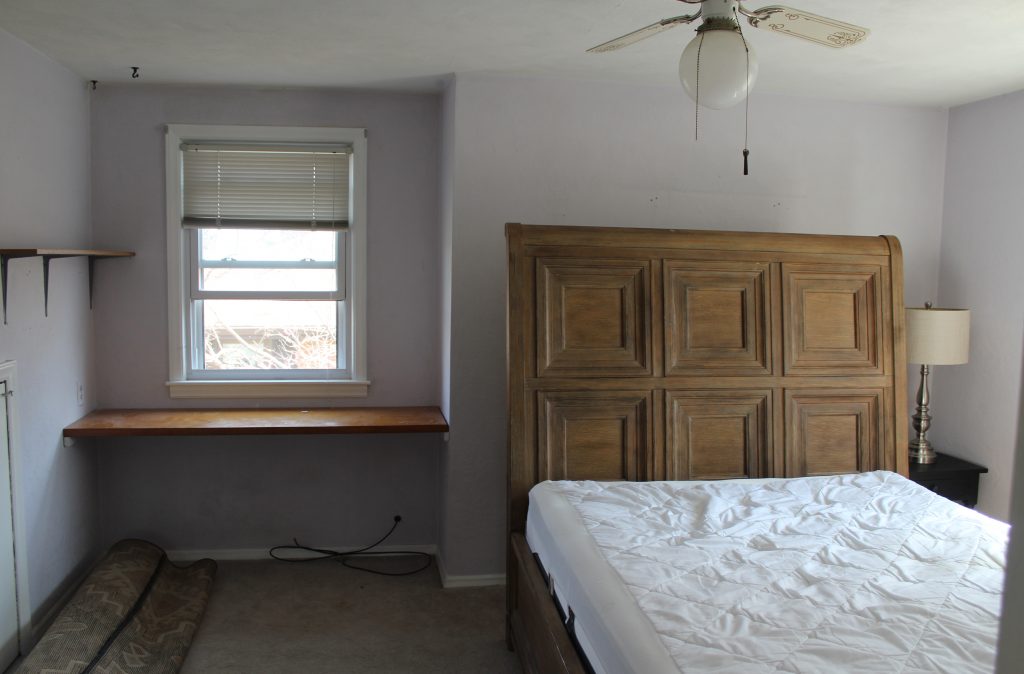 That lavender wall is no longer lavender – I painted it an accent color! Any guesses on what color I went with?! ;)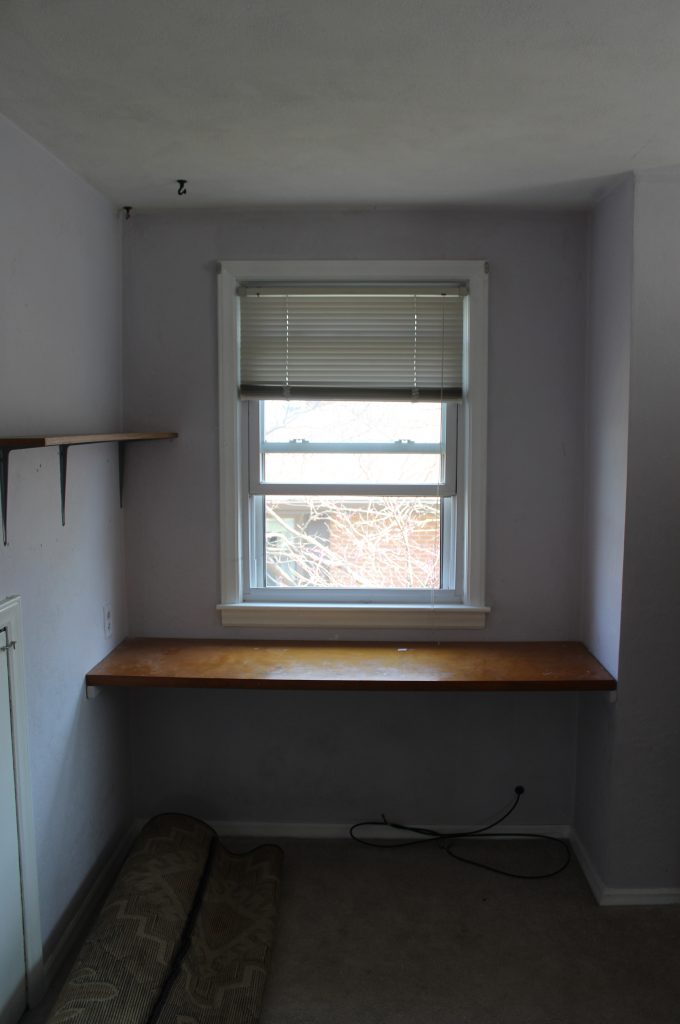 I took out the desk and weird shelf in the corner – just that was such an improvement!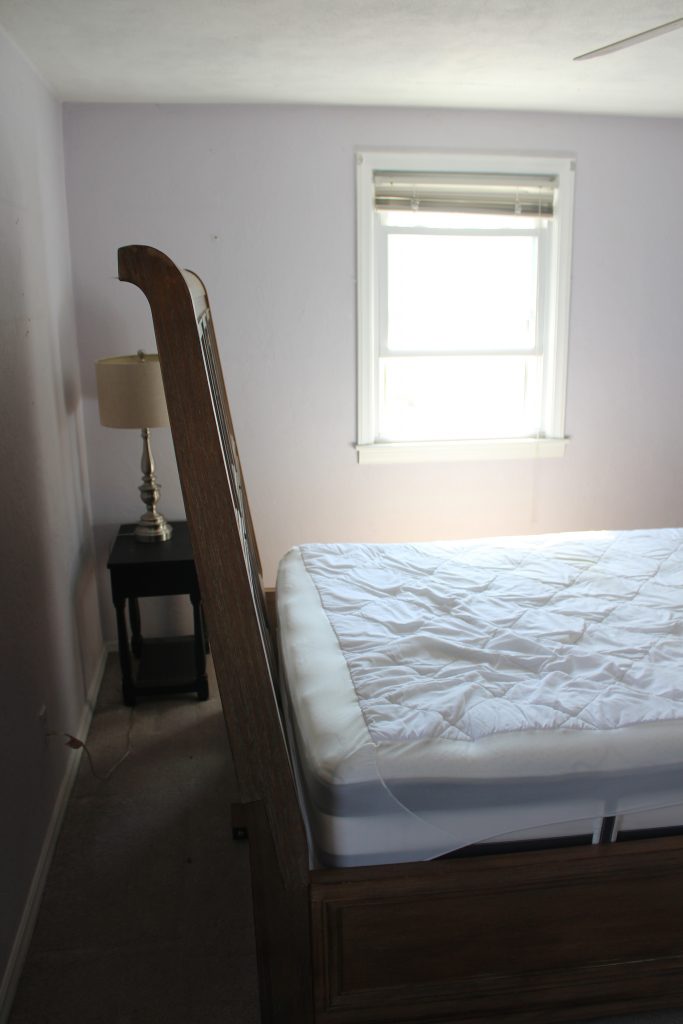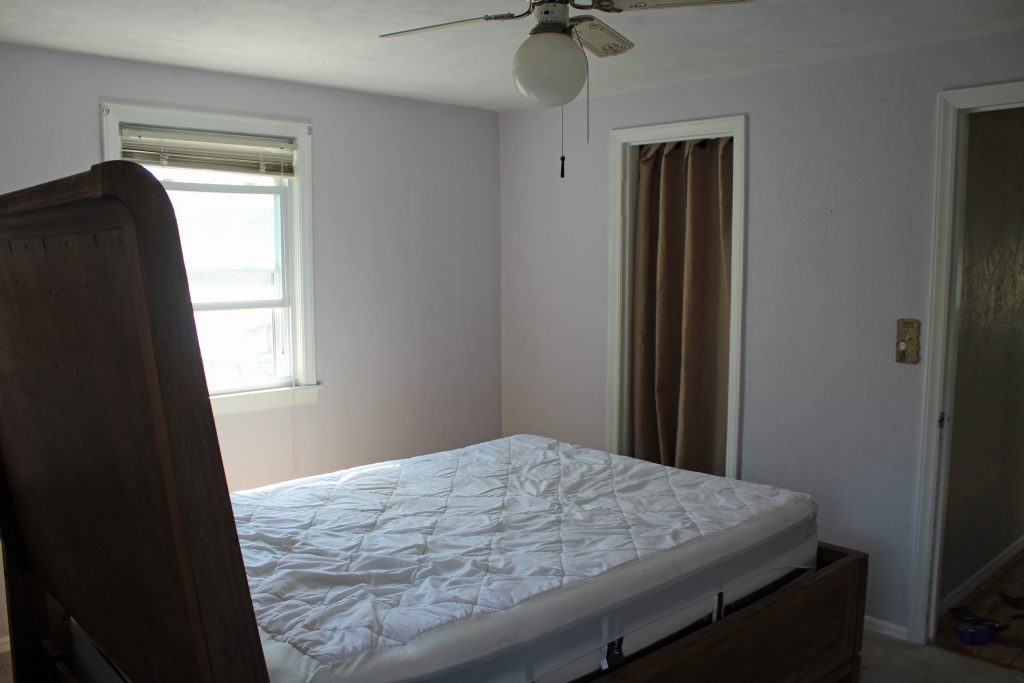 Obviously the bed is pushed out in the photo above so I could paint the wall behind it, but you can see that it's not a huge room. It's still larger than the bedroom we're using now, though! The bed shown in the picture will more than likely need to be replaced or treated by one of the many pest control companies Nevada, as it has quite a severe case of bed bugs as of right now, and we've been let known bed bugs don't just like beds, so it's time to do something about it!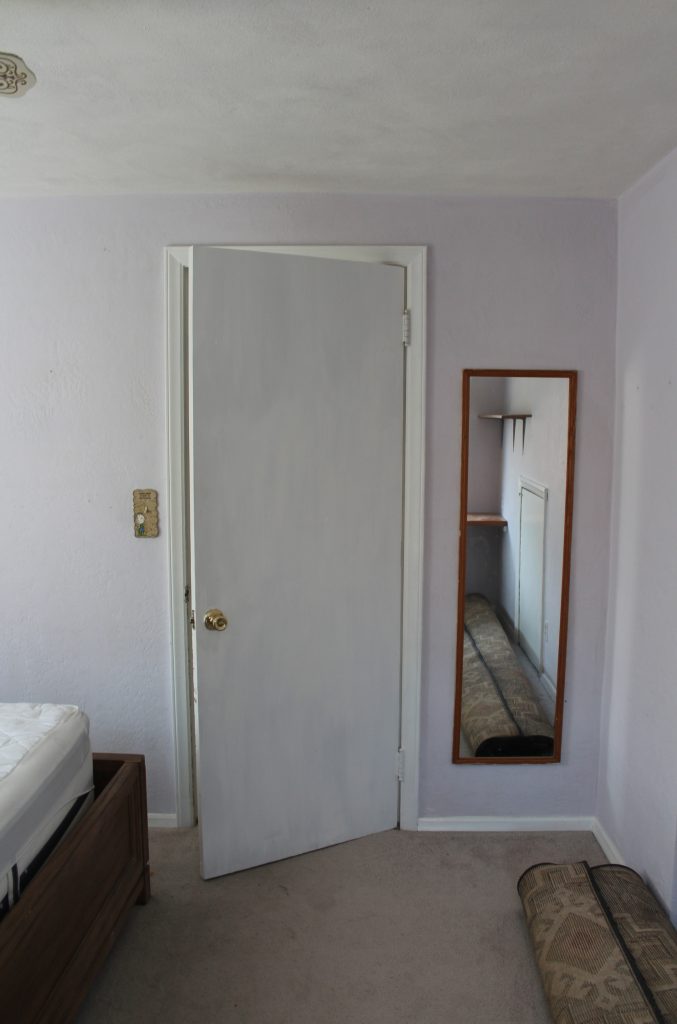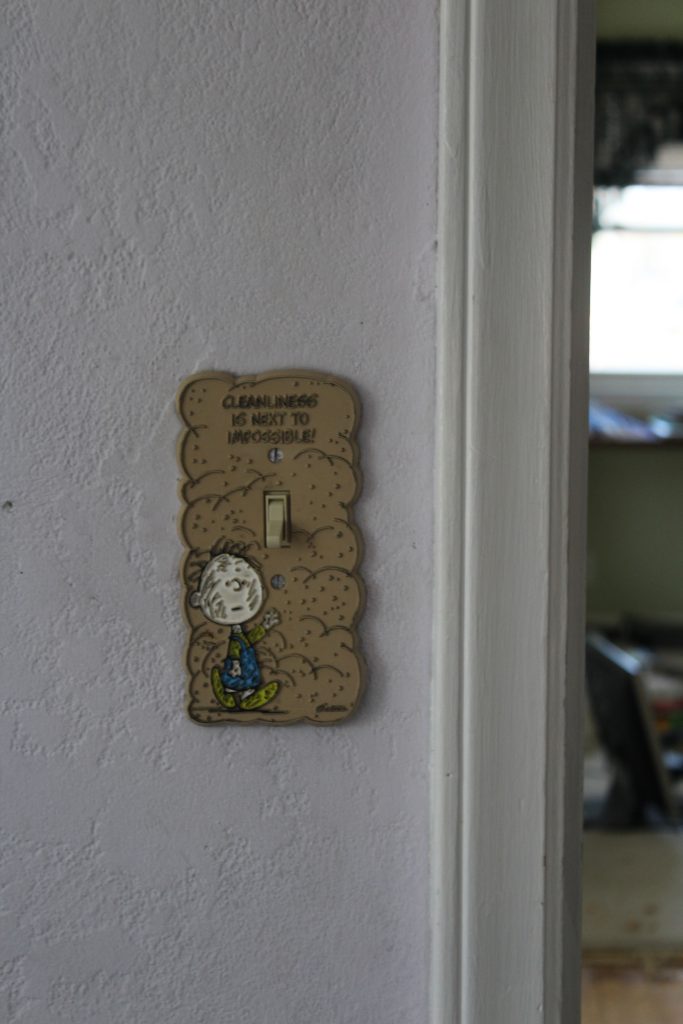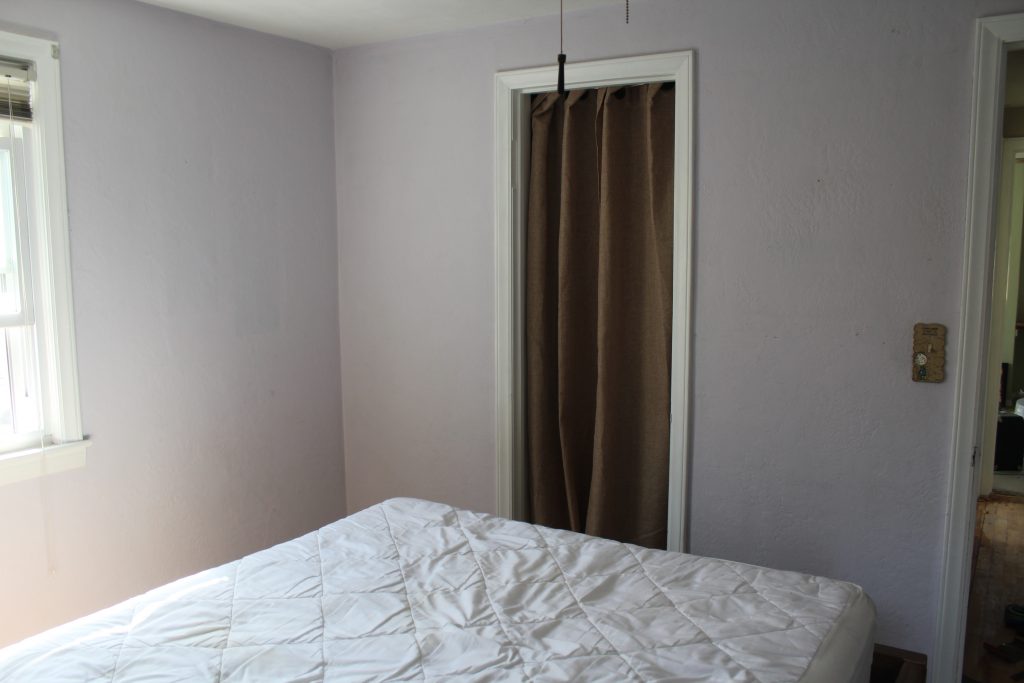 When we moved in there wasn't a closet door so I hung some temporary curtains. I'm not quite sure what I'll use for a door yet, so we'll see what I come up with.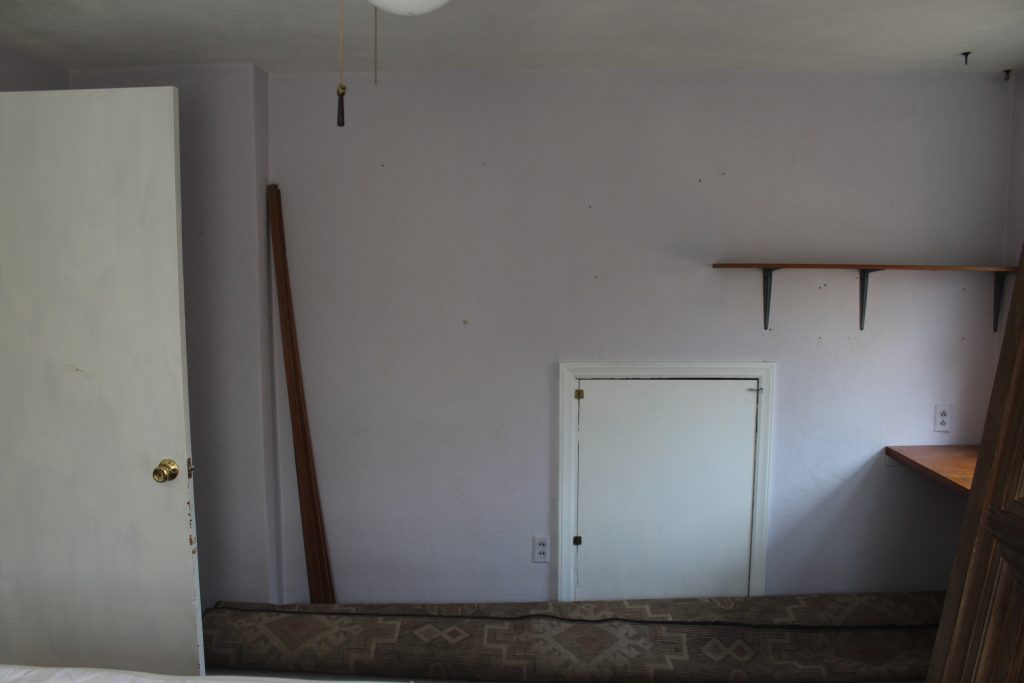 That weird little door is an attic access and I want to cover it up because it freaks me out a little bit. I may put a dresser or something on that wall.
We got one wall painted, but I still need to do a second coat. I cant wait to share pictures (and I can't wait to finish!) ;)
Don't forget that you can sign up to receive my emails – I send one out every time I publish a new post, so you'll never miss out on anything that's happening on Shady Lane! There's a sign up form at the very top of the page. Let me know if you need any help!
I'm all over the web – follow me! Instagram, Twitter, Snapchat (lifeonshadylane), Facebook, Pinterest, and Bloglovin'.
You might like to read these posts next:
Early Spring Styled Church Pew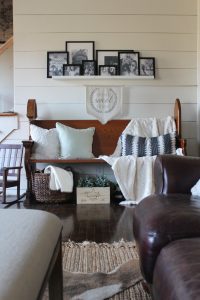 Thrift Store Basket turned Wall Art