When we moved into our house, there was carpet everywhere. And not nice, new carpet…I'm talking, like, 30 year old carpet. So needless to say that was one of the first things we took out. The carpet on the stairs actually stayed for quite a while though, because as I've mentioned in the past, we don't even use our upstairs yet – so we didn't really use the stairs!
I couldn't take it any longer though so it was eventually torn out. And I was really excited because I thought we were finally getting somewhere…and then the stairs sat for months with tack strips, staples, and little bits of carpet padding still on them. There were many times where I really wish I had used a quality professional like Pear Stairs, as many of you would prefer to do. This project certainly wasn't for the faint-hearted.
We had a guest come to stay with us so at like 10:00 one night we pulled a bunch of staples from the steps. You know, to make it presentable. And then a couple more months went by. I shared an update a few weeks ago about what the stairs looked like at that stage [here].
But the other day I was washing a pan in our kitchen sink while Henry was crawling around in the living room. I stopped washing the dish when I realized I couldn't hear him anymore and when I went to search for him, I glanced up the stairs and he was at the VERY top, peeking around the corner at me and grinning. Y'all. I think I had a mini heart attack in that moment.
I went out that day and bought a baby gate, and we put it up in a temporary spot. Because without a railing to attach it to, we couldn't baby-proof it very well. Henry wasn't fooled – he could still find a way to climb the stairs.
So this weekend, we worked on pulling more staples and tack strips and added what will soon be a railing. These pictures aren't pretty, but I just wanted to share an update so you can see where we're at on this project! There was a moment where we looked at each other and realized how big this project was going to be. We started brainstorming again and questioned whether or not it would be worth just getting a brand new staircase altogether. My friend has recently got a glass staircase for her house and it looks insane! I'm tempted to go down that route but for now, we just focused on making the stairs safer by removing the tacks and junk.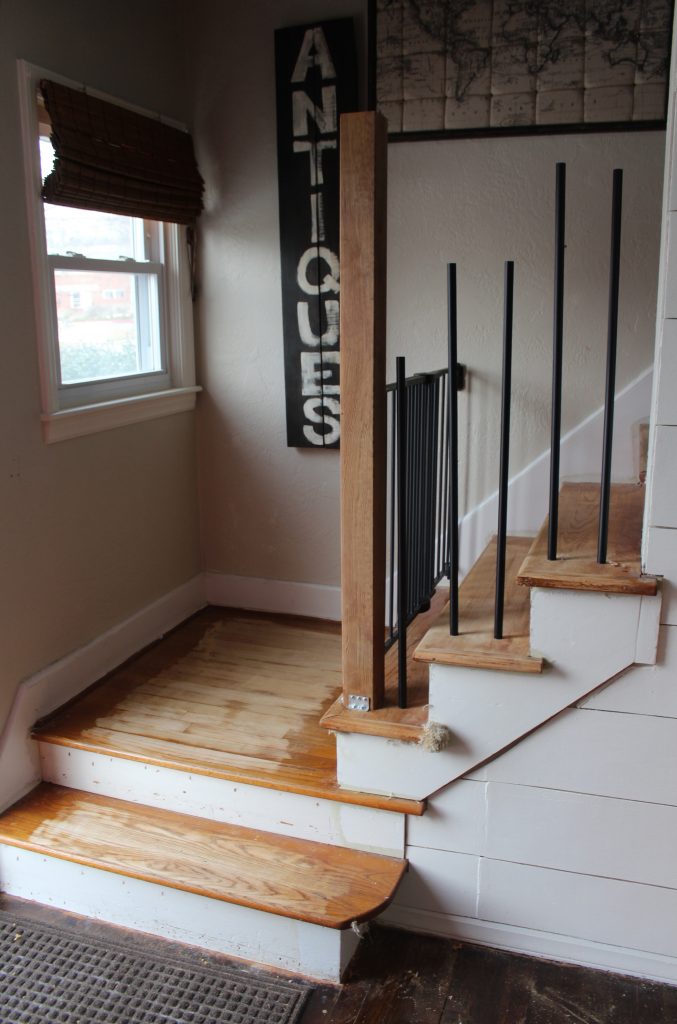 I shared some staircase gallery wall inspiration [here]. As you can see we have two things up on our wall so far…but now I'm thinking that I'll probably have to move that "antiques" sign so Henry doesn't pull it off the wall.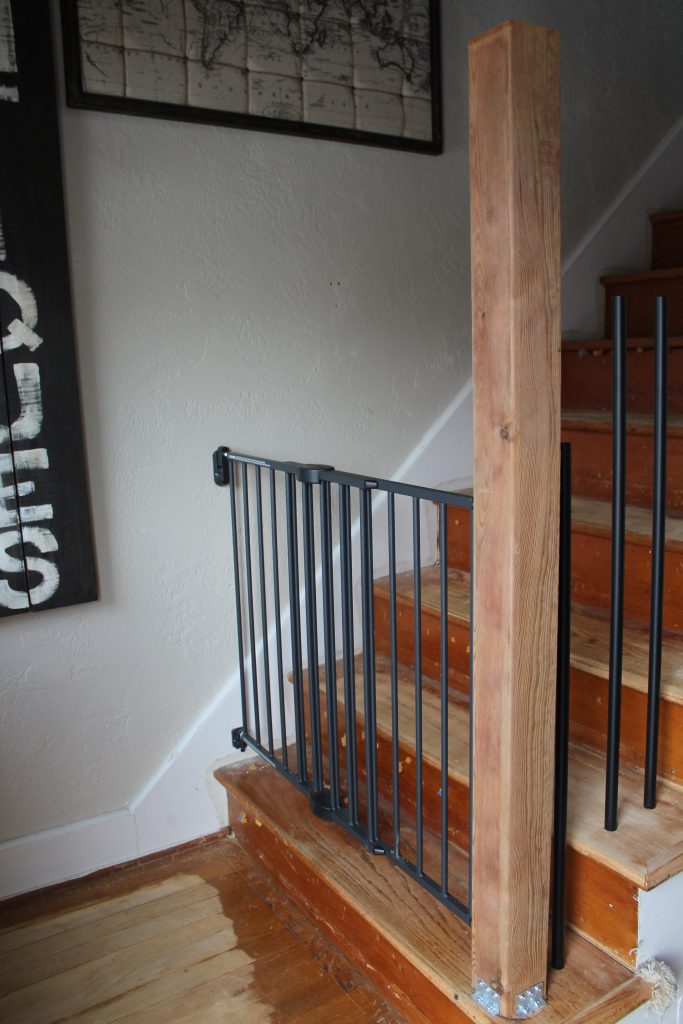 We're going to paint the front of the steps white – it's not real wood there anyway.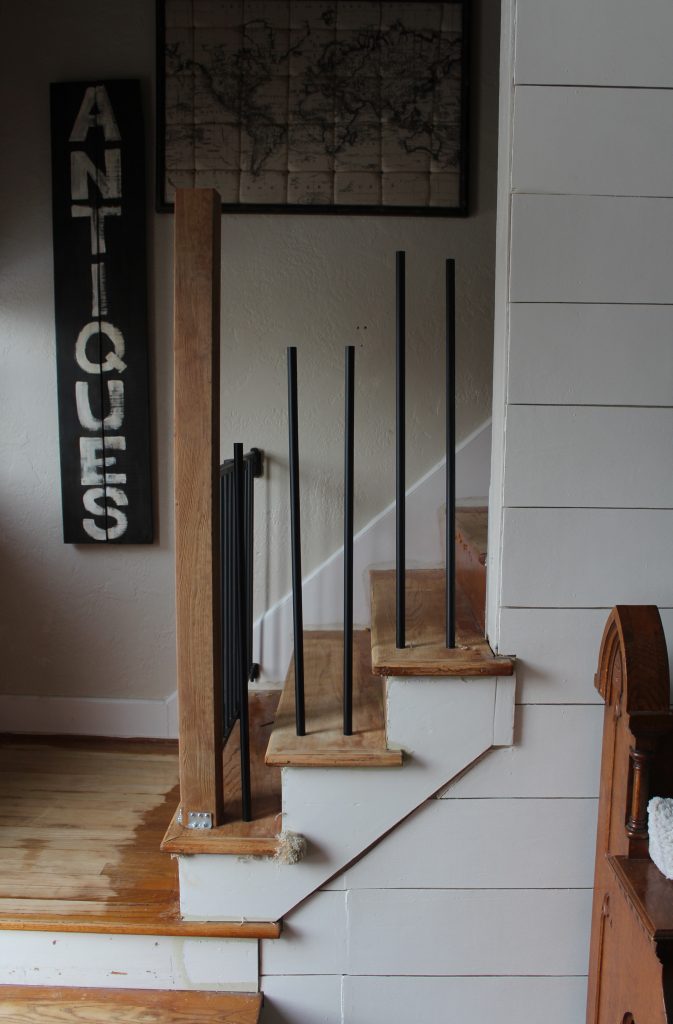 The railing obviously isn't done yet, but Brandon put the base of it up just to keep Henry off of the steps for now. The wood beam and the metal rails will all be cut down and we'll install a wood handrail on top.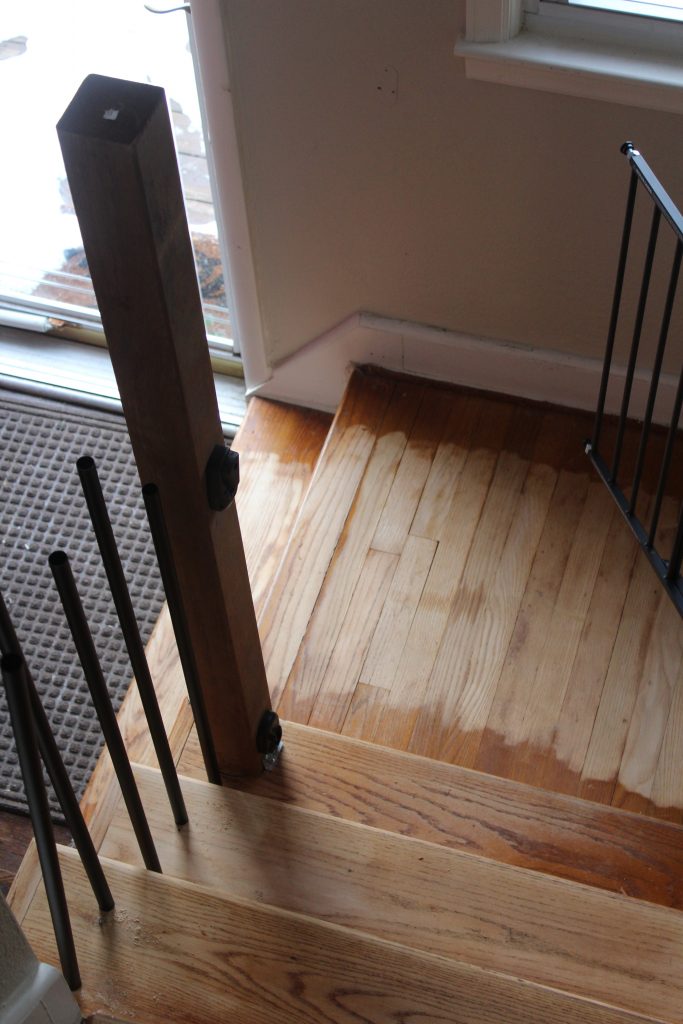 You're probably noticing that most of the edges still need to be sanded down. The belt sander we used wouldn't get close enough to the edges, so we'll have to go back over those with a palm sander. You can see my "how to" post on refinishing wood floors [here].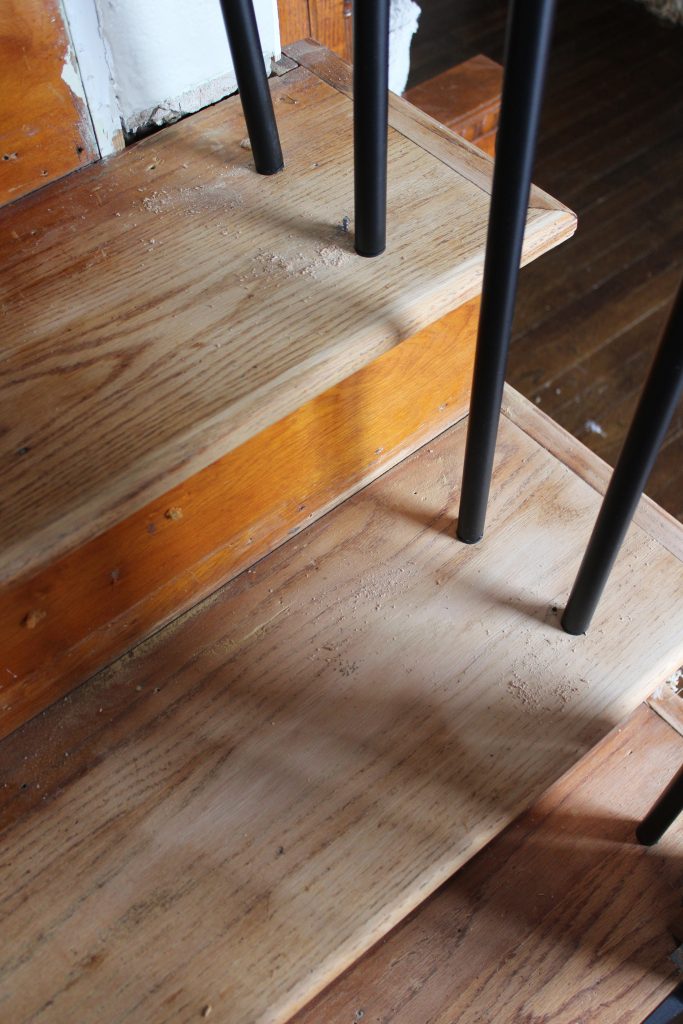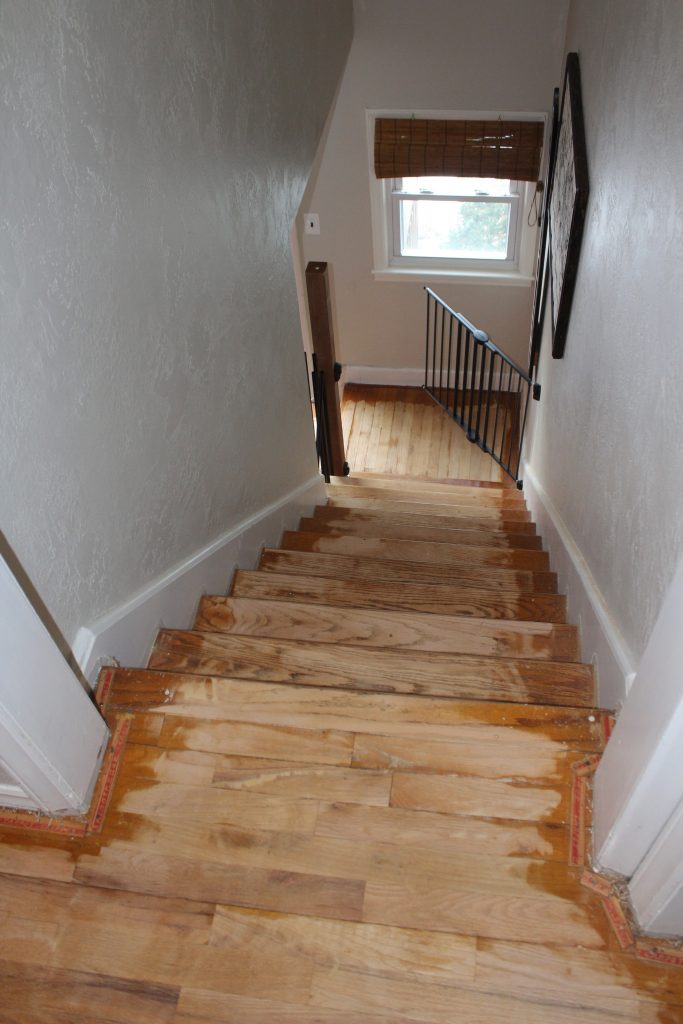 There are still some tack strips at the top of the stairs, so we'll have to pull all of those before we can sand the edges.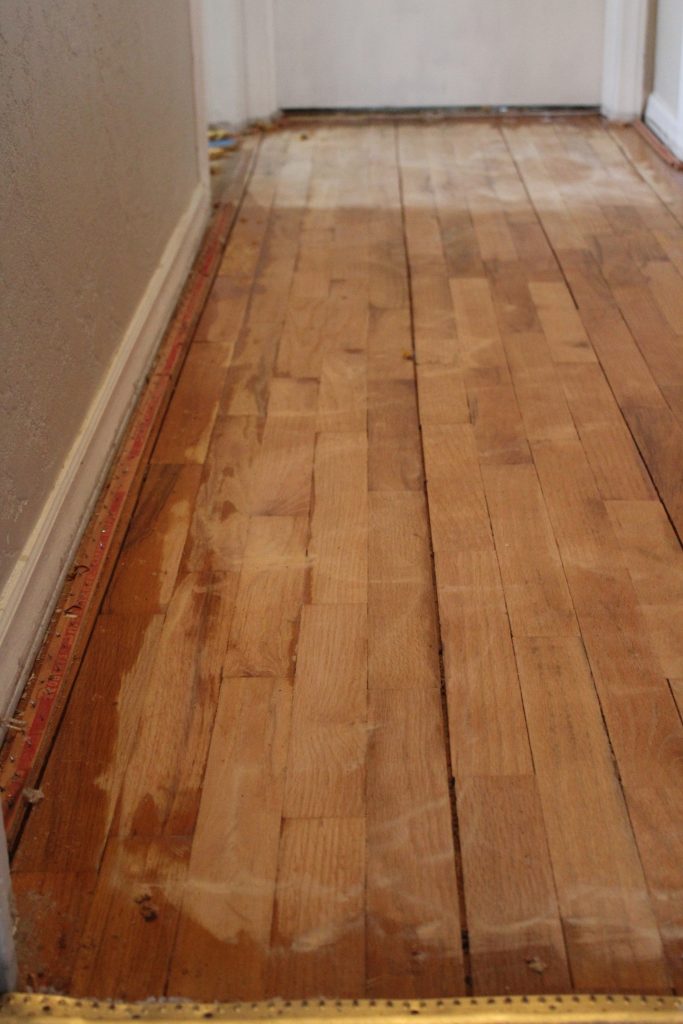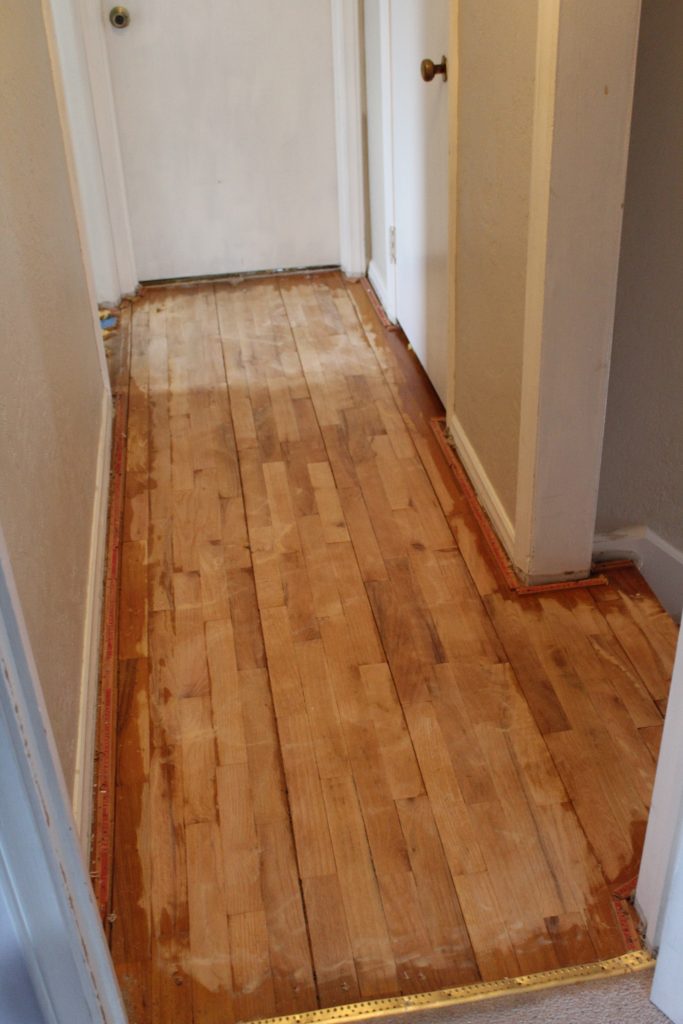 I'm still so amazed that there were hardwoods under all of the carpet, and I'm so excited to finish sanding and staining these beautiful stairs!
Don't forget that you can sign up to receive my emails – I send one out every time I publish a new post, so you'll never miss out on anything that's happening on Shady Lane! There's a sign up form at the very top of the page. Let me know if you need any help!
I'm all over the web – follow me! Instagram, Twitter, Snapchat (lifeonshadylane), Facebook, Pinterest, and Bloglovin'.
You might like to read these posts next: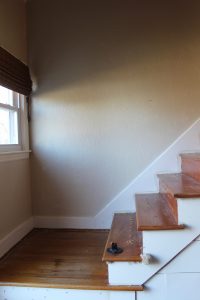 Staircase Gallery Wall Inspiration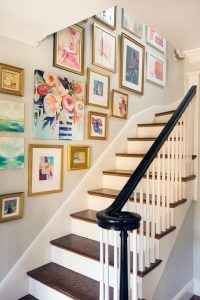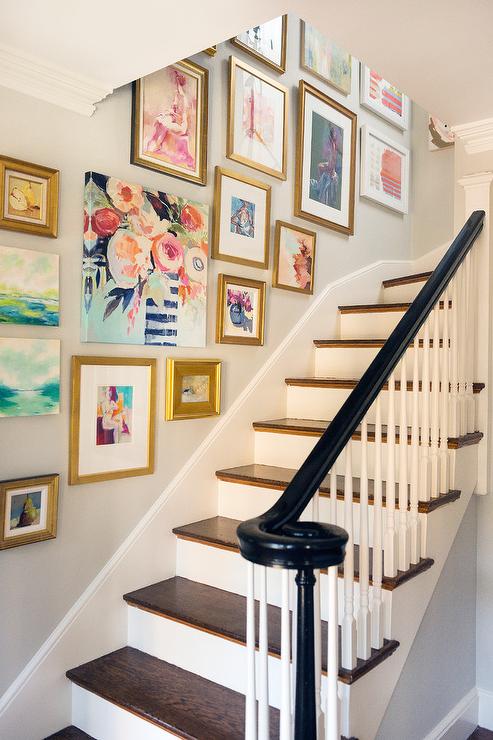 How to Create a Modern Farmhouse Bathroom