It's MAY! That means warm weather is on its way right, right? ;) It has been raining non-stop here, but somebody once told me that "April Showers Bring May Flowers" sooo…I'm hoping for sunshine and flowers very soon.
I hope you had a great May Day yesterday. Does anyone else remember celebrating May Day by leaving flowers on peoples porches as a kid? It's a tradition that I'd like to continue with Henry when he gets older – I always loved surprising people with pretty flowers!
Another tradition that I want to keep up is giving candles to all the important women in my life. All the ladies in my family love scented gifts, so if ever I am stuck for ideas, I love browsing websites such as Grainandgram.com for inspiration. You never know what you might find online nowadays, and there are so many beautiful candle ideas out there it can sometimes be tempting to treat yourself at the same time! Not only can you come across many different candle ideas, but you actually have the chance to create your own custom photo moon lamp for the loved ones in your life, and what better gift could you give your mother on this special day? She'd love it, but she's bound to love and appreciate anything that you give her, custom made or not.
Anyway, since its the beginning of May, I wanted to put together a Mother's Day Gift Guide for anyone looking for a little extra help in the idea department. These are all things that I think a mom would REALLY, truly want…mostly because I know I'd love to get them and I'm a mom! Additionally it's not on the list, but I thought I'd give jewellery like rings or a name necklace the praise it deserves, considering you can't go wrong with jewellery. Plus everyone loves it. Mother's Day is May 14 (don't forget!). Give the mamas in your life a little extra love with one of these thoughtful ideas.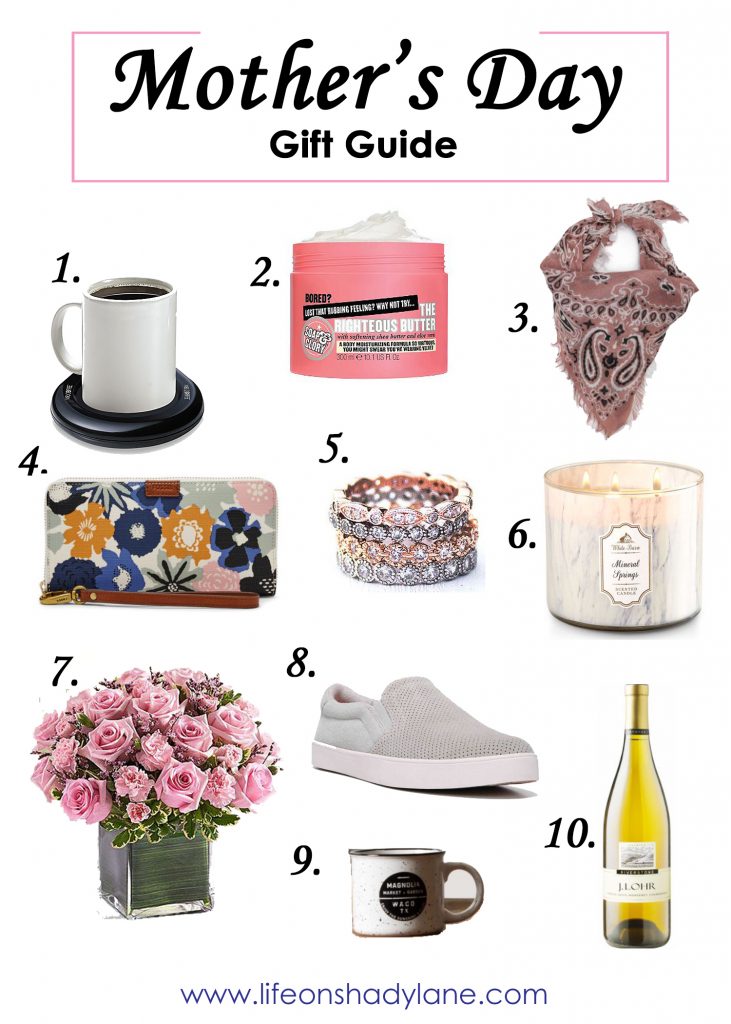 1. Coffee Warmer – This coffee warmer is only $10, and would be perfect on your desk or on your kitchen counter to keep your mug of coffee warm. Because let's be real, most moms don't get to sit down and drink a FULL cup of coffee before it cools off. That would be ridiculous, right?
2. Soap & Glory Body Butter – This body butter smells amazing, and feels really luxurious. Perfect for making tired hands feel pampered.
3. Frayed Bandana Scarf – I just like the color and fraying on this! It would look really cute for Spring or Summer paired with some denim shorts and a tank.
4. Zip Clutch – This clutch/wallet is so pretty for Spring and Summer!
5. Stackable Rings – I'm love, love, loving simple and stackable rings! These are 3 for $150 or 4 for $199 – or you can also buy them individually.
6. 3-Wick Candle – These 3-wick candles are my favorite because they burn evenly and always smell amazing. This one says it smells like "soothing mineral water, night-blooming water lily, and a dash of lime." YUM!
7. Pink Flowers Bouquet – Because you can never go wrong with a pretty bouquet!
8. Dr. Scholl's Slip-On Sneakers – How cute are these? They just slip on, great for mamas on the go. Plus they're made by Dr. Scholl's so they have to be really comfortable.
9. Magnolia Mug – For the Fixer Upper, coffee loving mom in your life.
10. J Lohr Chardonnay – What mom doesn't want (need) a glass of wine from time to time? You could even get a bottle and personalize it to make it unique. You can easily make your own wine labels at GrogTag and then put them into the bottle. It's an affordable way of getting a personalized gift too. This is my favorite chardonnay, and it would be perfect for sipping on a picnic or just sitting on the back deck while the kids are at a babysitters house. ;)
Don't forget that you can sign up to receive my emails – I send one out every time I publish a new post, so you'll never miss out on anything that's happening on Shady Lane! There's a sign up form at the very top of the page. Let me know if you need any help!
I'm all over the web – follow me! Instagram, Twitter, Snapchat
You might like to read these posts next:
A New Rug and Table for our Porch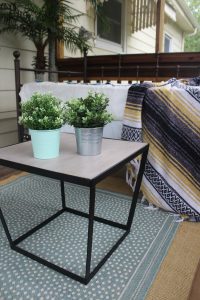 Less Screen Time, More Play Time (+ a Giveaway!)