I started decorating our home for Christmas about two weeks before Thanksgiving. Some might say that's too early, but my thinking is that it's so much work, and if you wait until December 1st, you don't really get to enjoy your hard work (and pretty decorations) for very long!
I wanted to incorporate a little bit of Christmas into our kitchen, and when I realized that I hadn't ever shared our whole kitchen on the blog, I knew this would be a great time to do it!
I posted about our antique ladder + pendant lights in a blog post [here] and you can see a little bit of our kitchen there. Before that, I think the last thing I shared was this update [here], and in that one we hadn't even installed our new hardwoods! So needless to say, an update was definitely due.
We still want to do a couple things to the kitchen, but it has come SO far from when we first moved in. You can see some before photos [here]. Our future plans include new countertops and backsplash, as well as building a range hood.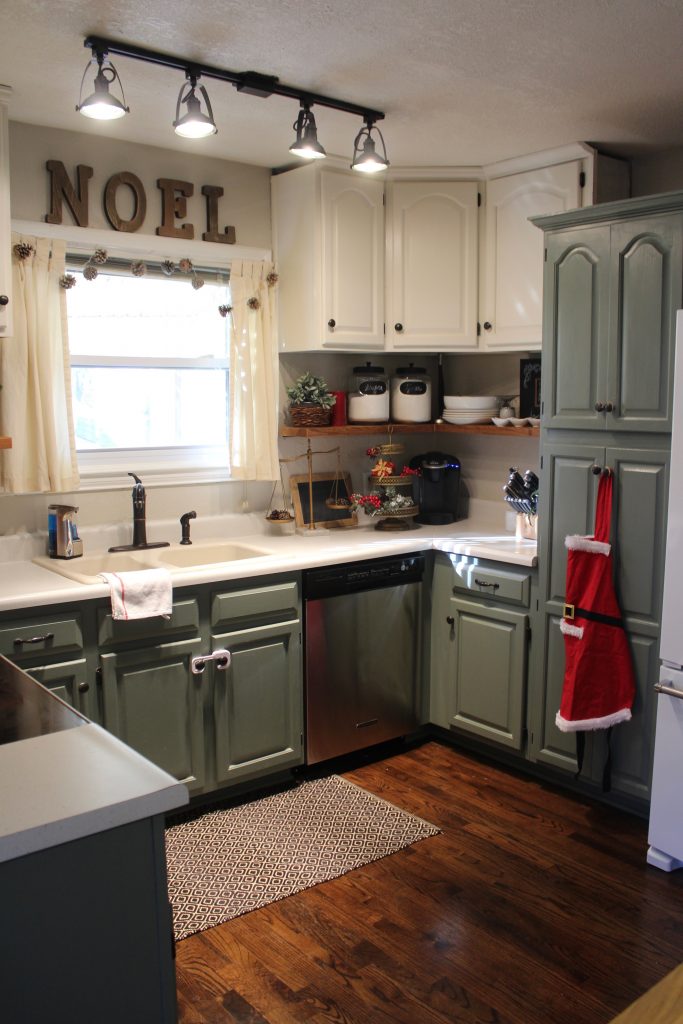 We decided to go with traditional red and green for our Christmas decor. I'm all for decorating outside the box but when it comes to Christmas, I always love the traditional colors.
Like I said, this kitchen has sure come a long way from when we first moved in! I've loved decorating it for different seasons. Are you decorating your kitchen for Christmas?
Don't forget that you can sign up to receive my emails – I send one out every time I publish a new post, so you'll never miss out on anything that's happening on Shady Lane! There's a sign up form at the very top of the page. Let me know if you need any help!
I'm all over the web –  follow me!  Instagram, Twitter, Snapchat (lifeonshadylane), Facebook, Pinterest, and Bloglovin'.