This post may contain affiliate links
What I packed for one week in San Antonio – we went in March, when the weather was just starting to warm up, but still a little on the chilly side some days.
Today I'm sharing exactly what I packed for San Antonio. I always love to see other people's "travel capsules" – it's helpful for putting together outfits while on vacation without packing your entire closet. SO I thought I'd share what I packed for you guys! I like to pack mix and match things that can be reworn in different ways. It's especially helpful when the place I'm visiting has a washer and dryer, of course, and our VRBO this time did. So helpful!
I really wanted a variety of options – something for chillier weather but also choices for when the weather warmed up. It's always a little trickier, in my opinion, to pack for a spring trip because you just never know what the weather is going to be like. So I took advantage of layers!
I'm linking everything that I can if you'd like to shop!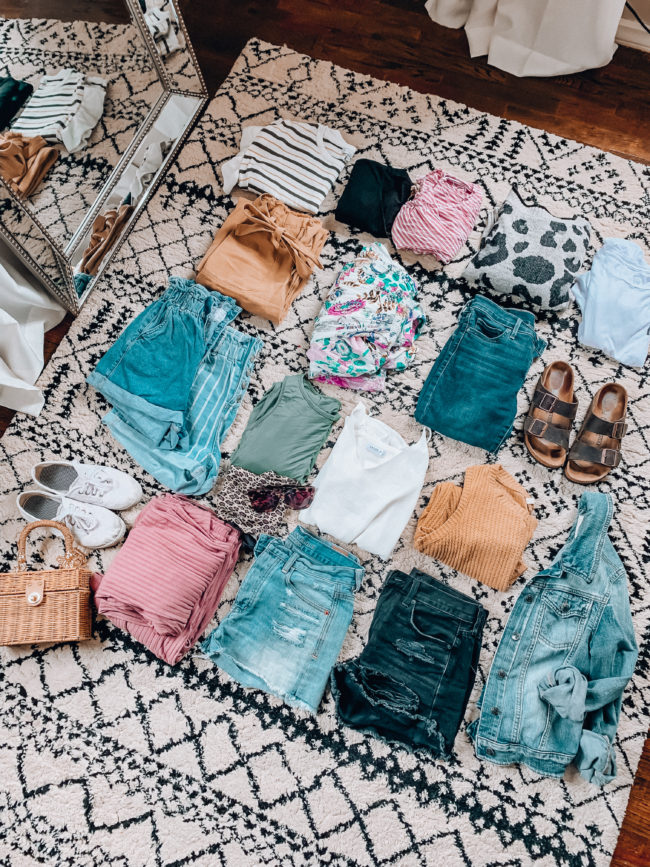 I have photos in MOST of everything that I packed – you can find links to everything underneath the photos. But, there are a few things I packed that I didn't get a photo in:
Denim jacket – my exact one is old and sold out, but [here] is a super similar one that I really like
Animal print sweater – buy it [here]
White strappy tank – I wear this all the time, it's a great staple wardrobe item! Buy it [here]
Green tank dress – So cute! Good for dressing up OR down. Buy it [here]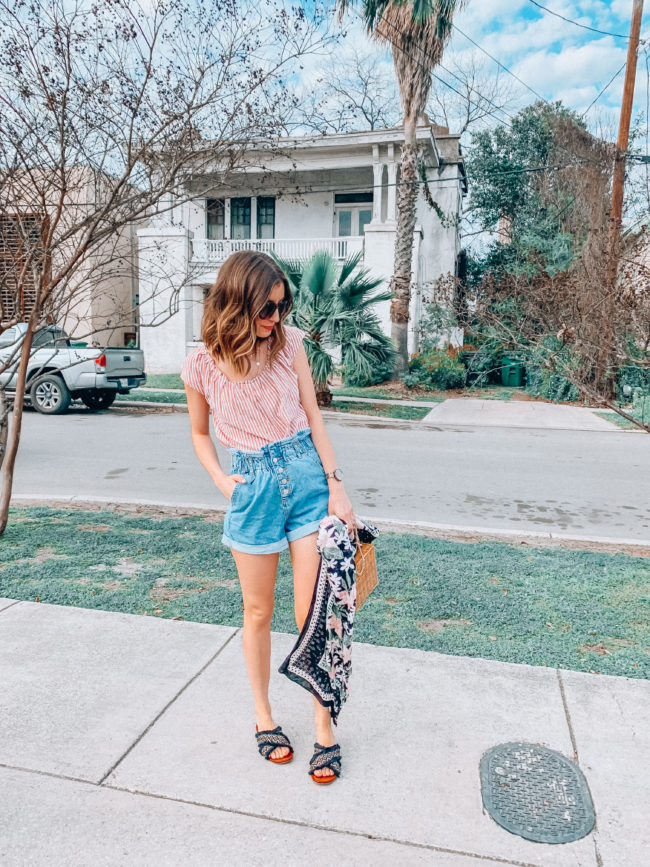 These are going to be my most worn, most favorite shorts this summer. I'm so obsessed with them! I also have the striped version. So cute and flattering.
My top is a pattern from last summer, but it comes in other patterns this year. It has the cutest bow detail in the back!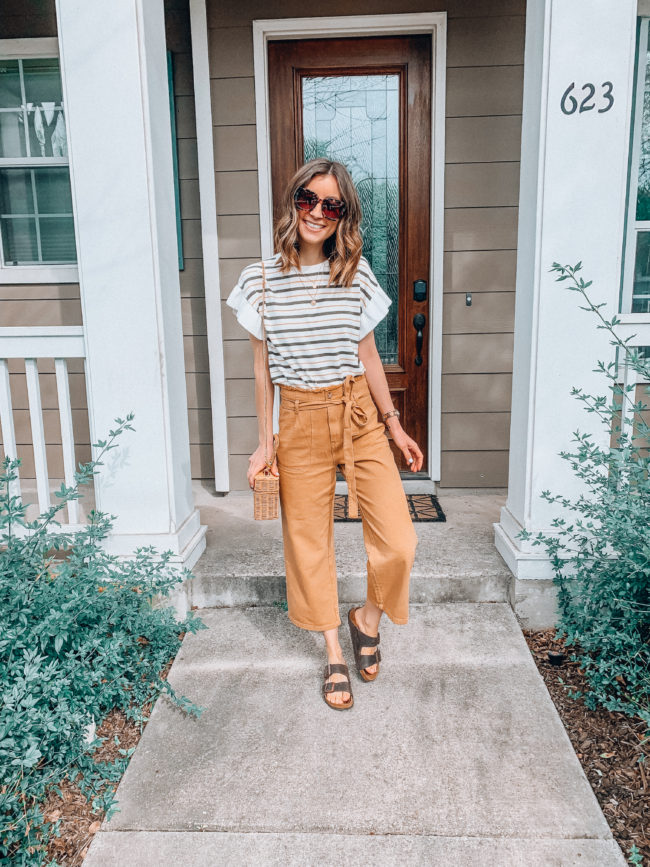 This outfit is from SCOOBIE Boutique – I can't link it, but definitely check out her site! Such cute stuff!
I wore my Birkenstocks all.over. Such a good staple shoe!
I got a ton of questions about these sunglasses, so linking them for you guys too!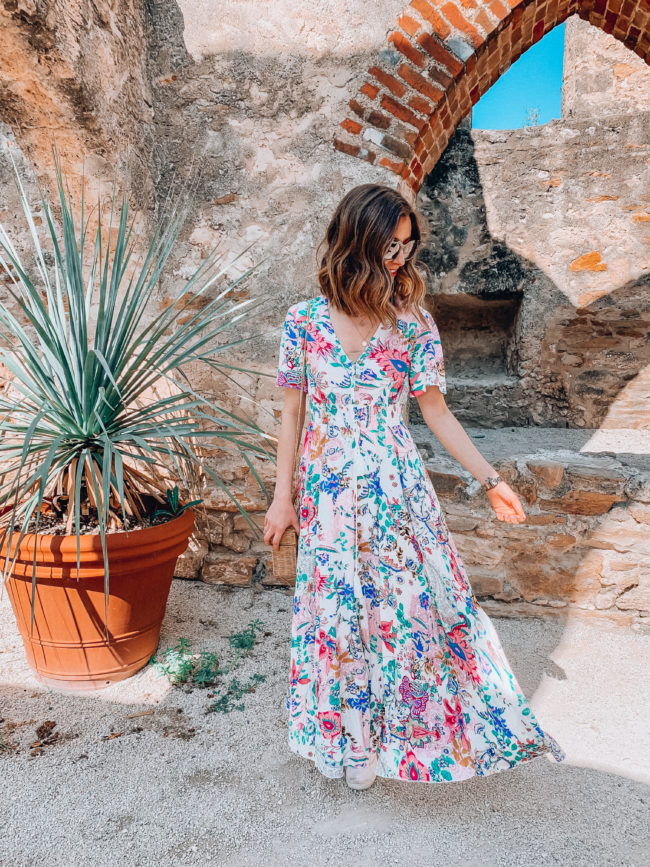 This dress is SO affordable, pretty, and versatile. It can be worn as a kimono too (and looks adorable like that!).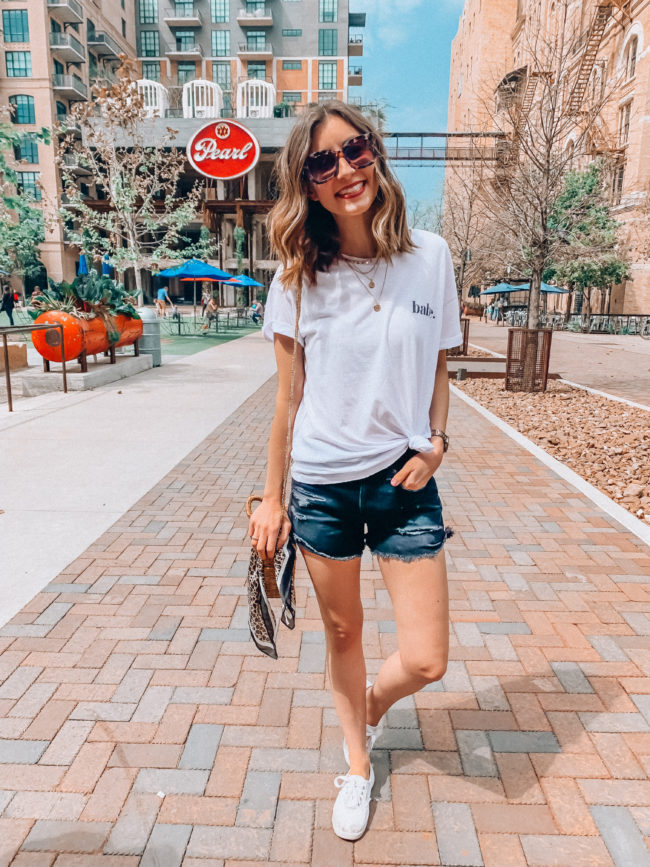 I wore this tee several times – just a good basic that will go with tons of outfits!
My shorts are a good length – not too short, not too long. The frayed hem is cute, too!
I bought these white sneakers several years ago, but found an identical pair for you!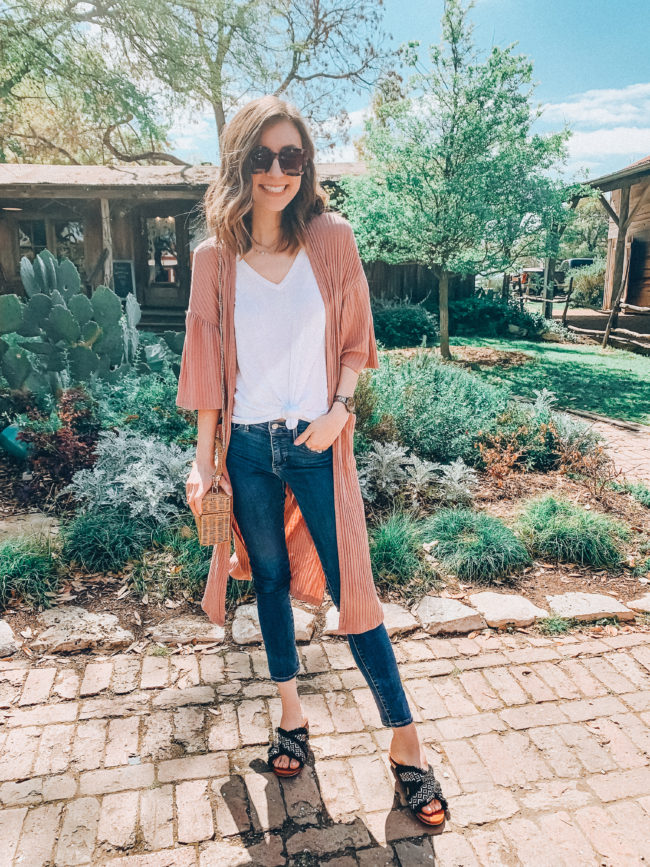 This "kimono" is actually sold as a robe in the pajama section, but I'm not too cool to wear it out of the house. ;) I think it looks so cute as a kimono, and you totally can't even tell!
My jeans are a staple in my wardrobe all year long. I love them – so flattering!
Buy matching lounge pants here (I probably wouldn't wear THESE out of the house, but they're so dang cute paired with the robe for lounging around the house!)
————–
I hope you'll check out some of my other posts while you're here, too!
See my DIY projects and inspiration [here]
Check out a home tour [here]
Check out some fashion posts [here]
I hope you enjoyed this What I Packed for One Week in San Antonio blog post