We're making progress! I'm sharing our upstairs bathroom flooring, paint, tub and sink selections today, so you can get a little sneak peek at what the space will look like when its finished!
We have been preparing for our upstairs bathroom renovation for quite a while. As you could probably tell from my previous post, there was a lot of mess to clear out, so it's a good job we used a dumpster rental service to get rid of it all (learn more about that here). As far as the design process has gone, I first put together a post on creating a modern farmhouse style bathroom [here] with a bunch of options and styles to choose from. It's always helpful for me to round up ALL of the styles, colors, etc. that I like and then narrow down from there, so that was my thought process behind that post! For example, if I were looking for floor tiles and tile installation services for my bathroom, I would look online for different companies in my local area similar to Cutting Edge Flooring Services (Cuttingedgeflooringservices.com/tile-installation/). That way, I can see if they fit my budget and provide the tile installation service I need. After which, I'd go searching for different tiles, styles, and colors that I would love to have in my bathroom, while thinking about what kind of aesthetic I want for my bathroom, whether contemporary or modern etc. But something I'd like to highlight here, when doing a big change to your bathroom, make sure you decide to get drain cleaning belleville nj services or something similar because that can solve a lot of headache down the line. But I digress.
Then, when I had narrowed down what I liked, I put together a style board [here] with a general idea of what I wanted the bathroom to look like. I knew that some things might change, but creating a style board really helps get a better feel for what the room will actually look like.
You can see how the bathroom looked before right [here] and mid-demo [here]. Just a fair warning: that demo post is pretty MESSY!
We're still actually in the demolition stage, but have officially made the upstairs bathroom flooring, paint, tub and sink selections. So I wanted to share those with all of you guys!
A seriously huge THANK YOU to our sponsors for this project: Sinkology and Stainmaster. I am beyond impressed with the customer service I've received from both companies and would highly recommend them to anyone.
Stainmaster has been so amazing to work with and even through changing my mind 3 times about what I wanted our flooring to look like, they were super patient. Seriously, they sent me samples THREE TIMES before I finally settled on the flooring I loved. We were inspired to replace our bathroom floor after seeing the fantastic job the Best General Contractors in Charlotte did for our friends who live in North Carolina. I knew I wanted the space to feel cozy and farmhouse-y (is that a word? No.), so I had a really specific idea about how I wanted the flooring to look and feel. And umm…Stainmaster DELIVERED, y'all. We chose the "Long Beach" color, which has a wood look but is actually solid LVP (luxury vinyl plank) so it'll hold up really well to water and be extra durable. And let's be real…those are two things I NEED in a bathroom floor, especially after the painted tile "fiasco" in our other bathroom.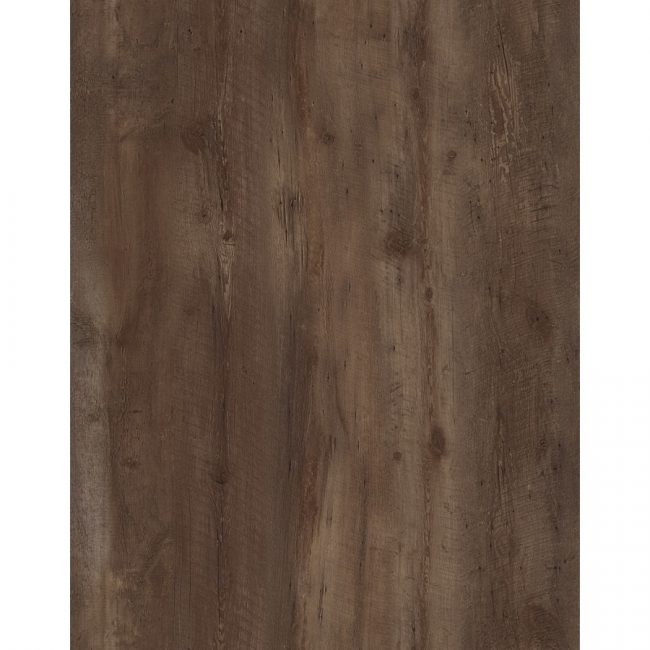 Some additional bonus points about LVP:
Great for active families with kids and pets
Easy to clean and maintain
Mimics the look of real wood and ceramic
100% VOC compliant and phthalate free
PS you can find Stainmaster LVP at Lowe's. Like I said, we chose the color "Long Beach" but seriously, you should check them out because there are a TON of colors to choose from! They also come in a ceramic look, fyi.
Like I mentioned, I knew that plans could (and probably would) change slightly from my style board. That's one of the fun parts of the design process: things can change, oftentimes for the better! Originally I had a white freestanding bathtub in the plans, but when Sinkology suggested one of their stunning copper sinks and copper bathtubs for our bathroom remodel, I obviously said YES. I had actually included a copper tub from Sinkology on my initial post about the bathroom's design and have admired their products from afar for quite some time.
We chose the Curie sink and the Euclid bathtub. Both are hammered copper and I know that they will be the focal point of our bathroom. I mean…can you even believe how beautiful they are?!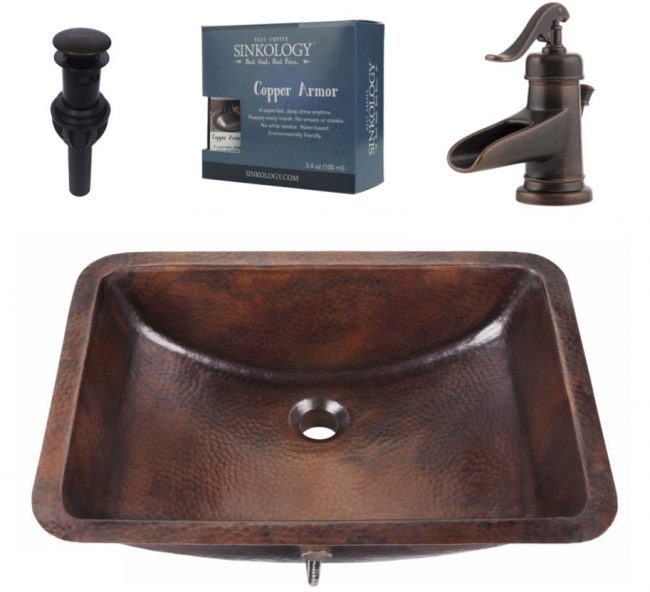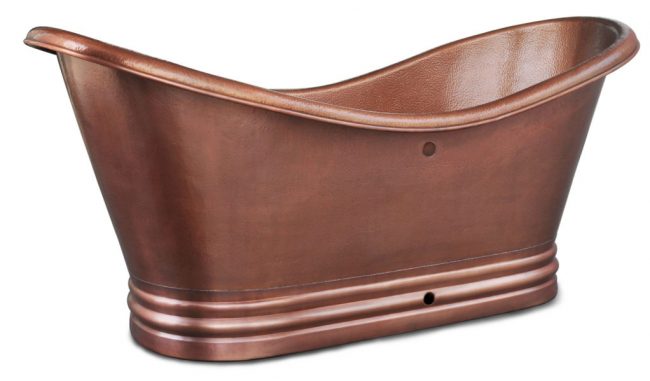 For the walls, we're going to install shiplap, and paint it in the color "shiplap" (imagine that!) by Magnolia Home. I knew I wanted a white color on the walls. I love that this specific color feels a little more "lived in" than a crisp, bright white. And for trim, I think we're going with Magnolia Home's "true white."
I used another Magnolia Home color, Dark Moon, on our main floor bathroom vanity. You can see it [here].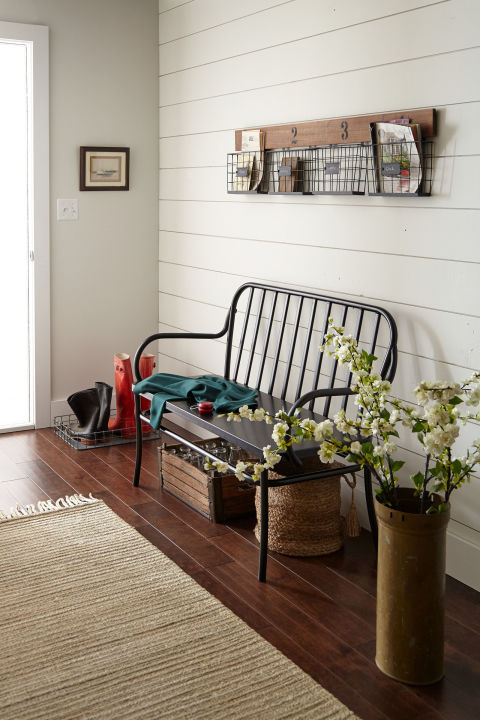 [Source]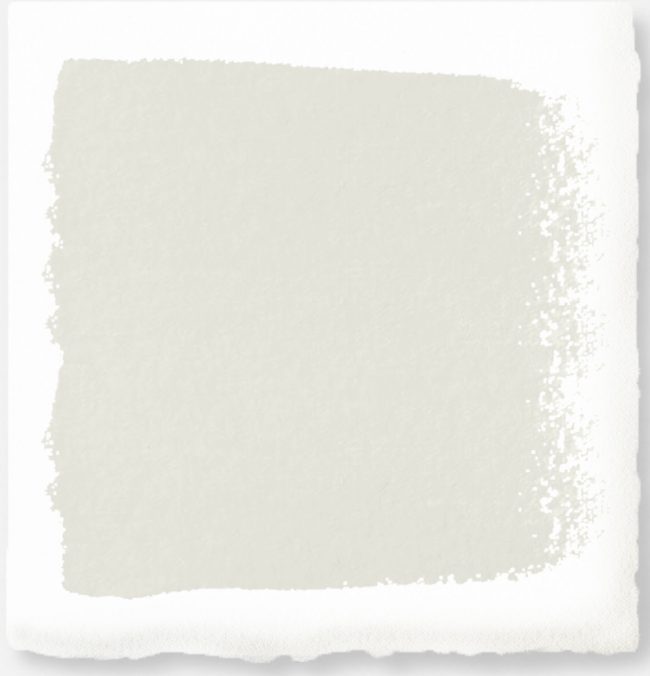 So there you have it! Those are our upstairs bathroom flooring, paint, tub and sink selections. What do you think? Like I mentioned, we're still working on demolition, but now that the space has a more concrete plan I can really see it starting to come together.
If you want, you can pin the image below to your Pinterest board to easily find this post later! And while you're at it, why not FOLLOW ME on Pinterest?