|| A quick bathroom makeover with white paint and open shelving to make it feel fresh and modern ||
When we moved into our house, the bathroom on the main floor was painted white. It wasn't exactly a pretty shade of white either – it was a little too stark. So we decided to paint it a navy blue.
|| You can see more photos of the bathroom [here], [here], and  [here]. ||
And you know what? Almost as soon as we finished painting, we realized we didn't like that color. But we decided to leave it because it seemed like too much work to repaint at that point.
So it stayed like that for over two years. And when our ancient bath fan quit working, the paint started to do this really weird dripping/streaking thing. Not a good look.
When we remodeled our upstairs bathroom, I purposely bought extra paint with the intention of painting the main floor bath with the same color. It's white, but it's a warmer white…and I LOVE how clean and fresh it made the upstairs bathroom feel.
|| See more of our upstairs bathroom remodel [here]. ||
So one weekend when Brandon had to work, I decided to "surprise" him with a freshly painted bathroom. I thought I could get it done in just a few hours, but it actually ended up taking an entire week to get everything perfectly painted. We were covering a dark navy blue with white paint – not exactly the easiest job, but I knew it would look awesome when it was finished.
My decision to paint the bathroom quickly spiraled into taking down the old cabinet above the toilet, too. I had always planned to put floating shelves there, but just hadn't gotten to it. What better time to do it than when re-painting, right?!
I LOVE how the shelves turned out, and the white paint makes the room feel so much brighter and cleaner.
|| Want to see some before pictures? Click [here]! ||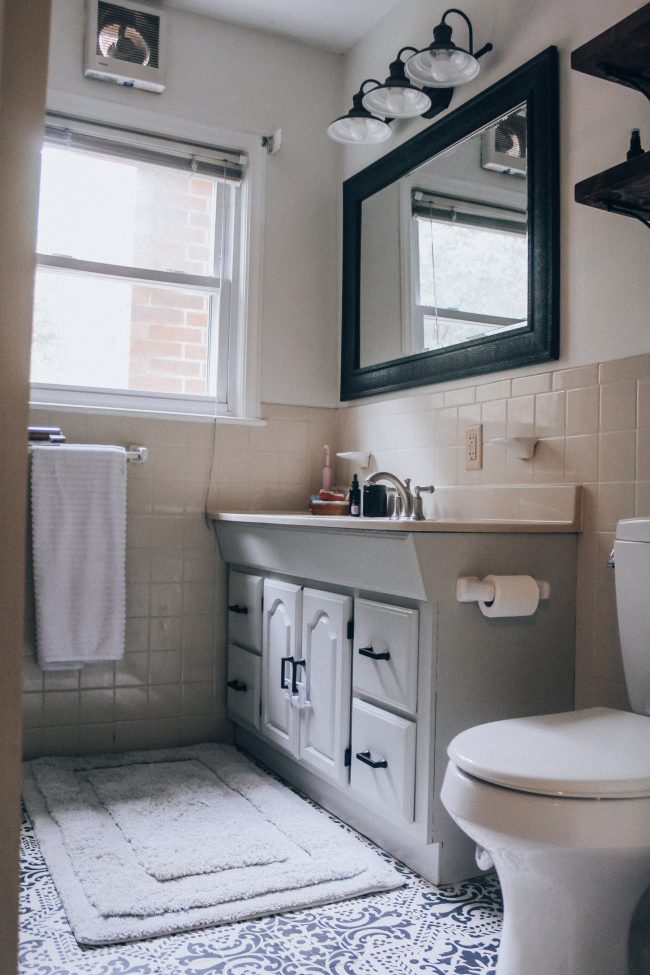 The 1950's off-white wall tile is going to stay, just because we have a million other projects to do around the house and ripping those all off seems like a TERRIBLE idea. We're making it work!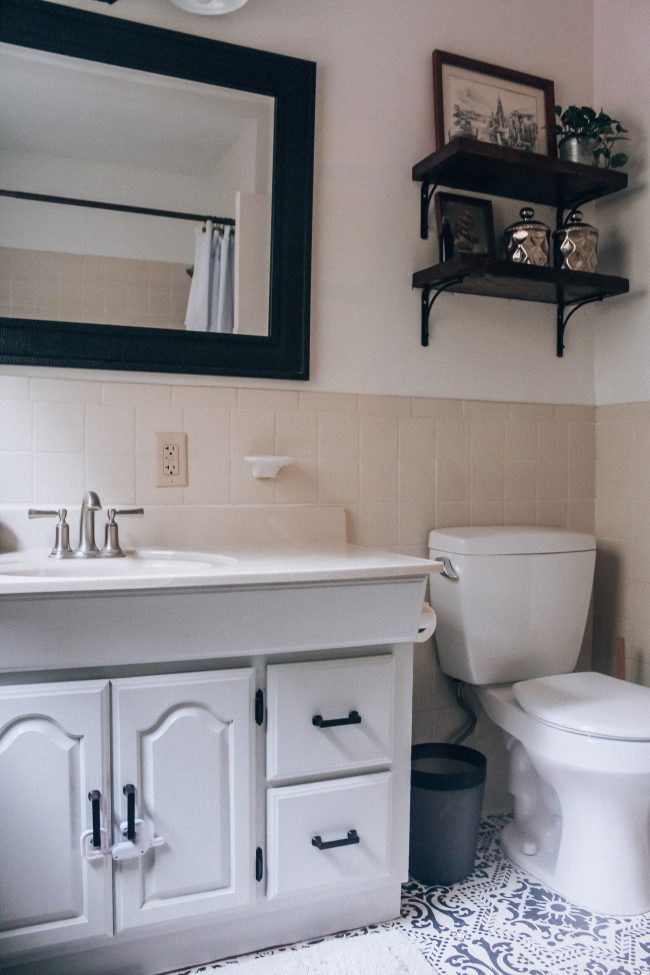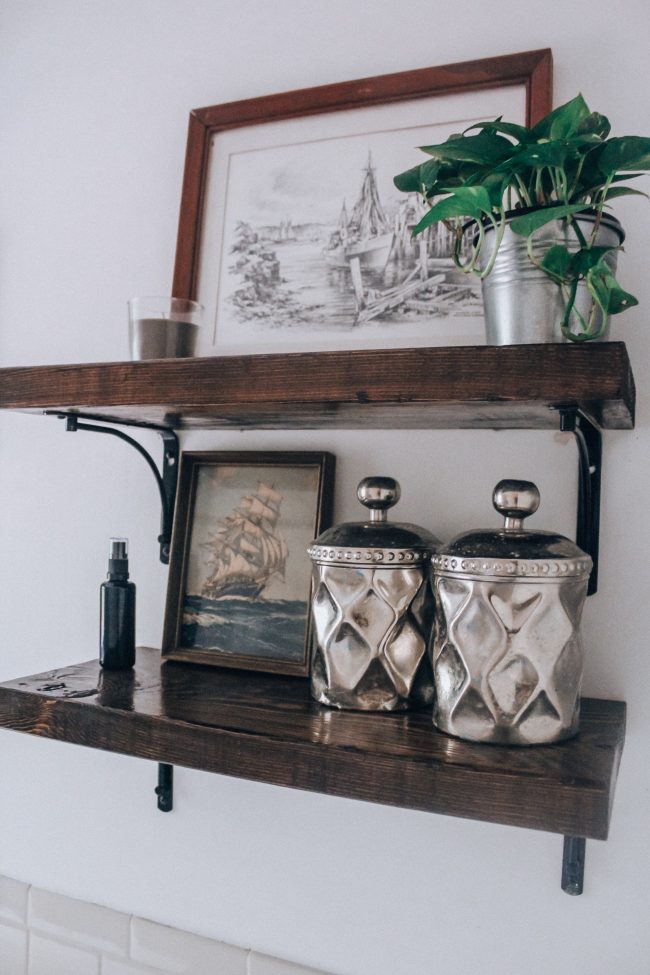 I stained the shelves after they were already up on the wall. Not my best decision (see the smudges on the wall? Oops. I'll need to touch that up with paint! Striving for progress, not perfection around here.)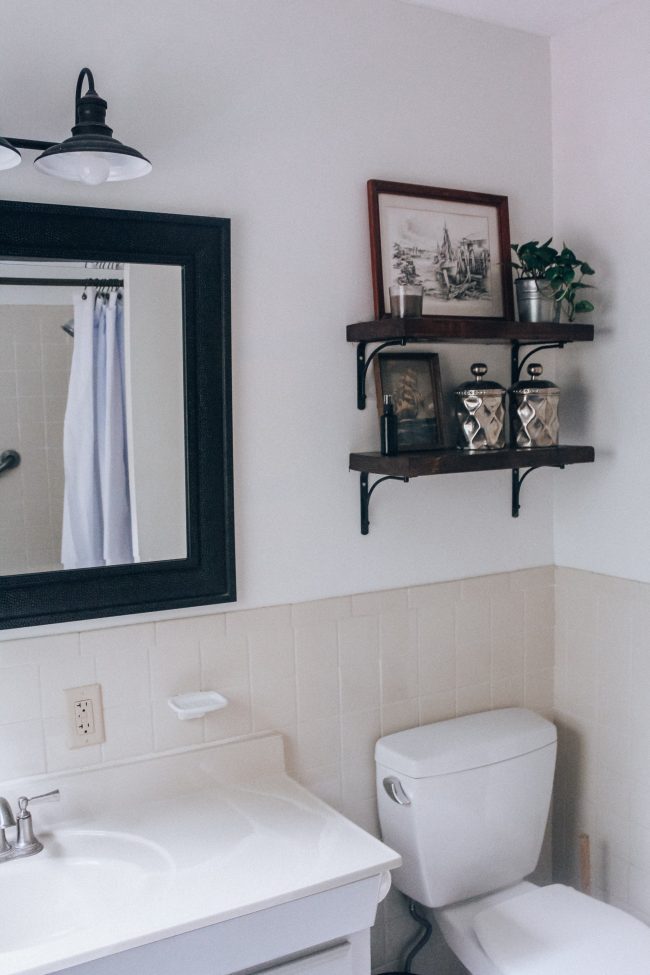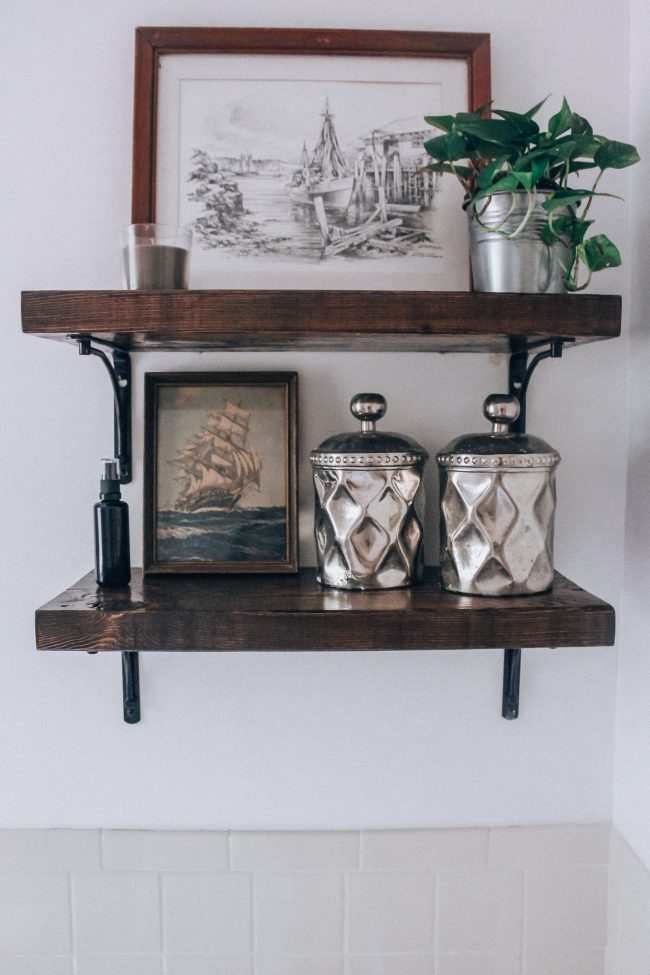 SOOO in love with how these shelves turned out!! We just used wood, stain, and brackets that we already have so it cost us $0. #winning
Oh, and all I bought as far as new decor was the candle and a plant. Still searching for the perfect planter, but this little guy from IKEA will do for now.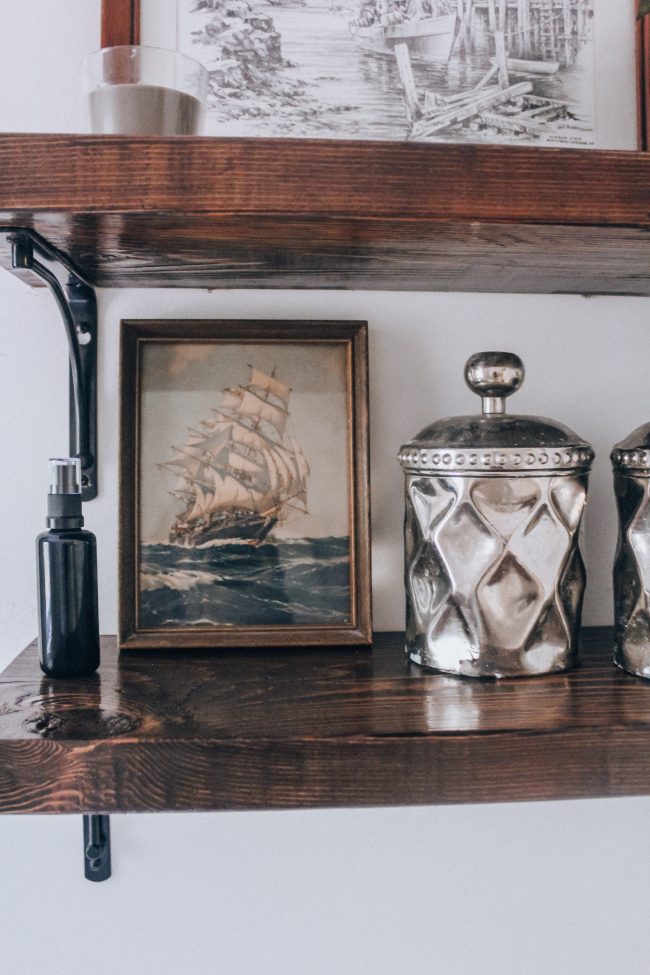 The artwork is vintage – I bought it several years ago just because I loved it. It has the perfect home now!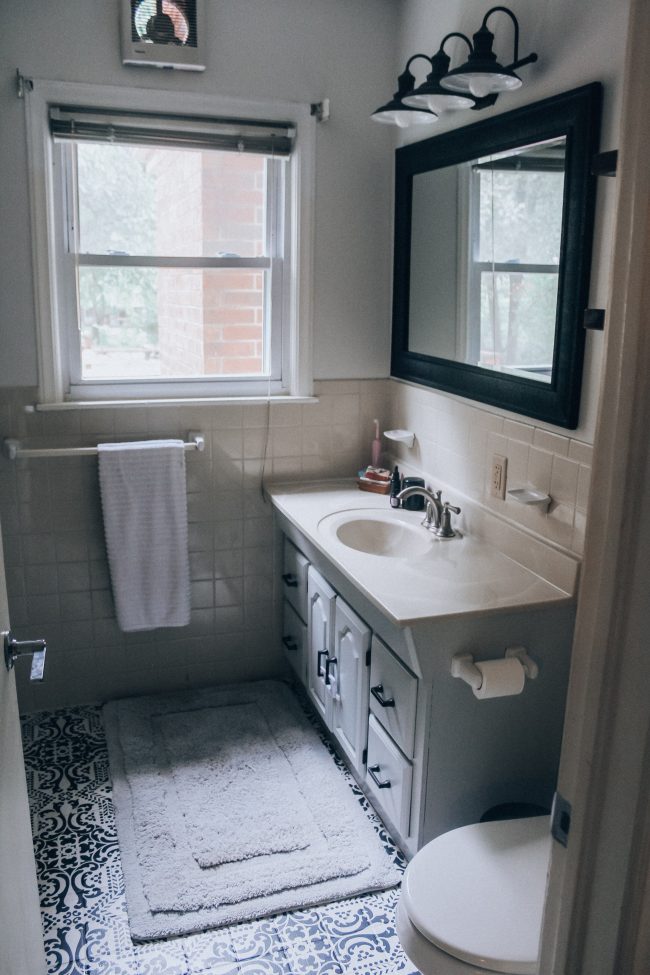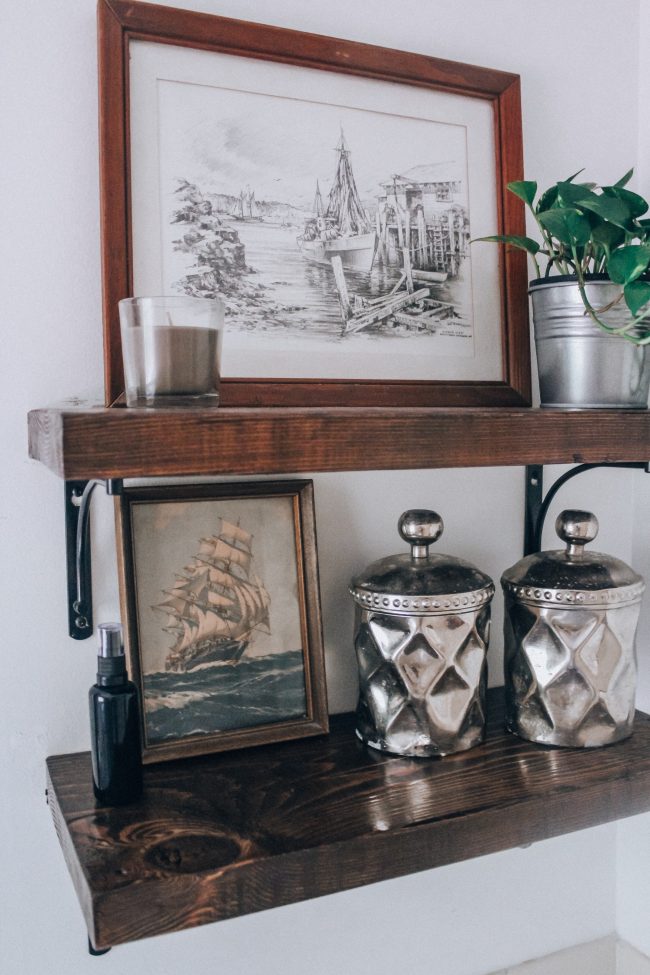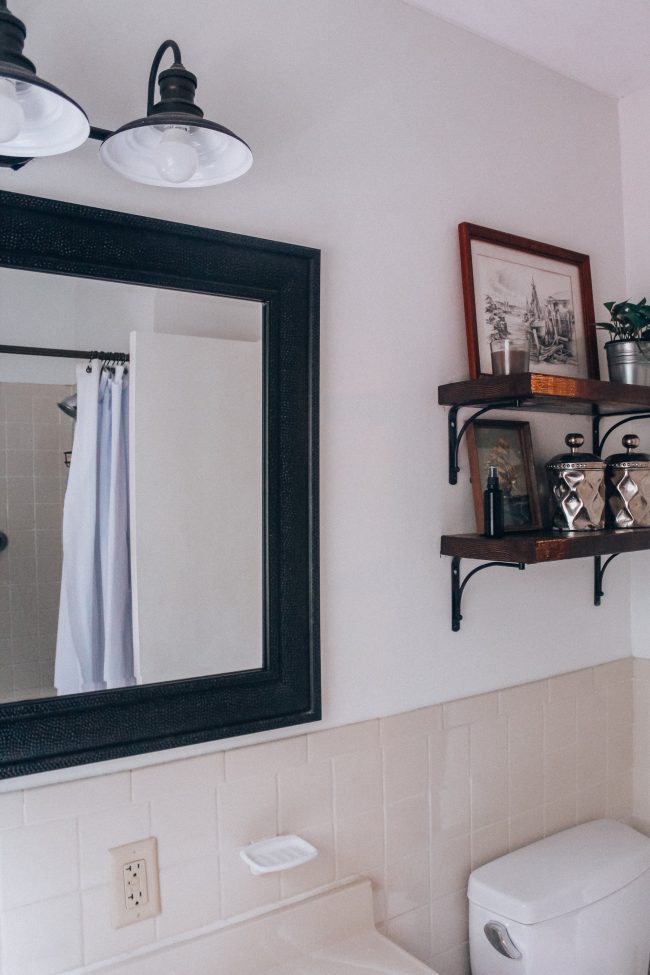 I also feel like painting the walls white made our ceilings feel taller (since the ceiling is also white). The navy seemed to cut it off, visually. Not mad about taller-feeling ceilings!
Next up for this room is re-tiling the floors. I stenciled them quite a while ago [see an entire blog post on that here] but it's not looking so hot anymore. I have a vision in my head for the new tiles, but I'll keep that a surprise for now. It'll be pretty though, I promise. When we finally get to it! ;)
|| You can check out an update on our stenciled floor [here]. ||
Pin It for later: