A freshly painted bathroom vanity with a Magnolia Home paint color and updated matte black hardware!

This post may contain affiliate links.
Remember the other day when I shared our black and white stenciled bathroom floor [here]? I mentioned in that post that I had plans to pretty up the vanity, as well, and actually completed it over a week ago but am just now getting around to sharing.
I hope you'll check out some of my other posts while you're here, too!
See more of my DIY projects and inspiration [here]
Check out a home tour [here]
Check out some fashion posts [here]
Up until recently, I wasn't sure I even wanted to paint the vanity – I considered leaving it alone. But when the floor was finished, the vanity just didn't quite seem to "fit" anymore. It needed an update!
You can check out how I stenciled our bathroom floor [here].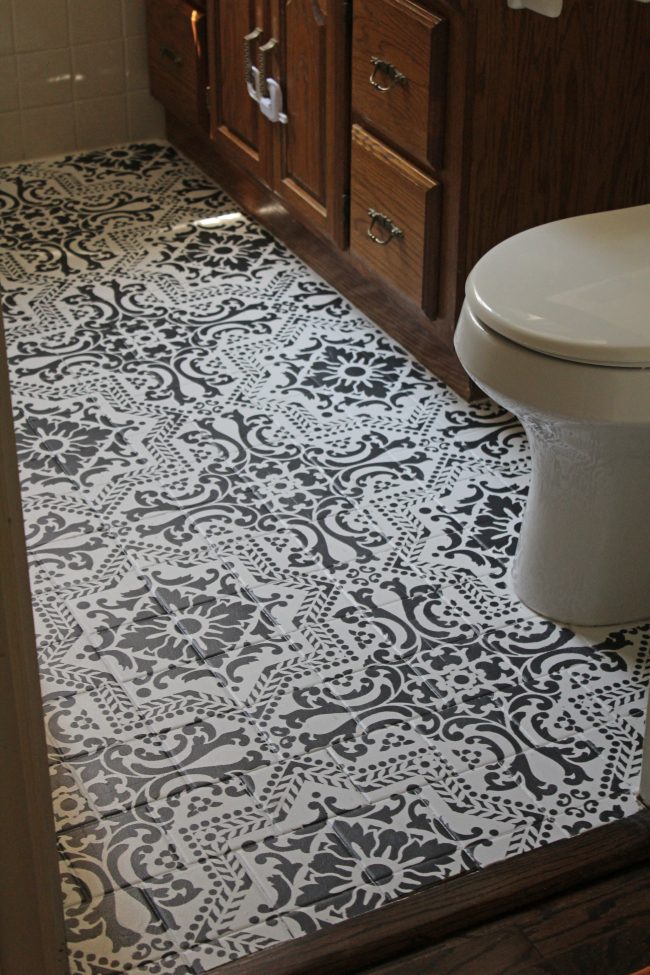 See what I mean? Not so pretty! We replaced two of the handles with updated gold hardware when we needed to put a child lock on (because we keep our bleach and other bathroom cleaners in there and Henry is really curious). But other than that, the vanity looked the exact same way it did as when we moved in.
I had been wanting to try out a Magnolia Home paint color, and ventured out to find a can. OMG you guys – every single color is so pretty! Seriously. And no, this post isn't sponsored…I'm just really excited about all of the Magnolia colors and will definitely try more on other projects. Our painted bathroom vanity makeover turned out so well, I'm not sure why I waited so long to do it!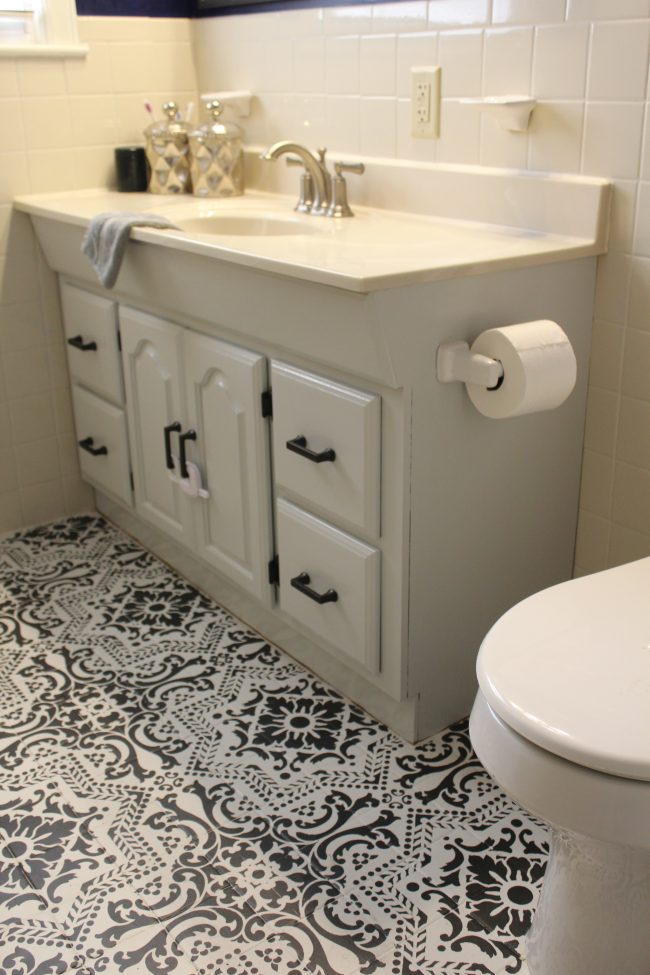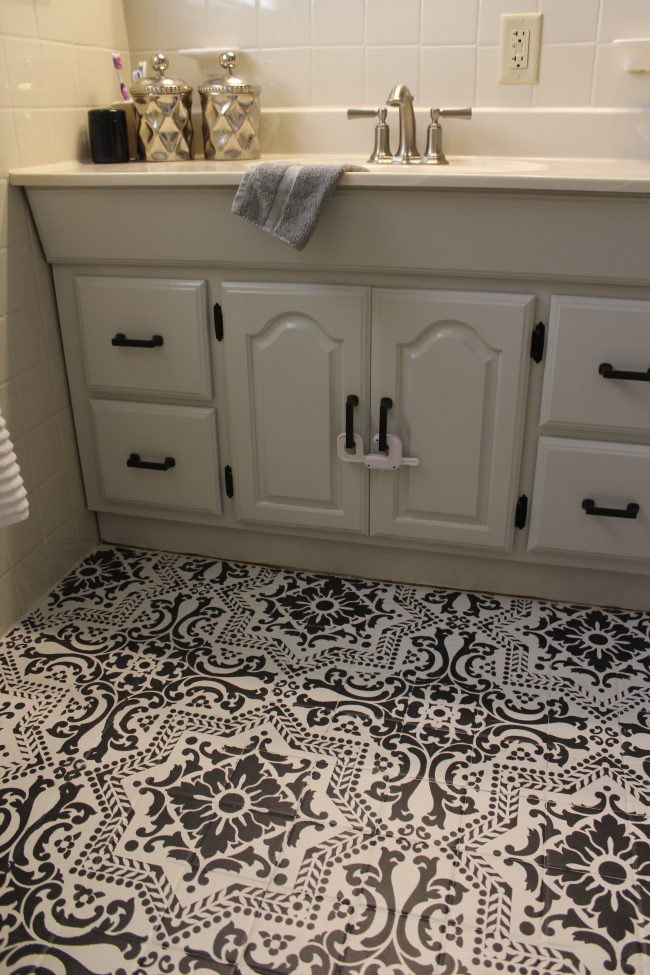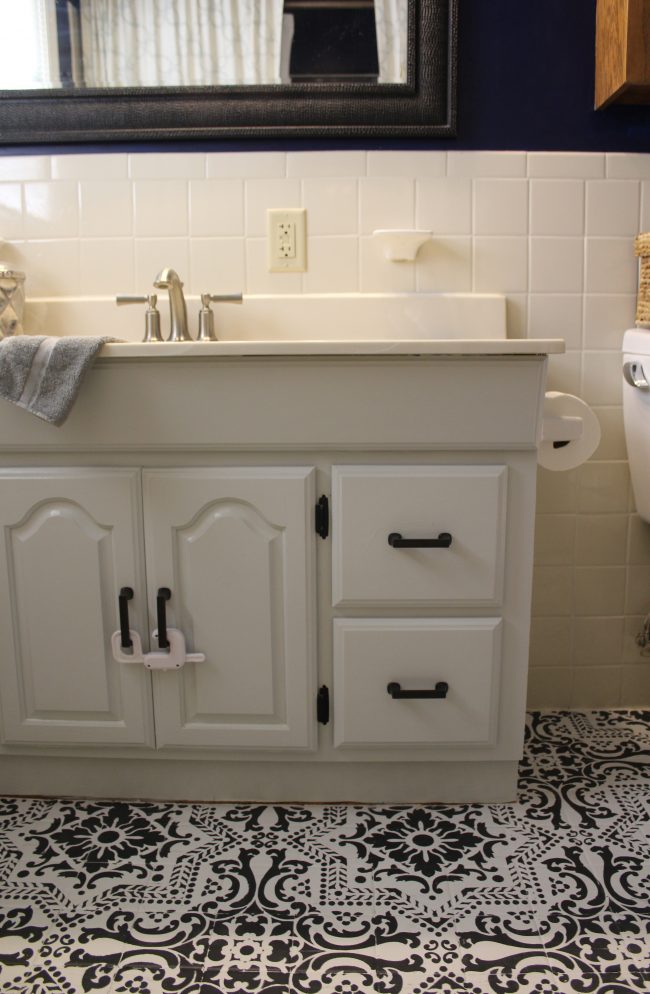 ANYWAY, the color I picked was Dark Moon, and I chose some simple matte black hardware to tie in with the floor, mirror, and light above the mirror. I primed the cabinet first with the same primer I used on the floor: Zinsser Bulls Eye 1-2-3.
Priming was a REALLY good idea because it helped the paint stick well (without stripping or sanding!) and I didn't have to put on 900 coats of paint to cover the wood. Just two! ;)
PS: I took some photos with our rug and some without, so you could see more of the stenciled floor. Read all about how I updated our off-white 1950's tile with a stencil [here]. Also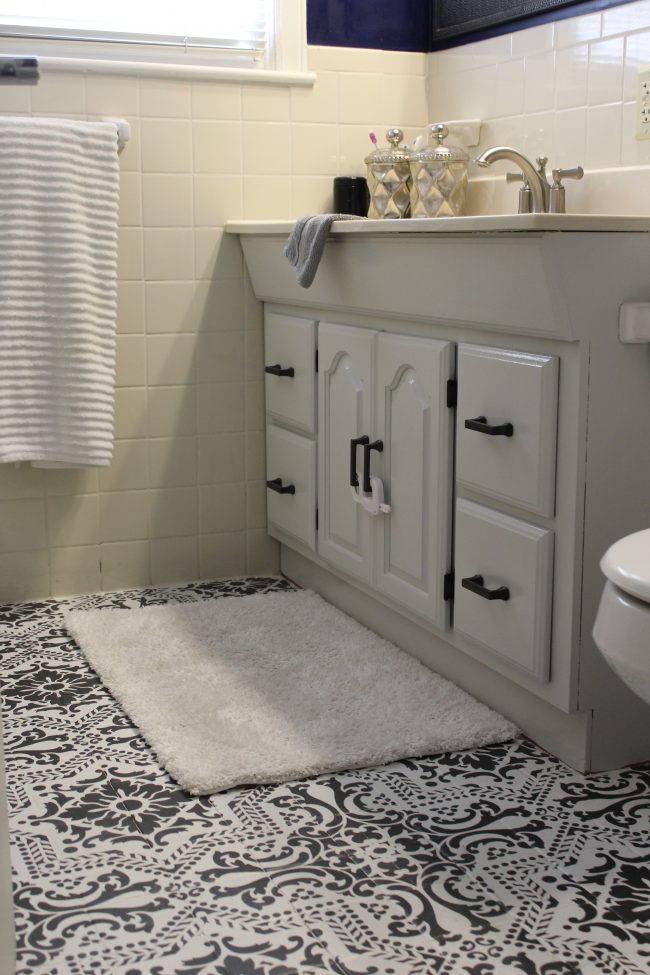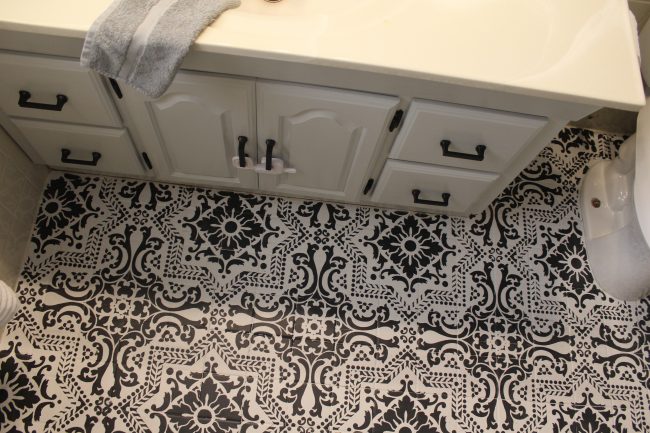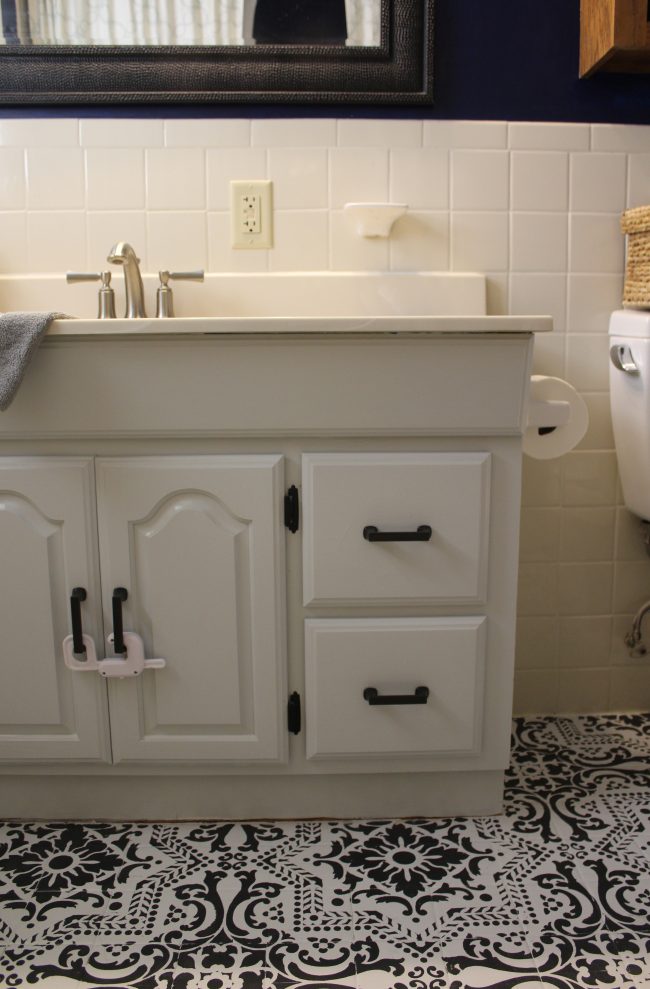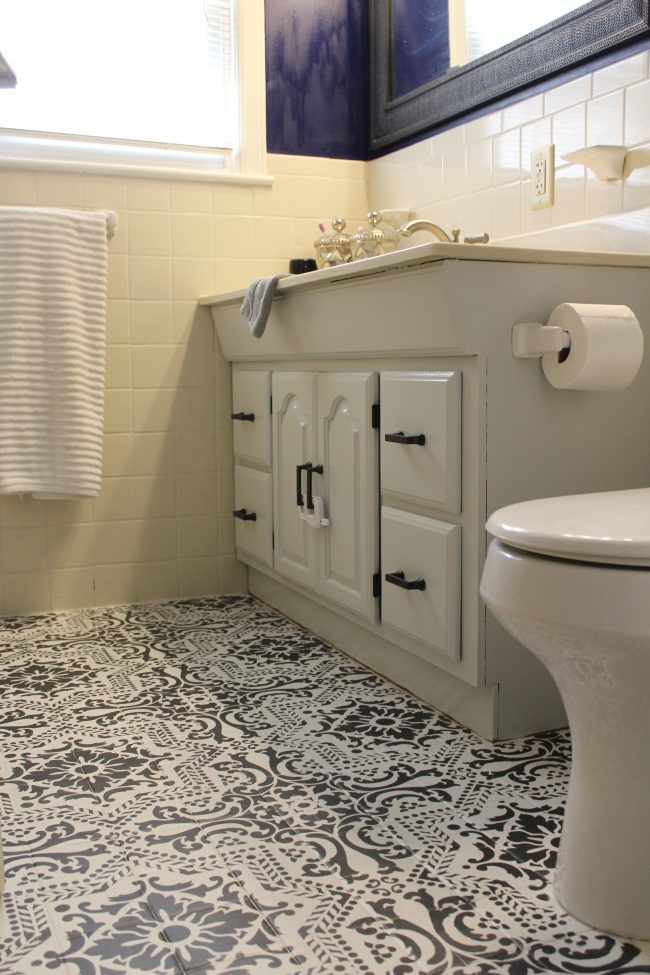 The child lock is really cute, right? ;) Keeps wandering hands out of the cleaning stuff, though, so whatever!
OH also: notice in the photo above how the navy paint on the walls looks a little streaky and weird? I talked about that in another post, but it's because we didn't have a working bathroom fan for several months and too much moisture built up on the walls. We're going to repaint or shiplap anyway, so for now I'm not too concerned!
I don't have a plan right now to update the tile on the walls that wraps around to the shower. I'd like something that's more white – perhaps white subway tile with gray grout? But we have so much other work to do before baby comes in about 6 weeks, that I'm just glad the floor and vanity are finished!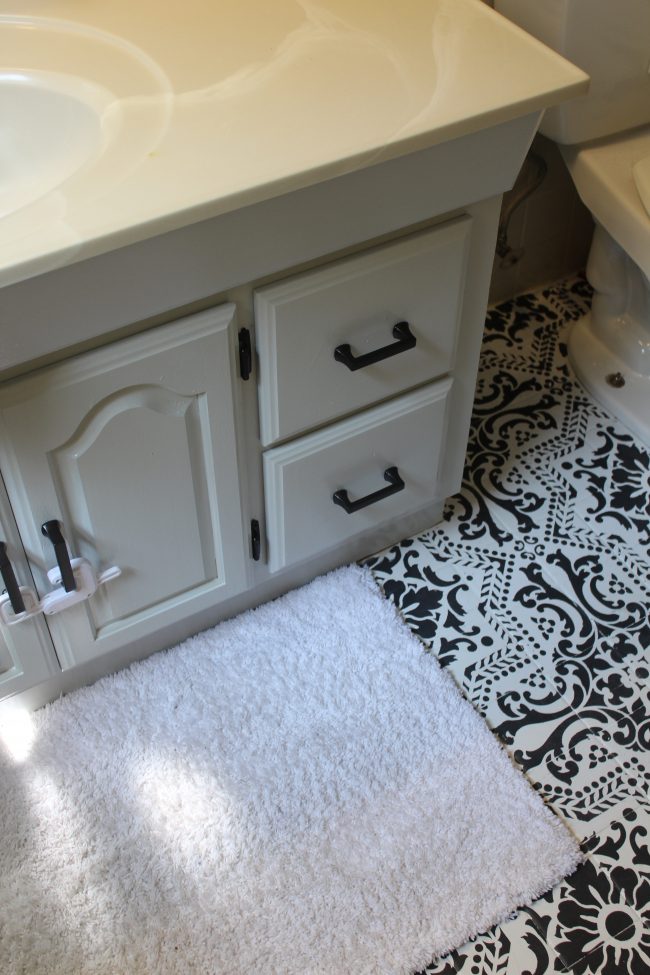 Let me know what you think about our painted bathroom vanity! It was such an easy and inexpensive DIY, and instantly made the bathroom feel more updated. A successful project, in my book! ;)
I hope you enjoyed this painted bathroom vanity blog post!