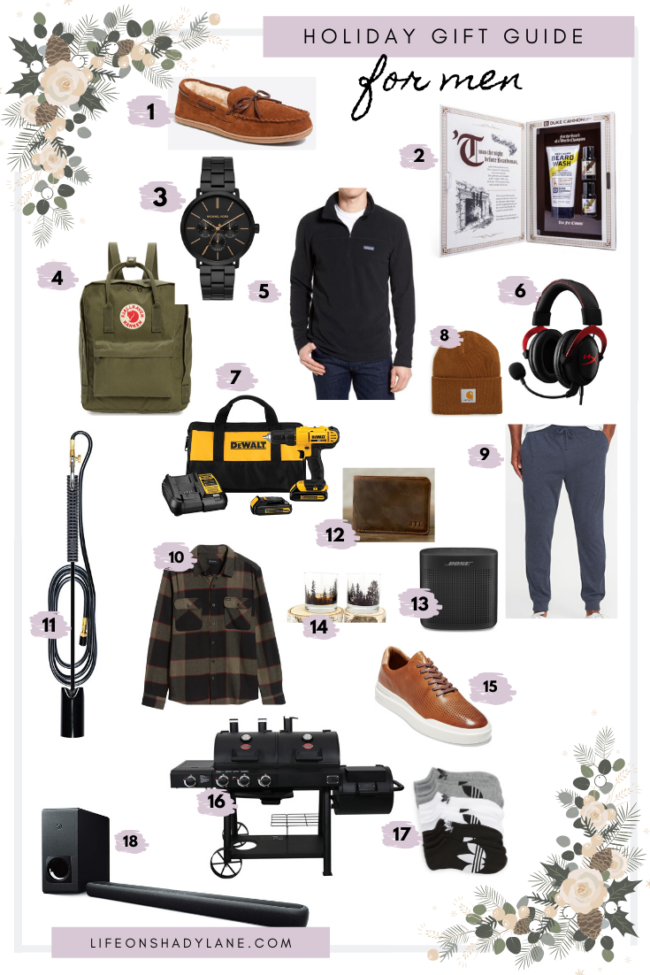 The Best Holiday Gifts For Men
Links to everything included for easy shopping!
1. J. Crew Shearling Moccasins – I have the women's version of these and they are AWESOME. I seriously wear them everywhere, and the quality is so good. And what guy doesn't want cozy slippers?!
2. Duke Cannon Beard Gift Set – if you follow me at all on Instagram, you know we LOVE our Duke Cannon products! They're grooming products targeted toward men with cheeky titles and packaging…but they work WELL. And bonus: they're great for stealing from your husband once in a while (I have a stick of the Cannon Lip Balm stashed everywhere!)
3. Michael Kors Watch – How cool is this watch?! I love the sleek all-black look.
4. Fjallraven Water Resistant Backpack – Durable and great for carrying items to and from work or for travel, too!
5. Patagonia Fleece Pullover – a cozy classic, you can't go wrong with a Patagonia pullover.
6. HyperX Gaming Headset – Honestly I know nothing about these, but Brandon plays video games and says this is a good one, so there you go. ;) Plus the reviews are great!
7. DeWalt Drill – Comes with a charger and tool bag – perfect for the handy man in your life
8. Carhartt Hat – These are so warm and great quality!
9. Old Navy Jersey Sweatpants – I bought these for Brandon a few years ago and he says they're his favorite sweatpants. I like that they're a jogger style, so they're a little more stylish, and they are super soft and comfy!
10. Brixton Flannel Button Up Shirt – Perfect for layering or wearing on it's own, I'm not sure you can ever go wrong with a nice-looking flannel.
11. Propane Torch – This is the most "man" gift of all time, and it cracks me up how excited they get about these (Brandon has one and we gave one to my dad a few years ago!). It's basically a "flamethrower" that you hook up to a propane torch.
12. Personalized Wallet – I love that you can personalize this leather wallet with initials, and that they're small land tastefully done. Anyone would love to receive this as a gift, it's so thoughtful!
13. Bose SoundLink Bluetooth Speaker – Bose always has the best sound, perfect for any guy in your life who listens to music. ;)
14. Forest Landscape Whiskey Glasses – How fun are these?! I love that they're unique.
15. Cole Haan Sneakers – You know when you have a date night, and you'd really rather your husband NOT wear his gym shoes? ;) These are the perfect compromise – they're comfortable like a sneaker, but stylish, too. Win-win! Love these.
16. Char-Griller Grill + Smoker – If you really want an impressive gift "under" the tree this year, this grill + smoker is awesome!
17. Adidas Socks – Because let's be real, who doesn't need new socks?!
18. Yamaha Sound Bar – Wireless subwoofer, Bluetooth, and Alexa voice control built-in. What more could he want?
PS: You can see this year's Holiday Gift Guide for HER [here]