…and we're so, so excited to begin this new chapter!
This post may contain affiliate links
This blog has come a long way since it's early days of sharing strictly-home related posts. If you've been following since the beginning, then you know that we moved into a TOTAL fixer-upper. I shared allllll the DIY projects along the way (several years of them!) and then slowly but surely this space morphed into something even bigger than just a home blog. The majority of the content I have been posting has been fashion and travel-related, but I can't wait to begin sharing home posts again. Because WE'RE MOVING! And we're building a brand.spanking.new.house.
You guys I'm so freaking excited for this next journey. It hasn't fully kicked in yet that we're leaving this house we love, that we've poured our blood, sweat, and tears into. I mean we just started moving furniture out today, so I'm sure it will fully kick in soon! We brought both of our babies home here, my blog started here, and it was our first HOME as a family.
But my family is coming with me on this adventure, and that's what really makes a house a home, so it's more exciting than it is sad. Ya know what I mean?
Plus we get to design and build our own home, and I'm basically giddy about it. It's a dream come true for me to have the opportunity to design everything from the ground up. A little daunting, sure, but a dream come true! You guys know I love all things home.
A few weeks ago we had a videography team come over to get some video in our house. I wanted to do it while it still looked like the home we knew (and not one with half the furniture missing!) so that's why we had them come early. It's going to be so special to show the kids their first home later, and we will always look back on these years fondly! I'm going to share that video on Monday, so stay tuned!
For now, though, I thought I'd share some photos of our house so you can see how far it's come.
If you'd like to the projects, before photos, and DIY's we did along the way, click [here] and [here].
PS: If you are in the Kansas City area and looking for a wonderful real-estate agent, I highly recommend the one we worked with – Jason Fleener! Our house sold so quickly, and he made it extremely easy for us, was very organized, and negotiated to get us exactly what we wanted out of selling our home. So, so pleased with our experience! Find his website [HERE].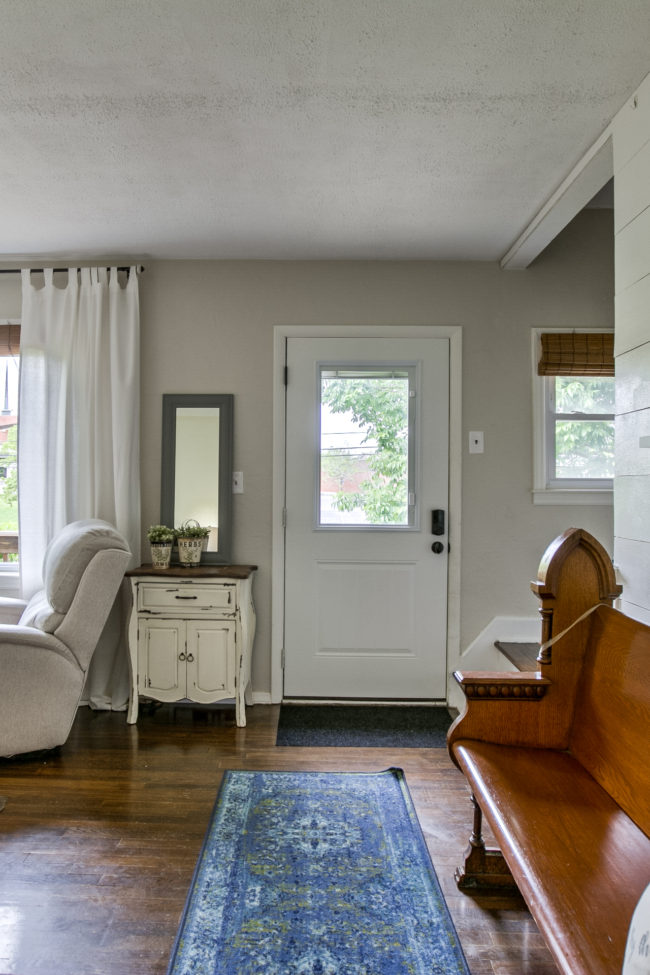 When we moved in, there was old carpet in several of the rooms that we pulled up. There were hardwoods underneath, and we refinished them ourselves! I shared how in a two part series [HERE] and [HERE].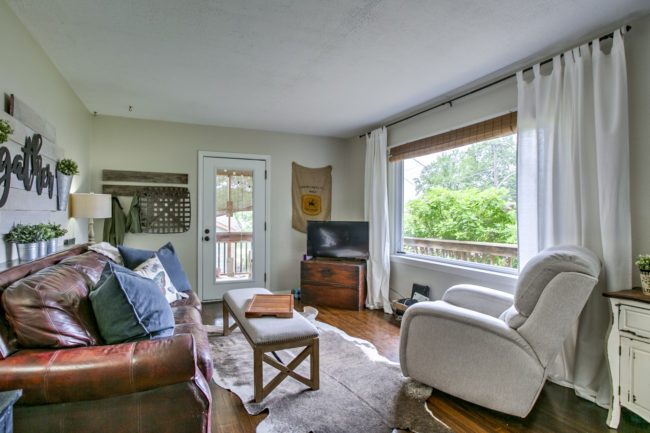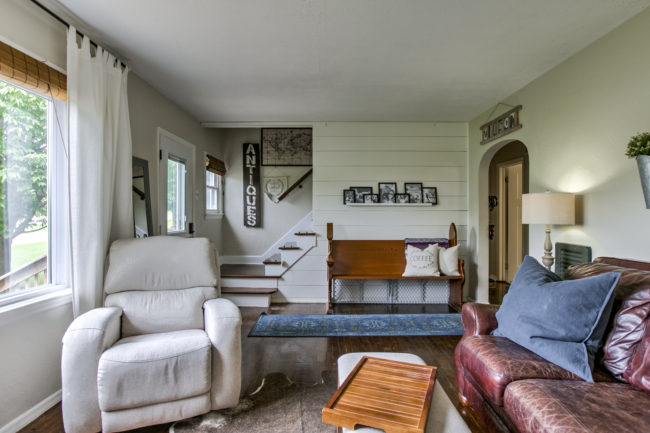 That shiplap wall was a DIY project, too – just like almost every other thing in our home. ;) You can see more on how we did it on a budget [HERE].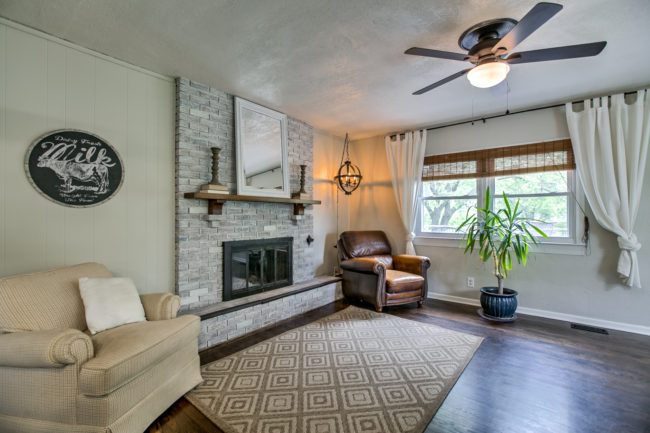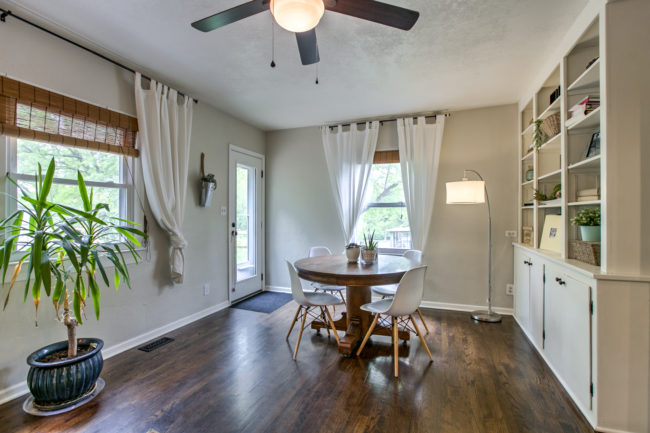 I loved styling these bookshelves – see a post on how I did it [HERE].
You can also see a little more of this space [HERE].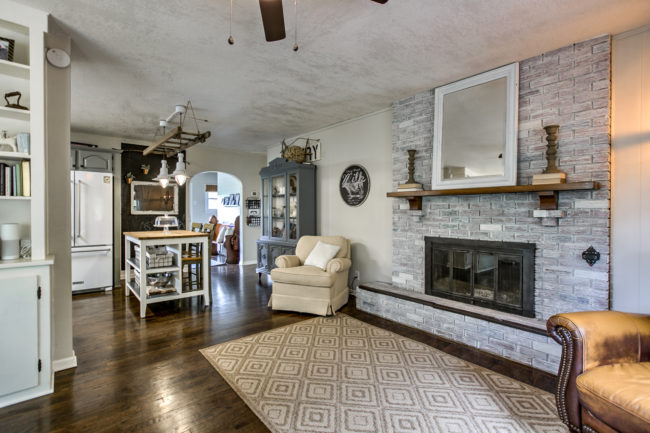 Whitewashing our fireplace was one of the very first projects we did when we moved in! See my full DIY blog post on it [HERE] – it's one of my most popular posts ever!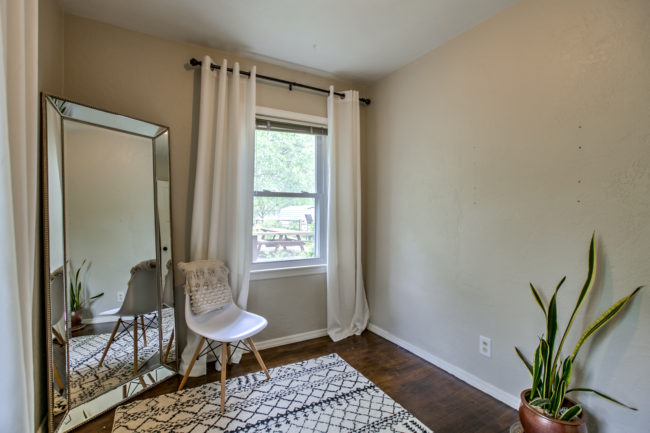 This cutie little room started as Henry's nursery but we eventually moved him upstairs to share with Ruby. I used it as my office after that!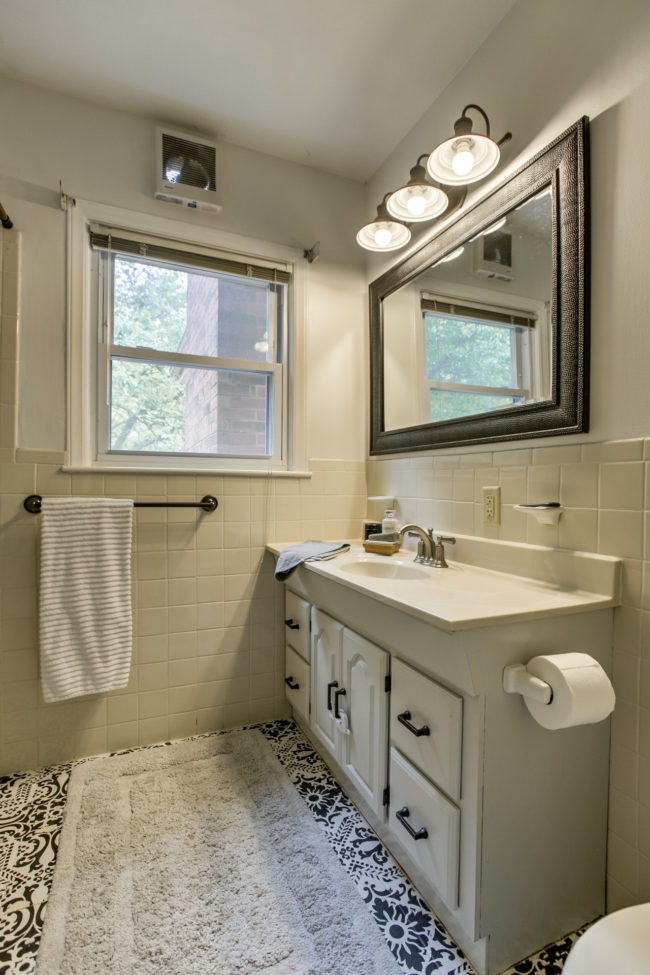 This stenciled bathroom floor was a fun DIY project and is one of my most popular posts ever! See it [HERE].
I also painted our bathroom vanity – see that post [HERE].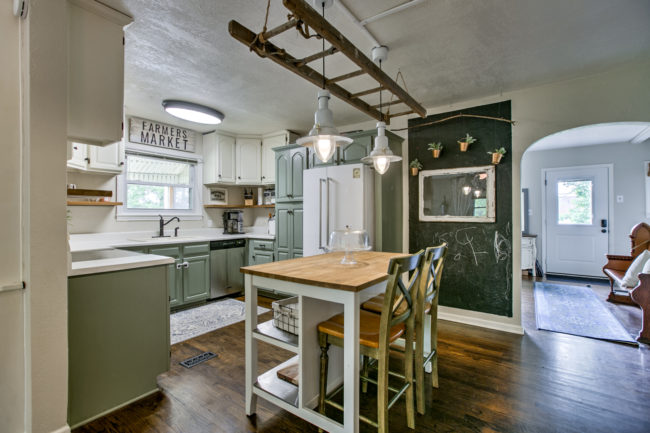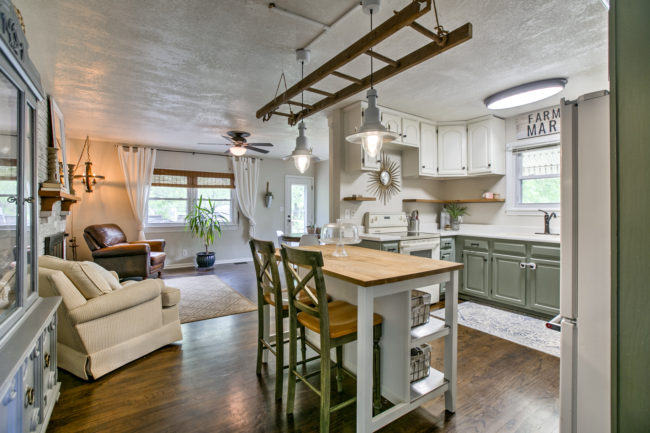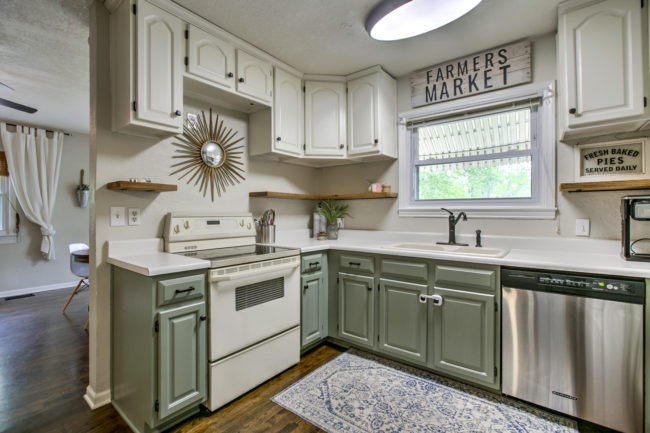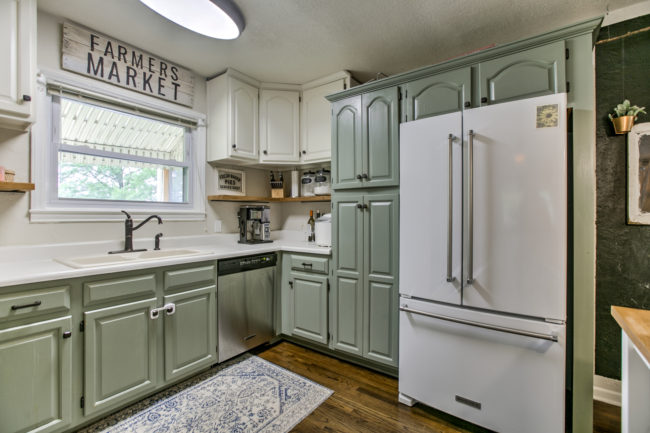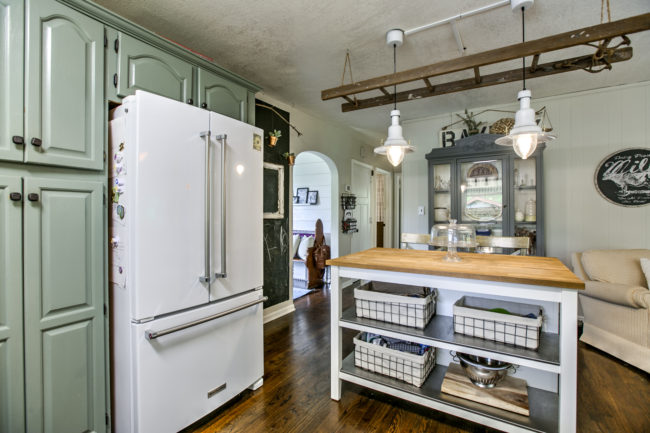 Check out some "before" photos of our kitchen/hearth room [HERE].
I shared a post on raising our upper cabinets [HERE] as well as a full DIY "how to" paint kitchen cabinets [HERE].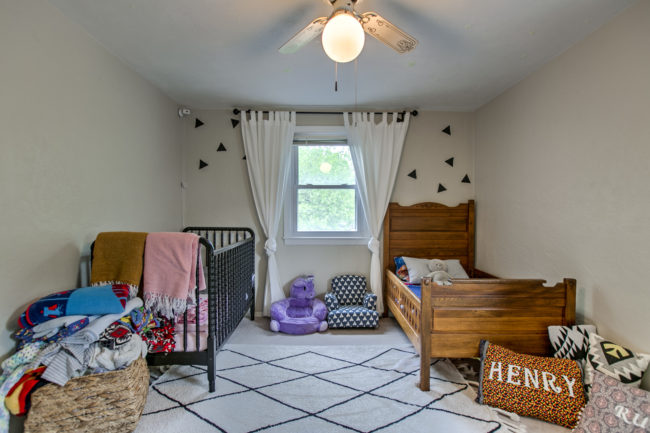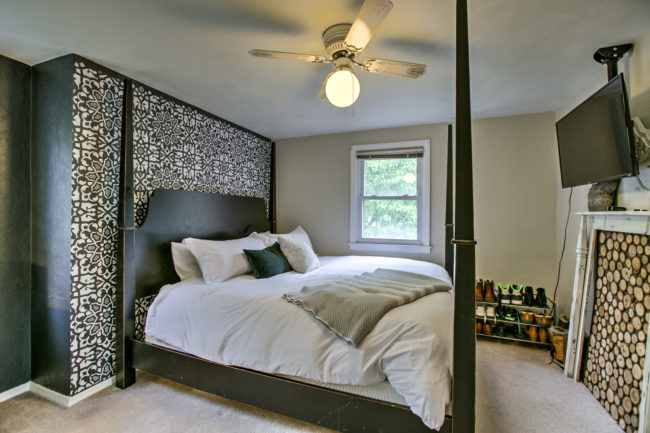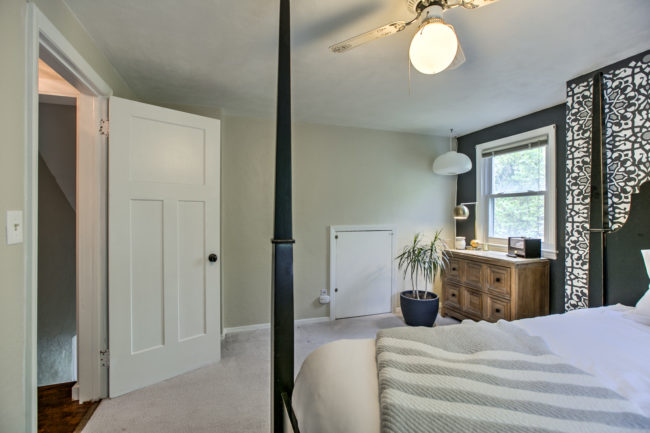 This is our "master bedroom"! We closed off a closet to add space for the bathroom (photos below) and meant to add a closet where that small little attic door is. We clearly never got to that project! ;)
You can see more of my wall stencil project in this bedroom [HERE].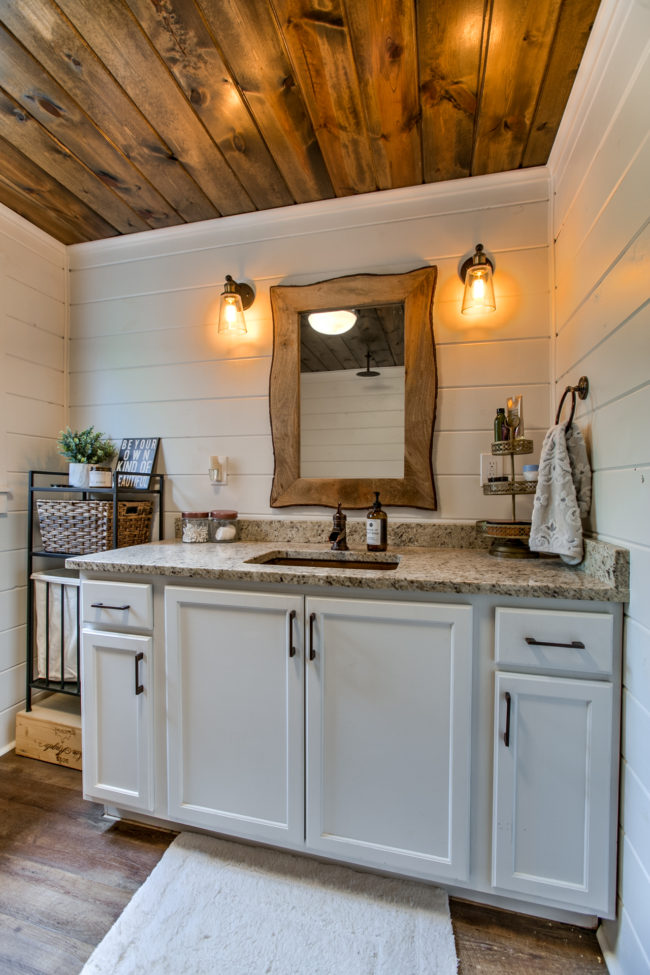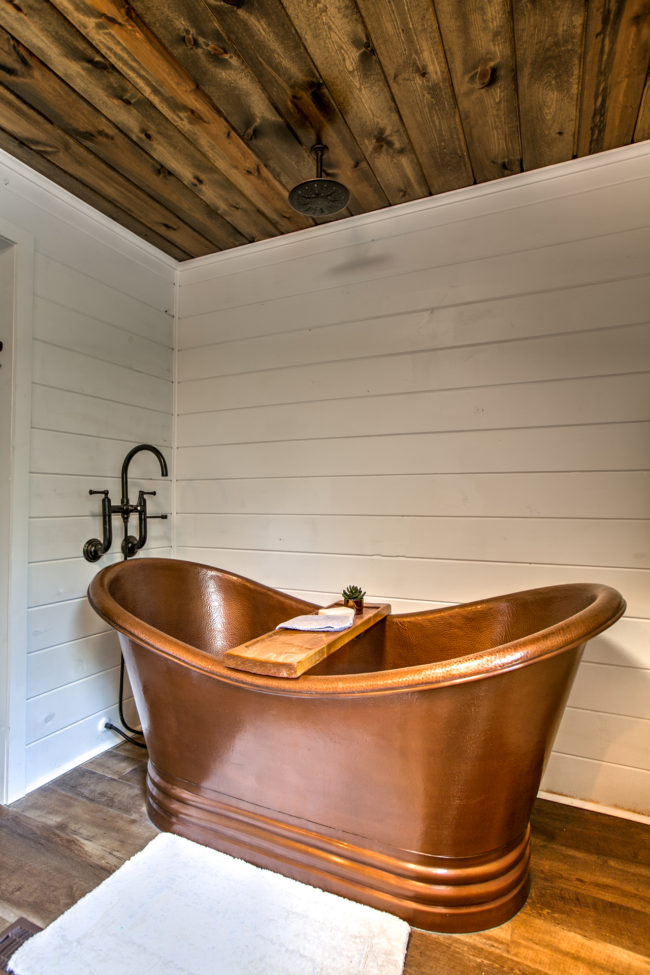 This bathroom was BY FAR my most favorite renovation in our house! You can see more of it [HERE]. You'll never believe what the "before" looked like!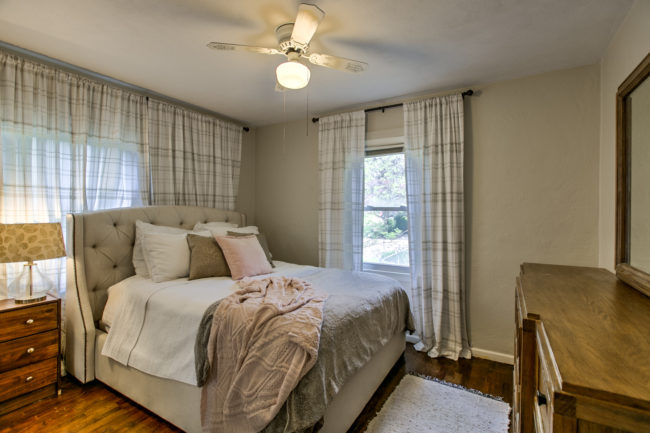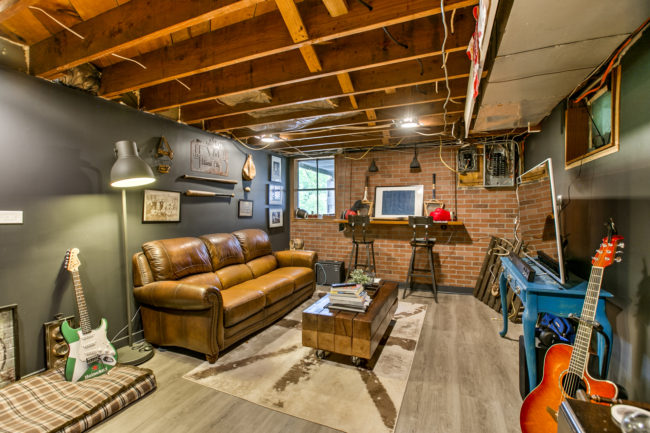 You can see more of Brandon's "Man Cave" (i.e. our basement) including a before photo [HERE]
All photos were done by Amoura Productions when we listed our home for sale!
I hope you'll check out some of my other posts while you're here, too!
See my DIY projects and inspiration [here]
Check out a home tour [here]
Check out some fashion posts [here]
I hope you enjoyed this We're Moving! blog post!