I have been meaning to get to this post for days weeks. I'm still trying to figure out this whole motherhood thing, and sometimes (quite often), finding the time to write a blog post is a little difficult. However, right now, baby Henry is taking a nap and I have a few minutes to myself. Woohoo!
We knew we wanted to makeover our fireplace as part of our home's "renovation" and after considering all options (tiling over it, painting it, etc.), we decided to try whitewashing it. BUT…the "brick" on the fireplace is not even real brick. I'm not sure what it is, but we were concerned about the whitewash coming out right. So we decided that if we tried and failed, we would just paint over the entire thing an opaque white color. And if that failed, we could always tile over it. I am learning that, with cosmetic changes in your home, things are always fixable. Fixing your mistakes will probably mean spending a little more money, but taking risks and learning along the way is what makes it an adventure. Right? Right.

Materials Needed
White paint
Dark spray paint (we used an oil-rubbed bronze color)
Gray paint
Gloves
Paper towels or an old rag that you can throw away
This fireplace makeover cost us a grand total of about $14. We already owned white paint, so all we needed to buy was the spray paint and gray paint.
OK so…here was our fireplace before. As you can see, there were some pretty sizable holes where the previous owners had hung their TV mount. We pulled out the anchors and were left with this (below). We just filled them with a little spackle – easy fix!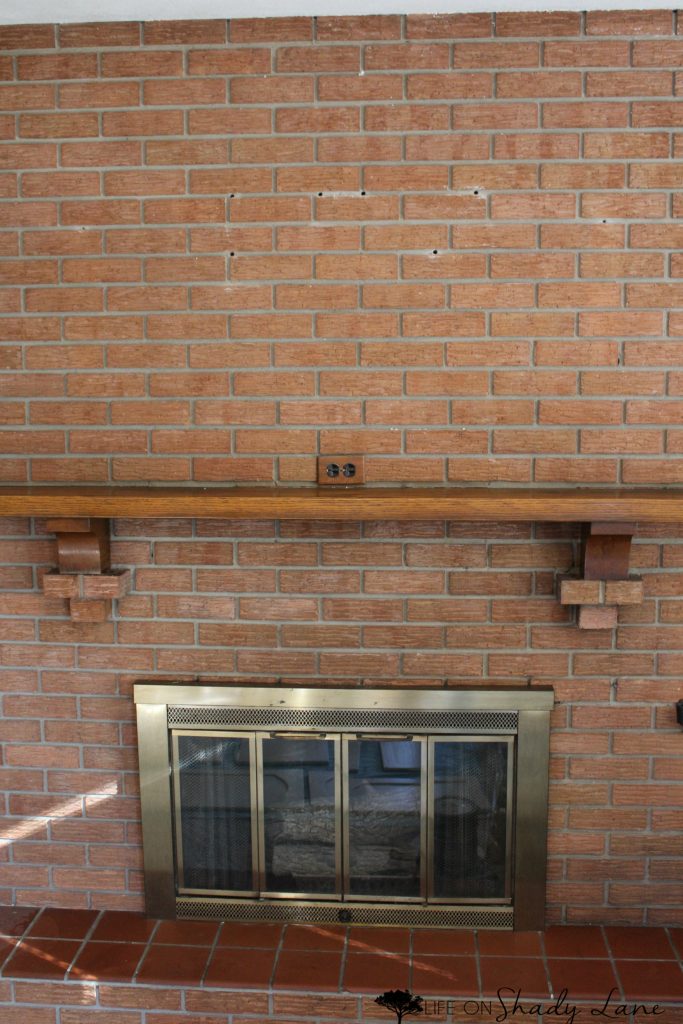 Like I mentioned, the "brick" is not real brick. Here's a closeup:
Also, the hearth was this terrible red tile. We weren't exactly sure what to do with it, so we decided to go ahead with painting the brick and worry about that tile later. Please pardon our dust.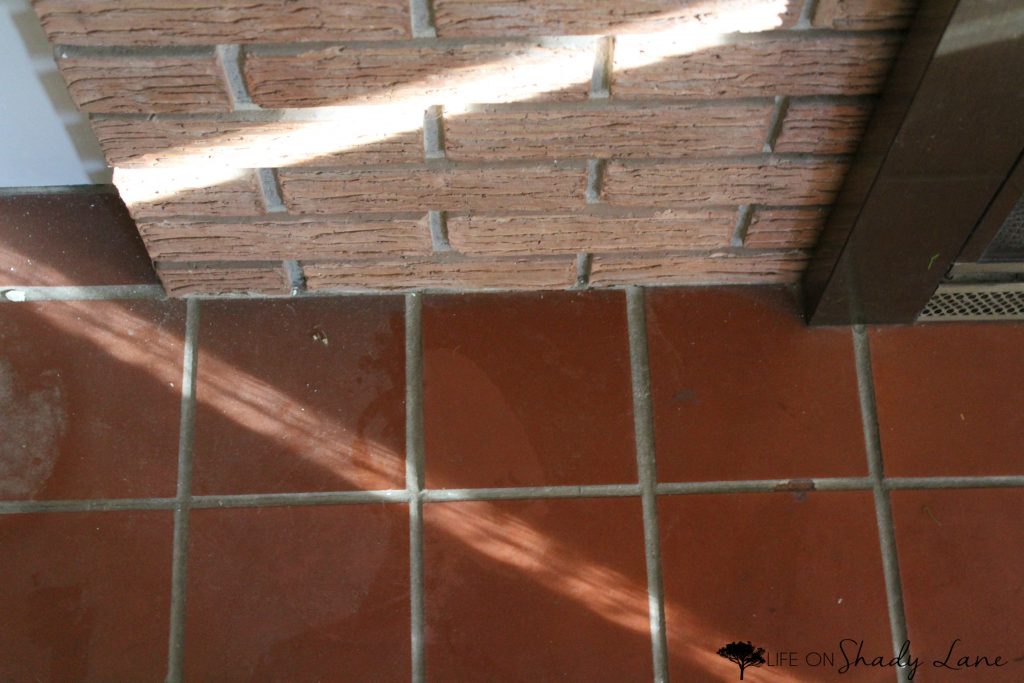 Here's a close-up of the mantle. We still haven't done anything to it, but we think that we'll probably stain it a darker color (maybe the same color that we stained our floors?).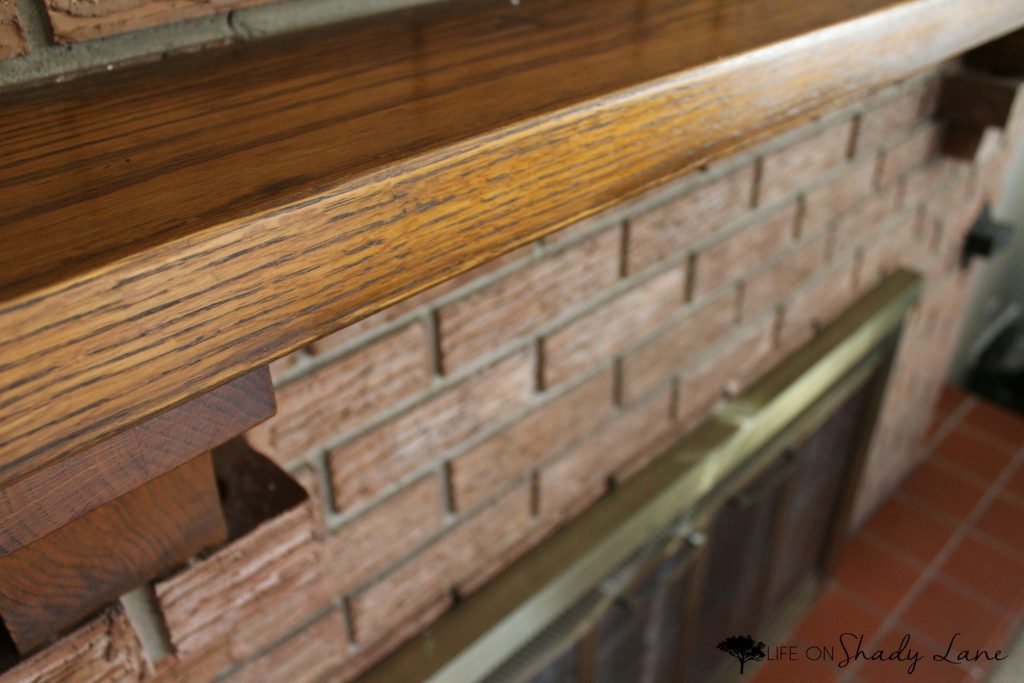 Here's how we did the makeover:
(Make sure your fireplace is free of any dust/debris before you begin!)
Step 1: Paint random bricks gray. We did some lightly and some more opaque. Then, tape the edges so you don't get any paint on the walls or mantel when you go over everything with the white paint. Make sure you let the gray bricks dry before you move on to step 2.
Hardware stores typically sell "sample size" paints – they will tint them whatever color you choose. The idea is that you can try the color before you purchase an entire gallon. BUT…we only needed a tiny bit, so this small amount was perfect…and it was only about $4. #winning
I don't remember the name of the gray color we chose. I'm not very good at choosing paint colors (I deliberate for far too long), so Brandon picked one out. There are some things in life that you just need to give up control over, amiright?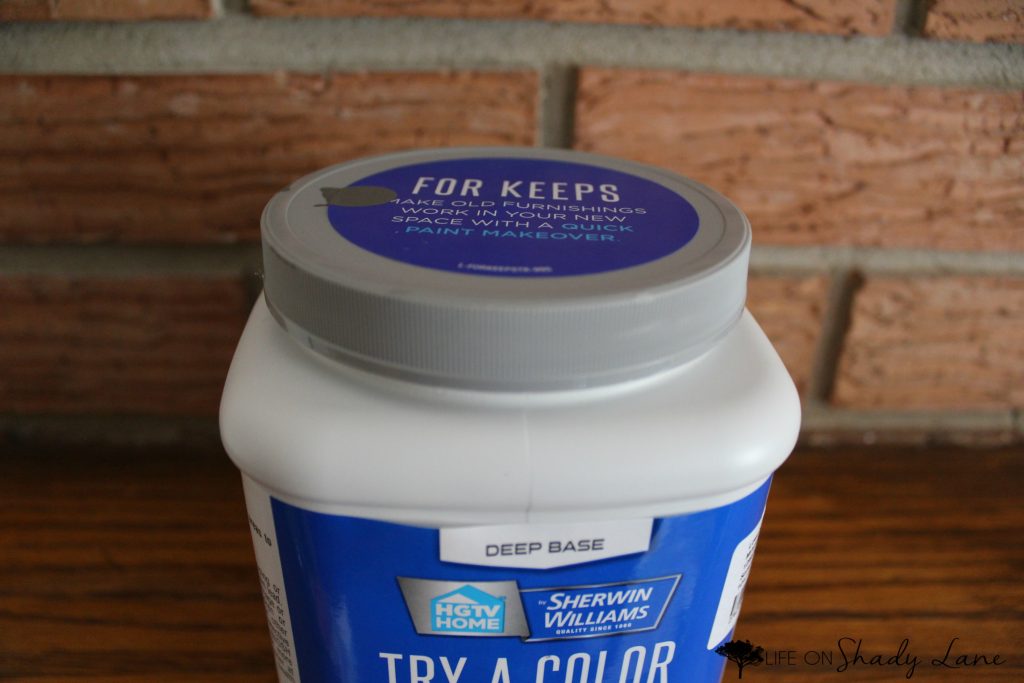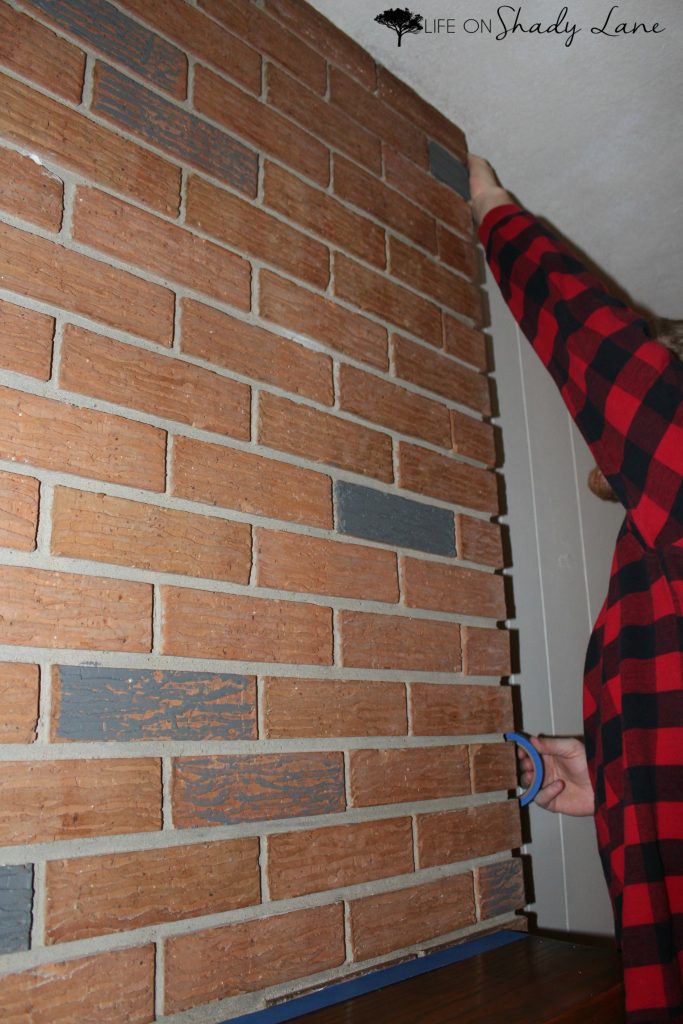 Step 2: Mix water with your white paint. We did about a 50/50 ratio.
Step 3: Paint over the brick with white paint. We developed a "system": paint a couple bricks, then dab/wipe with paper towel to remove excess. You'll go over the gray bricks too – just do it the exact same way (paint with white paint then dab away the excess). The idea is to have just a little bit of the gray peeking through.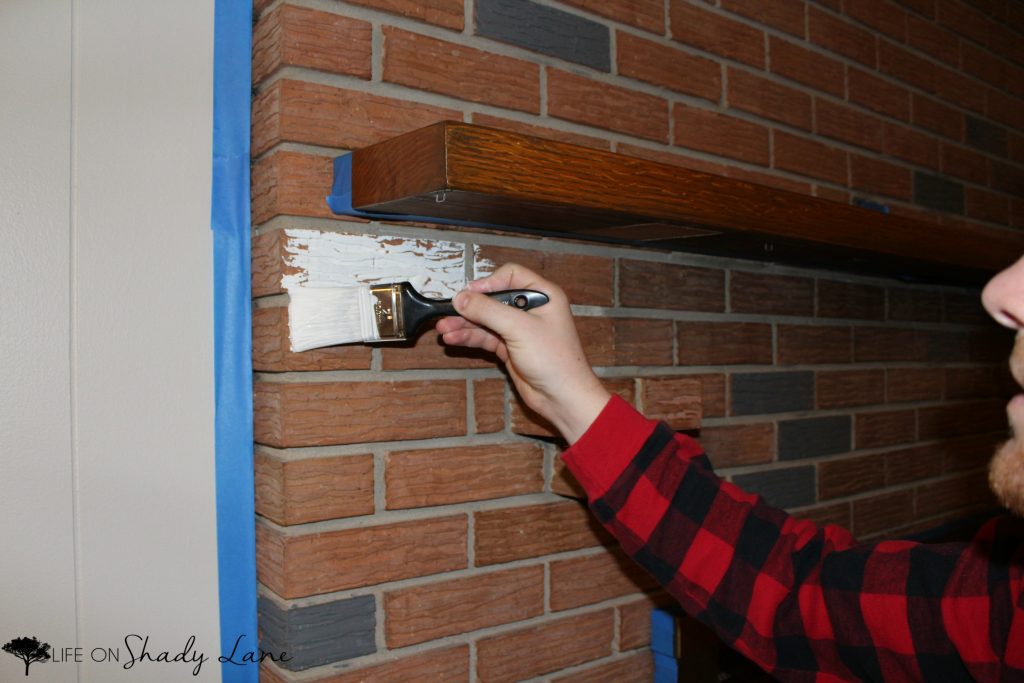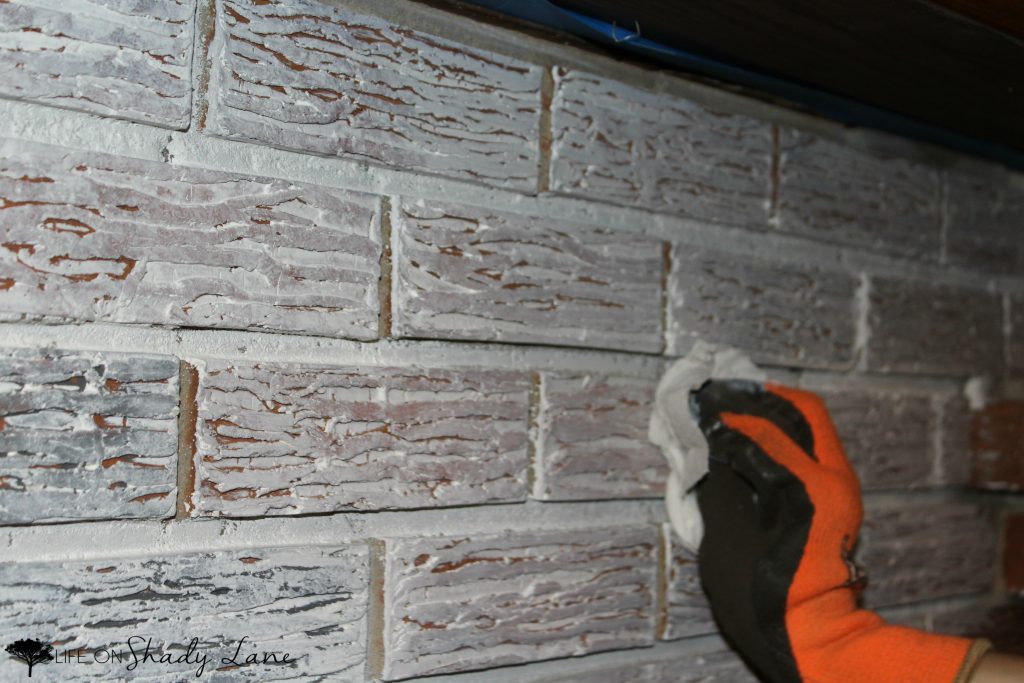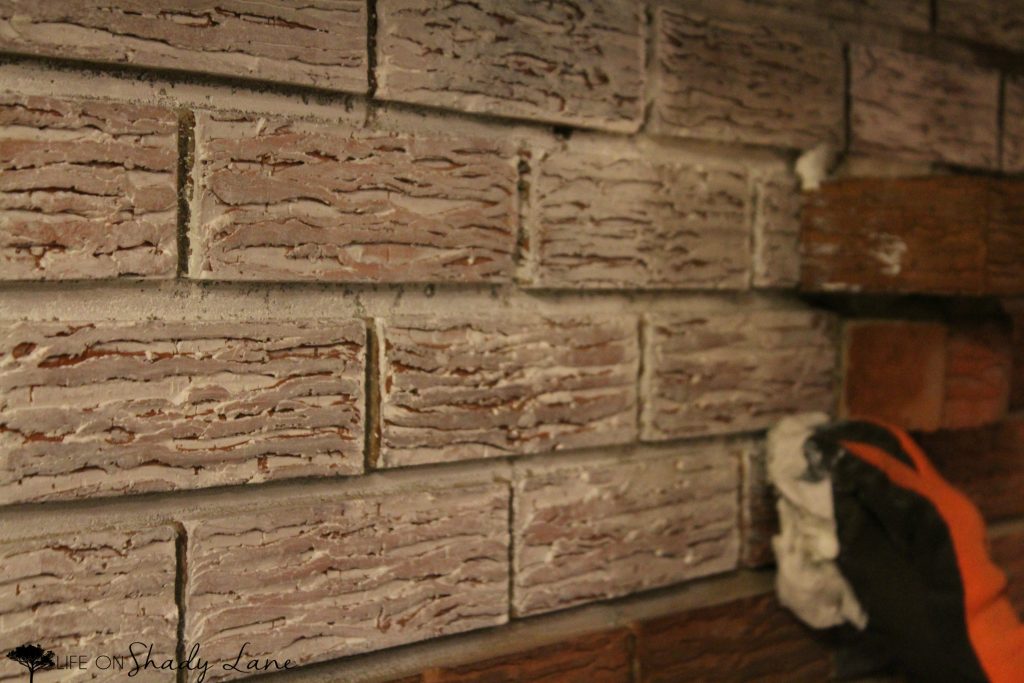 Step 4: Paint a few random bricks opaque white.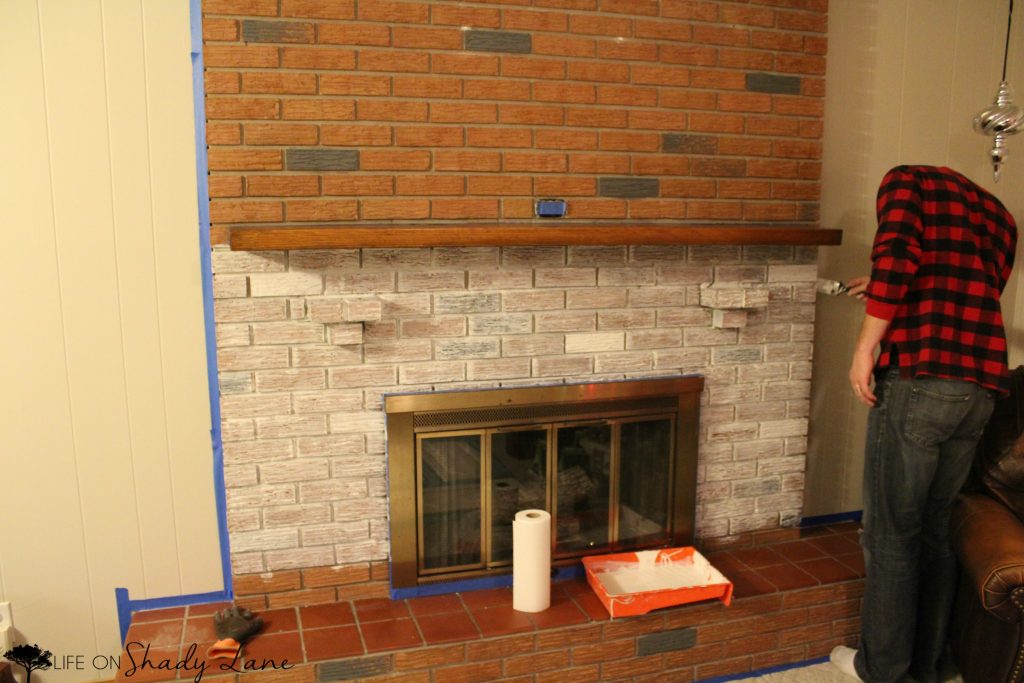 Step 5: Sand the hearth's tile with an abrasive sandpaper, and then whitewash it the exact same way you did the brick: Use your 50/50 mixture of white paint and water, paint over the tile, and then dab.
Step 6: Let it dry!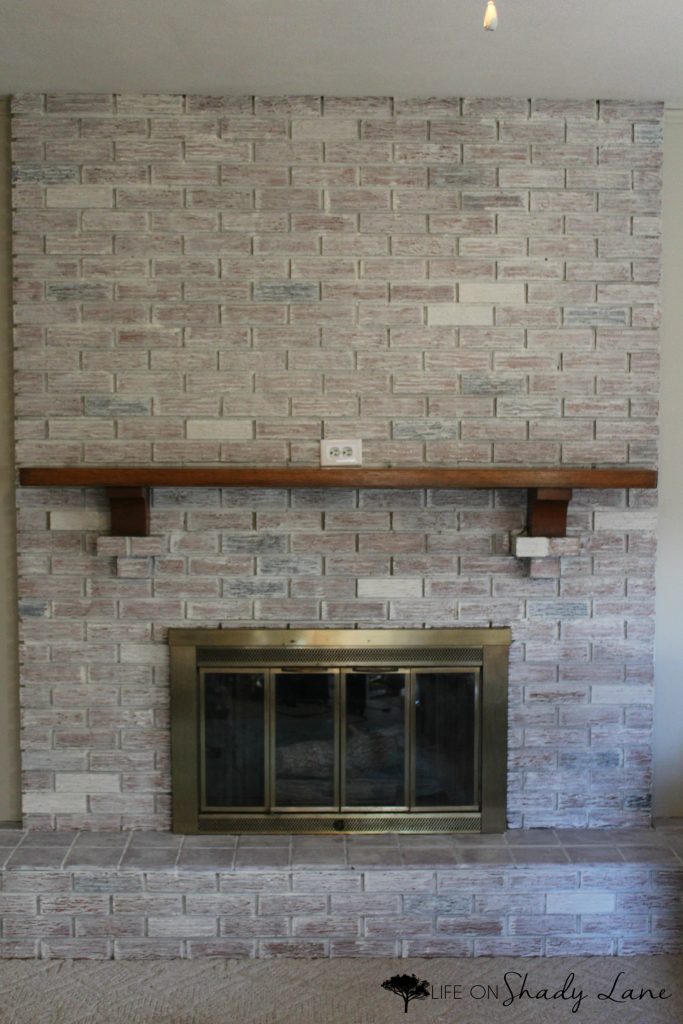 Step 7: Tape and then spray paint the metal part surrounding the opening. If there is a technical term for that part of the fireplace, I don't know it.
Here's the spray paint we used: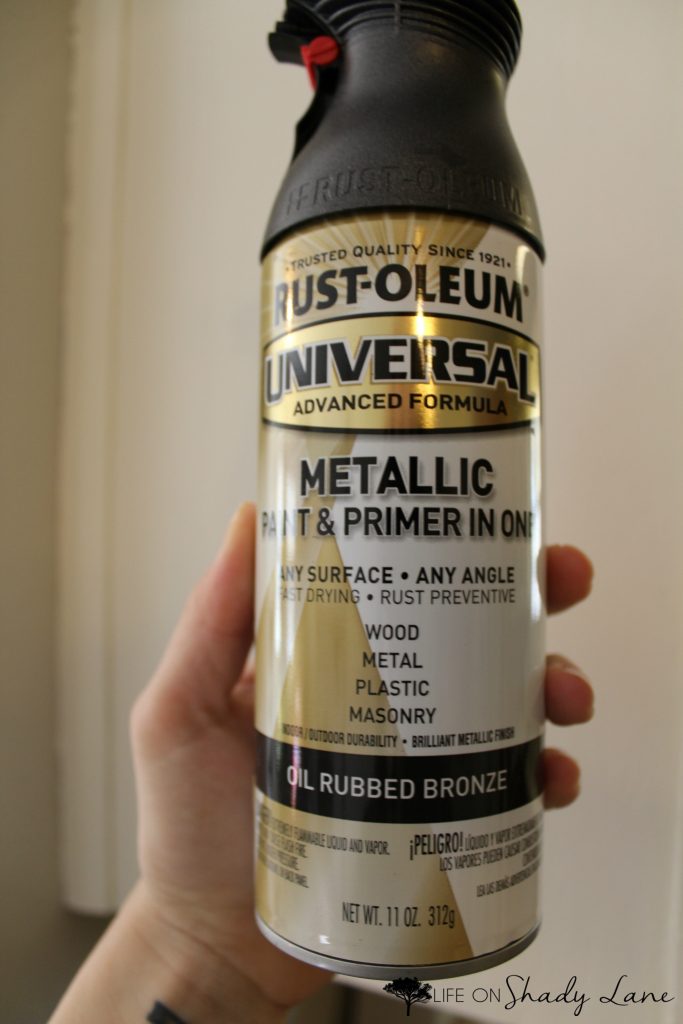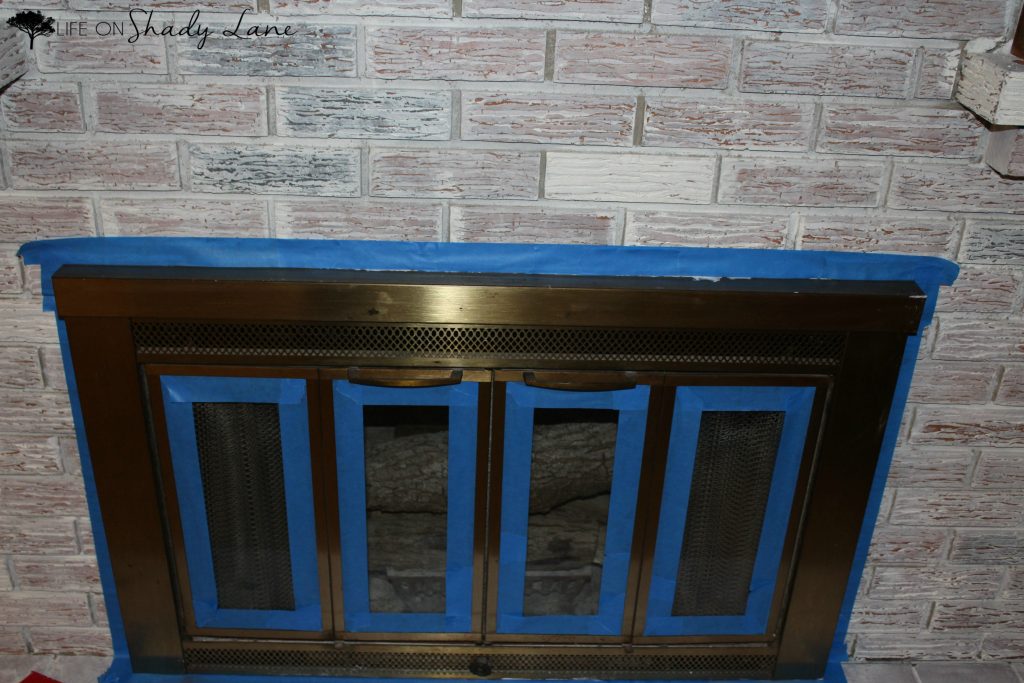 After taping, we held a piece of cardboard up over the glass panes while spraying to avoid overspray.
And that's it! 
Like I mentioned, we still haven't done anything to the mantel because we haven't decided exactly what we want to do with it. For now, it looks OK…and I'm just happy with how the rest of the fireplace turned out! Easy and inexpensive DIY – you can't beat that!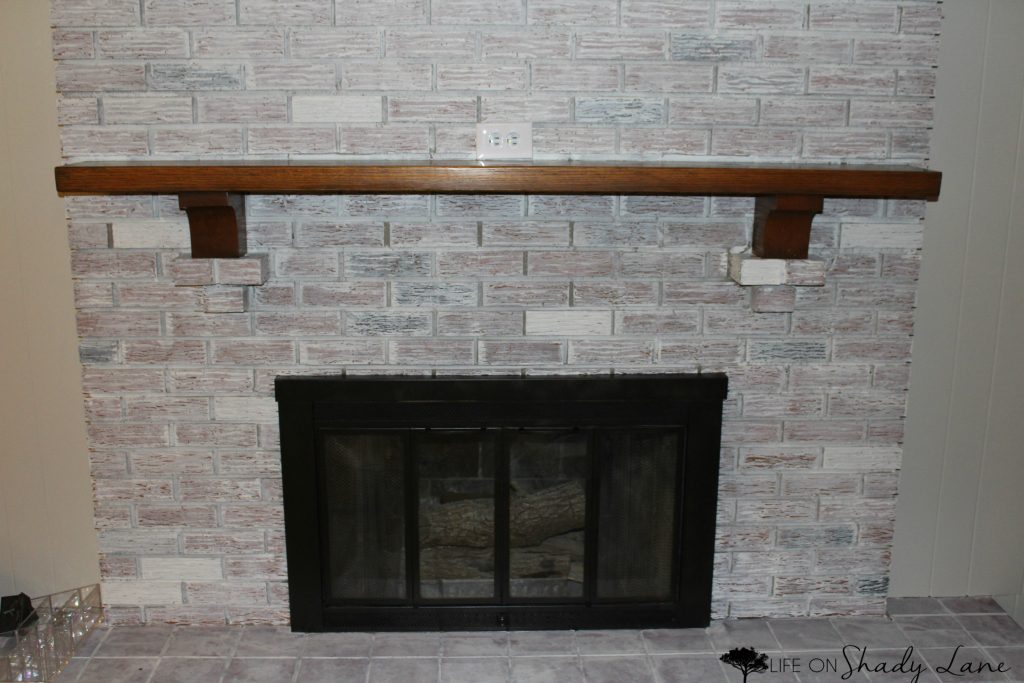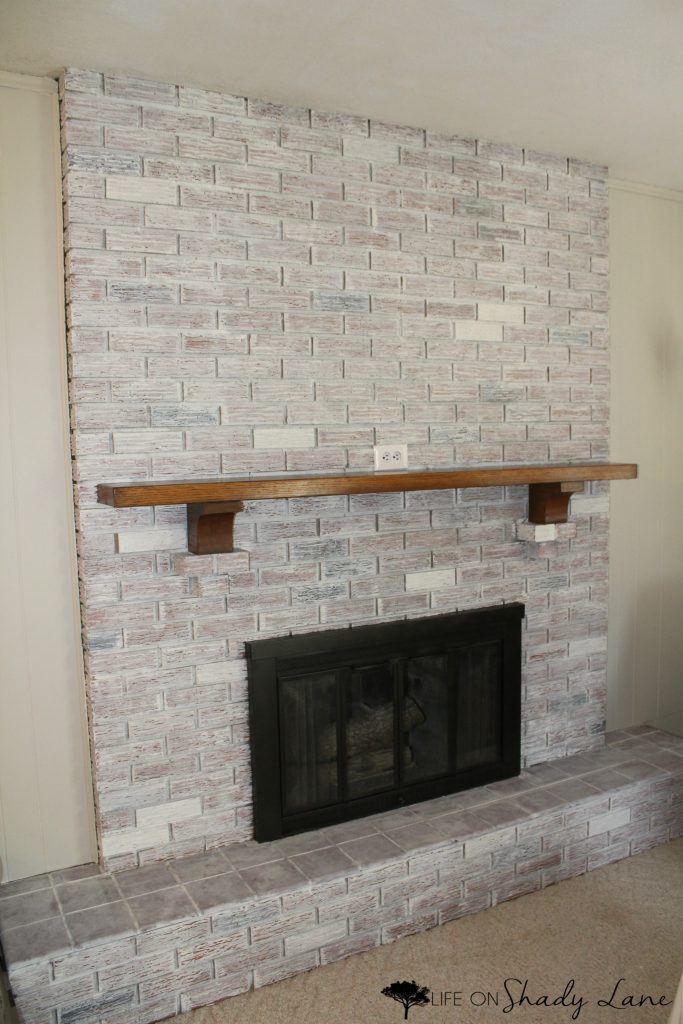 If you try this in your home, let me know how it turns out!
To make it easy for you to find this post later, here's a picture for you to pin to Pinterest…if you're into that sort of thing. However, it would be even easier if you'd just subscribe to my emails (top of the page). Just sayin'.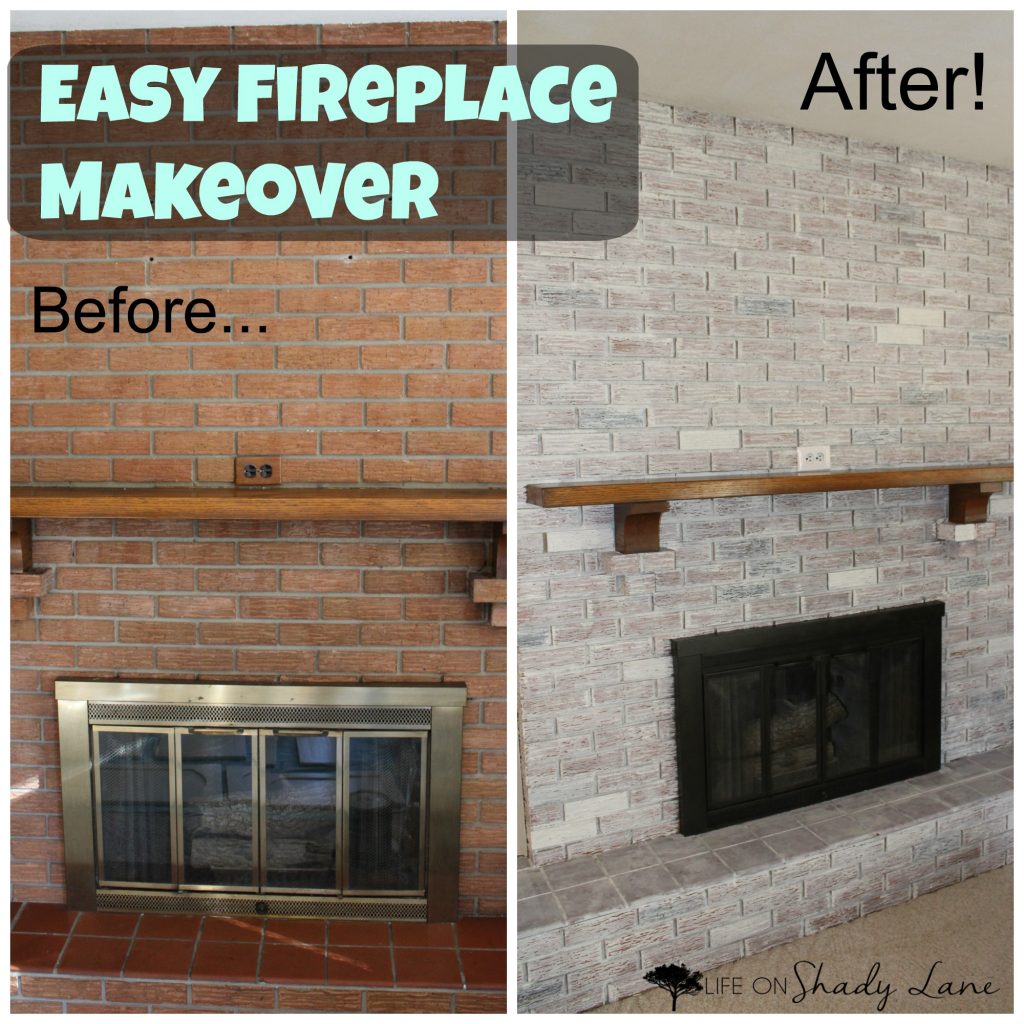 Don't forget that you can sign up to receive my emails – I send one out every time I publish a new post, so you'll never miss out on anything that's happening on Shady Lane! There's a sign up form at the very top of the page. Let me know if you need any help!
Also, be sure and check me out on Instagram, Twitter, and follow me on Bloglovin'