At the beginning of every year, people find themselves making "New Years Resolutions." But let's be real…things like giving up chocolate and wine, working out every single day of my life, and keeping my home spotless are just not realistic goals for me (especially with a new baby!). So, I typically don't make a resolution. Instead, I (attempt to) make an effort every day to do something that betters my life in some way, even if it's just something small: eating a healthy lunch, getting a work out in, making the bed, wiping down the counters after every meal, etc.

While I'll continue to do that this year, I have decided that it would be fun to post our "2016 Home Goals" here on the blog. We find ourselves working on this 1950's fixer-upper of ours just about every single weekend anyway, and I'd like to look back at the end of this year and be able to see just what we accomplished from our list.
Our two biggest accomplishments of 2015 were buying our first home together and having baby Henry. I think I may need to frame this photo – it perfectly captured both of those things!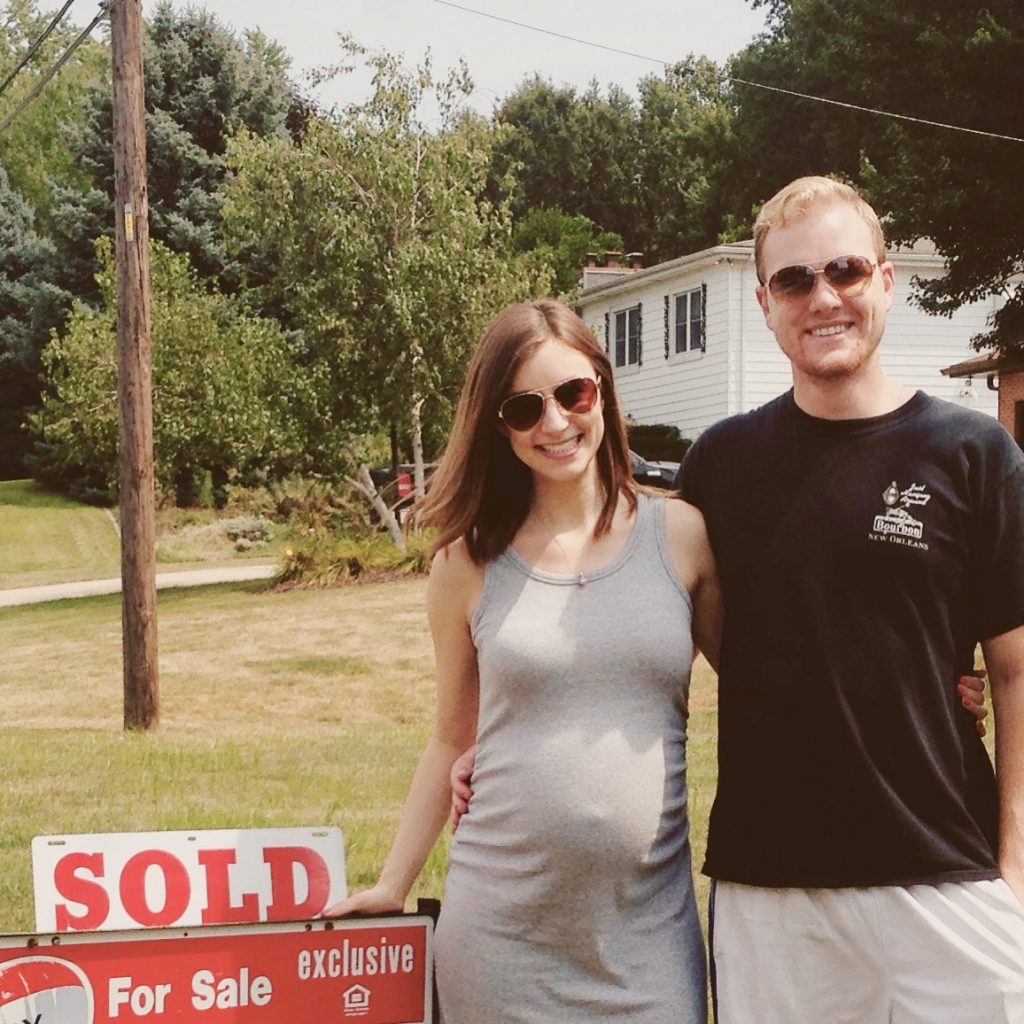 Also: I have NO doubt that things will be added to the list as we go (I come up with a new project about every 2 days). This could get interesting.
For now, here's what we would like to accomplish in 2016. Some of these are a little lofty, especially with a new baby that keeps us pretty busy…but we'll see what we can do!
2016 Home Goals
Finish painting our kitchen cabinets. These are so close to being done and I mostly just added this so that I would have something to cross off of the list sooner rather than later. Sue me.
Tear up the old carpet on the stairs + upstairs hallway/bedrooms/bathroom. Yes, we still have some of the awful carpeting from the previous owners of our home. And yes, there is carpet in the upstairs bathroom. We tore up carpet and refinished the wood floors in three rooms on the main level so far, and it's a.lot.of.work. We've been taking a break. ;)
Finish epoxying the basement floor + top with polyurethane. This one is all Brandon's project because the fumes about knock me over. Again, we're really close to having this one complete but it's still something on our to-do list.
Epoxy the garage floor. OK I feel like I sound a little bit OCD when I admit that I want to epoxy our garage floor. But, you guys, it just looks so awesome on our basement floor and we have a ton of the stuff left over so we might as well, right? If you're considering a garage floor epoxy for your home, what more can I say than you simply must do it! If you are a bit stuck on what kind to get then don't worry, there are plenty of things that you could do to your garage to help it look a lot better. For example, if you want some more inspiration, then you could always take a look at something like these garage floor tiles in Melbourne. The decision is up to you though!
Fix the garage door. For as long as I can remember our garage door has not been working correctly. No matter how hard we try, it just will not close fully! Our friends in Illinois have gone through something similar but were telling us just the other day that after searching for a company that specializes in Garage door repair in addison, they were able to call out an expert to get it fixed. We will have to find someone close to us who is up to the job, I think.
Finish painting the wall in the stairway. This one is bad. When we painted our living room, I got about 20% of the way up the stairs and then stopped. Because, well, I was super-pregnant and it was exhausting. Plus we need a ladder to reach up high and I wasn't about to climb up there at 8 months pregnant. Now, we can see the semi-finished wall from the couch and it drives us nuts. We need to finish it badly.
Paint the upstairs bedrooms and hallway. We have done nothing with the second floor of our home, so the projects that are upstairs seem a little bit daunting right now.
Install wood flooring in the dining room and kitchen. The rest of our home had wood floors underneath the carpet, but sadly, these two rooms did not. We're going to have to hire someone to install the floors, but then we'll likely stain them to match the rest of the house.
Paint the built-in bookshelves in our dining room. I think this room is going to end up being my favorite room in the house…it's where our fireplace is, and where our dining table will eventually go (when we get one). I'm excited to see it transform!
Find (or build) a dining room table. I have a specific idea in my head of what I'm looking for so this one could prove to be a little bit tricky.
Plant a garden. We have a huge garden in our back yard that will be perfect for growing veggies/herbs/etc. I'm really looking forward to doing this but a little (lot) apprehensive about how much time it will really take.
*Deep breath* – Holy crap, that's a LOT OF STUFF. But, we have a whole year to do it and I think we're pretty ambitious people so I have a lot of faith in us! Let's see how we do.
Below are some of the big things we have accomplished so far in our home. Click the image for the tutorial, and of course…if you try any of these things in your own home, let me know how it turns out. I'd love to hear from you!
Don't forget that you can sign up to receive my emails – I send one out every time I publish a new post, so you'll never miss out on anything that's happening on Shady Lane! There's a sign up form at the very top of the page. Let me know if you need any help!
Also, be sure and check me out on Instagram, Twitter, and follow me on Bloglovin'