After painting our kitchen's upper cabinets, I took about a 2 week break before even attempting to start the lowers. This project hasn't been my favorite, but only because it was a pain in the you-know-what. The transformation from when we first moved in to now, though, is aaaamazing. Here's a picture from the day we got the keys to our house: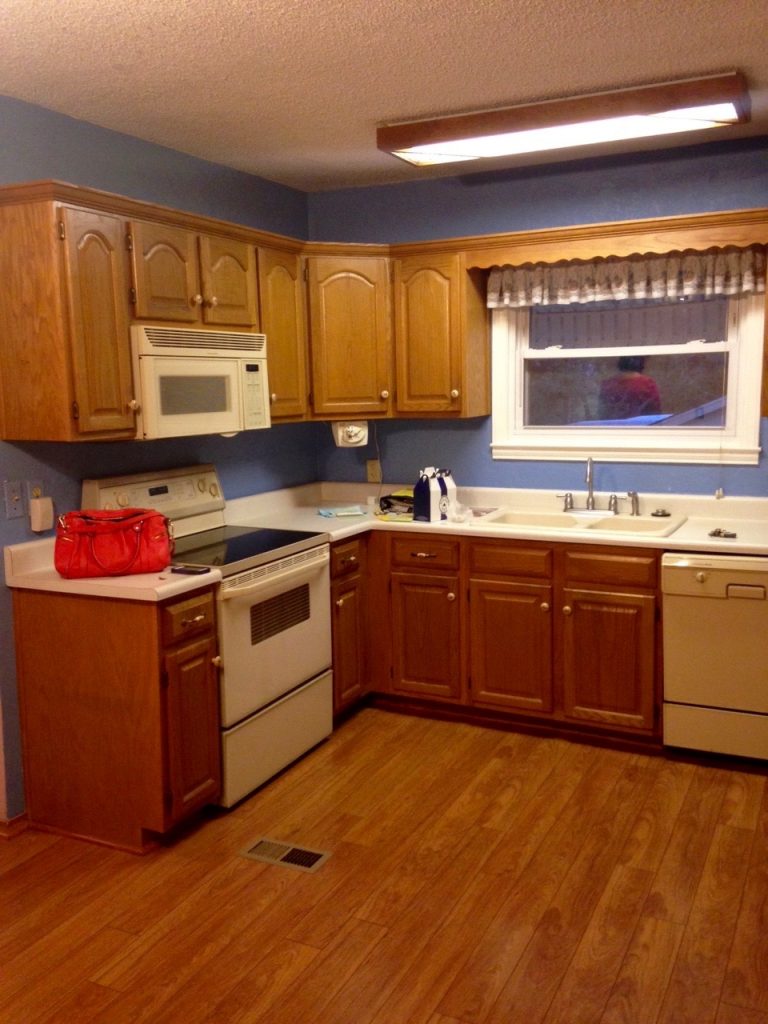 Here are a couple photos from a few days before we started painting: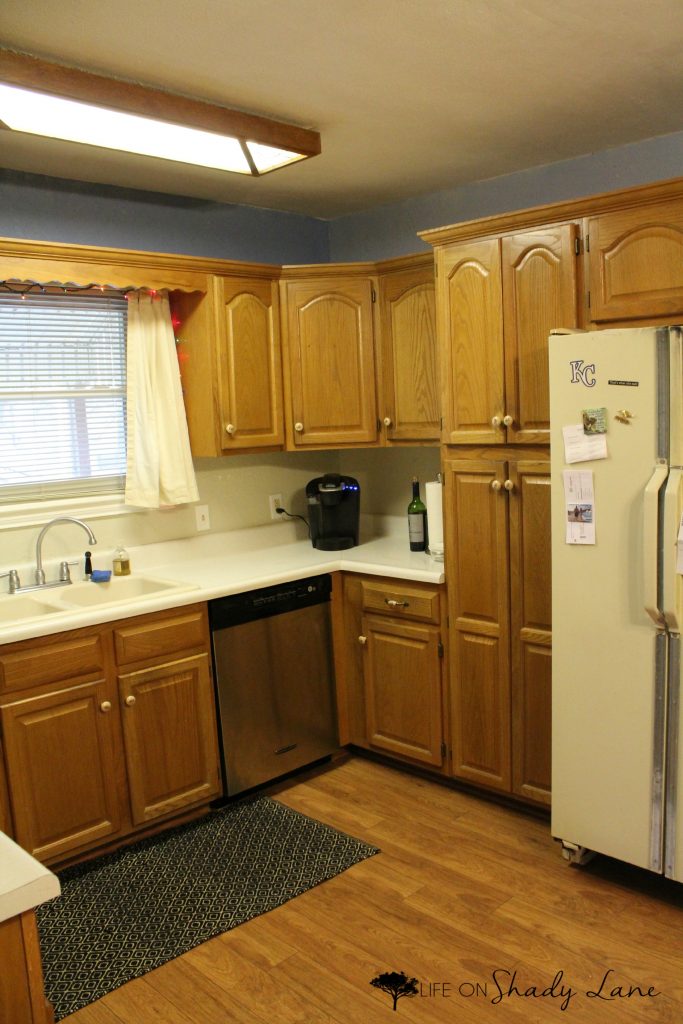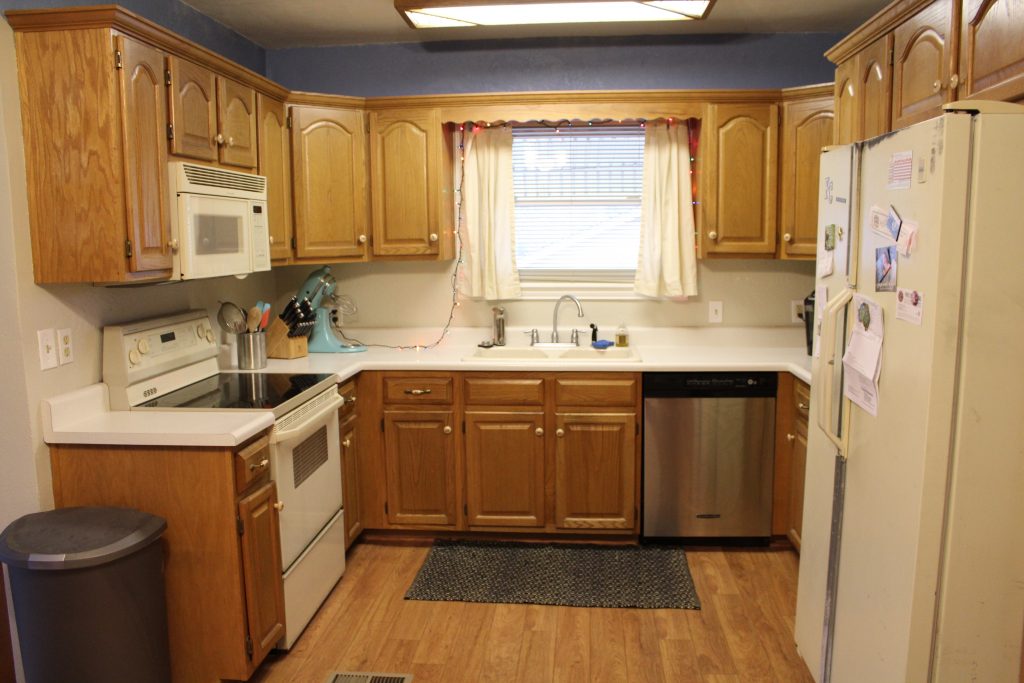 Aaaaand here it is now with the lowers finally painted.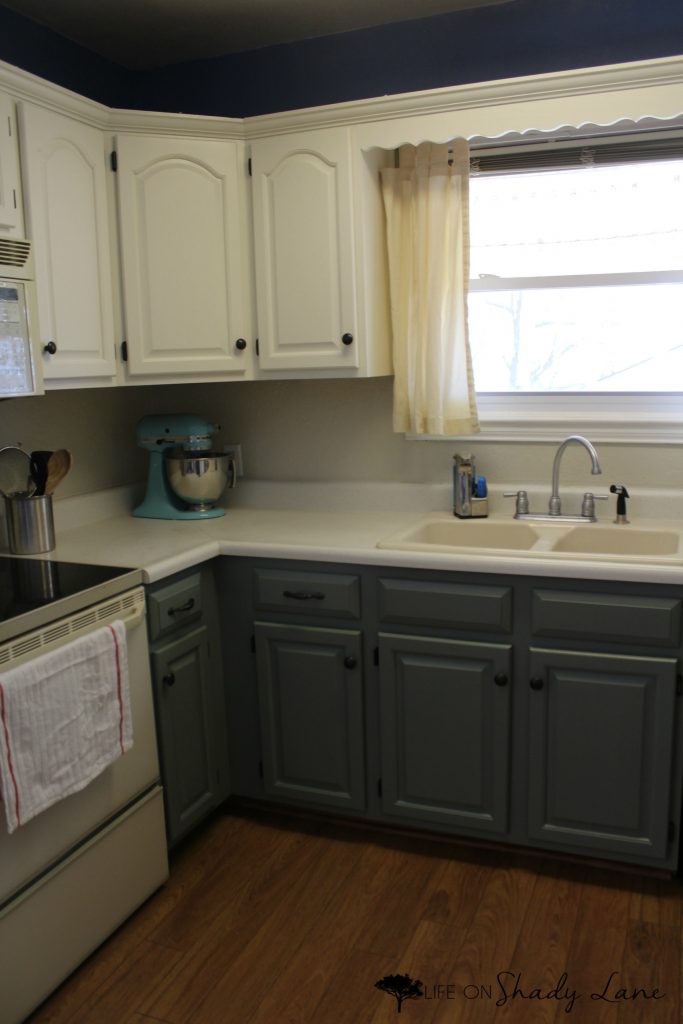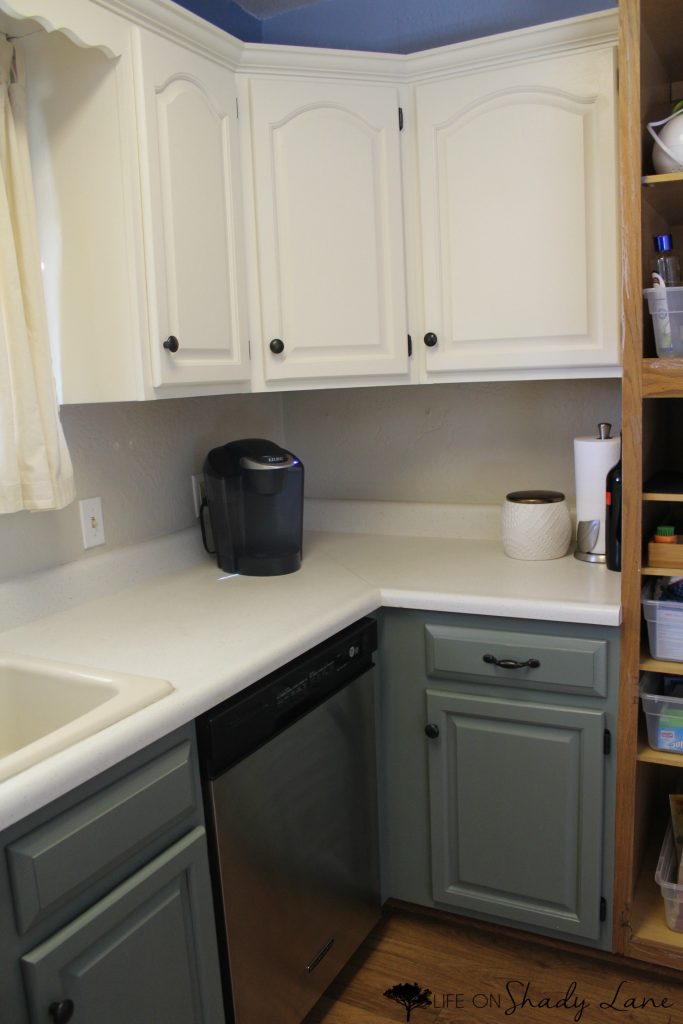 I bought all of the paint for our house several months ago, so this greenish paint was just sitting in storage for that entire time…waiting to be used. I was actually a little nervous before we opened the can because I couldn't remember what exactly the color looked like. But you know those times when something just immediately feels right? That's how I felt about this color. Now, we have a dilemma. I can't for the life of me decide what color to paint the big pantry part of our cabinets. It butts right up against the lowers, so part of me thinks we should do green (and plus I'm in love with that color). But…the other part of me thinks that might be too much green, and therefore it should all be white. So for now, the cabinet doors are laying on the floor in our dining room. (PS please disregard our 70 year old appliances. We'll replace them at some point, just not yet… We have been reading all the latest kitchen appliance reviews over on BuyersImpact.co.uk for some inspiration though. You can find out more about all the latest kitchen gadget news over on their website).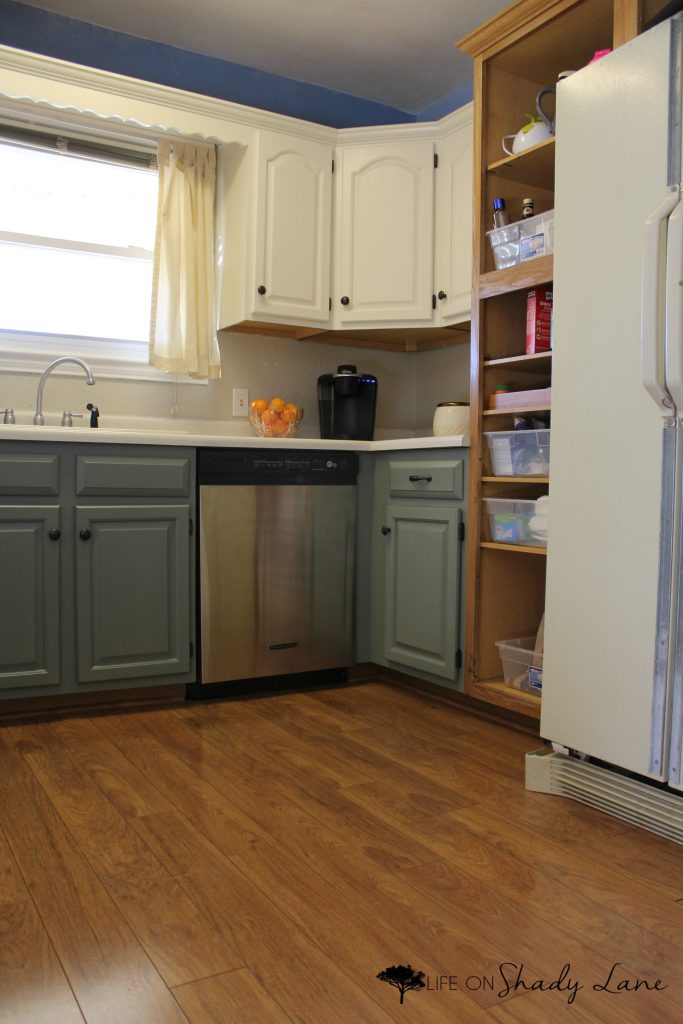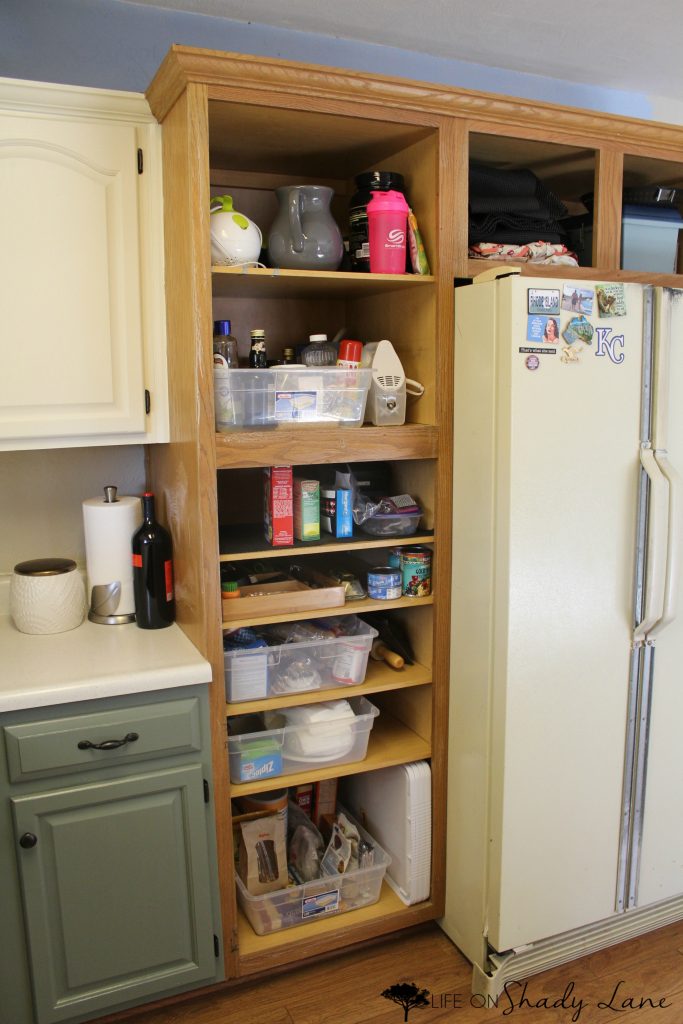 What are your thoughts? Seriously…let me know because I may lose it if this project isn't finished soon. Also, I wanted to share our additional future plans for this room. Maybe it'll hold me a little more accountable to actually finish them before the year is over.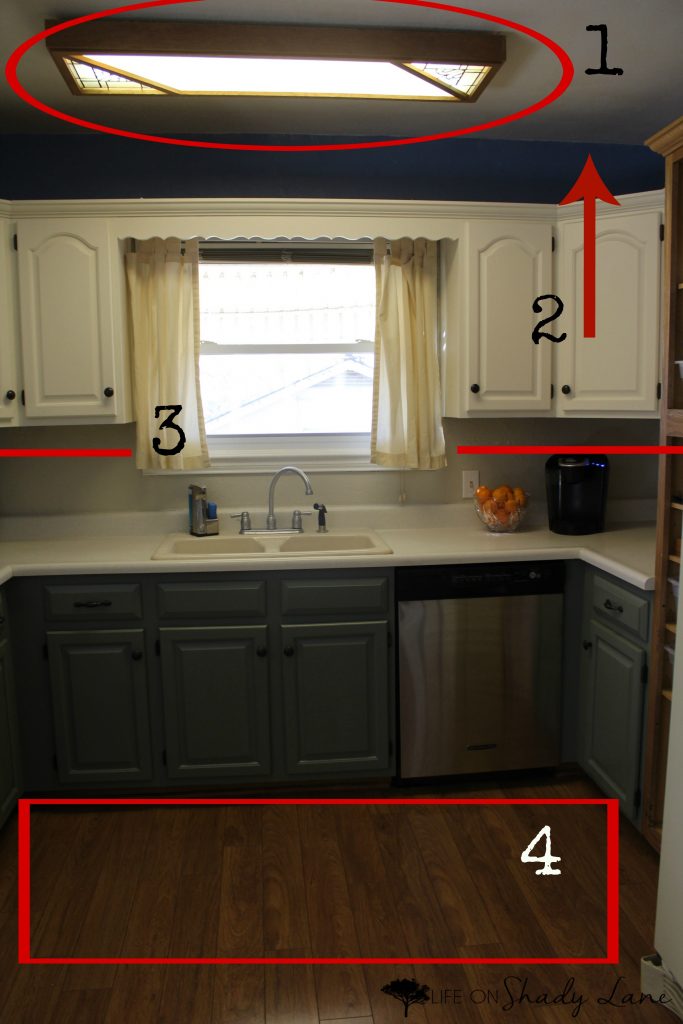 Take out this terrible outdated light and replace it with something more attractive. A couple can lights maybe> I'm not quite sure yet.
Raise the upper cabinets to the ceiling.
Put in an open shelf below the upper cabinets.
Install wood floors (one of our big goals for 2016!)
I can't wait to see more change in the kitchen. Painting the cabinets has transformed the space so much that it's (luckily) making me want to keep going. You can check out my tutorial for painting kitchen cabinets here. Don't forget that you can sign up to receive my emails – I send one out every time I publish a new post, so you'll never miss out on anything that's happening on Shady Lane! There's a sign up form at the very top of the page. Let me know if you need any help! Also, be sure and check me out on Instagram, Twitter, and follow me on Bloglovin'