If you know me, you know that I like to switch things up when it comes to decor…a lot. Since I was a kid, I have been obsessed with rearranging. I'd rearrange my bedroom without even asking my mom or dad, excited to surprise them with the outcome when I was finished. Luckily for me, they didn't ever stop me from doing it, and I think my creativity blossomed because of it.
————–
I hope you'll check out some of my other posts while you're here, too!
See my DIY projects and inspiration [here]
Check out a home tour [here]
Check out some more fashion posts [here]
Now, my husband doesn't even mind when I move the basket that holds our car keys 3 times in a week (true story) – he just kind of shakes his head and laughs. I rearrange our fireplace mantle a couple times a season, and I'm always changing things up elsewhere in the house.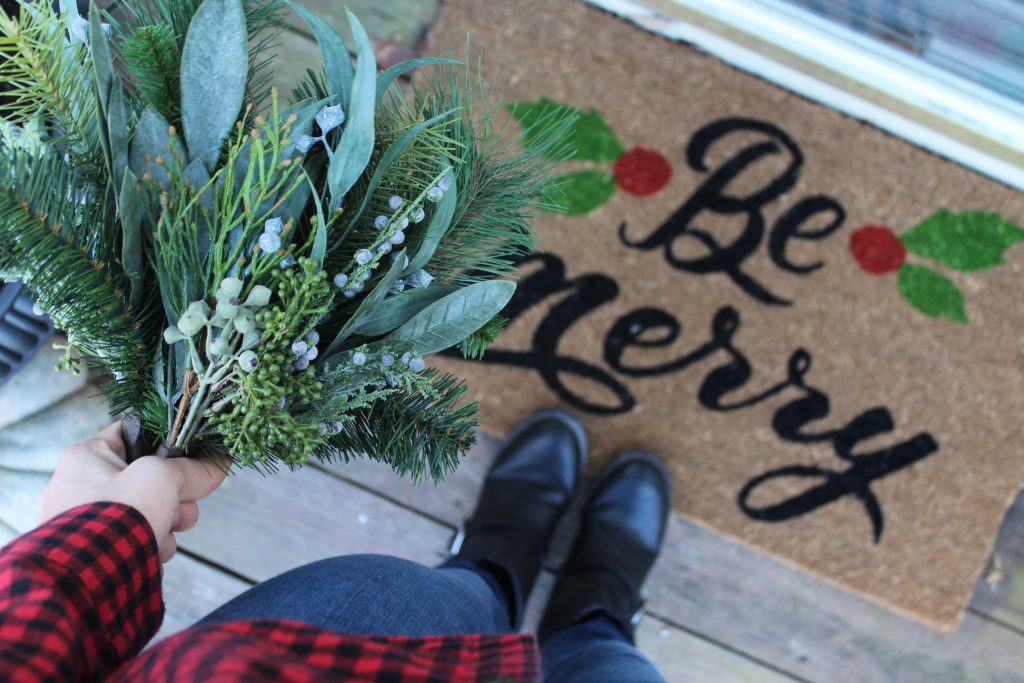 When it comes to the holidays, I look for pretty decor that is, most importantly, affordable. It's not stuff that stays up all year round anyway, and I don't want to be kicking myself if next year I decide I'm not wild about it and want to try something different.
So, here are my top picks for affordable farmhouse Christmas decor! Everything is under $35 and will make your home feel cozy and festive for the holidays.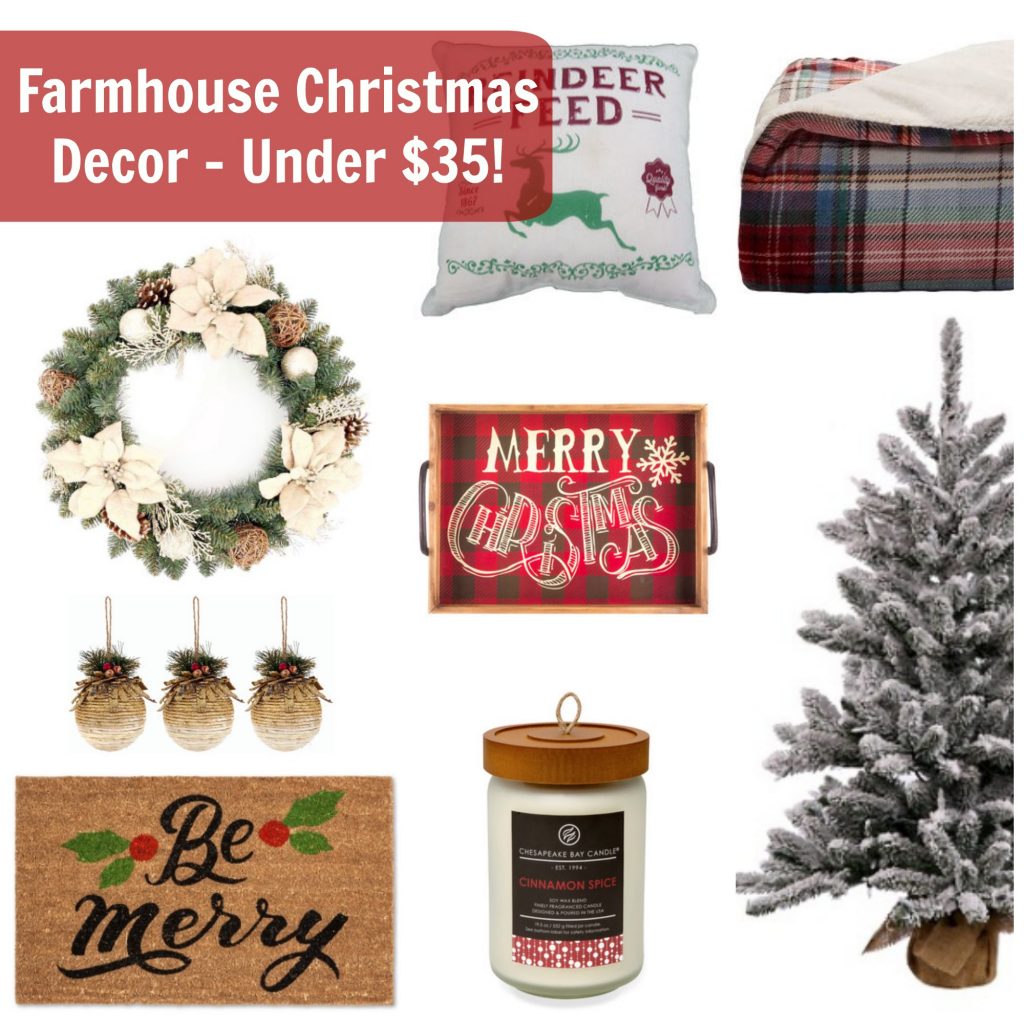 Wreath | Pillow | Throw | Tray | Ornaments with Greenery | Door Mat | Candle | Flocked Tree
Plus, here are a few tips for saving money when it comes to decorating for the holidays (or just year-round seasonal decorating!) –
Shop when things are on sale, like the day after a holiday! I like to buy things like Christmas lights and pillows in the day (or week) after a holiday. I know I'll use them the following year, and sometimes they're on sale for up to 80% off. There are often really good deals!
Be patient. The ornaments with greenery that I showed you are from Hobby Lobby – their stuff is usually 50% off. If it's not, go back the following week and it should be half off. They rotate their "sale" items this way. I never pay full price from a store like that unless I really need it immediately.
Go neutral! One of my biggest pieces of decorating advice is to use neutral decor in your home. That way, you can add in pops of color for different seasons and holidays and everything always seems to flow well. This is huge for someone like me who likes to change things up a lot.
Hopefully those tips will help you a little when it comes to your holiday decorating! Most of all, I hope that you have a happy holiday season filled with lots of family, friends, good food, cozy blankets, and whatever else makes you enjoy the season!
————–
I hope you'll check out some of my other posts while you're here, too!
See my DIY projects and inspiration [here]
Check out a home tour [here]
Check out some fashion posts [here]