A few weeks ago, I started a new series here on the blog to show you each room of our house, one by one, for a full home tour. I thought it would be a fun way to show you around – we moved in six months ago, and while we're not completely "finished" furnishing this house, we've come a long way in making it feel like our HOME. Today I'm showing you our dining room makeover!
A big thank you to Nebraska Furniture Mart for sponsoring this post!
This post may contain affiliate links
————–
I hope you'll check out some of my other posts while you're here, too!
See my DIY projects and inspiration [here]
Check out a home tour [here]
Check out some fashion posts [here]
Okay so first things first, I need to show you a few "before" photos. These are actually in the "in between" – we lived with NOTHING in this space for months after moving in. We finally put up a plastic folding table because we got tired of eating at our barstools or on the floor…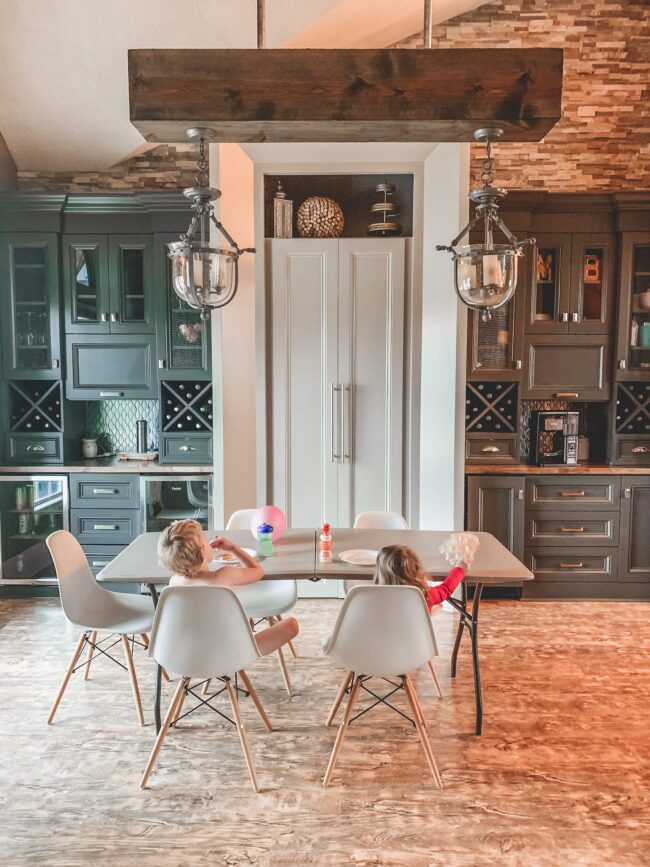 And then our dining table finally came: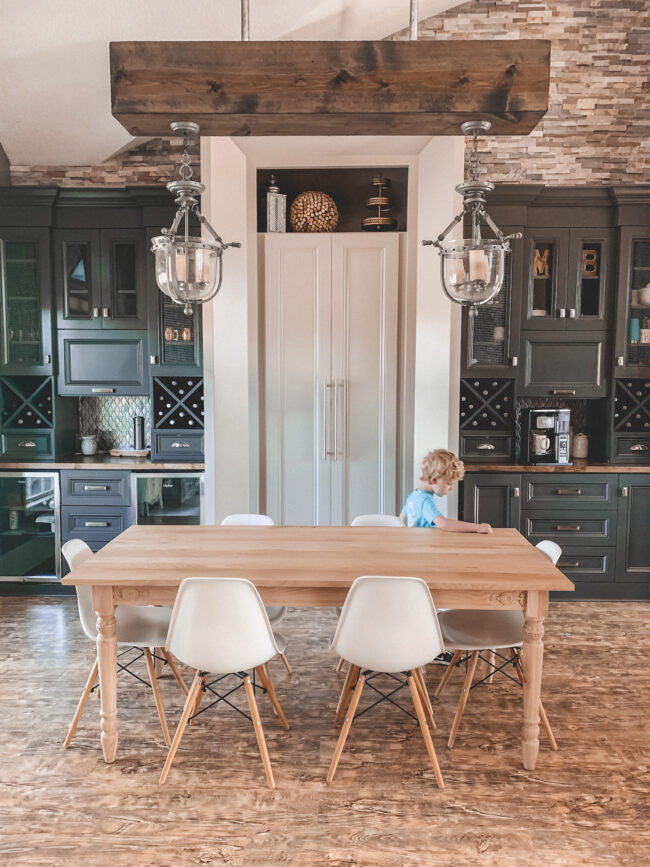 And here's what our dining room looks like NOW: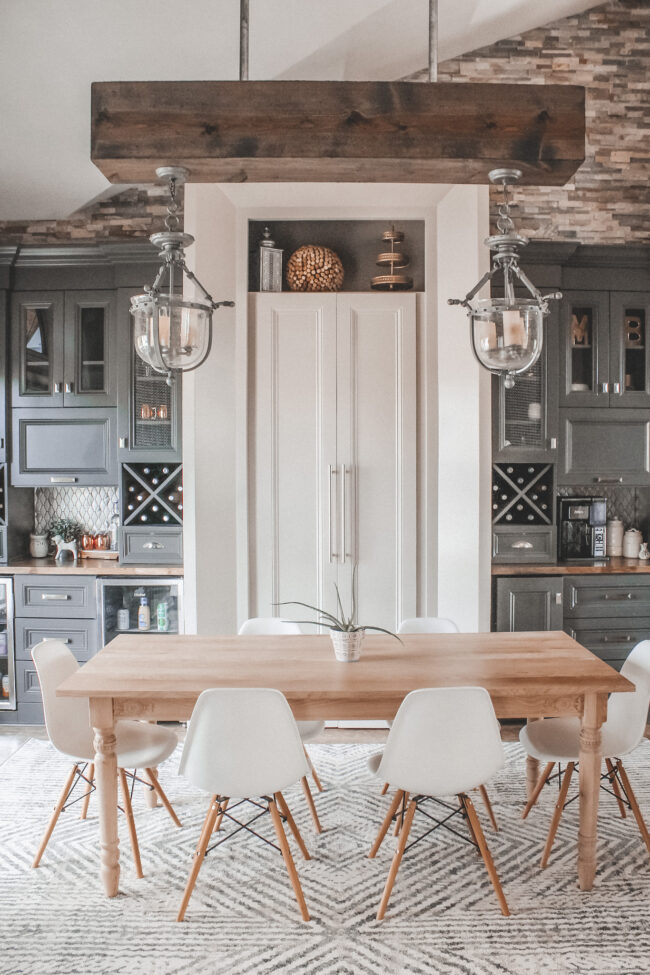 Talk about a glow up.
The dining area is the very first room you see when you walk into the house. It's essentially one big room – the dining area, kitchen, and living room are all connected, so you can see them all the second you walk in the door. So these rooms are the first rooms on my Home Tour Series, and they're the rooms that gave me the first impression when we walked into the house with our realtor. I INSTANTLY knew it was supposed to be our home – isn't it funny how that happens?! I actually knew the second I saw the house online – I sent Brandon a text and told him I'd found our home and that we needed to see it that night.
So we did…and now here we are, living in it! ;)
Anyway, I'm getting off topic. This space is our main dining area, there's not a "formal" dining room or anything (I'm not a fan of those, actually – we like to keep it casual here!). So I wanted it to be child-friendly AND I also wanted it to be pretty, because, well, it's literally the room you walk into first when you enter our home. I'm all about rooms (and furniture) that are both!
*Remember the awesome recliners I found for our living room makeover? Functional AND stylish. Win-win!
This room struggled for a little bit, just because I was waiting to find furnishings that I actually LOVED. But…our dining room makeover is finally finished, and I'm loving how it turned out!
I honestly think that our new area rug from Nebraska Furniture Mart MAKES the room. Without it, the space has a whole lot less personality. Plus, it is SO. DANG. COZY. AND. SOFT. I'm not kidding, it's one of the most plus, soft rugs I've ever felt.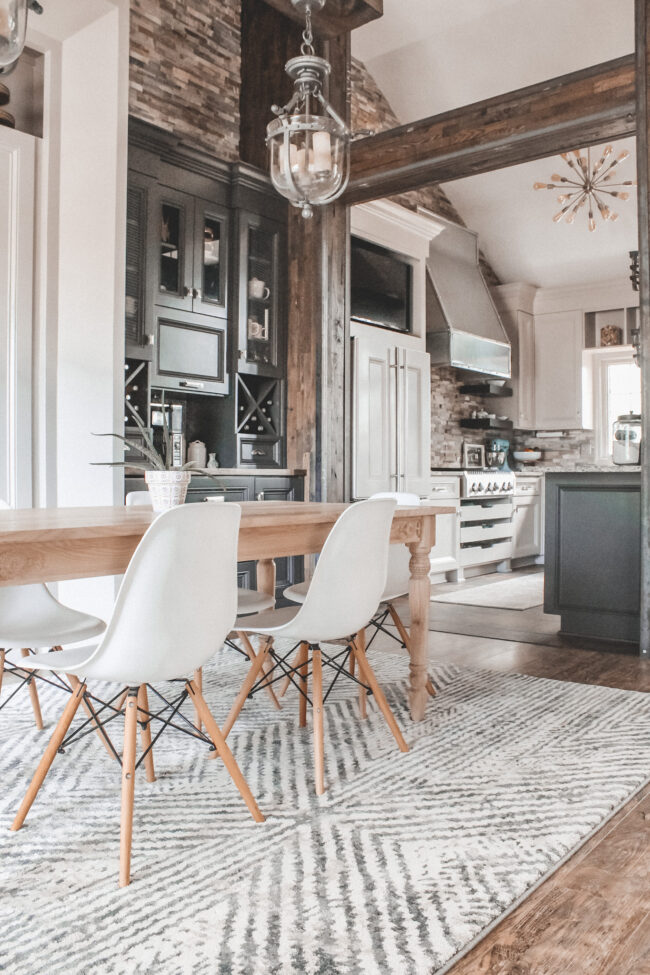 I'm hoping the pattern makes food spills a little less noticeable, but if the kids start to spill on it every day (so far so good!), I'm definitely moving this rug to our bedroom. I'm so in love with it.
The colors in the rug are cream, gray, and a super light taupe/beige color – it's neutral enough to match almost any decor and would be equally as pretty in a master bedroom, living room, nursery….or dining room!
Nebraska Furniture Mart has all of the best things, and such a HUGE variety to choose from. I completely made over our living room with NFM a few weeks ago – you can see it here.
The cabinets you see along the back wall run all the way through to the kitchen, and I love that there's a mix of regular cabinets (to hide things like plastic kids cups and coloring books) and open shelving/glass/wire front cabinets to show off some of our favorite things!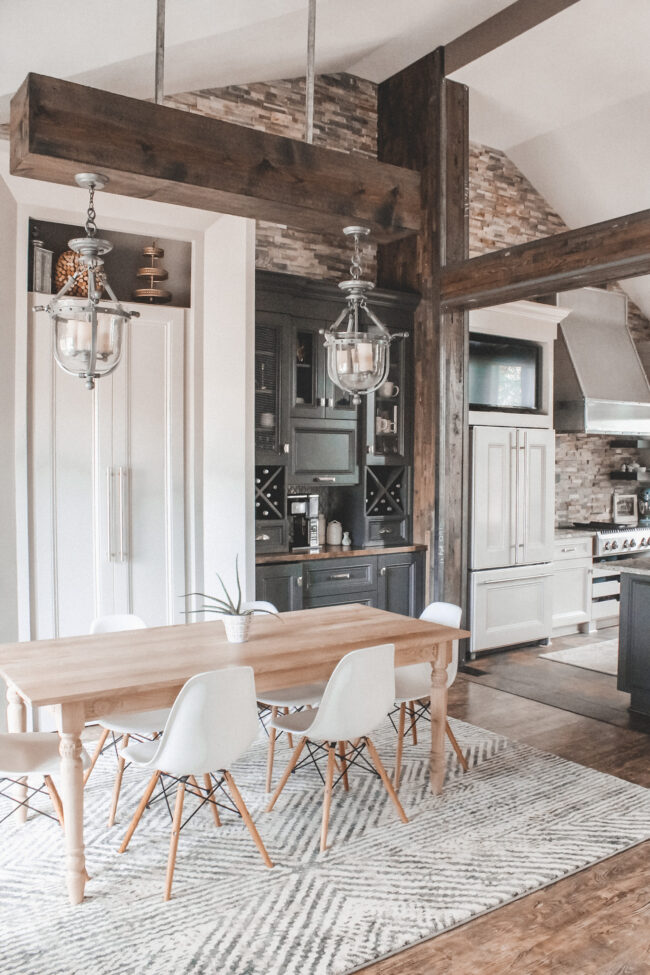 *Sidenote: there's a little glimpse at our kitchen! You can see that full tour here.
The big double doors are our walk-in pantry. I've thought about doing a tour of that space, but it needs some organization and isn't all that pretty yet, so we'll save that for another day.
Flanking the pantry are our "bar" and "coffee" areas. On the bar side we have two mini fridges, only one is really ever filled with drinks..but we use both when we have parties or company over! ;) The bar side is where we keep all of our wine + cocktail glasses, wine openers, etc. And then, obviously, the coffee side is where our coffee maker + mugs are kept!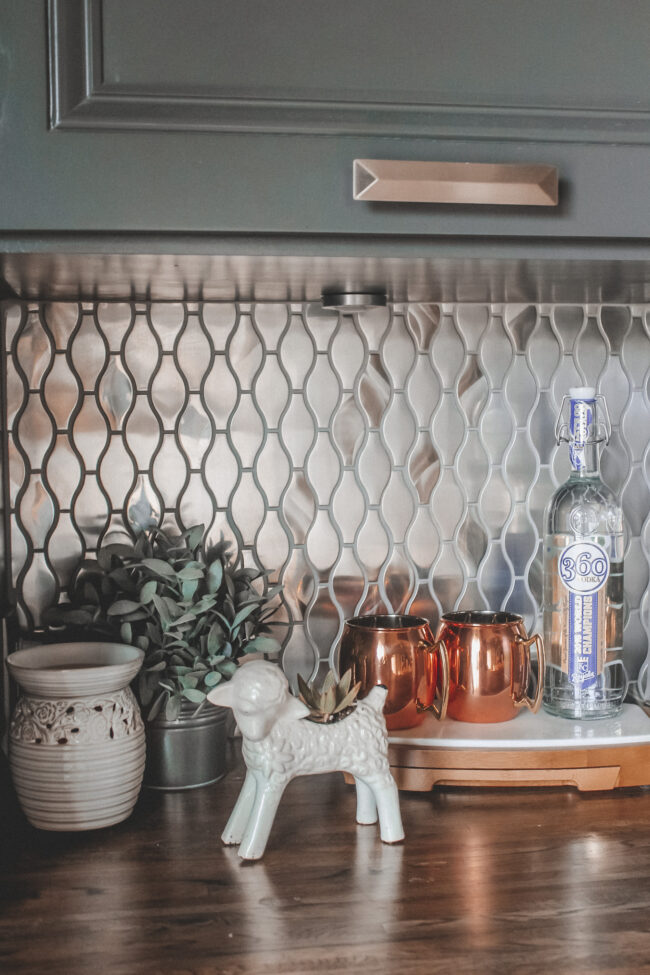 Underneath the coffee maker is a hidden ice fridge (also great for when we have people over!) as well as some cabinets where we store things like extra candles, tablecloths, etc….and I even have a drawer dedicated to storing all of the kids craft supplies. That one holds all of the crayons, coloring books, and WASHABLE markers – so they have access to the things they can't destroy the house with. ;)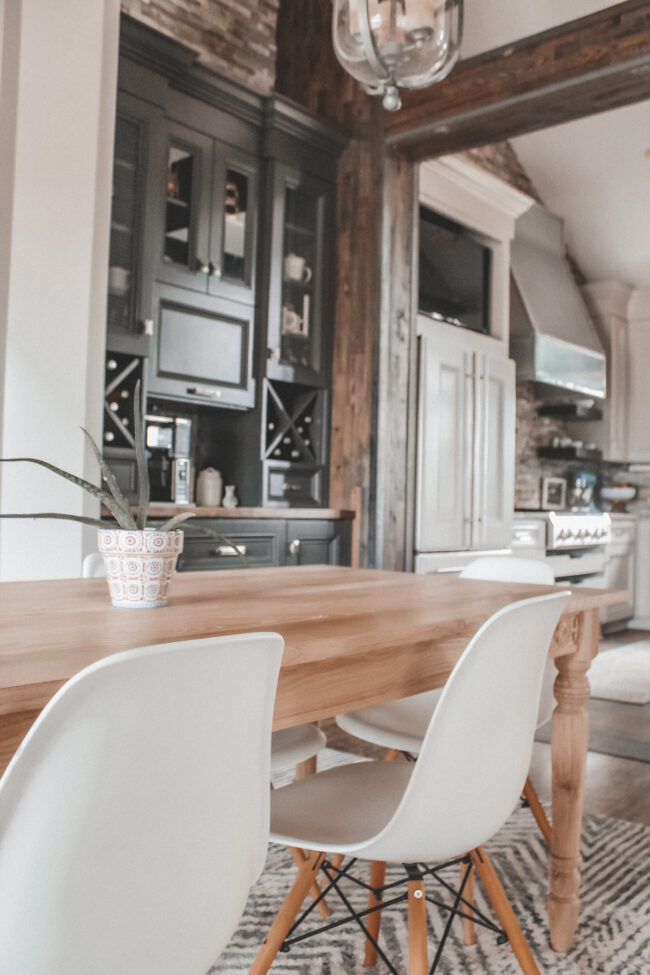 It literally took me five months to pick out a dining table for this room, I was so indecisive! I snagged this one on close out sale, so it's not available anymore…but I found it here.
We had our dining chairs in our last house (you can see that house here) – I may switch them out at some point, but for now I think they look cute in this space! I also like that they're super easy to just wipe down since our kids are young (and messy).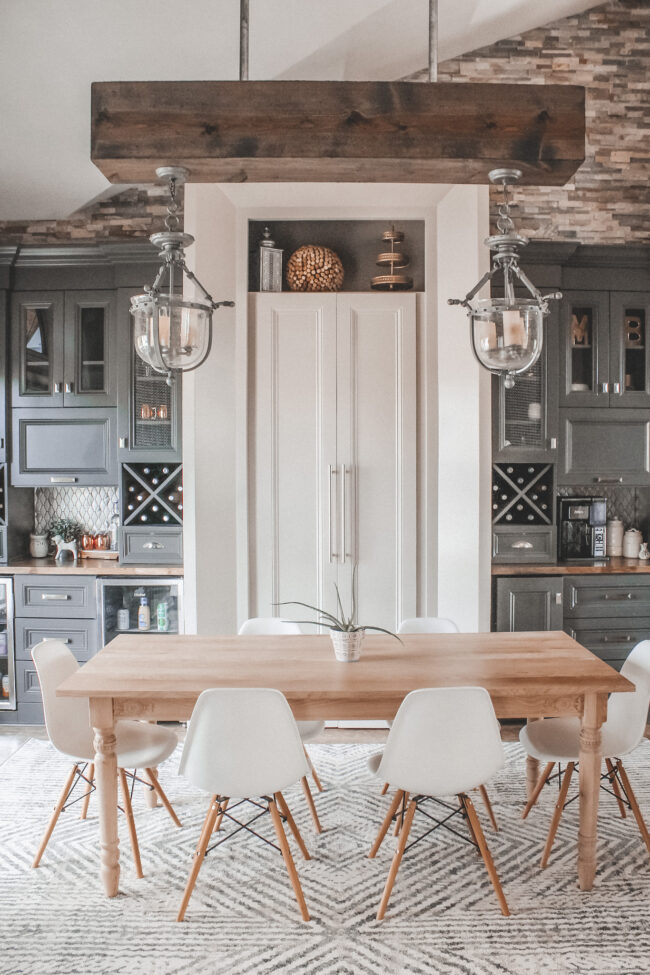 I hope you enjoyed this dining room makeover blog post!
Which room would you like to see next?!
PS just a reminder that I've already shared some other rooms in this Home Tour Series: