Today I'm going to show you our "rustic meets modern" KITCHEN!
This post may contain affiliate links
Last week I shared our living room makeover and the very first of my Home Tour series. I figured this would be a fun way to show you guys around the house since we've made some updates since moving in six months ago! It's not finished, of course – there are still things I want to change up. But it's coming along and it has been so much fun designing FINISHED spaces.
————–
I hope you'll check out some of my other posts while you're here, too!
See my DIY projects and inspiration [here]
Check out a home tour [here]
Check out some fashion posts [here]
Quick reminder if you're new here: our last home was a total fixer upper. You can see it here. And you can see lots of the DIY projects we did here. We loved that home, but it was a constant construction zone…so having a home now that already felt "finished" when we moved in is quite different!
You know me, though…even though the house was "finished" there are still projects I want to do! We're working on some fun outdoor spaces that I can't wait to show you. BUT I digress…
Let's talk about this kitchen.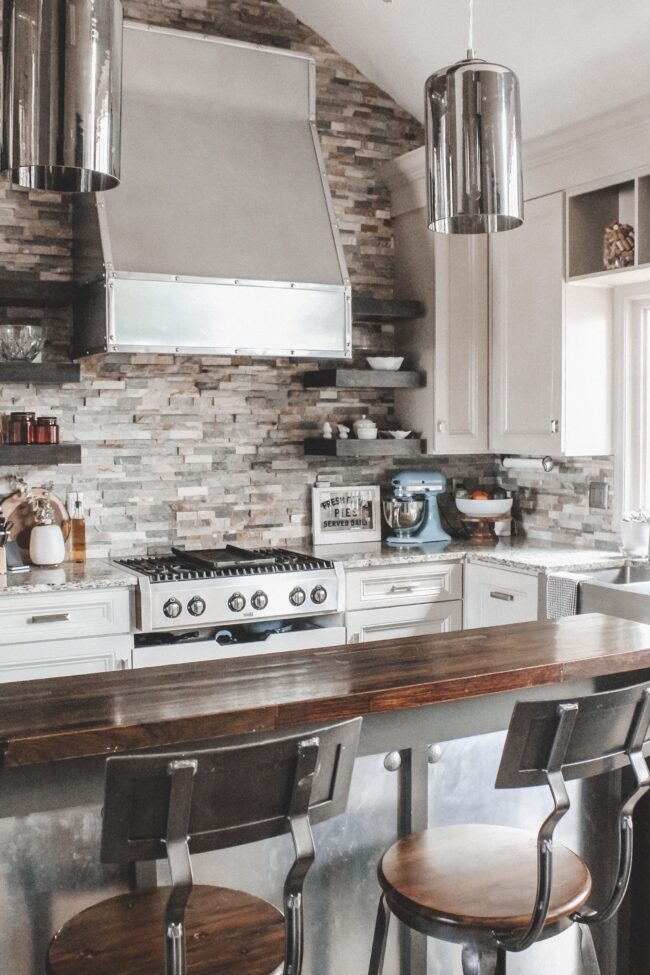 The kitchen is one of the first rooms you see when you come in through the front door, and it's honestly what sold me on the house. We walked in and I knew right away that this was our home – the kitchen is just such a showstopper, and it fits our style perfectly! It's a little bit rustic with all of it's stone and wood accents…but it's also modern: the cool light fixture, stainless range hood, and sink and clean cabinetry all balance things out!
I love how unique the stone backsplash is (it goes all the way up to the ceiling and is carried into the dining room, too!). I love the metal range hood, the gas range, and the DRAWERS under the range (hello, smart storage!). The refrigerator is disguised by panels that match the cabinets, the sink is deep (I love!)….there's just so much to love about this kitchen. It's not huge, but the storage is really well thought out so it feels spacious and there's a place for everything. Even the trash and recycling bins have a cabinet (next to the sink)!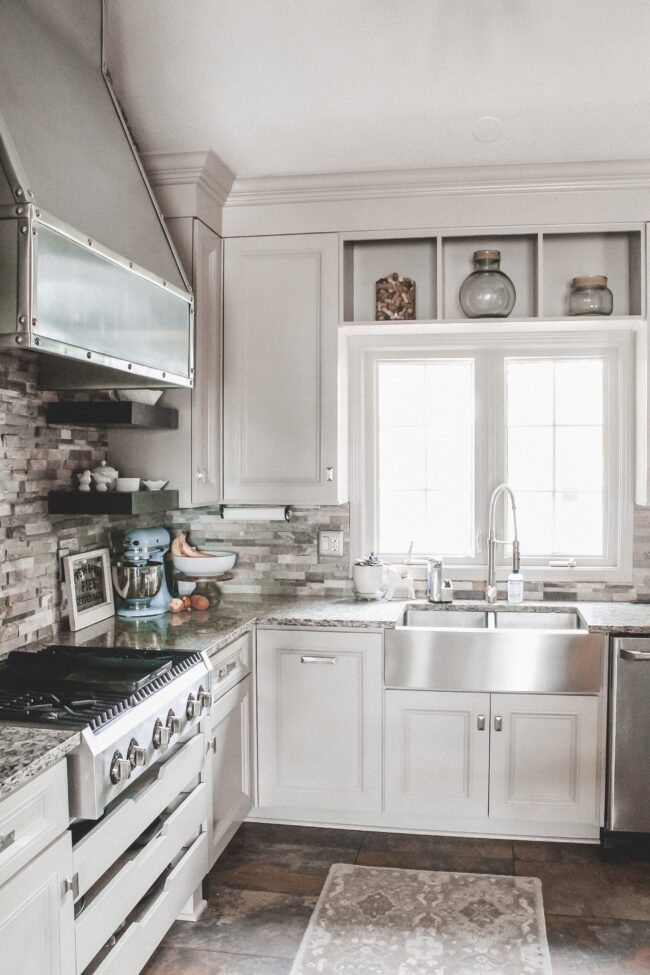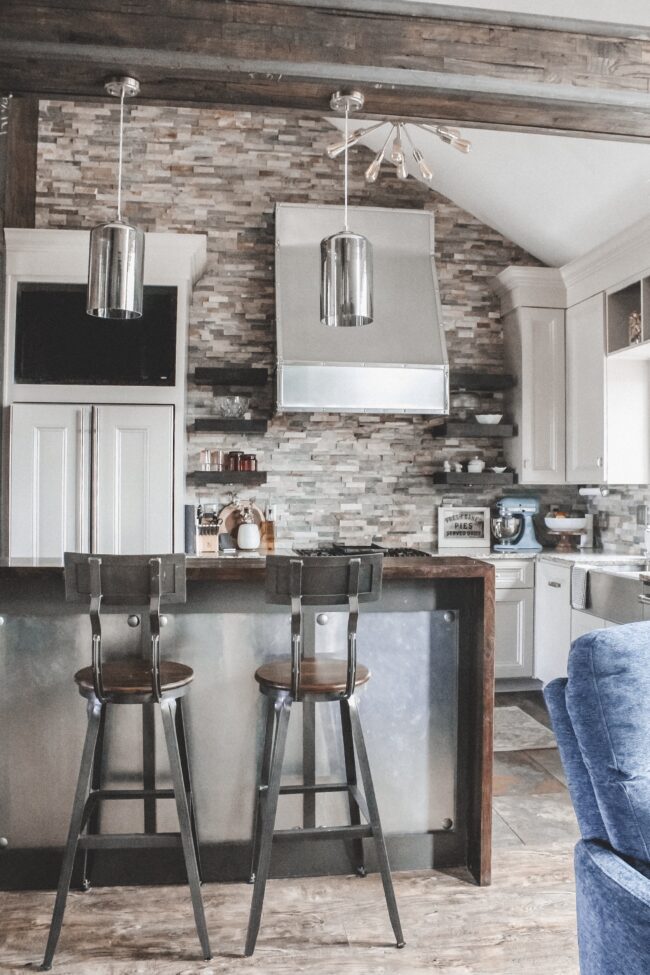 We bought these barstools several years ago – for Brandon's first house! And then we used them in his "mancave" at our last house (see that space here). They match the new kitchen perfectly, though, so I think we'll keep them here. I need to order another one (there's room for three) but I just keep forgetting! ;)
PS: there's a tiny little glimpse at our new recliners in the photo above. I can't even believe the response I got about these chairs…you guys LOVE them! And I don't blame you, they're amazing! See the rest of the living room here.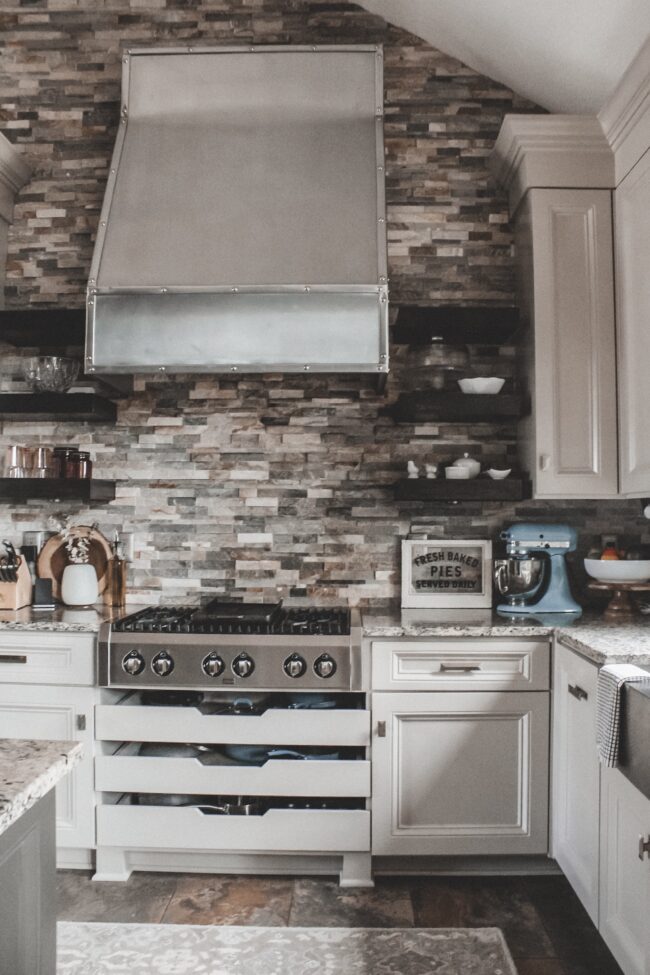 I'm still trying to figure out how I want to style those open shelves – I had miniature Christmas trees on the top ones at Christmastime but since then I'm at a loss. I'm trying to think of something tall, since the ceilings in here are so high. It'll come to me!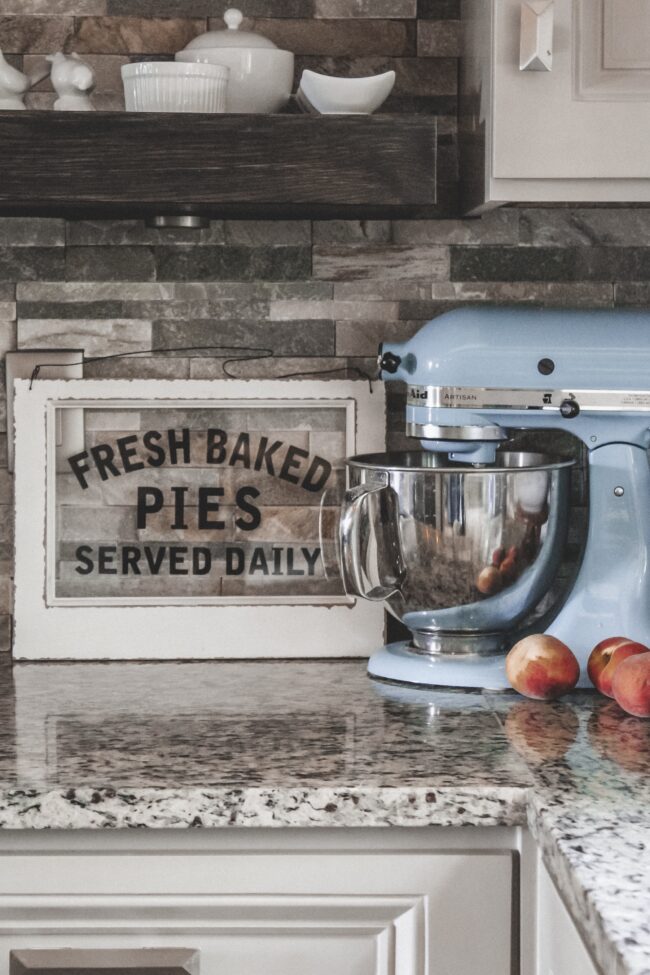 Buy "Fresh Baked Pies" glass sign here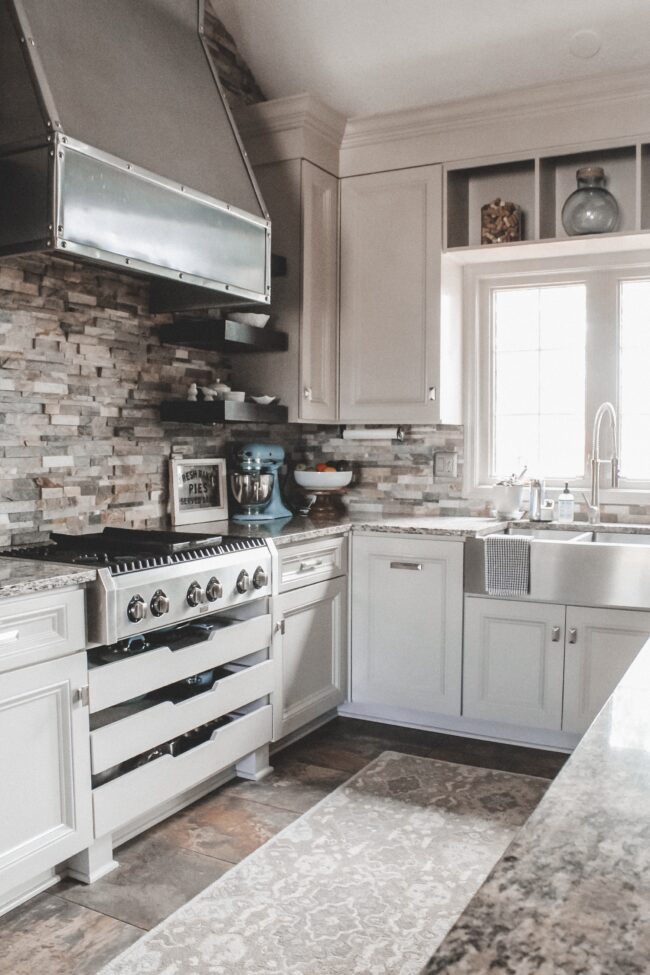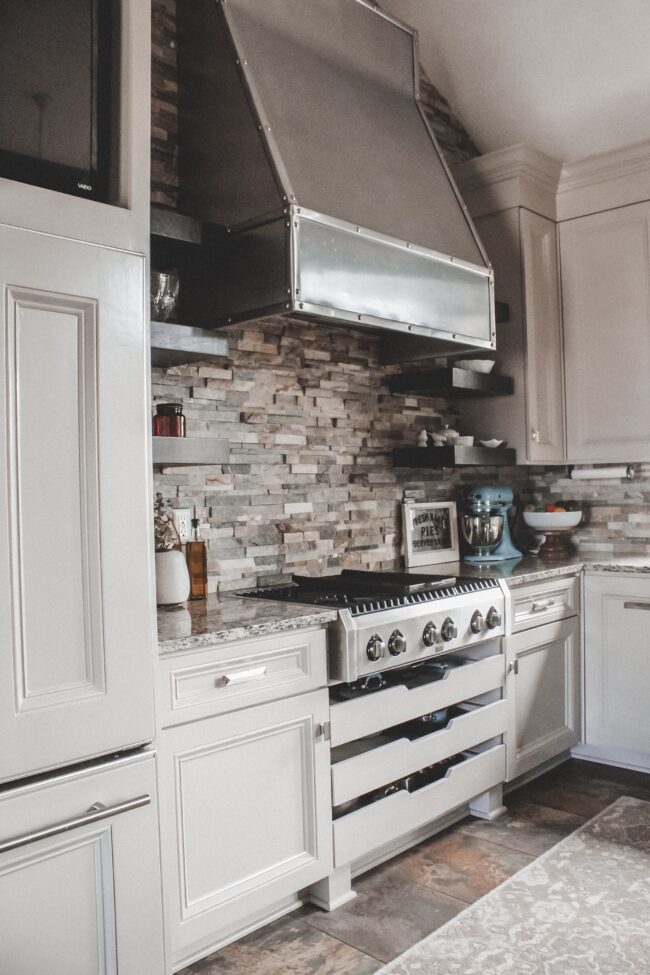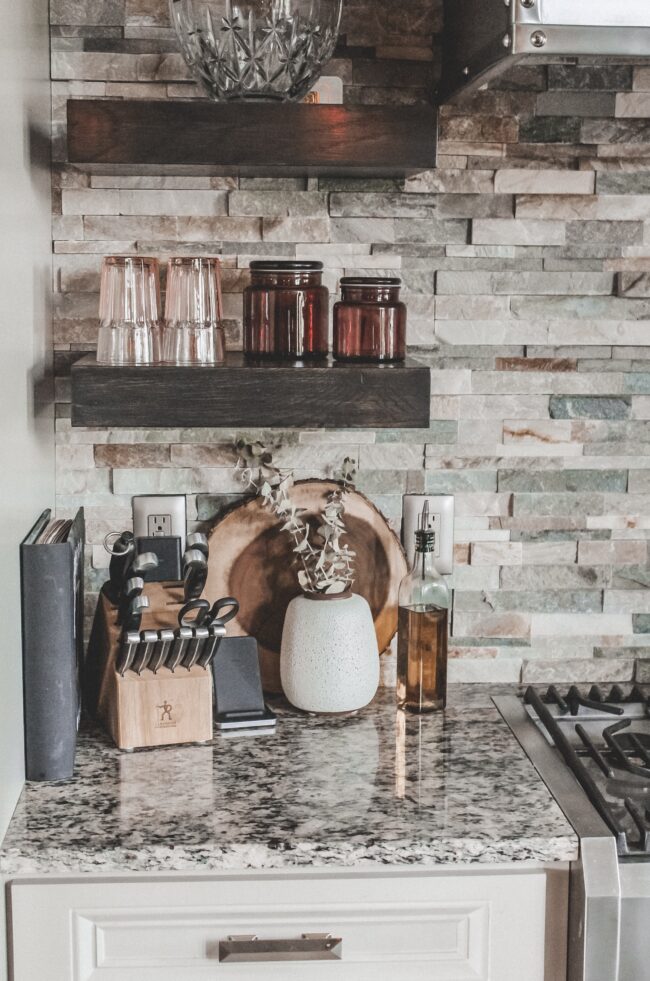 Our pink drinking glasses and the little brown glasses are from IKEA and I love them. Love a little pop of pink. ;)
We bought our knives with a gift card we received for our wedding (6 years ago) and we still love them – use them every single day!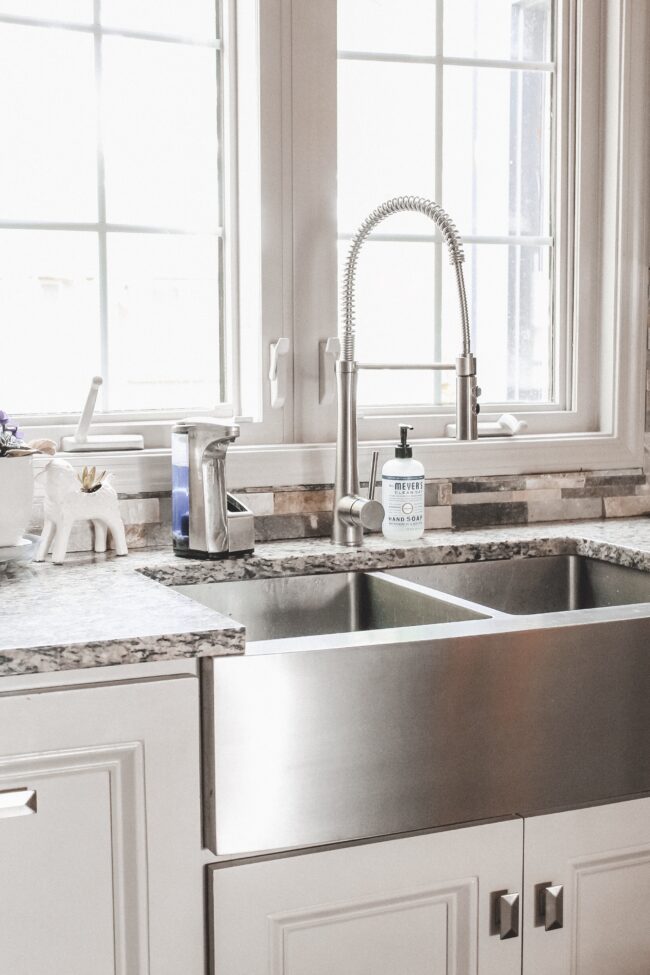 PS: we got a new kitchen faucet after I published this post…and it has a built in filtration system. SO cool! You can see it here.
Speaking of wedding gifts…we also bought our automatic dish soap dispenser with wedding money and we still use it! Brandon picked that one out and I remember he was SO excited at the time – it really is useful and a clever little dispenser!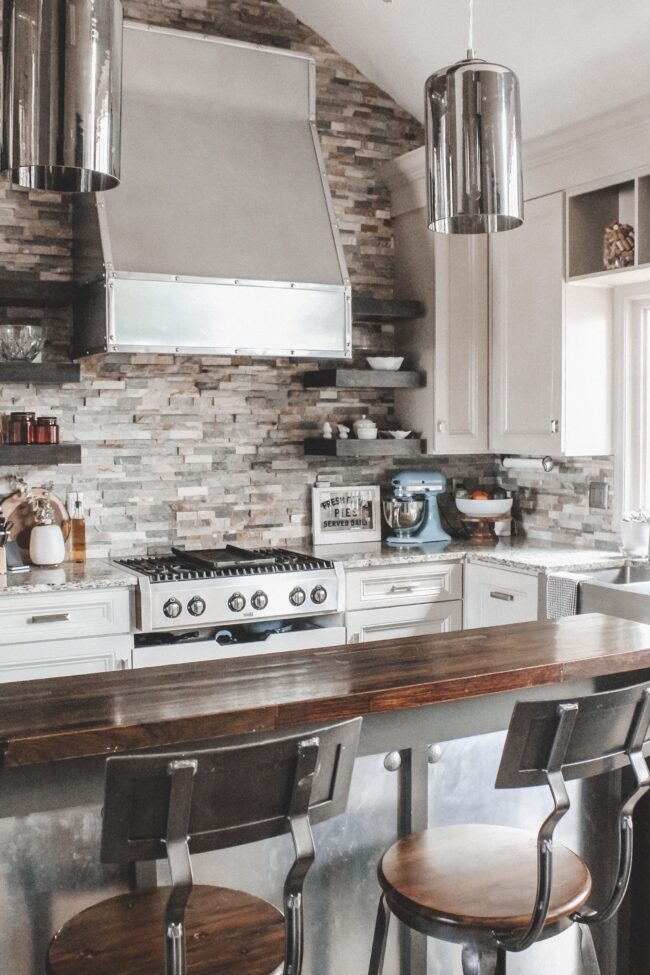 In case you missed last week's home tour post, I shared the living space that's right off the kitchen! You can see it here.
————–
I hope you'll check out some of my other posts while you're here, too!
See my DIY projects and inspiration [here]
Check out a home tour [here]
Check out some fashion posts [here]
Hope you enjoyed this tour of our rustic meets modern kitchen blog post!