We put a gold mirror over the fireplace a few weeks ago, and I LOVE the Parisian vibe it gives off!
This post may contain affiliate links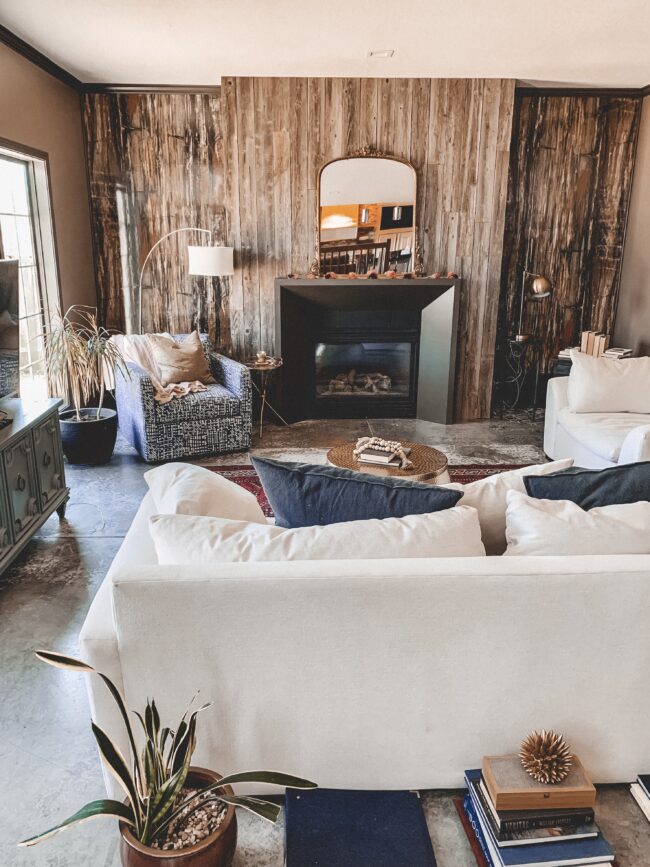 A few weeks ago, I shared an update on our living room – we added a coffee table (see the post here). I had planned on putting a big gold mirror over the fireplace for quite a while, but it took me a little while to finally "pull the trigger" and order this one. I've wanted it for several years (yes, seriously) but it's not cheap sooo….I waited.
But when they went on sale around Christmas, I decided to order. Guys, it took SO LONG to arrive…because the first one broke while it was in transit to our house! I'm convinced the delivery man broke it right outside my house. I saw the truck on our street (I was watching out the window and pacing by the front door on the day it was expected to arrive, like any normal human would do)…but it drove away and didn't leave the mirror. I checked the tracking info, and it had been updated to say something like "package damaged in transit." Heart. Broken.
I had to call customer service (more than once) to get the mirror reordered, but it finally arrived and I had Brandon help me pull it inside the front door. I may have shrieked when we finally got it opened and took all of the Styrofoam off. IT IS SO BEAUTIFUL.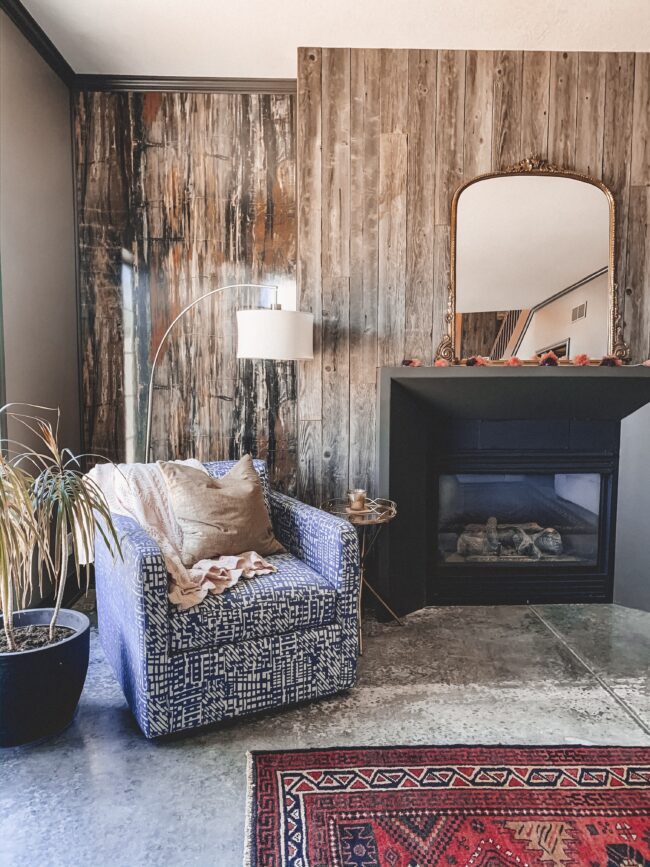 I love the French vibe the mirror gives off. It's so heavy and is really good quality, and it just makes the room feel that much more complete.
We still have some things to do in the living room: I want to layer a bigger rug under our vintage one, but I haven't found "the one" just yet. We need some artwork, too, and a bench or sofa table behind the couch. All in due time, though…I'm just enjoying the process of decorating our home!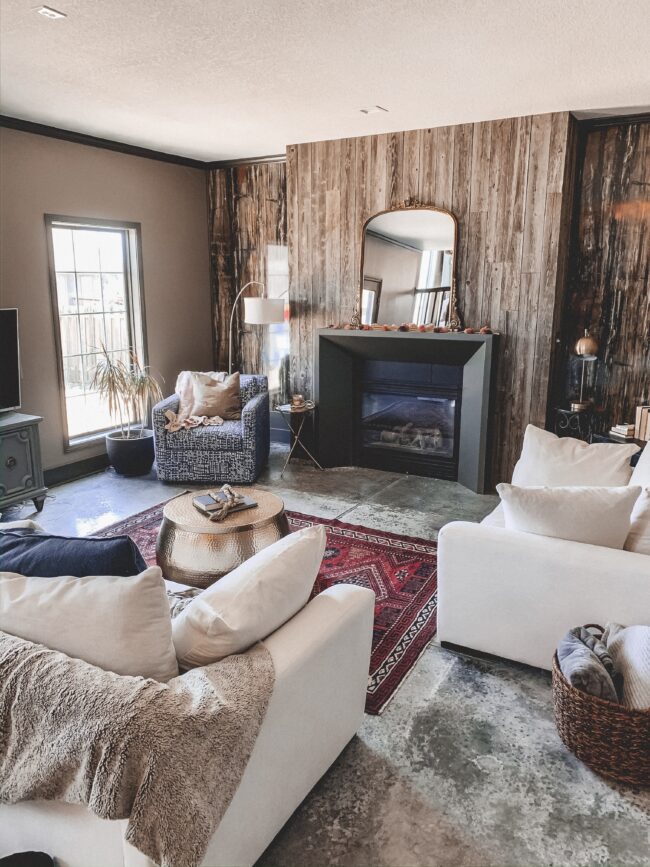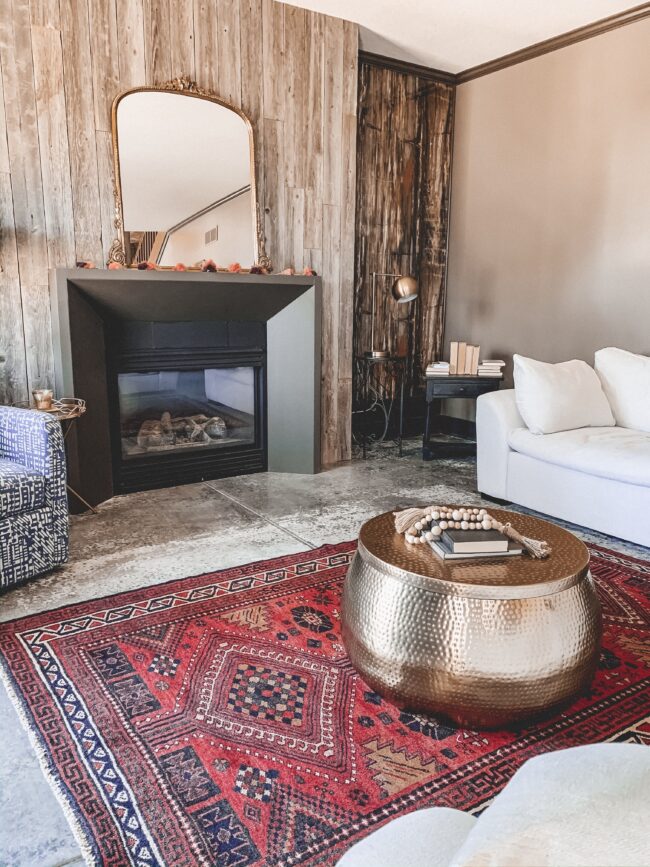 You can see more of our new home here (including an early video tour!).
I also wrote a blog post about our vintage rug – you can find that [here]!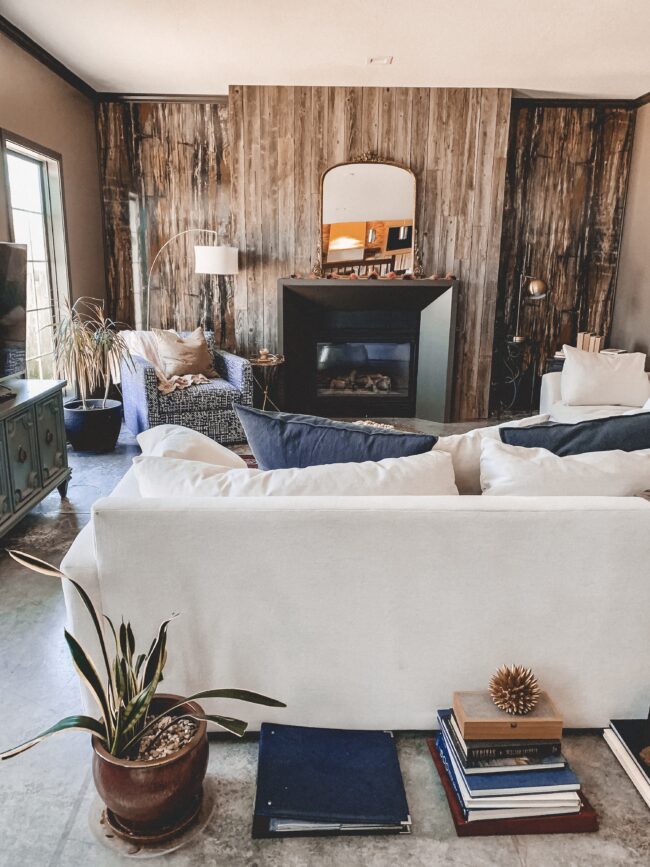 You can buy the same mirror [here] – it comes in different sizes and finishes, too! I have the 3′ gold, for reference.
Do you have a gold mirror over the fireplace? I love that it makes the room feel larger, more glam, and gives off a Parisian vibe!