Our deck lounge area makeover – see how we took this space from BORING and sad to COZY and fab!
When we moved into our home, the backyard was a little…sad. There was no landscaping, the grass needed some love, and the deck needed to be resurfaced or replaced. The inside of our home was essentially finished, unlike our last house. So we set to work pretty quickly working on the backyard – and it has been SO much fun!
Our last house needed extensive cosmetic work on the inside, so we didn't ever get to do much with the exterior. This house has been a total 180 from that which has kept our DIY projects exciting. We added landscaping, refinished the deck [here], built a fire pit + paver patio [here], and worked a ton of the health of the lawn.
You can see how we resurfaced the deck [here]. We could have completely torn it out and replaced it, but we didn't think the wood was that far gone just yet. So, we went for a less expensive method that prolonged the life of the wood decking and improved the appearance a TON.
Our paver patio + fire pit has absolutely been our most loved and most-used space in this home. The blog post has also gone a little viral on Pinterest, which is pretty cool!
Paver patio + fire pit blog post
Keep scrolling to check out our deck lounge area makeover!
————–
I hope you'll check out some of my other posts while you're here, too!
See my DIY projects and inspiration [here]
Check out a home tour [here]
Check out some fashion posts [here]
————–
Just to give you an idea of how this deck looked when we moved in…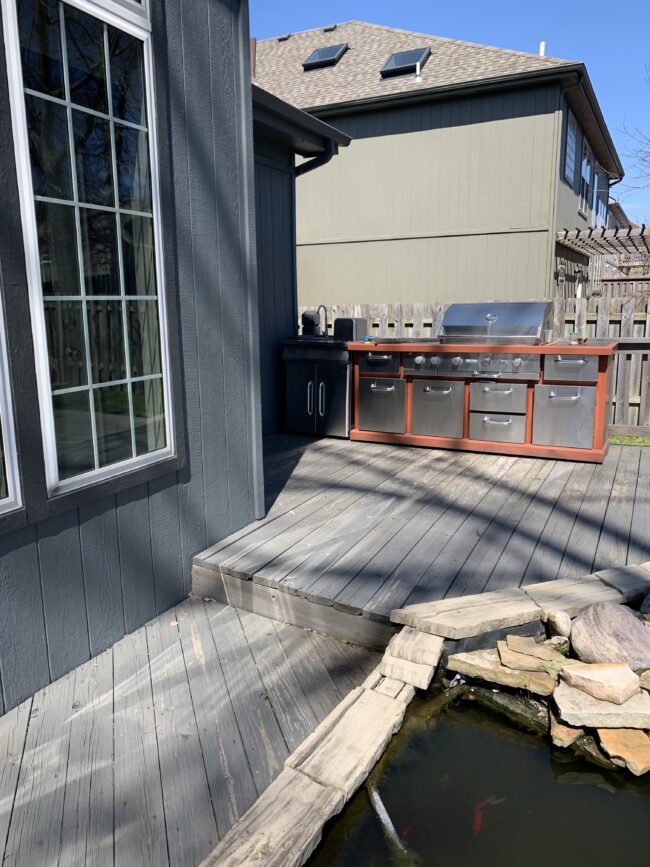 And then we resurfaced it: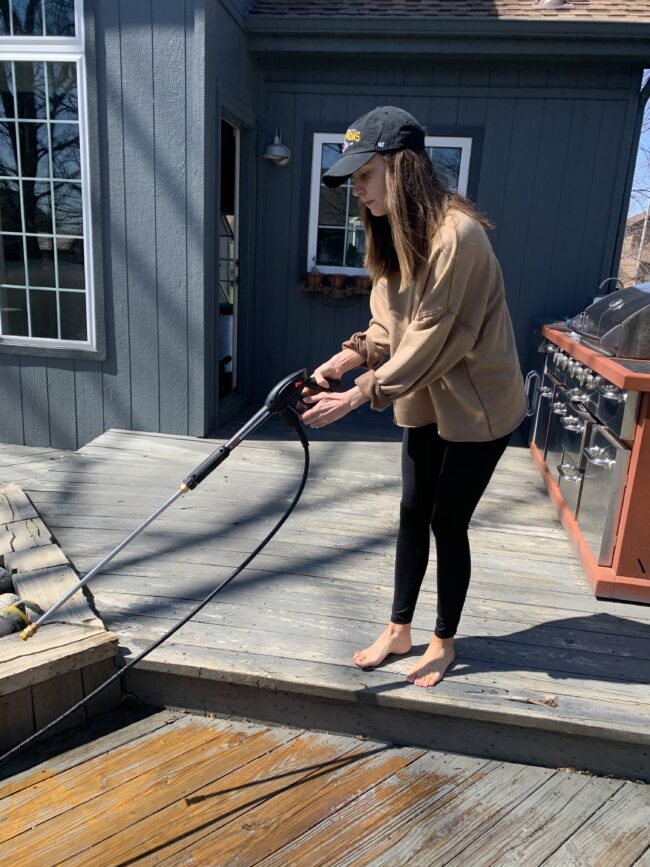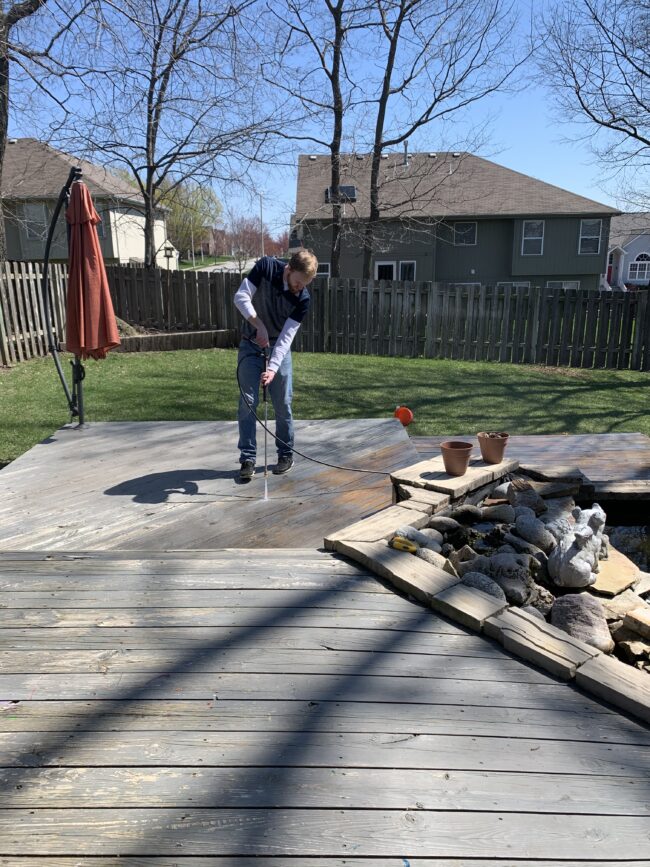 Here's what it looks like today: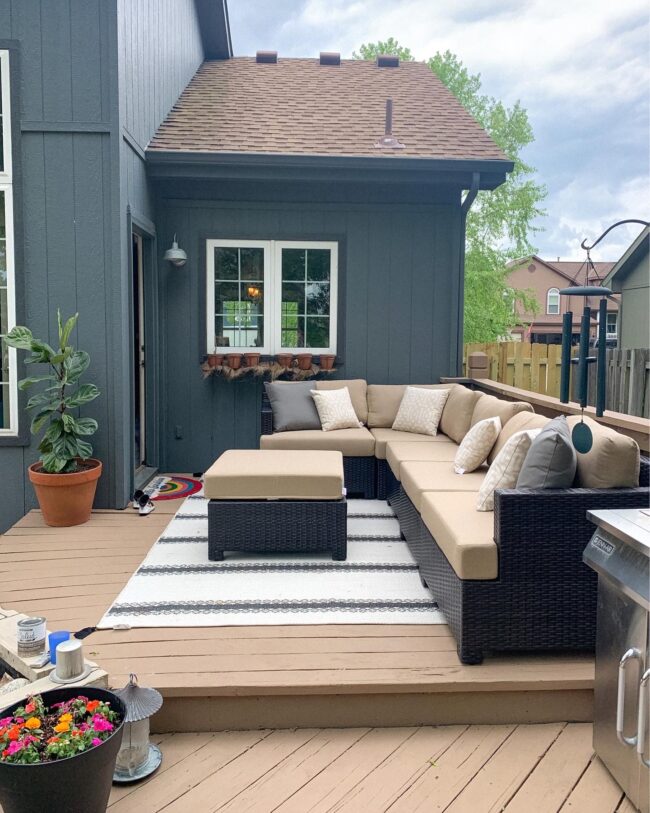 *It has been raining for like 3 weeks straight, I swear! I will add more photos when the sun finally comes out again. ;)
We just added an area rug, rainbow door mat, and sectional and I am LOVING how this space is coming along! We still have lots of plans for the backyard – we're thinking about covering this cozy little spot on the deck next. I would love to protect the couch from getting wet in the rain (and it would be so nice to have a covered spot to sit when it rains!).
Another similar sectional option
Buy similar terracotta pot here
Other plans for the backyard include:
Fixing the pond up (or perhaps moving it to a spot in the yard)
Adding furniture to our fire pit area
More landscaping
Incorporating a dining table into the deck space
Pin it for later: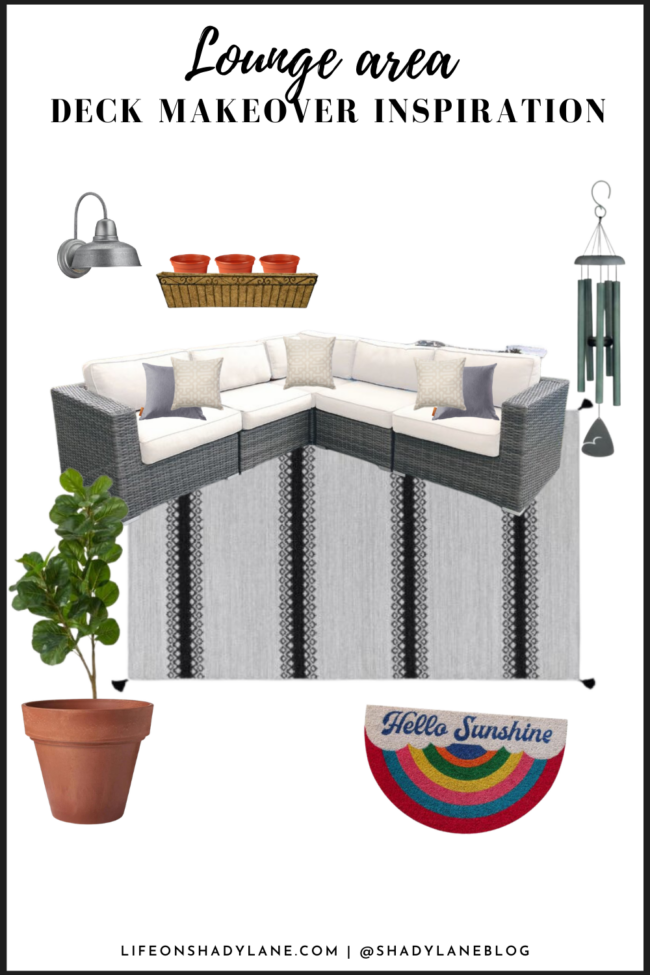 I hope you enjoyed this deck lounge area makeover blog post!