A casual Halloween outfit idea you can wear the whole month of October (or on Halloween!).
This post may contain affiliate links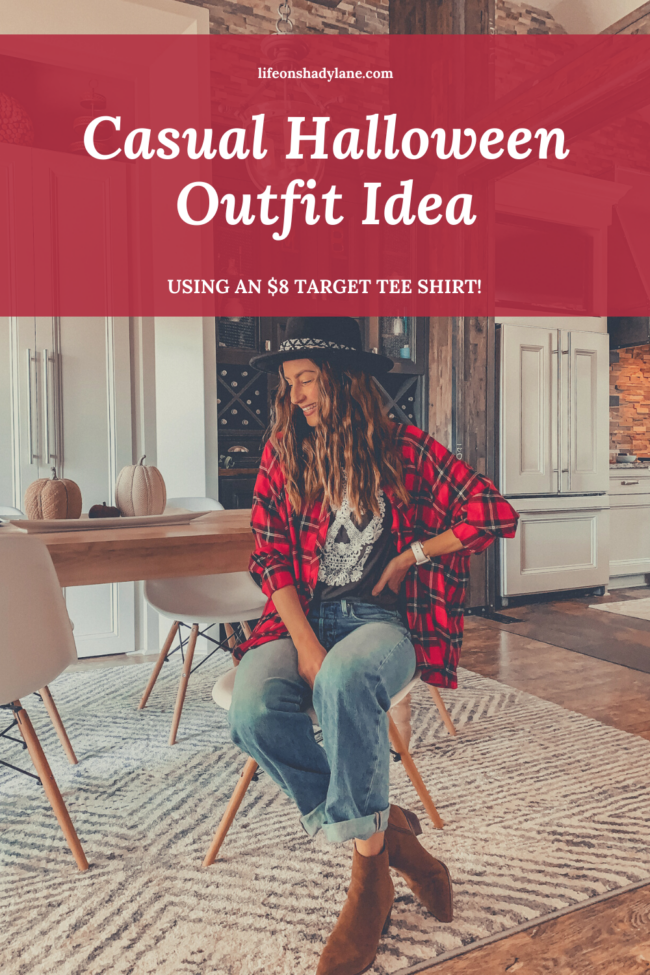 ————–
I hope you'll check out some of my other posts while you're here, too!
See my DIY projects and inspiration [here]
Check out a home tour [here]
Check out some fashion posts [here]
Halloween is one of my most favorite holidays…if not my actual favorite. I love all things fall – the chill in the air, pumpkin flavored everything, football, cozy homes, fire pit hangs,….and especially fall fashion. But Halloween just feels like such a fun, festive holiday without the pressure of buying gifts. And the reason I love it most of all: my son was born on Halloween! I love to get really festive for him, especially.
I came across the cutest skull tee shirt the other day and just had to style it for Halloween. This look feels like the perfect fall outfit – it's EXTRA comfy (hello, boyfriend jeans!) and cozy.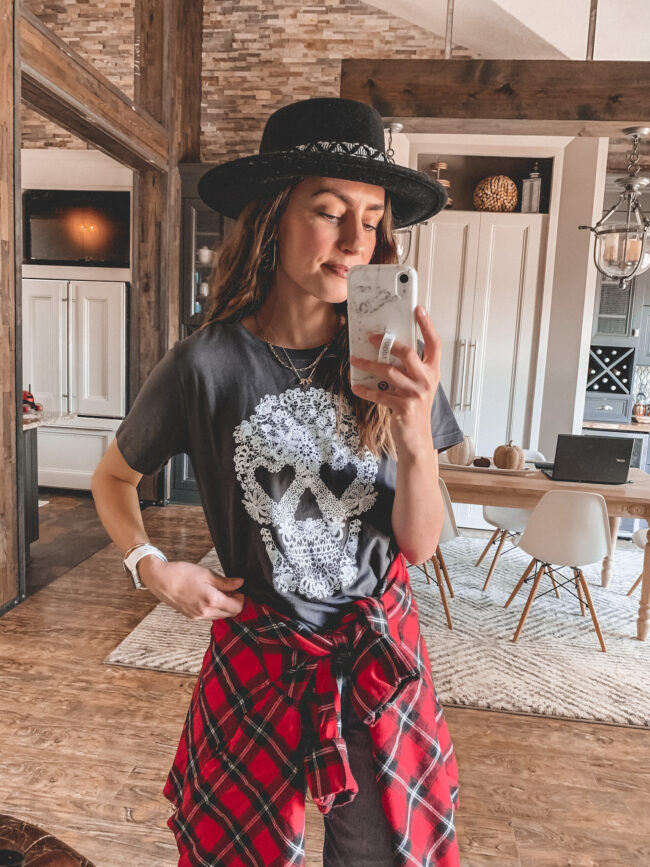 The skull tee shirt is $8. I mean, how can you even pass that up!? It's a fun way to be festive for Halloween without wearing a giant orange pumpkin – I really feel like you could wear this tee year round.
Tee shirt fit:
The tee fits small – I sized up one to a medium because that was all they had in the store. It fits well, but if I wanted a looser fit I could definitely size up to even a large. With these boyfriend jeans, I think I prefer the medium fit…a baggier tee plus loose-fitting jeans might be too much, ya know? If I were to wear the tee with leggings or even skinnier jeans, I'd likely size up to a large.
PS: my hat is from last year but you can find a similar one HERE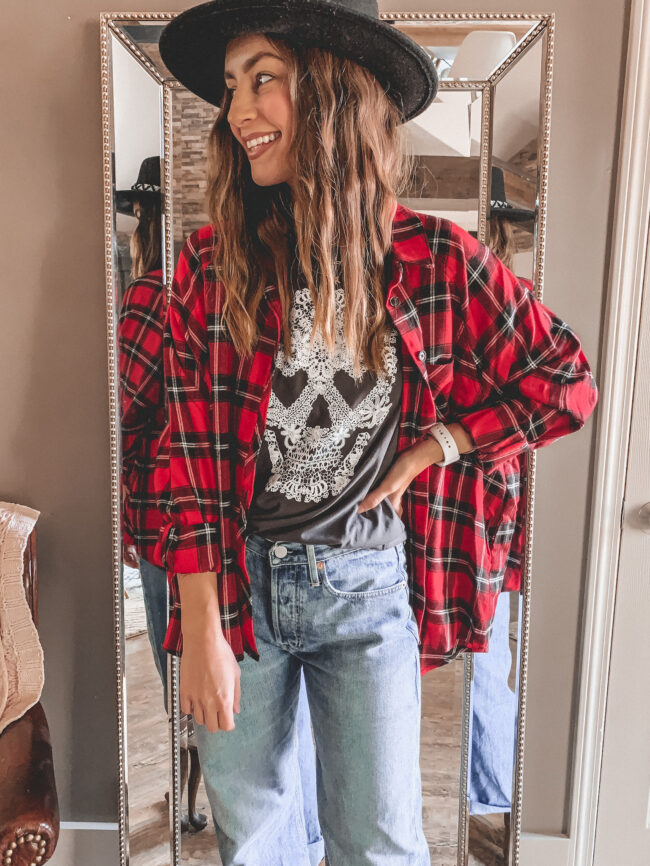 The flannel is red and black and will transition into the holidays really well. It's super cute and oversized, a soft material, and looks great tied around the waist, buttoned up all the way, or unbuttoned. I knew I wanted it to have a more boyfriend fit, so I went all the way up to a size large (I typically wear a small in clothes) and I really like the way it fits.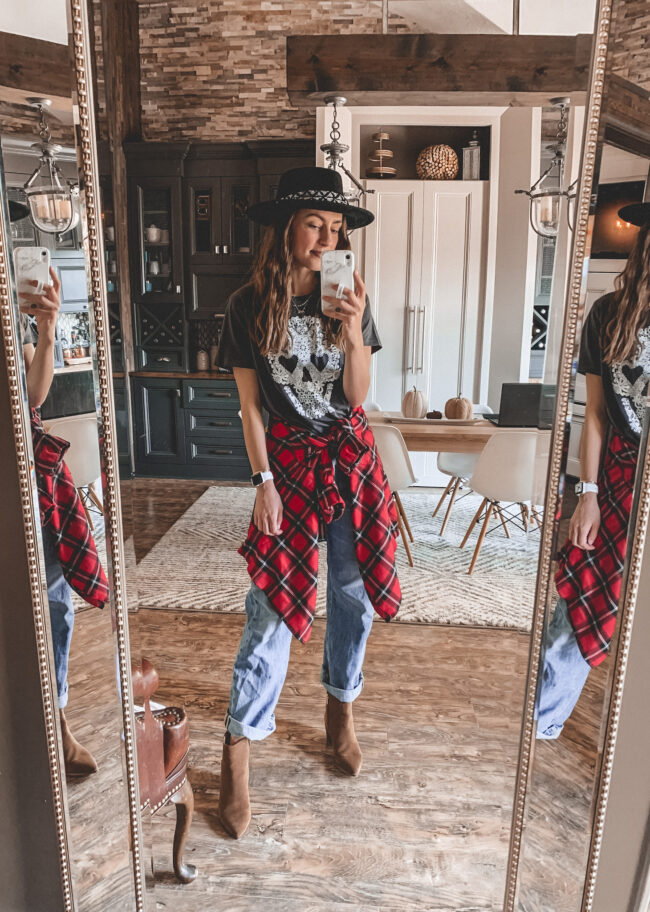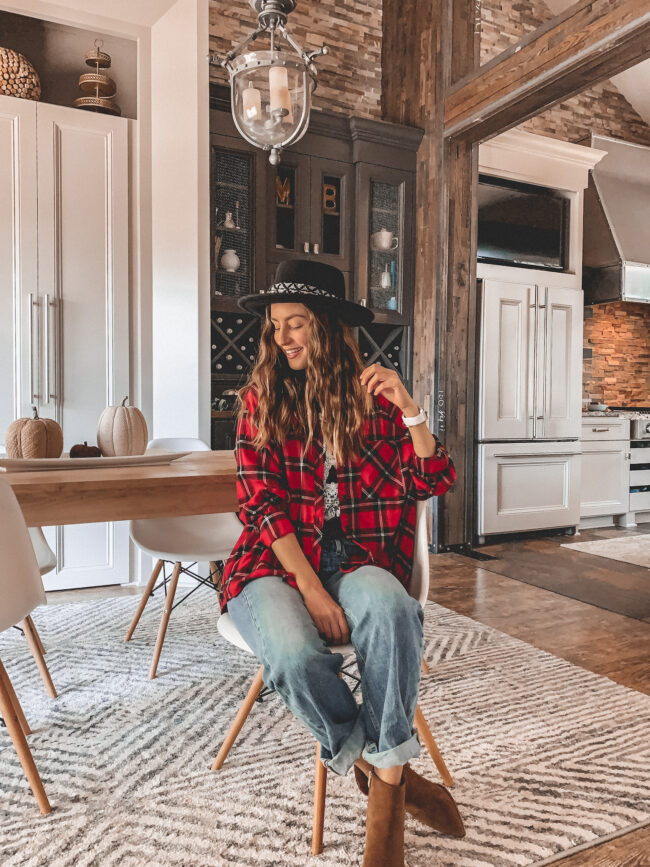 I just got these jeans in literally yesterday and couldn't wait to try them on. They're made from the same supersoft denim as my favorite denim jacket (find that here) and they're a high waist boyfriend fit – I knew when I saw them online that I had to try them. I was NOT disappointed…these jeans are perfection. They're crazy soft and have a fit that just feels so.dang.comfortable to wear. I can actually sit down on the floor without feeling like I can't breathe because they're so tight or like I need to hike them up at the waist. They fit true to size, I'd say – I went with my normal 26 and they're loose fitting, but meant to be that way.
I hope you loved this Halloween outfit idea! Should I style some more looks for Halloween?!
————–
I hope you'll check out some of my other posts while you're here, too!
See my DIY projects and inspiration [here]
Check out a home tour [here]
Check out some fashion posts [here]