Home office ideas to make your space more beautiful and functional!
This post may contain affiliate links
Funny story: I've been blogging for about 5 years, and have never had an office. In our last house, I used a small empty room as my "office" but really all it had was a rug and a mirror in it. And even then, I only had that space for about a year (after we moved both kids into the same bedroom and freed up one room). I've never had a desk or a chair, a place to put files, my printer, etc. You can imagine how it gets a little tricky keeping track of contracts, W9s, all the other documents, etc. Not to mention just carrying my laptop around the house and setting up wherever. It's a bit of a struggle to keep everything organized sometimes!
————–
I hope you'll check out some of my other posts while you're here, too!
See my DIY projects and inspiration [here]
Check out a home tour [here]
Check out some fashion posts [here]
When we moved into our current house, I knew there was really no clear "office" for me but I loved the house so much I decided to sacrifice that one thing. The time has come, though, and I think I'm finally going to get an office space. We have two spaces as contenders, and I'm still trying to decide which would be best.
My home office ideas for our own home:
Option 1: there's a room in our basement that I could use – it's all drywalled, has a door so I could close it if necessary…and I recently freshed the space up with some white paint. Cons: there's no window in the room, and it's also in the basement which means I'd be further from the action (i.e. not be able to hear the kids playing as well). Also…did I mention it's in the basement and I don't do bugs? We get the occasional spider down there, and I can't deal (laugh all you want!).
Option 2: Brandon pointed out to me the other day that there is a little space in our living room where I could create a little office "nook." I hadn't ever noticed the space before but honestly it's pretty perfect! Right near a door with a window (hello, sunshine!) and in the middle of our house so I could see/hear the kids better.
What's your vote?! Let me know in the comments and I'll continue to think about it.
BUT: until then, I wanted to put together some home office inspiration! I've put together a couple of different home office space looks that I'm considering – hopefully they'll help you to get inspired if you're also creating an office space in your home!
I'm honestly just so excited to design an office space for the first time so this is a fun project.
So, let's get started, shall we? I put four office design ideas together for some inspiration – keep scrolling to check them out.
I've shared links underneath the images for easy shopping!
Wallpaper and lots of fun, funky patterns in this eclectic home office inspiration: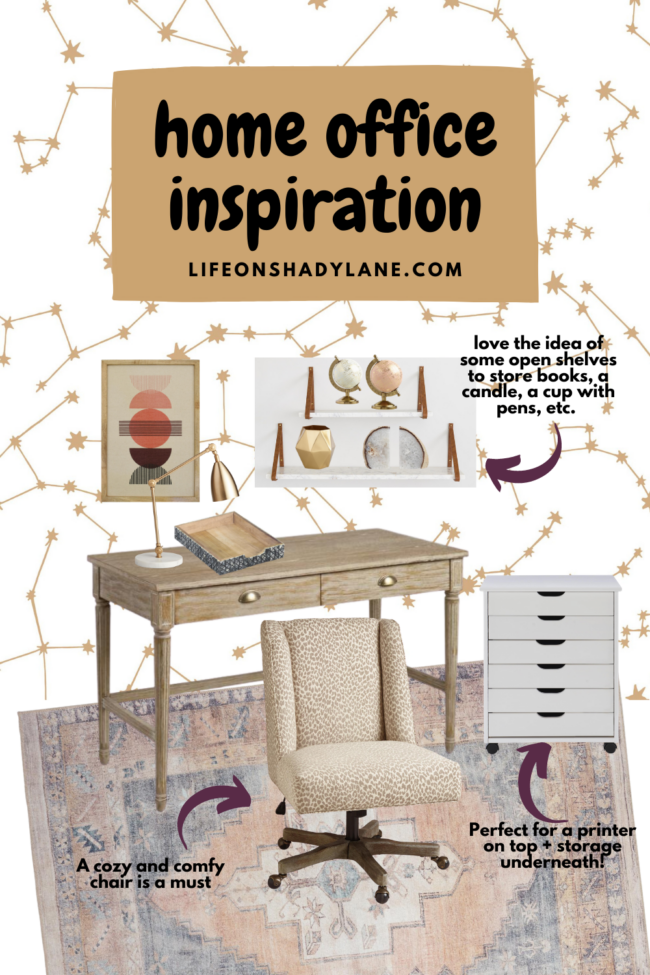 Desk | Chair | Rug | Floating shelves | Rolling storage cart | Task lamp | Artwork | Paper tray | Mini globes | Pencil cup | Agate book ends
This home office is both beautiful and functional – I love the clear glass on the sides of the desk and the storage cabinet for a printer (and hidden storage underneath!).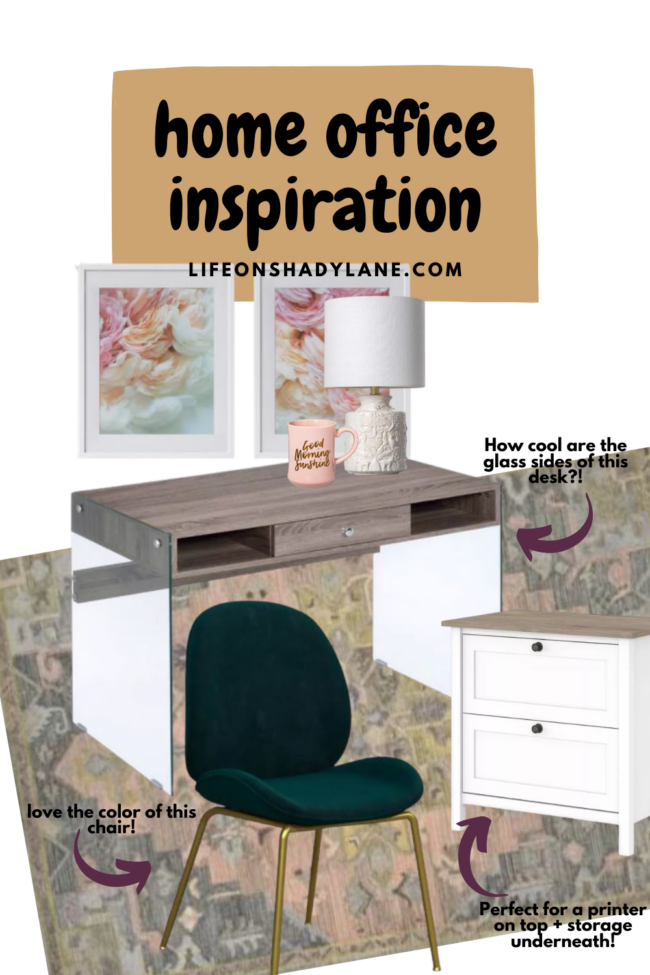 Desk | Chair | Rug | Cabinet | Lamp | Artwork set | Mug
And if you're more of a simple, modern, and minimal home office kind of person…I think you'll love this one: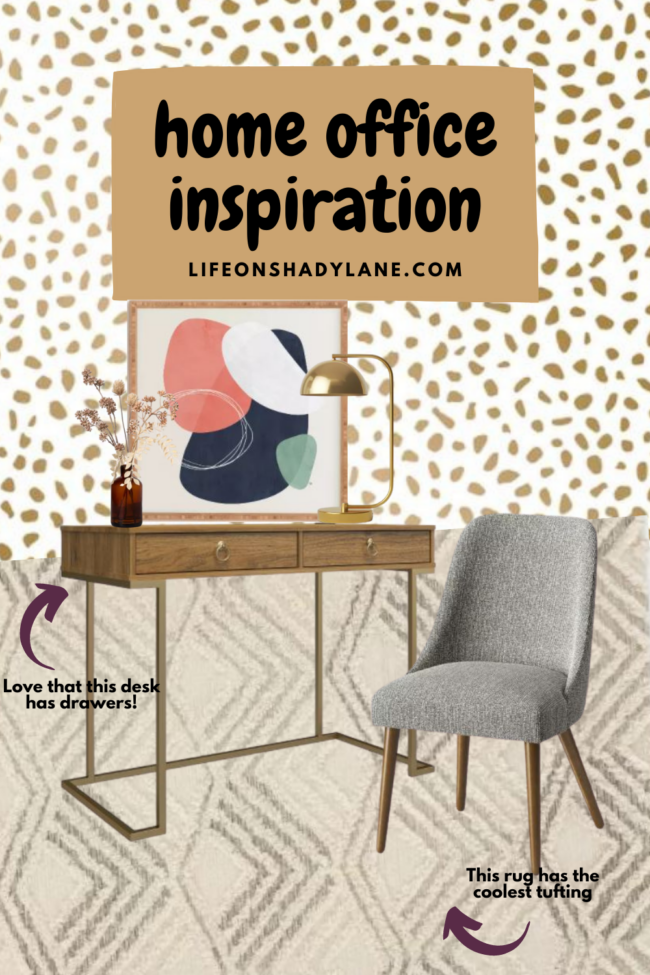 Desk | Chair | Rug| Table lamp | Vase and plant | Artwork | Wallpaper
This girly home office inspiration is pretty, pink, and simple! Oh, and did I mention super functional?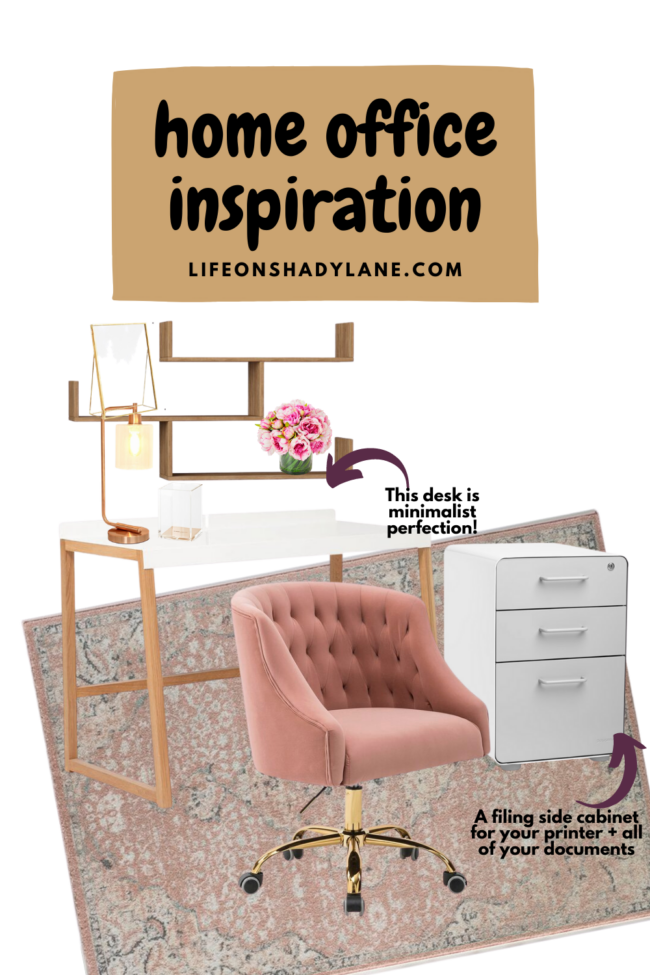 Desk | Chair | Rug | Cabinet | Rose gold task lamp | Acrylic pencil cup | Shelves | Glass photo frame | Flowers + vase
How's that for some home office ideas? Feeling inspired yet? I can't wait to get started putting mine together!
————–
I hope you'll check out some of my other posts while you're here, too!
See my DIY projects and inspiration [here]
Check out a home tour [here]
Check out some fashion posts [here]