Fall outfits from Target! I'm sharing several cute affordable fall looks from Target today. It's been a while since I've done a try-on so I'm excited – let's do this!
This post may contain affiliate links
PS You can see more of my try-ons HERE
————–
I hope you'll check out some of my other posts while you're here, too!
See my DIY projects and inspiration [here]
Check out a tour of our last home [here] and a tour of our new (current!) home [here]
Check out some fashion posts [here]
I have shared links to everything under the images for easy shopping!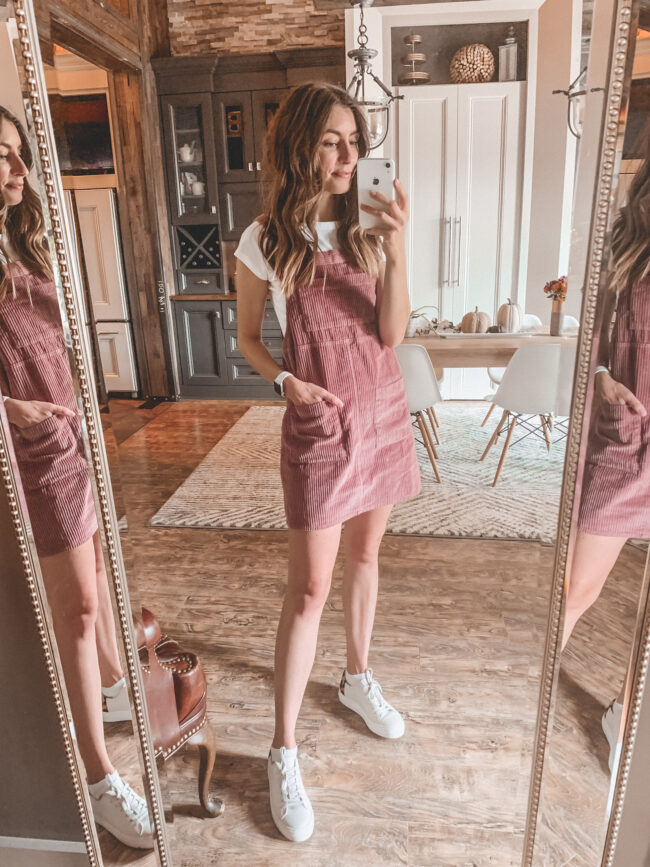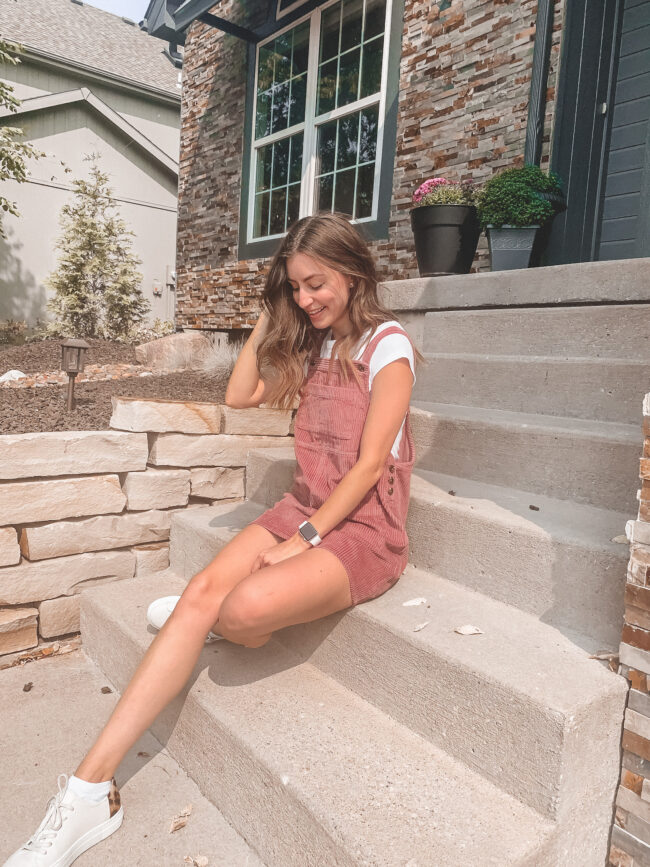 I don't know why, but I am really liking the color pink this fall. I've styled so many fall outfits with pink this year it's not even funny – and it's only September! It's a non-traditional fall color but it just feels so fun! I even planted pink mums this fall. ;) This pink jumper is SO stinking cute. I paired it with a slim-fitting white tee (I have a size medium – it runs small but is meant to fit a little on the tighter side) but I've also worn it with a black band tee (equally as cute!). When the weather cools off even more, it would look great with a pair of tights and a long sleeve underneath, too.
*The jumper is called "purple" online – it's honestly more of a pink/mauve color. Just an FYI. Also comes in brown! I have a size small, runs a little bit large!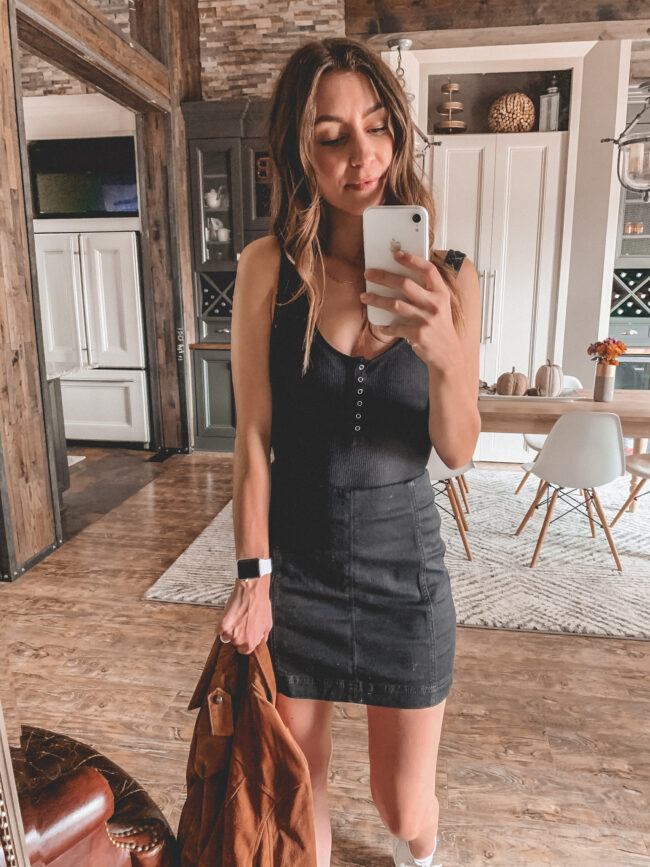 Love an all black look with a pop of color, and I'm always a fan of neutrals! This bodysuit is really cute – I love them because they stay smooth-looking as opposed to a tucked in tee shirt, which will bunch up, come untucked, etc. I have a size small in the bodysuit and a size 2 in the mini skirt. Both fit true to size!
I threw my suede jacket on top (not from Target but such a great closet staple that won't go out of style!).
Buy suede jacket here or a similar one here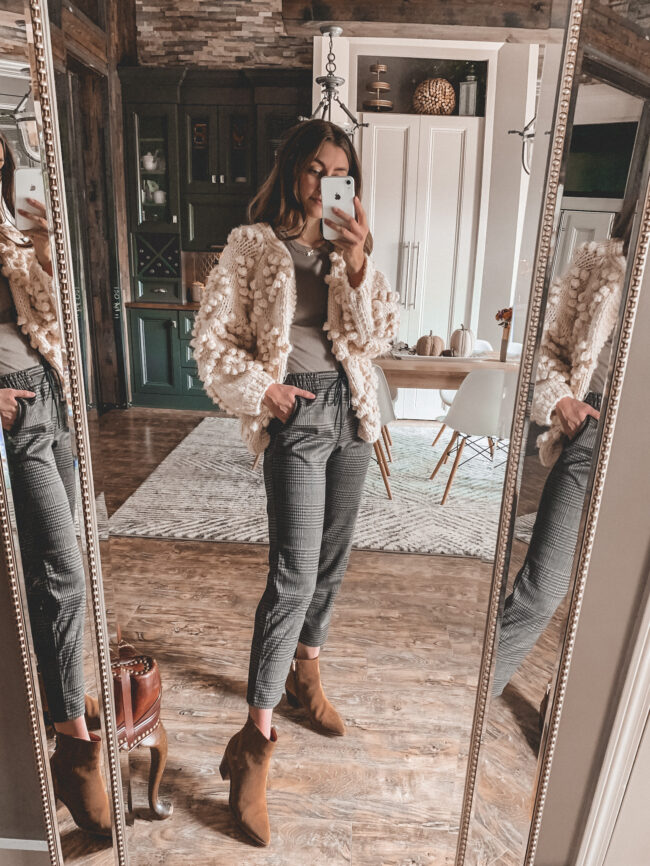 OK let's talk about these plaid pants. I bought them to try-on because they looked comfy…and because I need some pants that aren't jeans. I wasn't convinced I'd love them. But OMG. These are the perfect pants!! They can easily go from work to weekend – dress them up or dress them down, they look cute either way! I styled them two different ways here so you can see what I mean. But honestly they're just so versatile – you could wear a TON of different tops with these pants. They come in SIX different colors and fit true to size. I'm wearing a size extra small but will probably exchange for a small so they fit just a tiny bit looser. Love, love, love these – you can't go wrong with this pair of pants!
I paired them with this tank top – I LOVE a high neck tank and these are a closet staple. Fit TTS – I am wearing a medium (that's all they had in store) but will exchange for a small so it's a little more form fitting. Super cute, super versatile, comes in several colors. I have the white too!
My cardigan is not from Target – I've had it for a few years and am so excited to pull it back out every fall. It also comes in a matching toddler version, so you know we have that!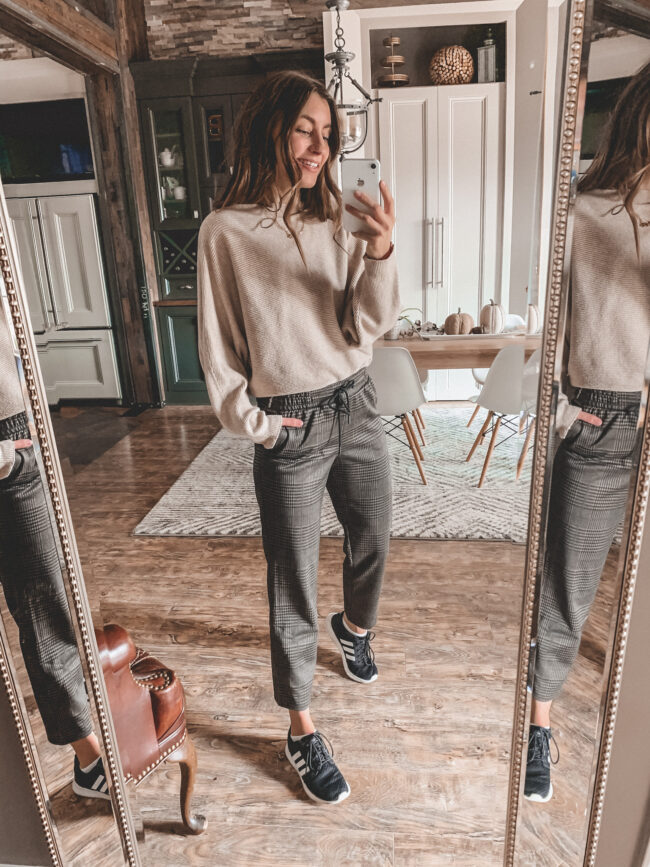 Here are those same plaid pants styled more casually for a weekend, running errands look! So good, right?! My sweater is not from Target – it's actually from Amazon and I wear it ALL the time.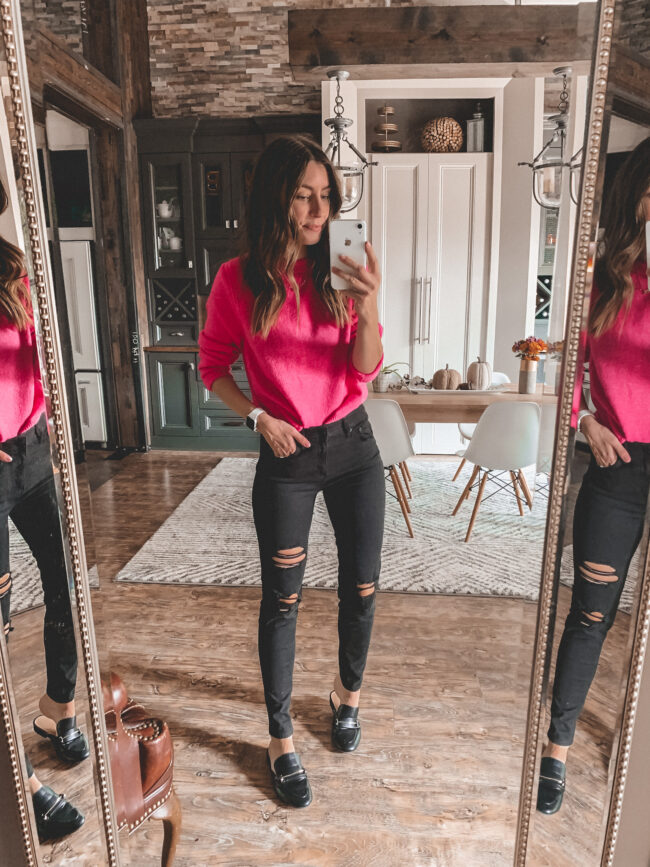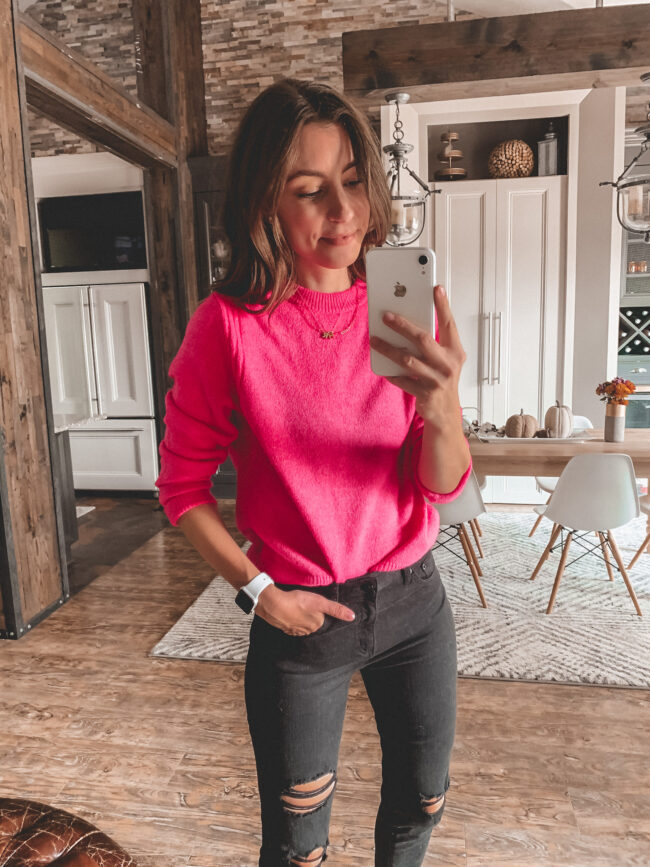 Again with the pink – I told you I was into pink for fall! ;) This hot pink sweater just caught my eye. I have a small – it fits true to size! This sweater would be so cute with a patterned skirt, mini skirt, white jeans, etc.
I really wanted to love these black jeans but was honestly kind of disappointed. Black jeans are great for fall outfits so I was bummed – I don't have a great pair in my closet. I feel like maybe they run small (I sized up to a 4 and they still feel a little snug) and the distressing just seems too aggressive to me. I'm linking them here, though, just in case you love them! They do have good reviews so maybe I just didn't like them on my body. Styled them with a pair of blue jeans below, so you can see a look I like better. :)
Buy distressed black jeans here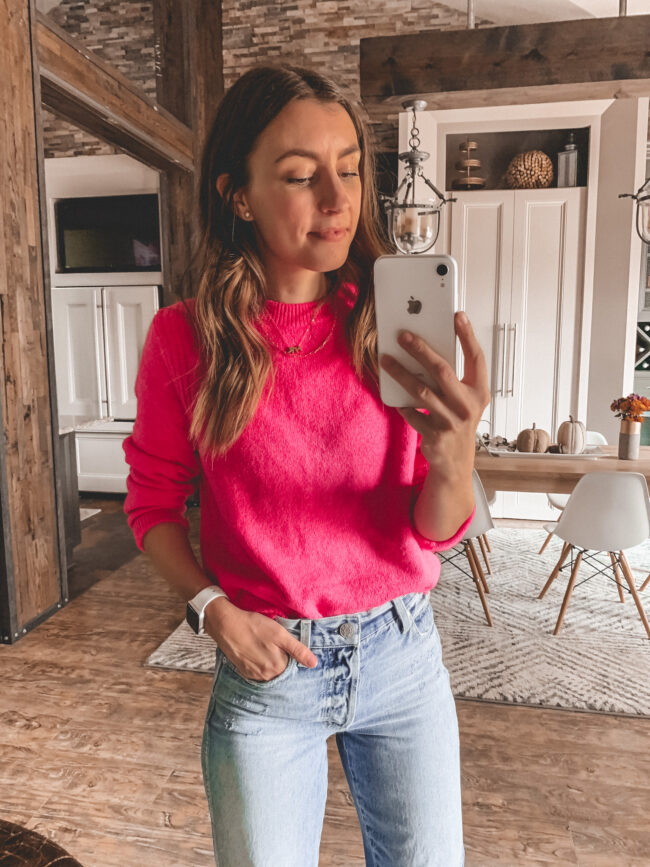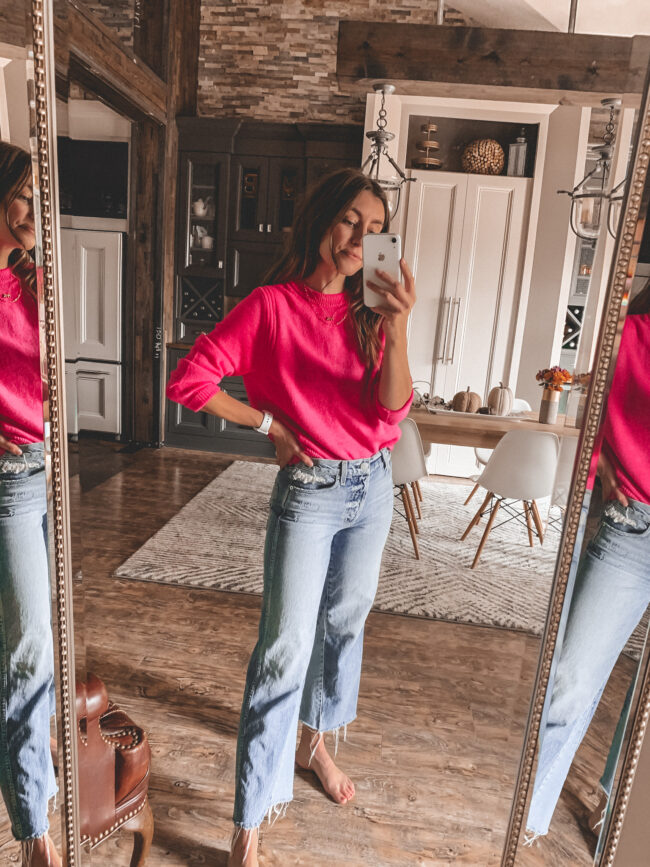 Here's the pink sweater with a pair of high waist jeans! Love it so much. My jeans are last year from Anthro and sold out, but I am linking a similar pair here.
Are you loving all the fall outfits too or still hanging on to summer style?!
————–
I hope you'll check out some of my other posts while you're here, too!
See my DIY projects and inspiration [here]
Check out a tour of our last home [here] and a tour of our new (current!) home [here]
Check out some fashion posts [here]