This Amazon Finds – February blog post may contain affiliate links
It's time for my weekly Amazon finds AGAIN!! Here's how it works: every week I share a few Amazon finds on Instagram and here on my blog, and I compile it ALL into one blog post per month. So at the end of every month, there's a long list of awesome finds! You can stay tuned weekly for updates to the post.
I started doing this in January, and found a TON of amazing things. You can see and shop that post [here].
PS I've created an "Amazon Finds" tab at the top of my site (under "Shop") so that you can easily find everything!
I hope you'll check out some of my other posts while you're here, too!
See my DIY projects and inspiration [here]
Check out a home tour [here]
Check out some more fashion posts [here]
I hope you enjoy this Amazon Finds – February post! Thanks so much for your support!
Week 1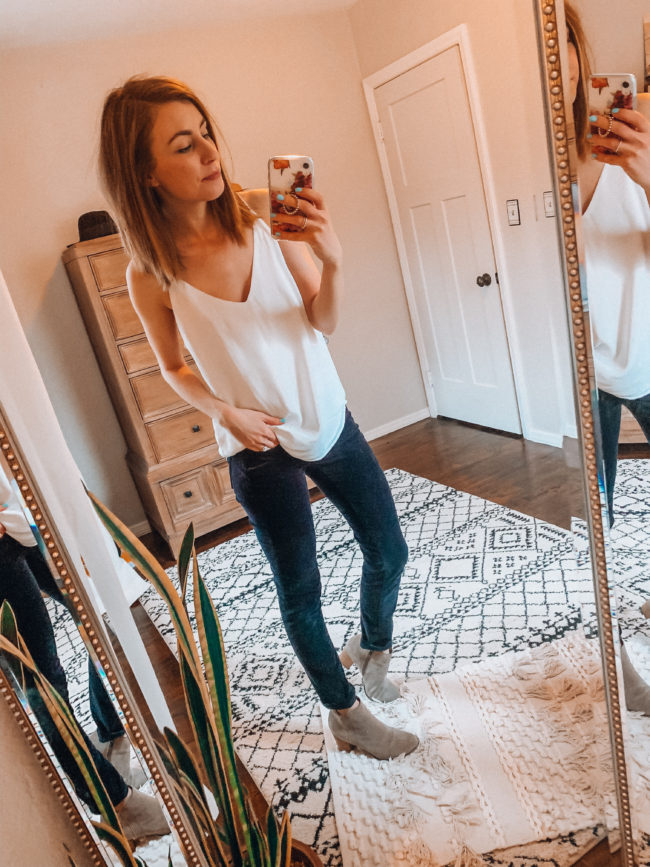 This white chiffon cami is the perfect layering piece (also will be so cute on its own this summer!). It's under $20, and I love the adjustable straps. Comes in three colors and fits TTS – I have a size small!
My corduroy pants are navy, not black – it's a little tough to tell from this photo. They aren't from Amazon, but you can buy them [here]. I've had mine for years, but they still sell them and I'm so happy. They're amazing!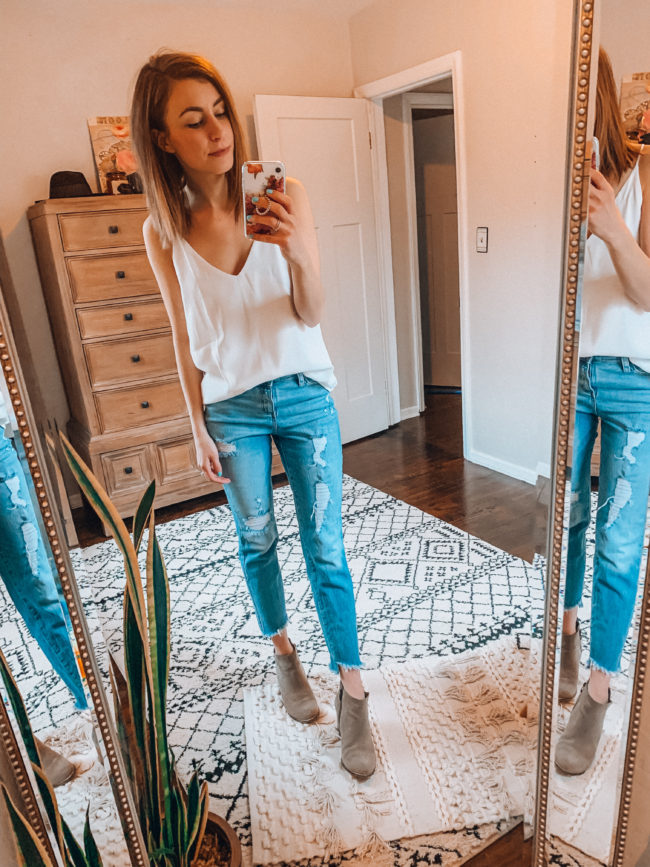 Same cami, with different pants (and a front-tuck!). I love white shirts with jeans, so just wanted to show you how that looks with this cami.
My jeans aren't from Amazon and they also aren't sold in stores anymore, but I like this pair that's similar! And they're SO affordable!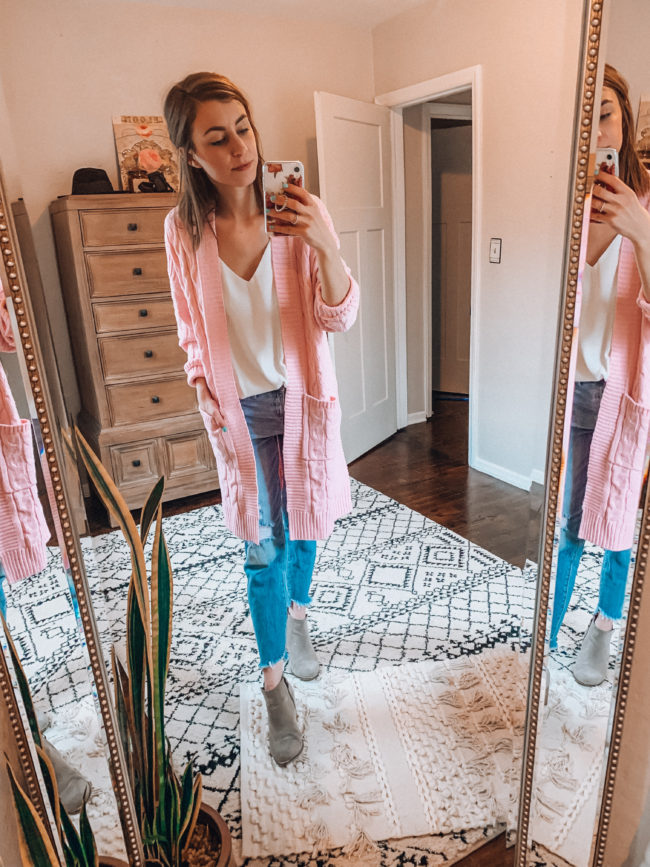 How cute is this cardigan?! It comes in several colors and fits TTS – I have a small! So perfect for Valentine's Day and all of Spring.
Week 2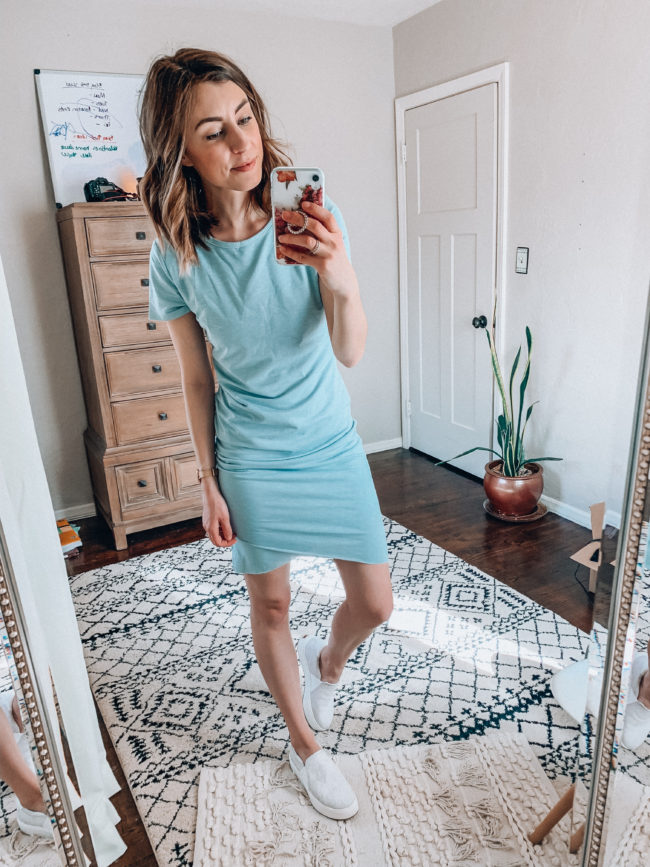 How adorable is this tee shirt dress!? So perfect for spring and summer because it's laid back and super versatile – it can be styled so many ways! Heels, with tennis shoes, add a jacket, some jewelry, a cardigan…the options are practically endless. ;) I went up one size to a medium because I didn't want it to be super tight!
My shoes are not from Amazon, but I did just get them and wanted to share! They're a crackled leather, and SO cute. I love these and can't wait to wear for spring and summer! You can buy them [here].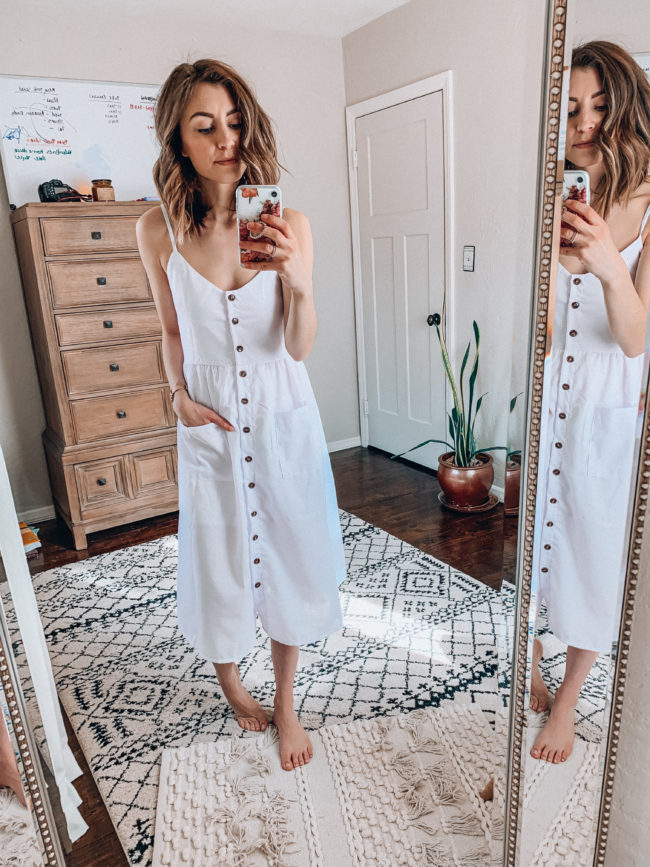 THIS DRESS IS PERFECT…except for the fabric. I thought it might be a little more linen feeling than it is, but the fabric makes it look, well, like it's a little "cheap." So bummed because I wanted to love this one. It comes in 33 colors, though, and the reviews mention that some of the fabric varies from color to color. I may try ordering it in another color just to see! If you don't mind the fabric, then definitely buy this – it's really cute! I'm wearing a size small.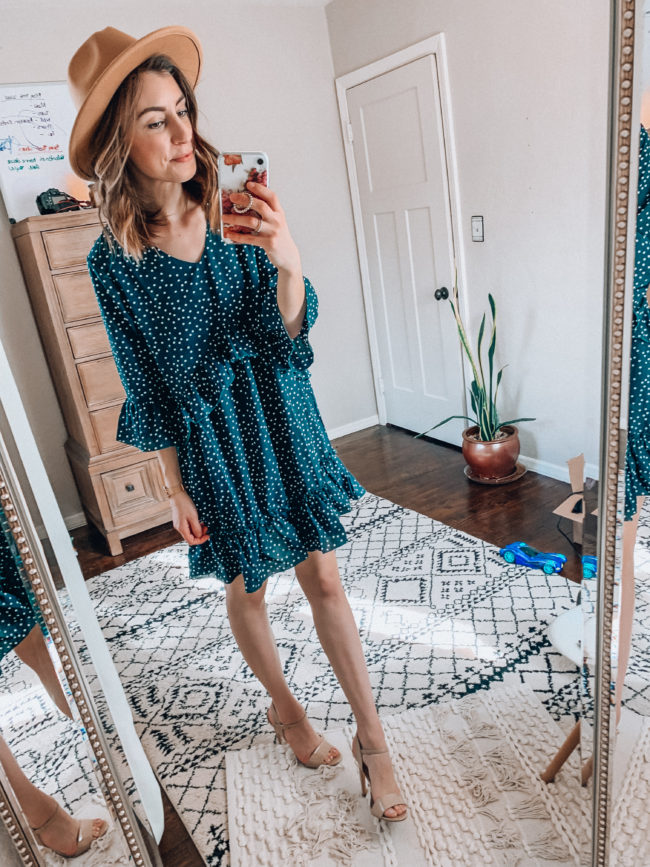 This cute ruffled dress is definitely the find of the week. I'm just so shocked that it's from Amazon. It's really, really cute! It comes in three colors (I have the green) and is a great length (I'm 5'7″ for reference). Fits TTS, I'm wearing a small.
My hat is also an Amazon find! I wear it so much, and always get compliments. Love it! Comes in several colors.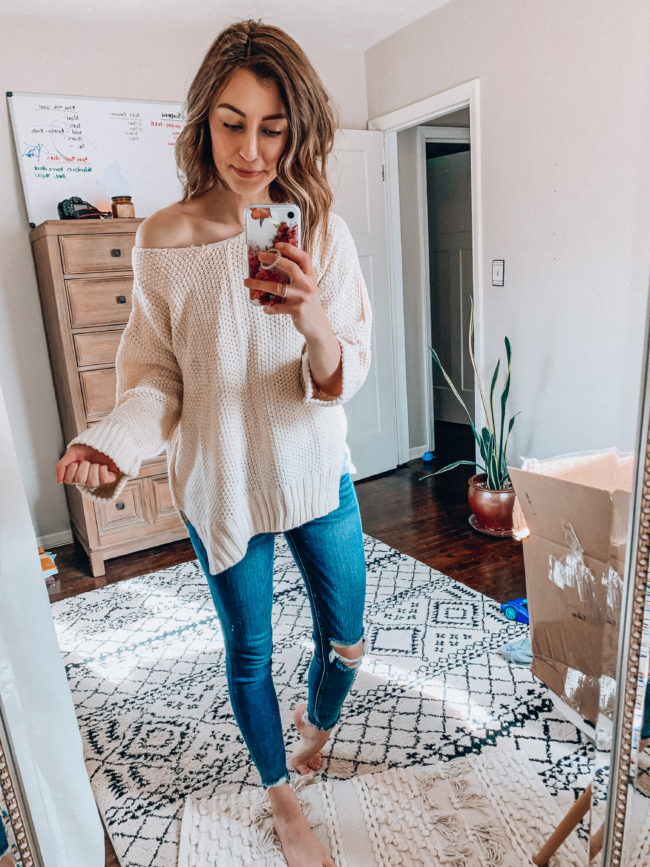 This beige pullover is so good for spring and summer because it's lightweight. Great for throwing on over a tank or cami, and would look really cute tucked into denim or white shorts.
I hope you enjoyed this Amazon Finds – February blog post! Stay tuned for more additions next week.
Shop the post