Old Navy Try-On : So many great (affordable) finds! 
(This post may contain affiliate links)
Old Navy is always one of my go-to's when I'm looking for affordable, cute clothes. I stopped by this weekend to check out what they had for Fall, and I was not disappointed!
Anyone else on the hunt for some new Fall stuff!?
PS: there are links to buy under each image, or there's a sliding carousel at the bottom of the post. If you have any questions at all, please just let me know!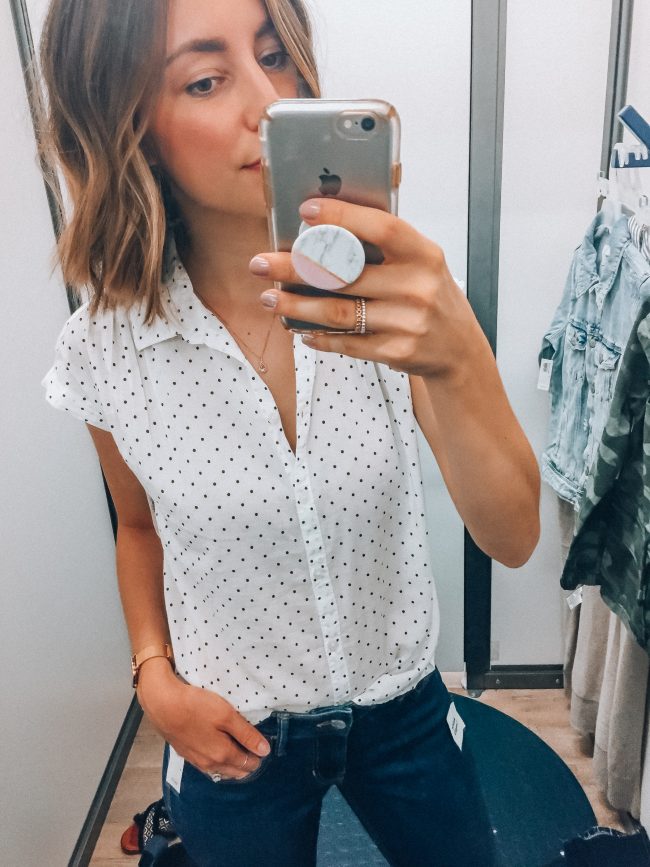 The top was one of my favorites – it comes in a couple different patterns, and I love the rolled sleeve detail. It feels a little bit vintage and can easily be dressed up or down.  LOVE this one! It could totally be dressed down or worn to work. [Buy top here]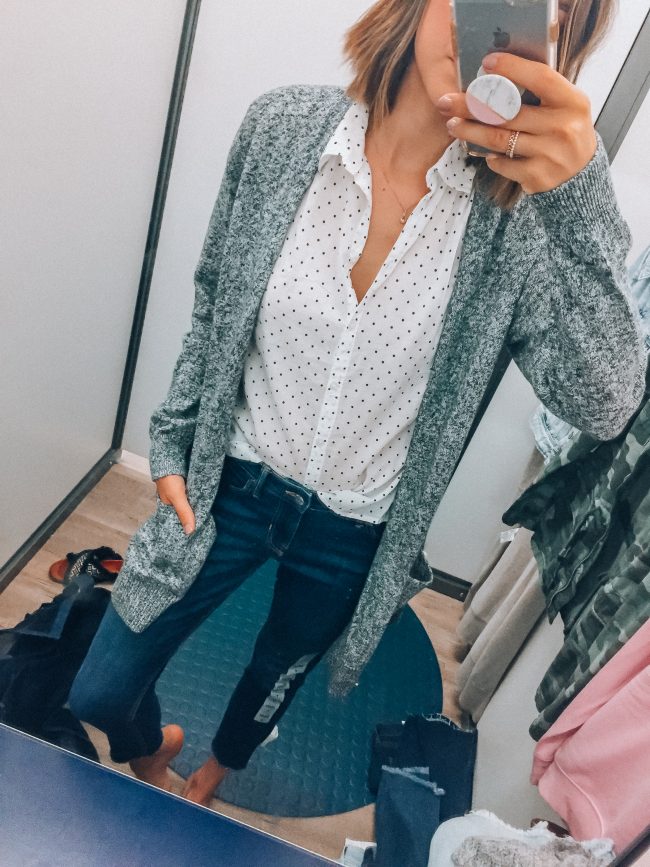 This super soft cardigan looks really cute with the polka dot top and would be perfect for work. Plus, gray goes with everything, so it's really versatile. [Buy cardigan here]
I love the dark wash of these jeans, and they fit really well. They're mid-rise and have a raw hem at the bottom – so cute! [Buy jeans here]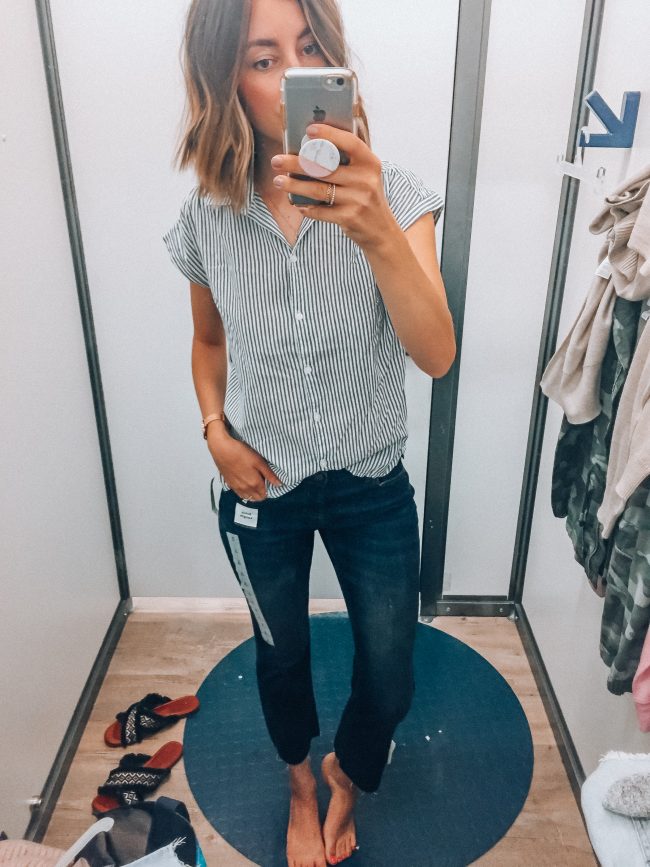 Here is the same top in a cute striped pattern.  [Buy top here]
I was a little hesitant to try on jeans that said "flare" but these are SO cute and fit really well! [Buy jeans here]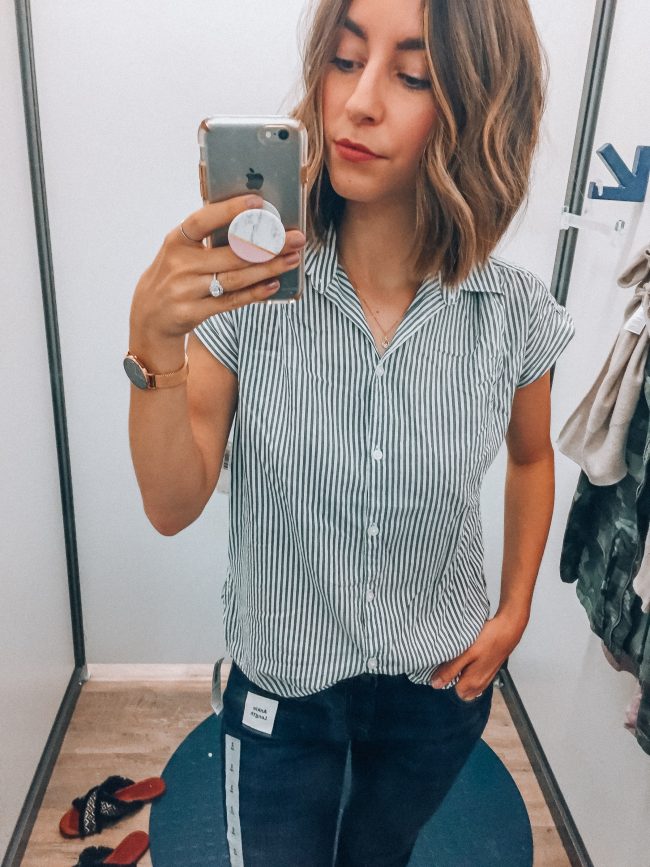 Here's a close-up of the top.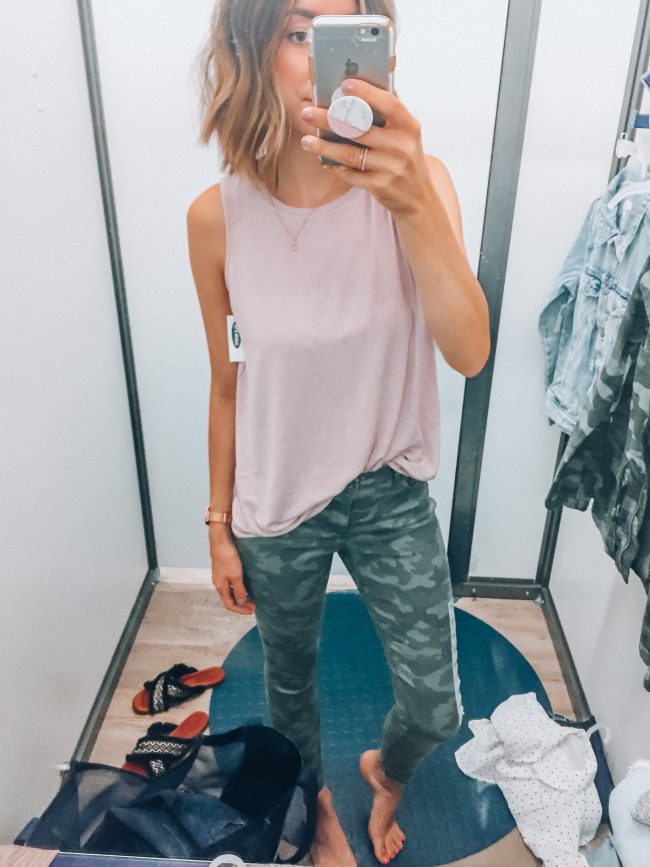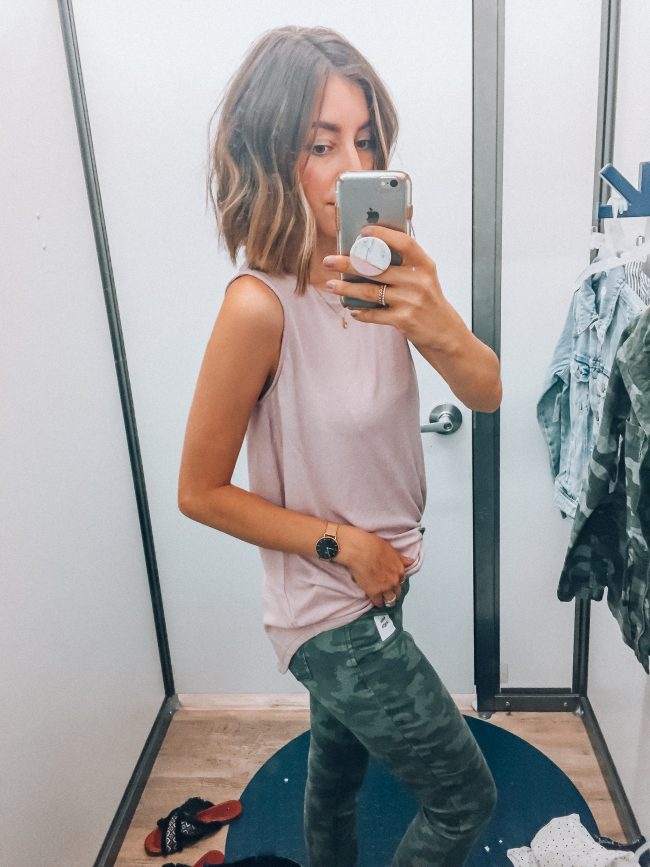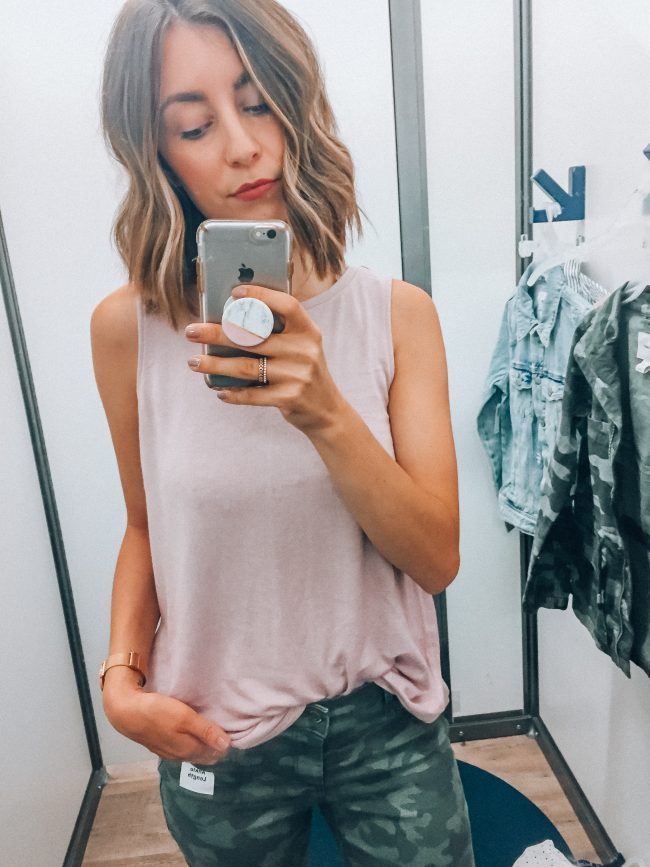 I'm a sucker for cute camo. These are my favorite jeans from Old Navy (the fit is so good!), and they come in several colors. These camo ones are my fave!  [Buy jeans here]
This pink tank is another favorite – I own a tee in the same material, and it's AMAZING. I don't often say that about basic tees and tanks, but I'm obsessed with these. The pink is so cute! [Buy tank here]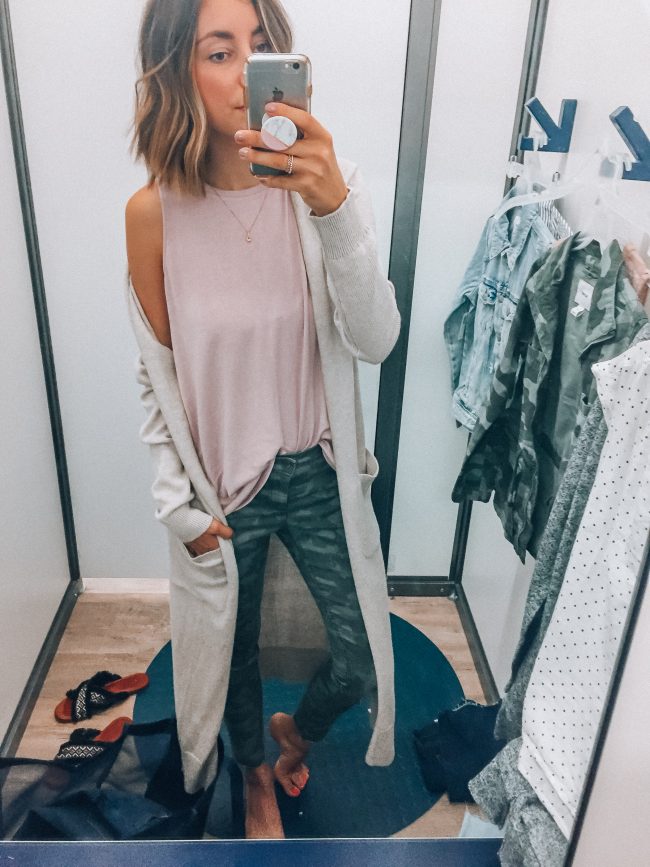 This super long cardigan would look so good over almost any outfit – camo and pink included! ;) [Buy cardigan here]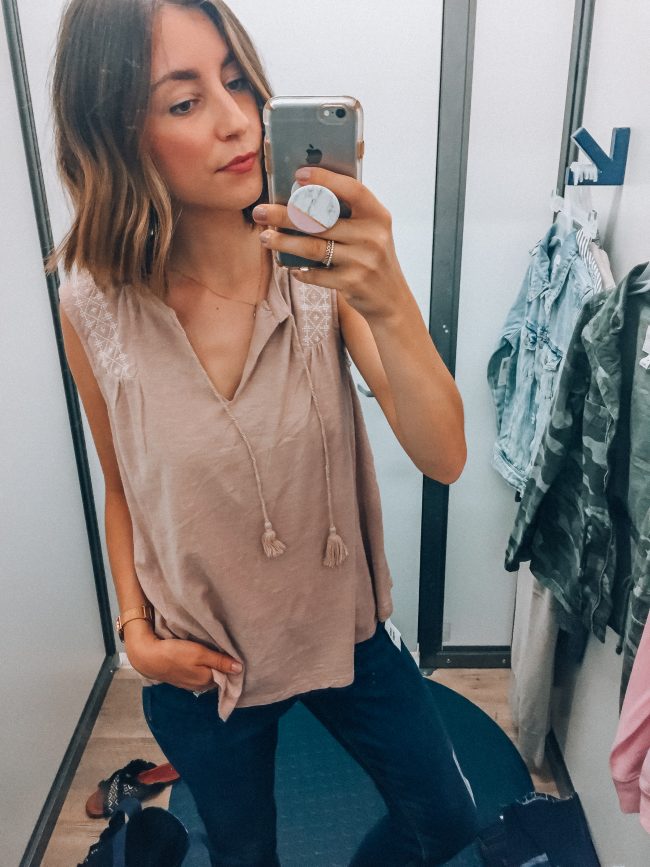 This top was my favorite out of all the ones I tried on. It's perfect for early Fall when it's still warm-ish, and would look so cute paired with jeans and booties. [Buy top here]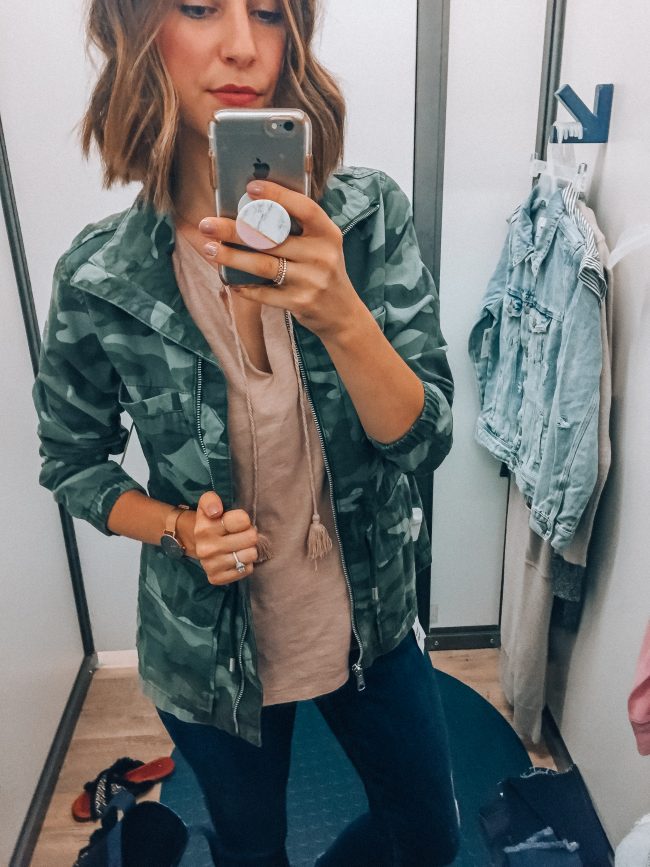 My number one favorite piece from Old Navy right now. I posted this picture over on Instagram, and you guys were loving this camo jacket. [Buy jacket here]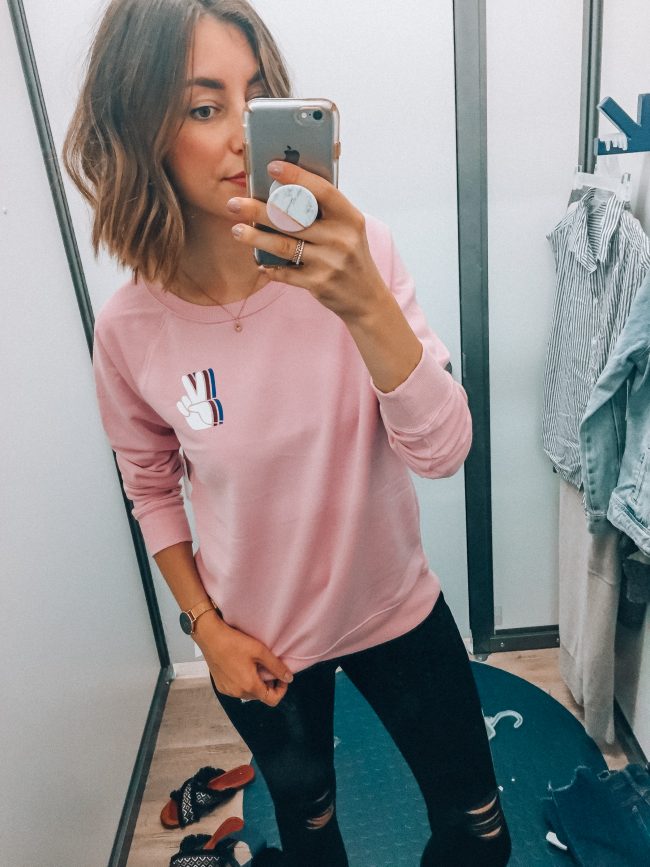 This sweatshirt is really soft and so fun. I love the pink color! [Buy sweatshirt here]
I have been on the hunt for some distressed black jeans, and these are PERFECT. The fit is awesome. [Buy jeans here]
This denim jacket is distressed and really cute. [Buy jacket here]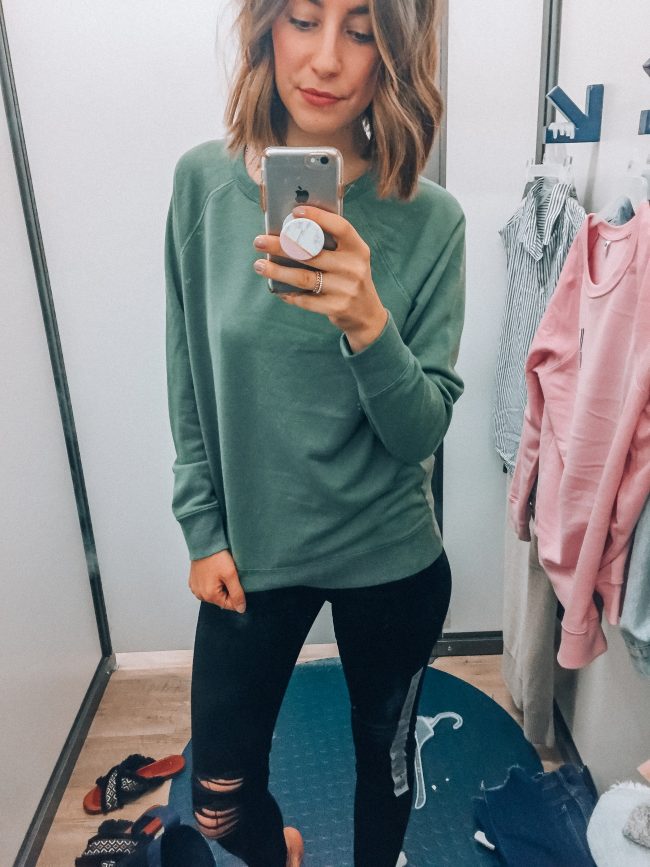 Comfy and cute sweatshirts are totally my jam during the Fall. I love that this one is stylish but still comfortable and soft – it would look so cute with jeans and sneakers! [Buy sweatshirt here]