A roundup of Spring and Summer home decor from Amazon!
Is anyone else as obsessed with Amazon as I am? (Just kidding, I know you all are!) You can find just about anything you could ever need or want, and most of it is able to be delivered in a super-short amount of time.
I love perusing the home decor section, especially because I basically have zero time to shop for it in store these days with two small kids. Even if I don't buy things there and then, it's great for inspiration in preparation for when I can. For example, I recently saw some gorgeous Ceiling Tiles which brought my attention to the idea of decorating a ceiling; something I'd never considered before! Don't get me wrong, I still love to shop (and I often drag the babies along – it's training for them to be my shopping buddies, right?! ;) )…but if I have to make any real decisions when shopping in a store (other than crunchy or smooth peanut butter, almond milk or coconut milk…you get the drift), then I almost always make the wrong decision. Because I have to shop rather quickly, or risk a public meltdown. I know you mamas can relate!
Plus, even if you can't find the right item on Amazon, you can often get inspiration from the products I see. For example, the other day my friend was looking for something that could add some life to the walls in their living room but there wasn't anything they liked on Amazon but we did see how nice photo mounted at could be so she decided to get more info at Bumblejax and found something that was perfect for her!
So I thought I'd share some of my favorite spring home decor from Amazon here on the blog, in case anyone else is in the same boat I am! Happy Spring decorating!
(Affiliate links below for your convenience!)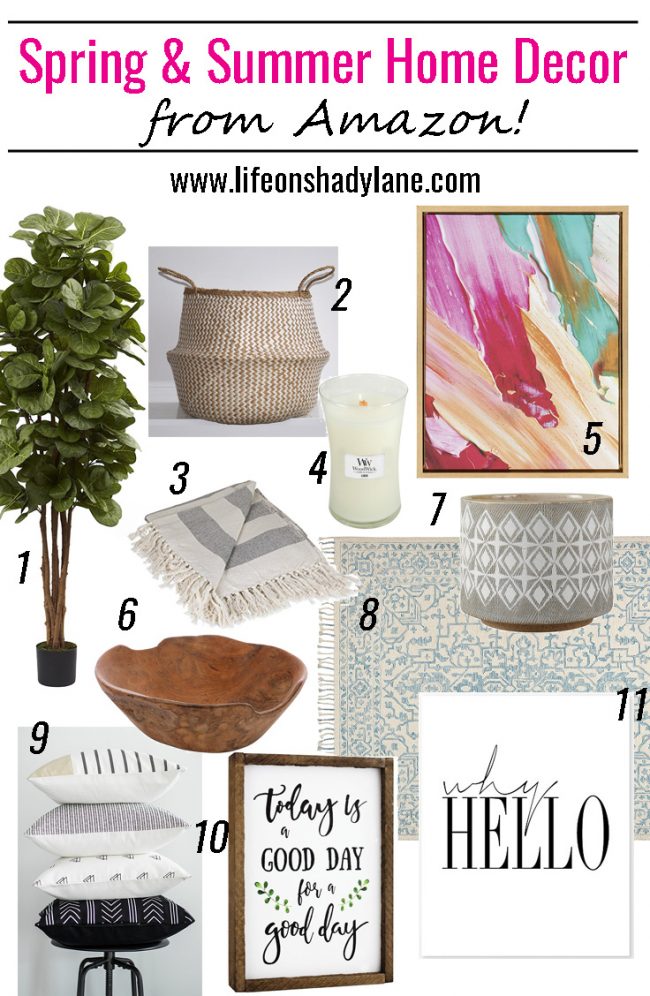 Spring and Summer Home Decor from Amazon
1 / 2 / 3 / 4 / 5 / 6 / 7 / 8 / 9 / 10 / 11
Have fun shopping! ;)
PS you can check out some simple Spring decorating I did here.