Thank you to Infinity Jars for sponsoring this post!
Every year when Spring rolls around, I get the urge to freshen up my home by doing some Spring cleaning and adding in some fresh Spring decor (plants, plants, and more plants!). But this year, as the temperatures sloooowly start to warm up (I'm emphasizing the word "slowly" because I've been freezing all week – this girl needs sunshine), I have been getting more into creating natural products for our home.
The other day, I realized we were out of glass cleaner. I thought about just leaving the toddler fingerprints/dog nose smudges on the windows and skipping window cleaning altogether but then decided to test out a homemade, all-natural recipe with ingredients I already had on hand. It's a good thing it was safe and non-toxic, too, because immediately after I sprayed the windows Henry was licking them. And he continued to lick/touch/press his nose to them after I had wiped them all clean. You win some, you lose some, right?
It did get to a point where I was thinking of hiring a window cleaning company to help make my life a bit easier, particularly as there are some windows on the outside that I can't reach. Saying I did it myself would be an achievement, but knowing that there are sites like https://leedswindowcleaningservices.com/, that offer window cleaning services to residents in Leeds, for example, it'll only take a quick google search to find a company close to where I live who can clean my windows. We can all do with a helping hand once in a while. I even had a friend tell me to just hire a company to clean the inside and outside of your windows, but I quite like the sense of achievement I get when I do it myself. Even though it will only last a second before Henry continues to lick/touch/press his nose to them after I had wiped them all clean. A little bit frustrating, but what can you do?
Back in January, I received some really cool glass bottles from a company called Infinity Jars. They have been sitting on my bathroom counter since then just begging me to make something to put in them, but evidently I was not feeling creative because…well…they sat there until the end of MARCH. But after I whipped up that homemade glass cleaner, I was feeling inspired. I'm going to split this into a mini three-part DIY series for each of the three Infinity Jars bottles. Let me know if you like this type of thing and I'll see if I can come up with more recipes! (Let me know if you'd like that glass cleaner recipe too!)
First up in the series: this amazing coconut oil + lemon sugar scrub. I have been keeping it next to my kitchen sink for scrubbing my hands after cooking (and let's be real, in the middle of the day too because it smells so good). The lemon makes your hands smell sooo fresh, the sugar is super-exfoliating, and the coconut oil leaves your hands feeling really soft. Seriously, this stuff is amazing.

Ingredients
2 1/2 cups of sugar
1 cup of coconut oil (I used refined, so it doesn't have a coconut scent, but you can choose a virgin coconut oil if you want some of that coconut smell)
Lemon essential oil
Lemon zest + a little lemon juice
Directions
Heat coconut oil over low heat and sprinkle in some lemon zest. I added the zest while the oil was heating so the lemon scent would start to infuse into the oil.
Pour 2 1/2 cups of sugar into a bowl. Once the coconut oil is completely melted, slowly add to the sugar and mix well.
Add about 30 drops of lemon essential oil (more or less is fine, it just depends on your preference). Then toss in remaining lemon zest and a little juice from the lemon. Mix well and store in an airtight jar.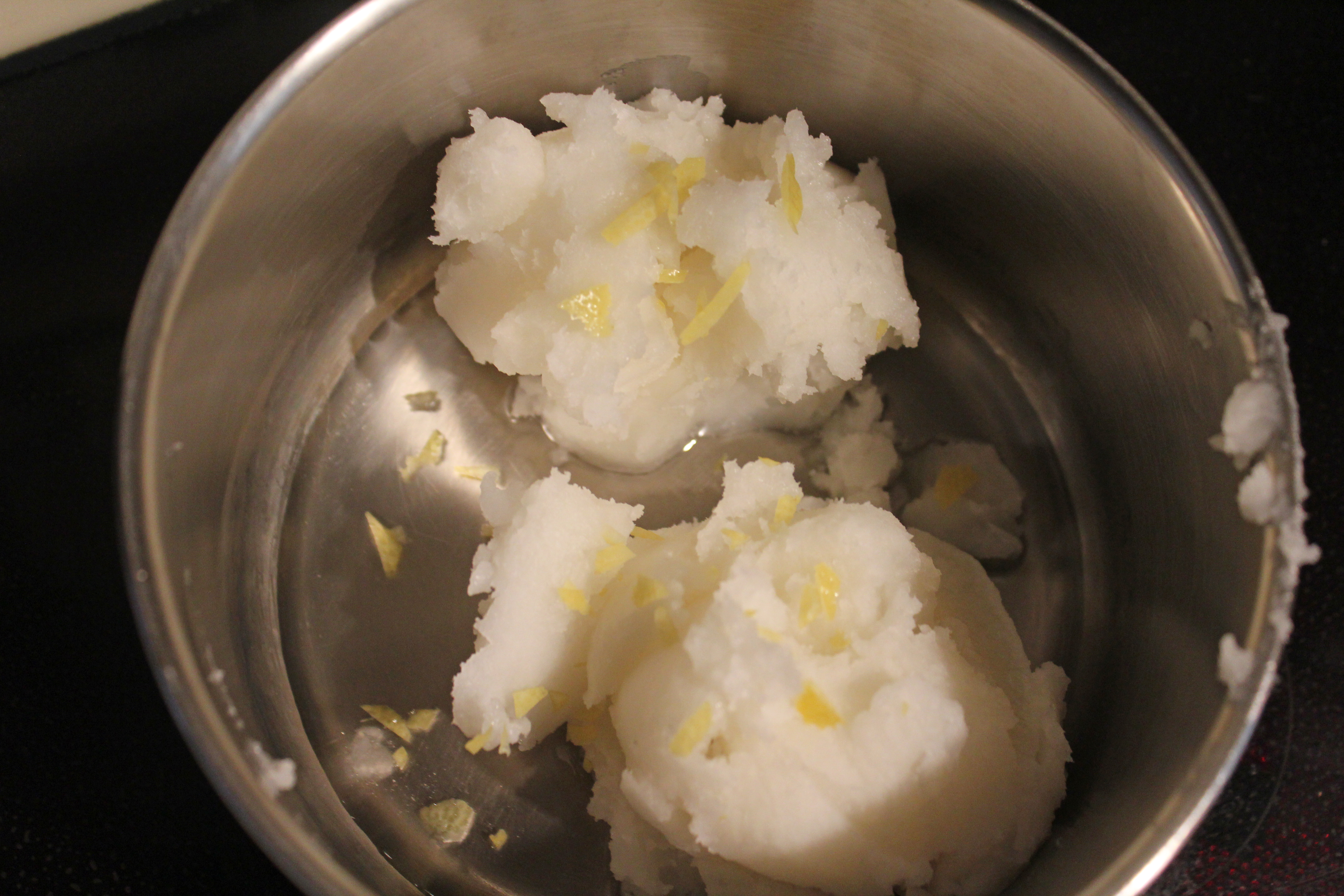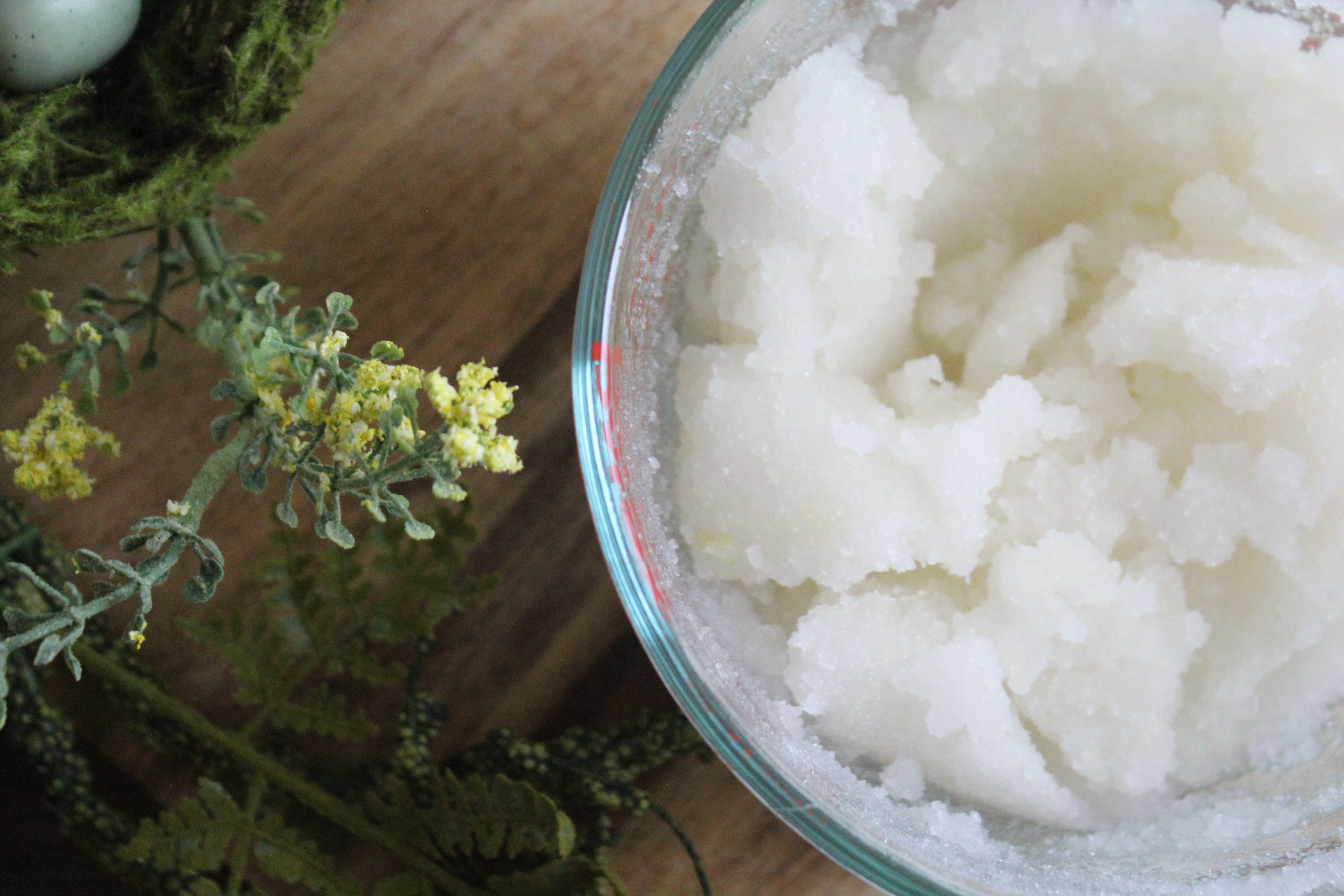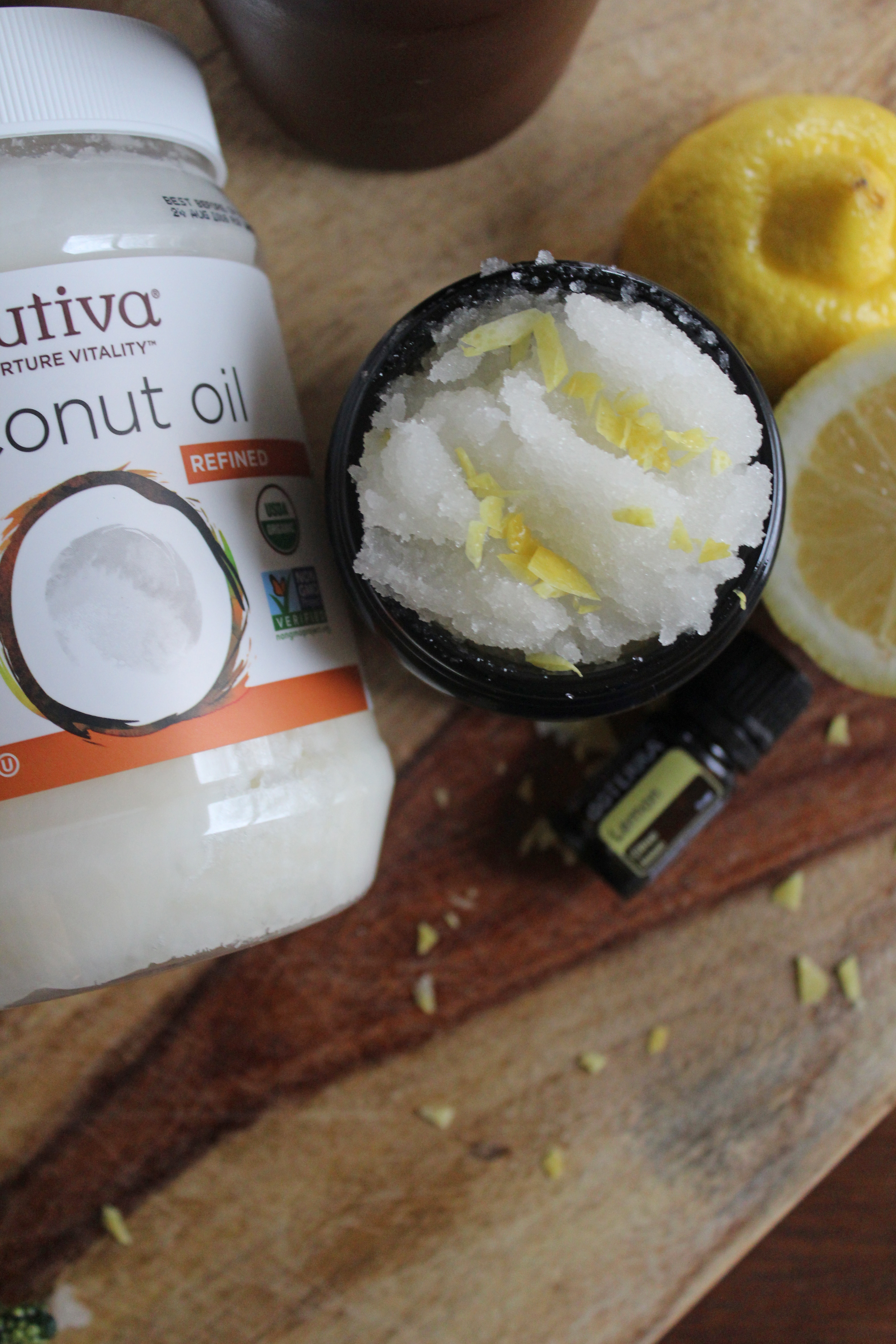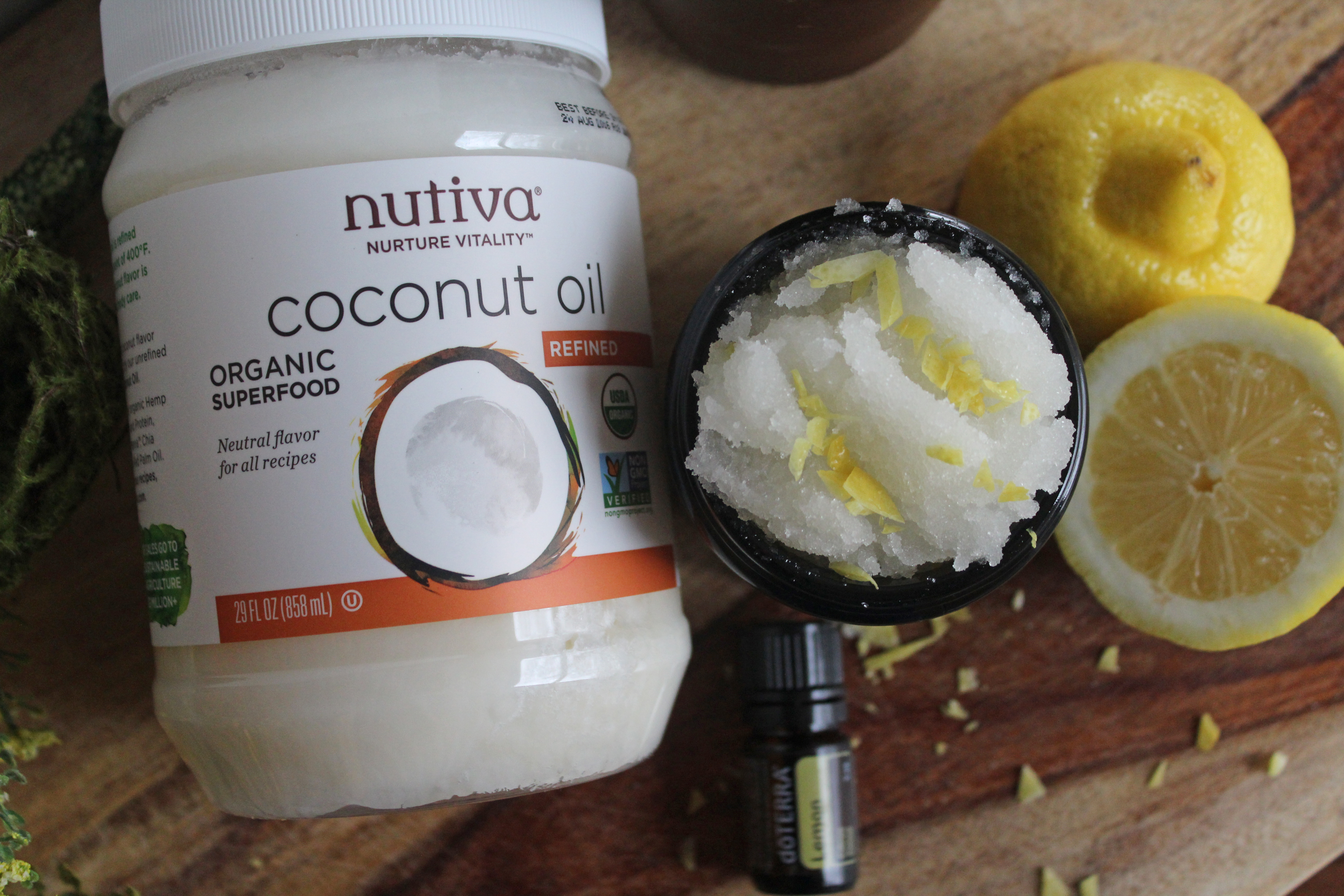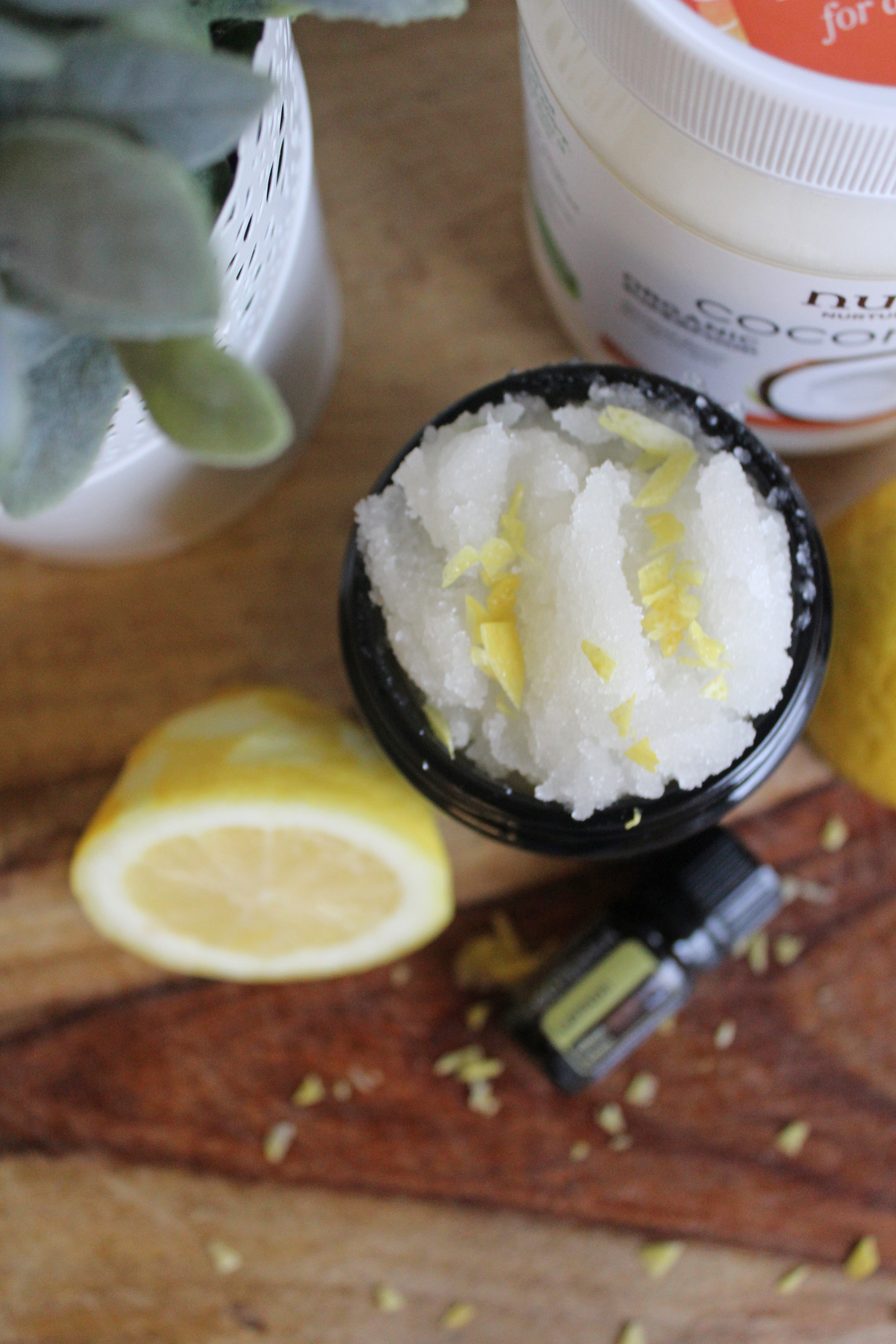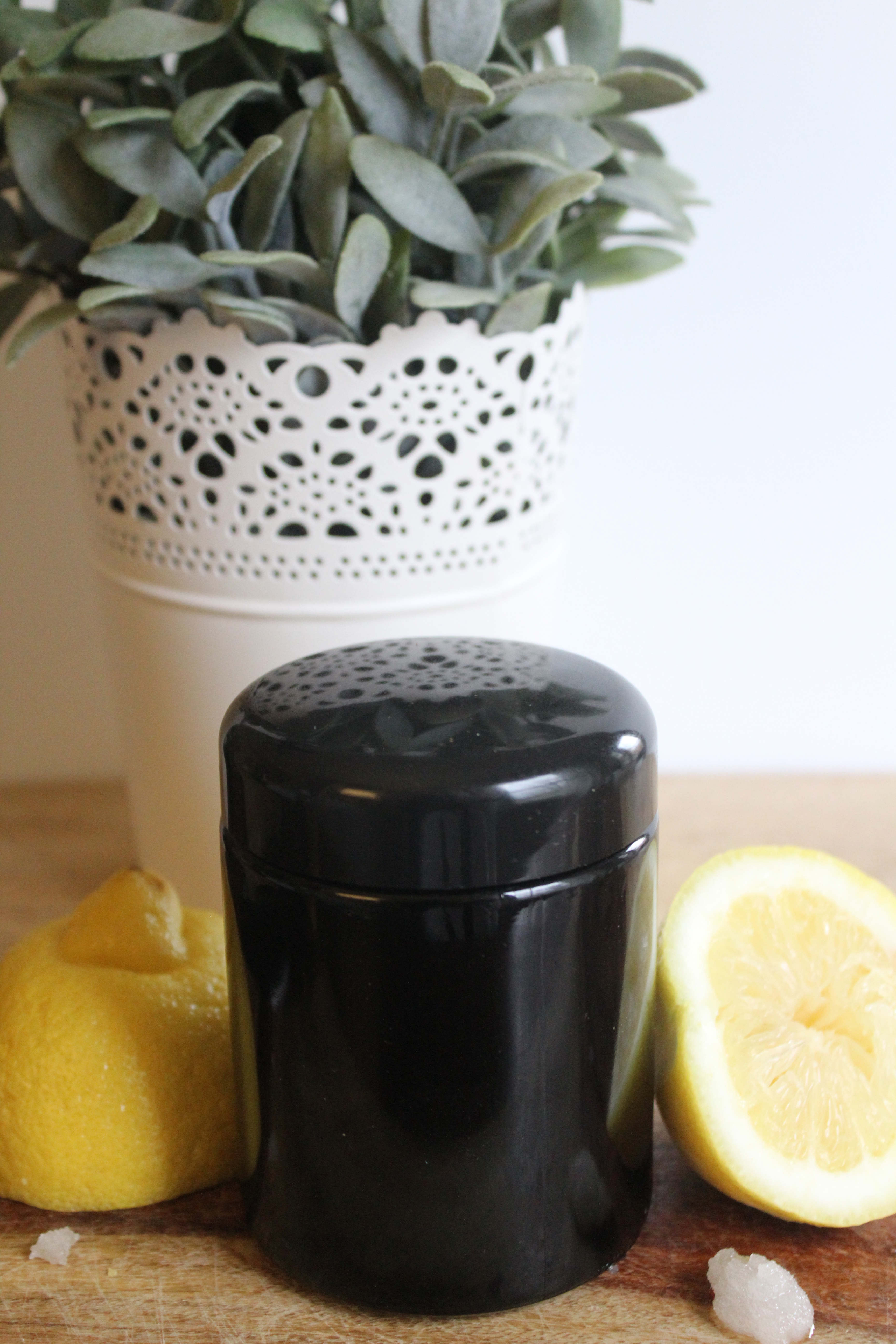 Also here's a picture of the jar with the lid on, just so you can see what that looks like! It's a 250 ml glass screw top jar (you can find it [here]).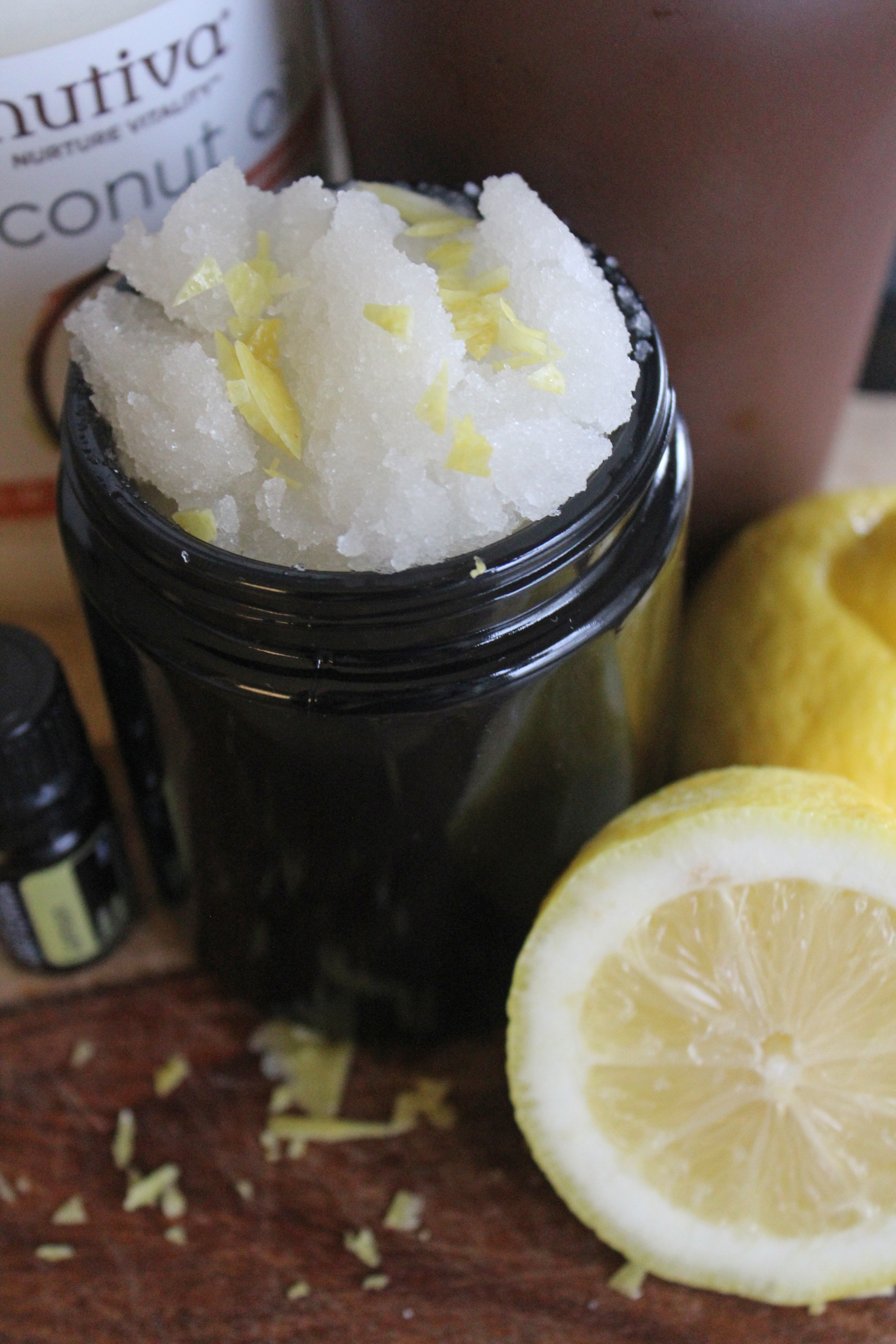 I hope you enjoyed this DIY coconut oil + lemon sugar scrub blog post!