Now that we have the first floor of our home in working order, it's fun to have people over for dinner. I love entertaining during all four seasons, but Fall feels especially cozy and fun.
I put together a table centerpiece for my "Fall Dining + Hearth Room" post earlier this week, and was feeling inspired to finish the rest of the table. I actually changed that centerpiece around (and added a lot more to it) for this tablescape and loved how it turned out. Plus, I borrowed some items from my china cabinet and kitchen island. I love finding things around the house and using them in different ways – it keeps things interesting!
I hope you enjoyed! This was really fun to put together and I'm looking forward to doing more fun Fall-related projects soon. :) The baby is up from his nap now, so I have to run…but below is a picture for you to pin to your Fall Pinterest boards. I'd appreciate it if you would share on Pinterest! Have a great day!
Pin it for later!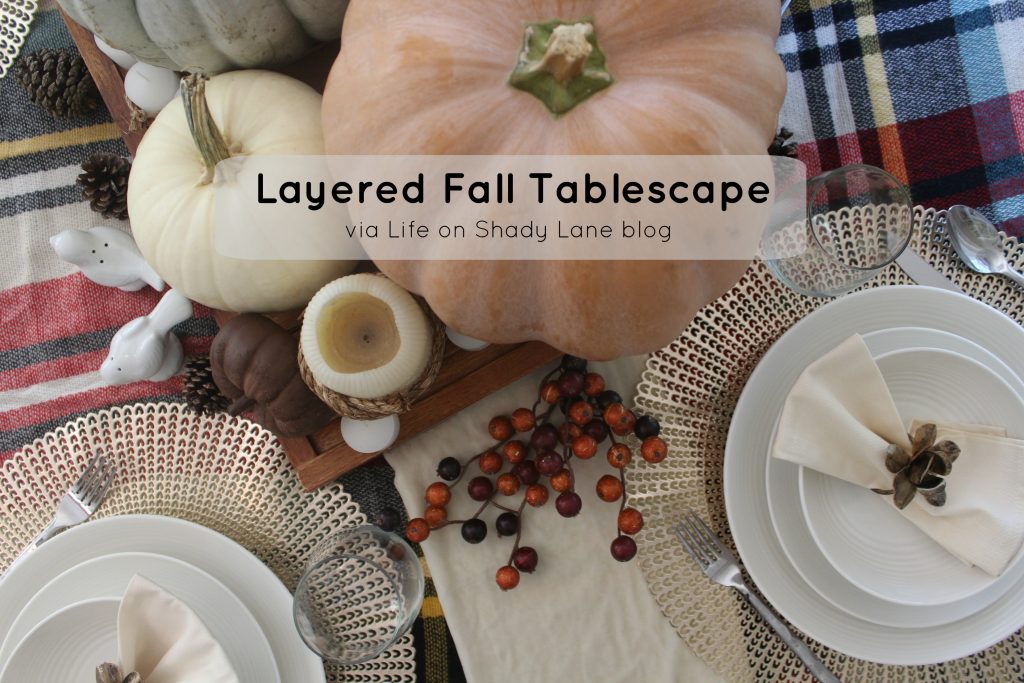 Don't forget that you can sign up to receive my emails – I send one out every time I publish a new post, so you'll never miss out on anything that's happening on Shady Lane! There's a sign up form at the very top of the page. Let me know if you need any help!
I'm all over the web – follow me! Instagram, Twitter, Snapchat (lifeonshadylane), Facebook, Pinterest, and Bloglovin'.