How to make the perfect bed: a step-by-step guide
This post may contain affiliate links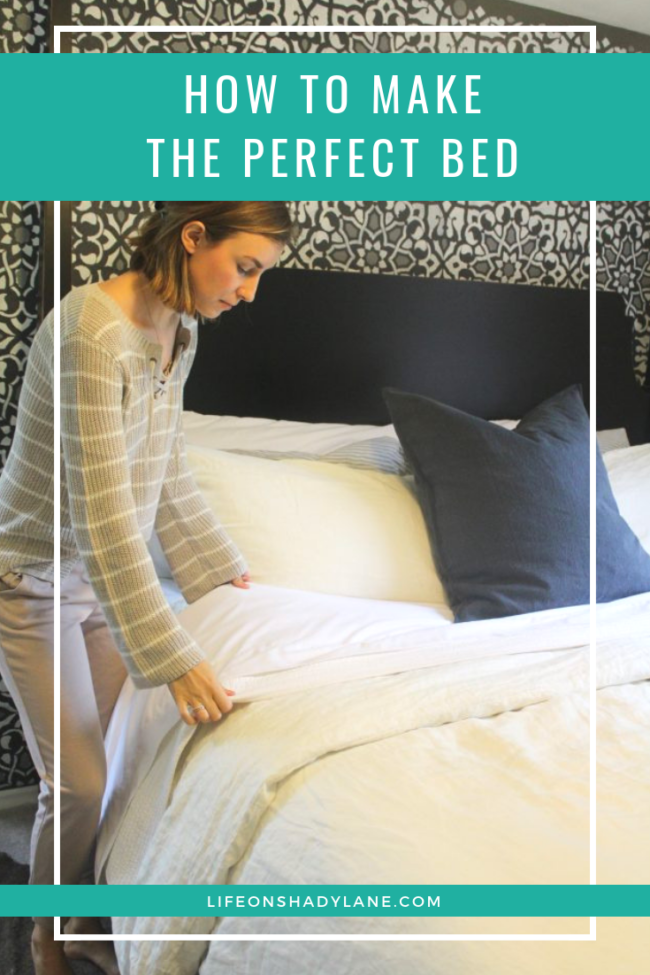 I hope you'll check out some of my other posts while you're here, too!
See my DIY projects and inspiration [here]
Check out a home tour [here]
Check out some fashion posts [here]
One time Brandon asked me if my favorite thing on Earth was clean sheets. I laughed and said "one of them, yes!" There's nothing better than climbing into a freshly made bed at the end of a long day and sinking into some cozy, fresh-smelling bedding. Am I right, or am I right?!
So when we upgraded to a king sized bed a few months ago, I set out on a mission to make it the comfiest bed EVER. I'm all about neutral linens as a base, because we all know I like to switch my decor up often. Neutral works so well because you can add on a fun throw or some accent pillows to add pattern, texture, and color….and then when you want to switch up your decor in a few months, it's no biggie. Just keep the same bedding, throw on a different accent pillow, and you're good to go!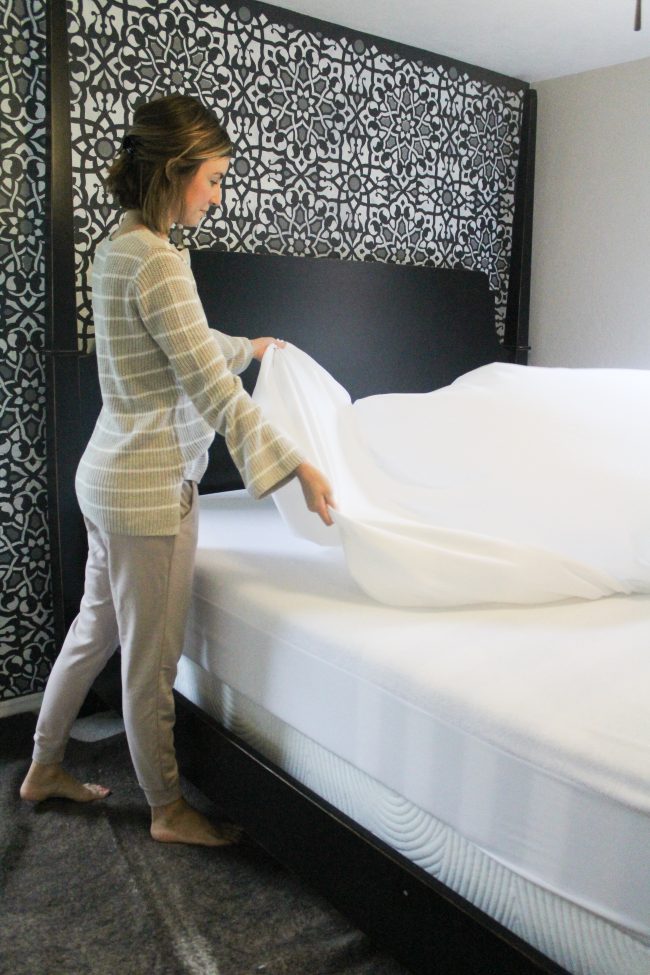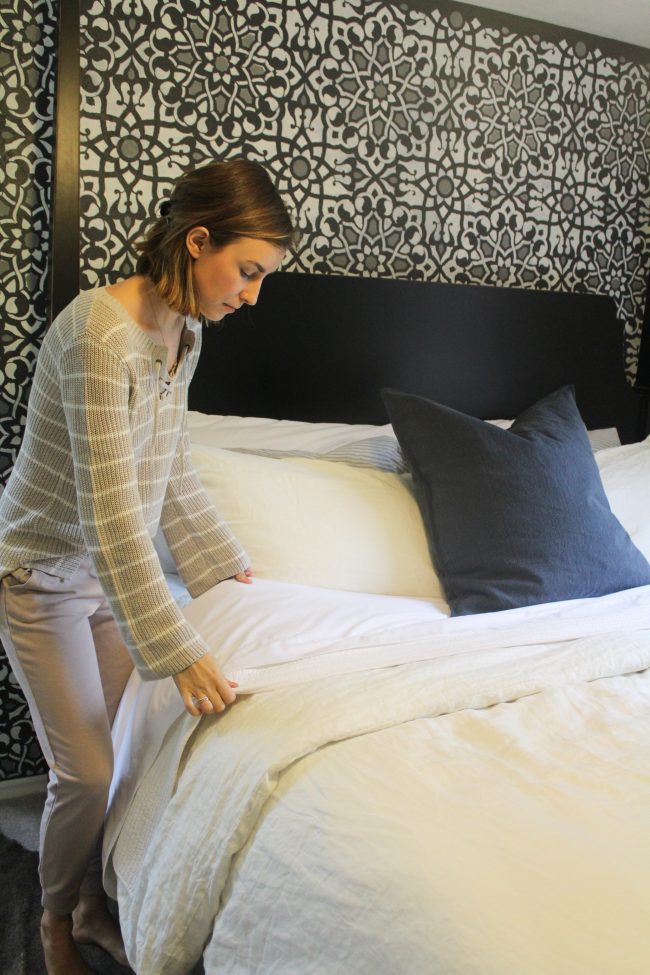 Step 1: Mattress Protector
Always, always use a mattress protector. Mattresses are far too expensive to be unprotected from spills, drool, dust mites, etc. Just trust me and put the dang protector on. We use [this one] and I love it – it's soft, hypoallergenic and waterproof.
PS, we used this high profile box spring foundation from Amazon.
Step 2: Sheets
Your sheets are what actually touch your skin when you're in bed, so those are SO important. PeachSkinSheets was kind enough to send me a set of their classic white sheets and they are seriously incredible. They are SUPER soft and keep us cool all night – they actually breathe similar to workout clothes! Plus, they come out of the dryer wrinkle free – one of my biggest pet peeves in regards to sheets is that they typically wrinkle (I'm not kidding. And yes I know I'm nuts.) Not these, though – zero wrinkles!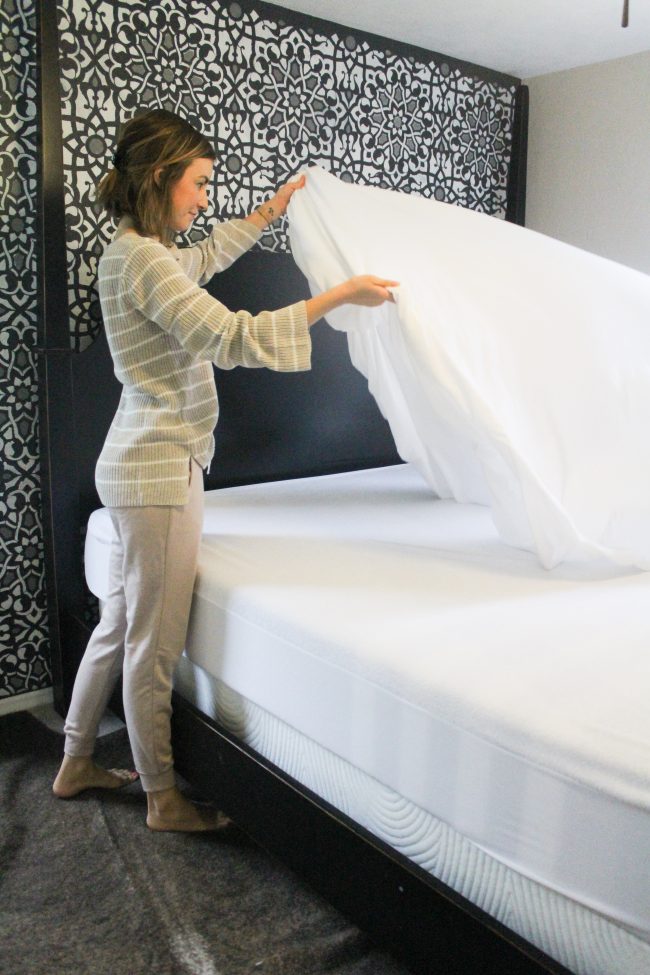 Put on your fitted sheet and tuck in as tightly as possible, so it's smooth. Then, lay on your top sheet.
I think it may have been my Grandmother who taught me this trick – when putting your top sheet on, you should actually flip it upside down. That way, when you fold the sheet over at the top, the pretty side shows!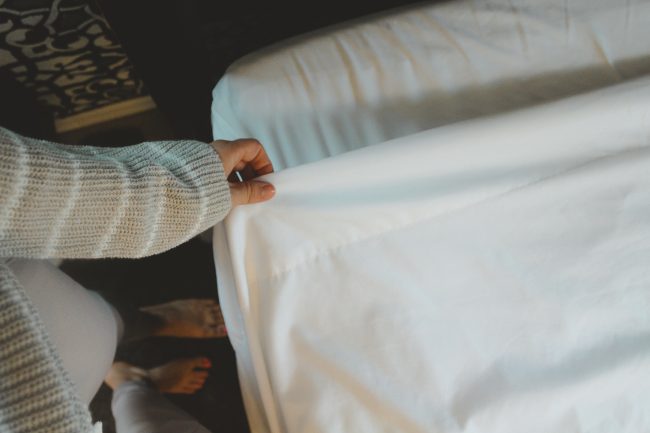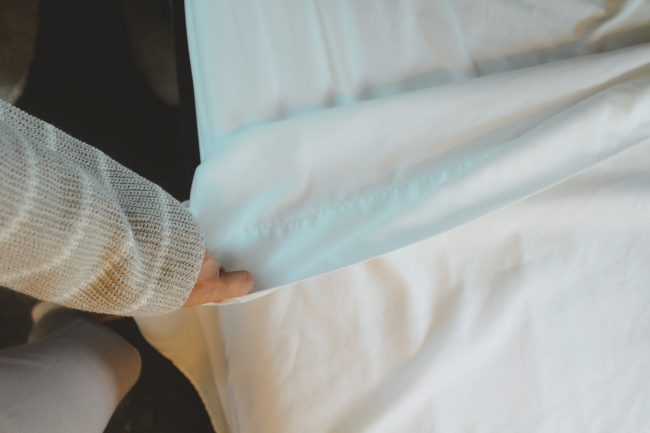 I always tuck the top sheet in at the foot of the bed and then do the sides so that it creates a crisp corner. I also only tuck it in about halfway up the bed (so it's easier to climb into and you don't have to yank the sheets out from under the mattress).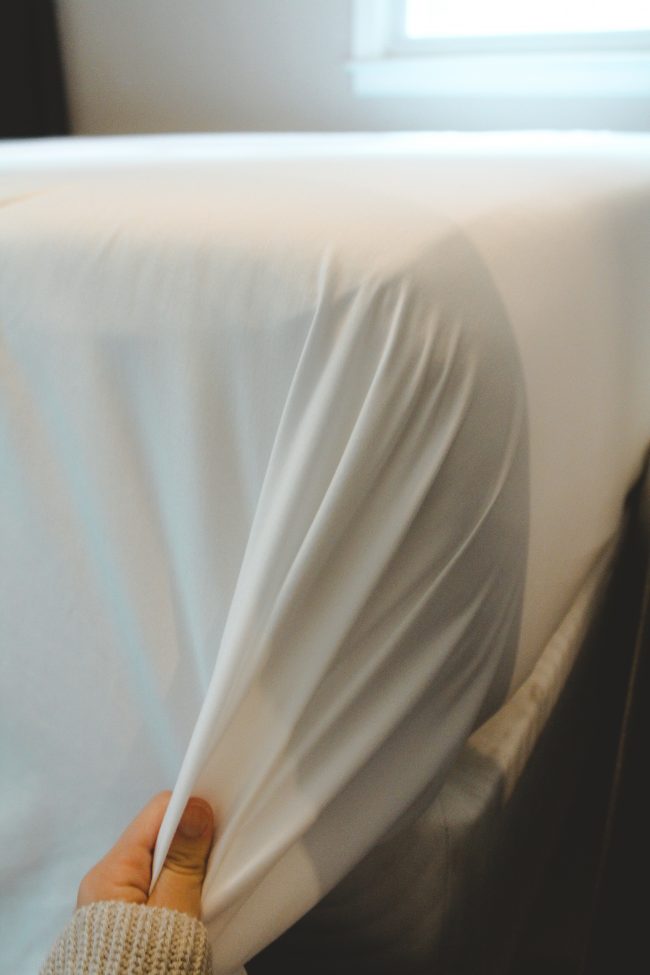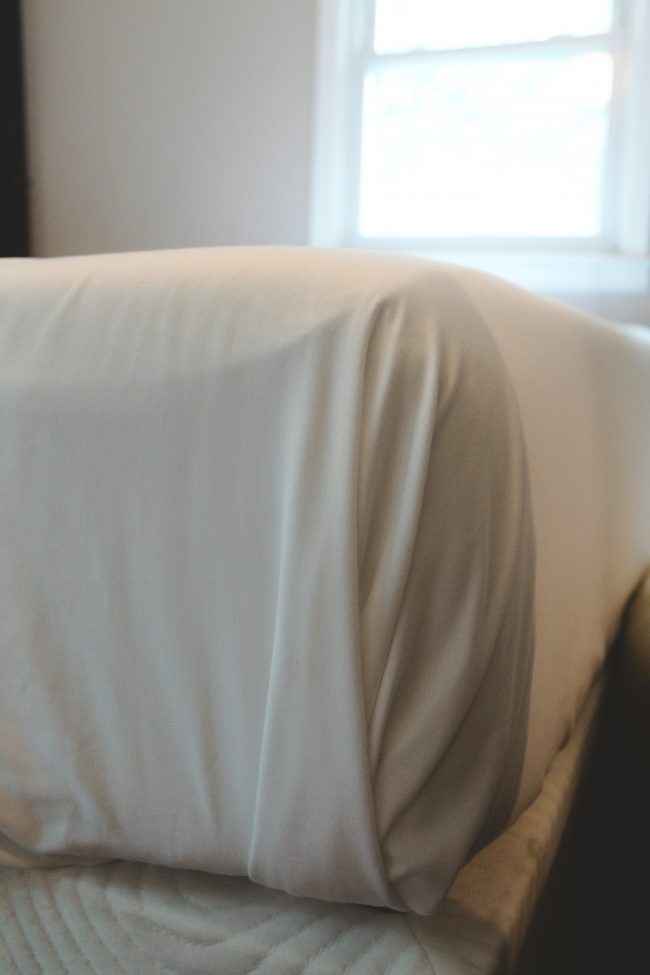 Step 3: Quilt, Coverlet or Blanket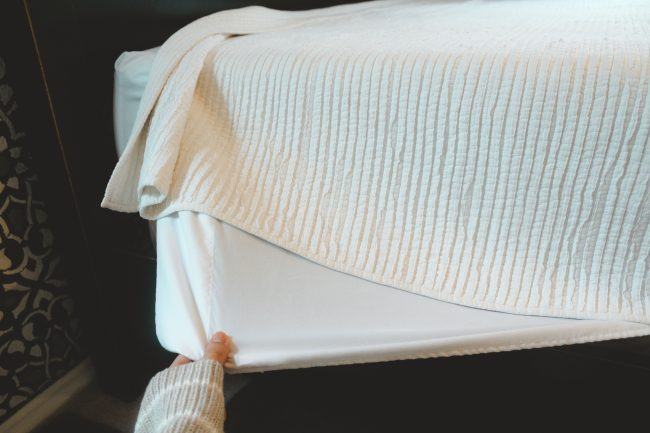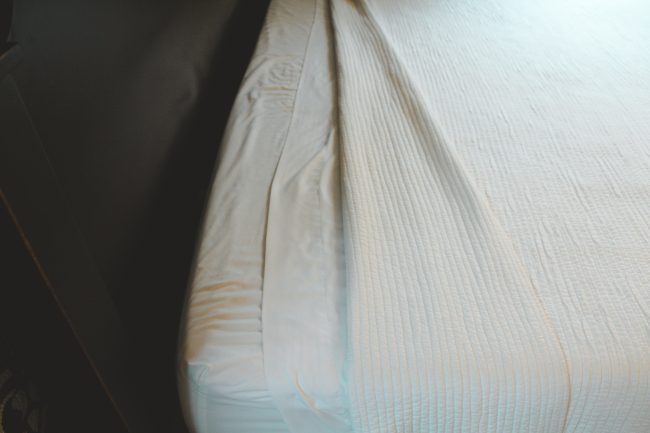 I like a coverlet that has some texture to it, just because it looks pretty when the bed is made. :) The one we have is several years old, but I really like [this one] from Amazon!
Tuck your coverlet in at the bottom, and then at the sides (just like the top sheet).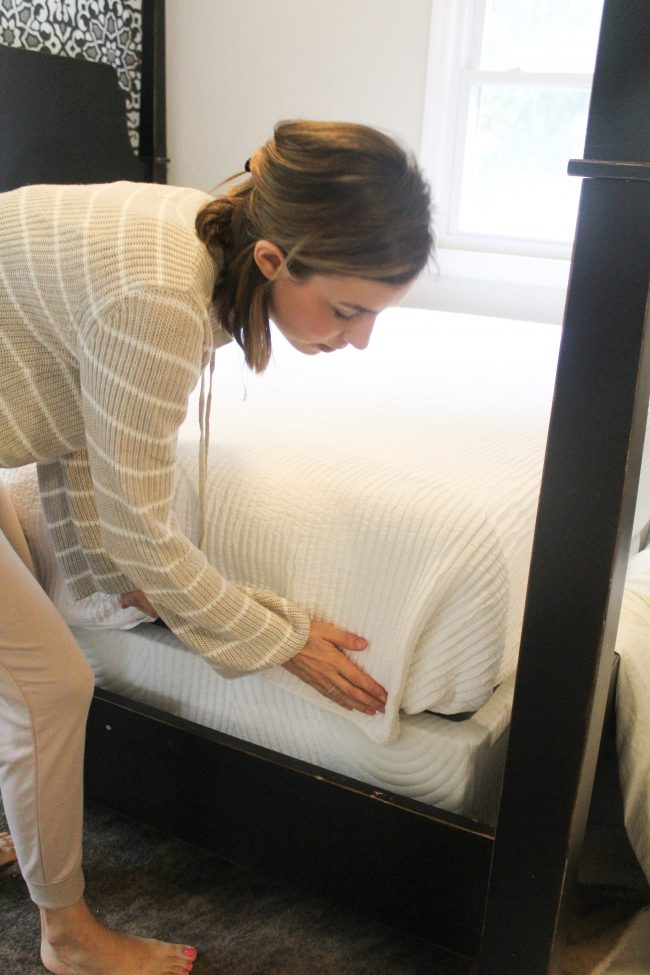 Step 4: Comforter or Duvet
We used this comforter from Amazon (it's so fluffy and I'm obsessed!). And after buying and returning several duvet covers, we finally settled on this linen one. I love, love, love the look of linen bedding. It's naturally wrinkly (and supposed to be that way!) so it looks relaxed and inviting…which is exactly what I want my bed to be!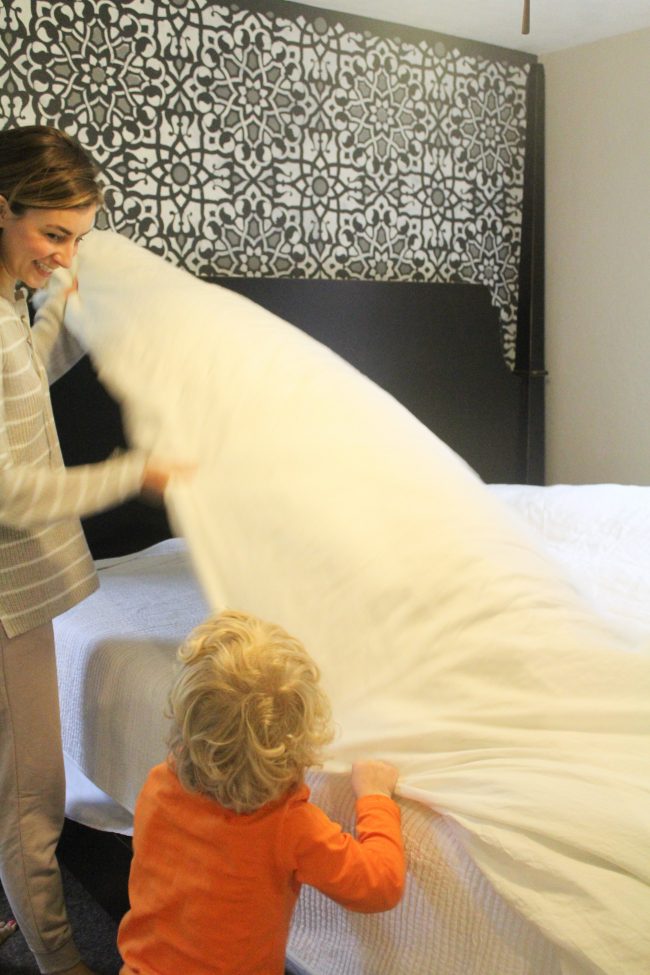 Fold all three layers down at the top, so you can see each one.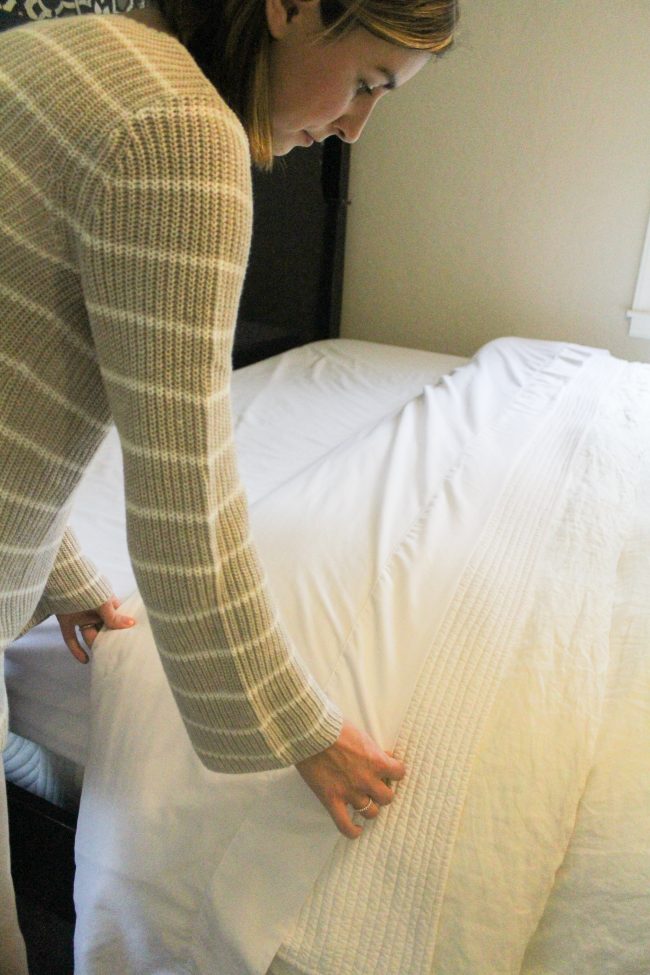 Step 5: Pillows
I may or may not have a slight pillow obsession. Sue me. ;) The number of pillows you have on your bed is a pretty personal preference, I think, so if you like less (or more!) than I do….you do you, friend. Live your best life.
I personally sleep with two pillows. So I put those two as the "base" and then layer on a pretty 3rd pillow (that matches our duvet cover).
Your "sleeping" pillows could both match, or you can do like I did and do one that matches the sheets and one striped one for some visual interest. Like I said, you do you. Either way is pretty!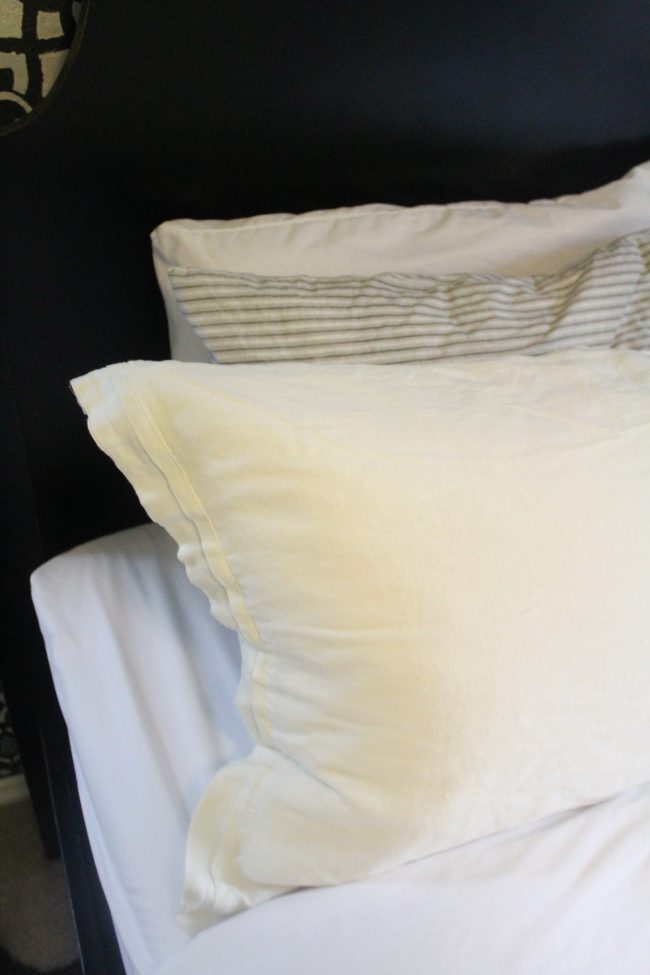 As far as throw pillows, I wanted to keep this bed pretty simple and neutral, so I'm only using one large pillow, front and center (find the one I used right here). I considered layering three of them behind the other pillows (as the "base") but decided against that for now. Who knows…I may change my mind in a month. ;)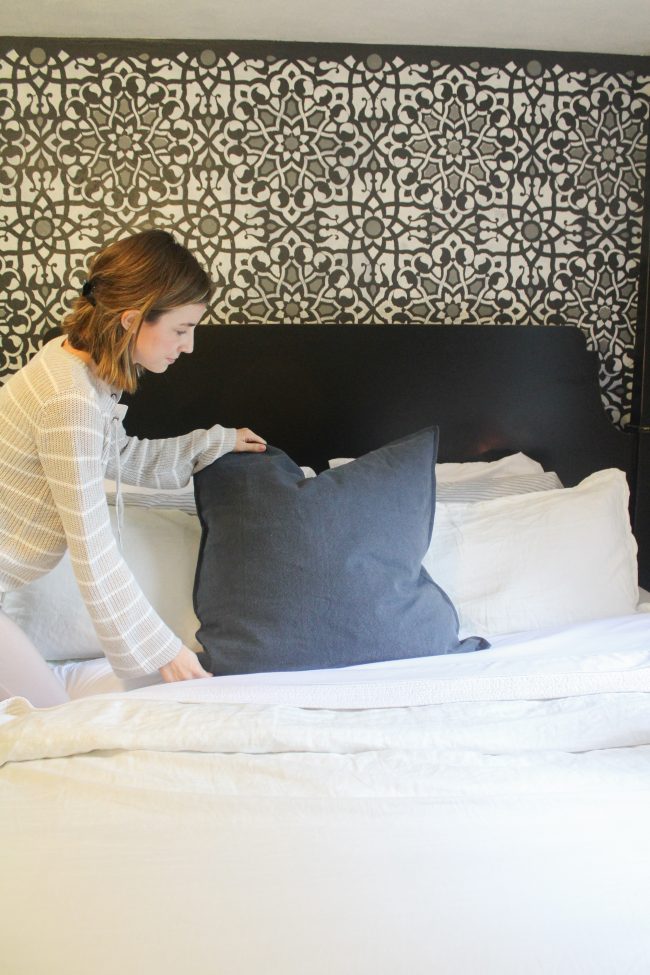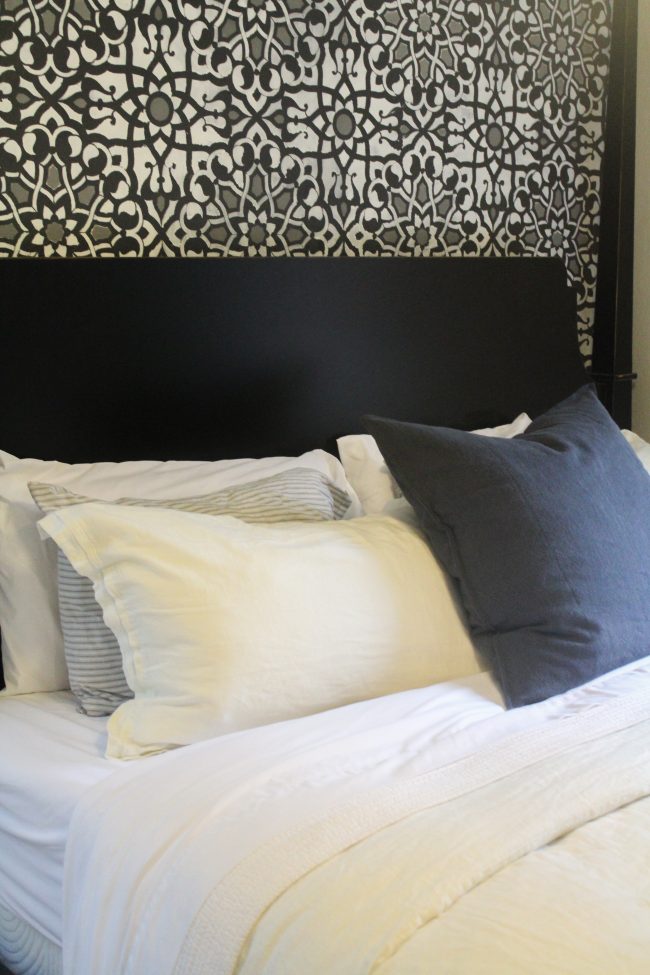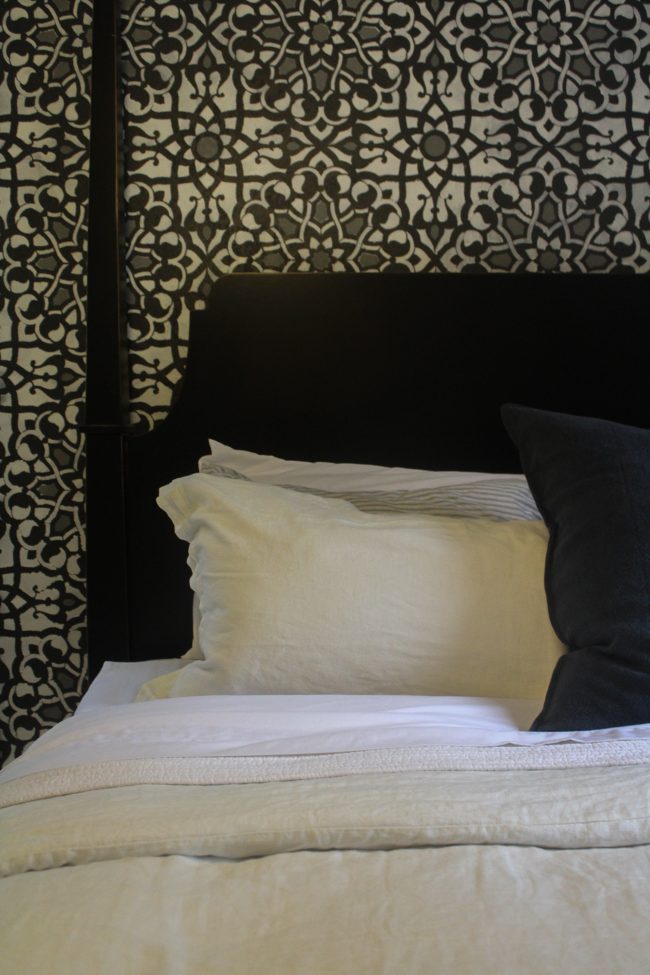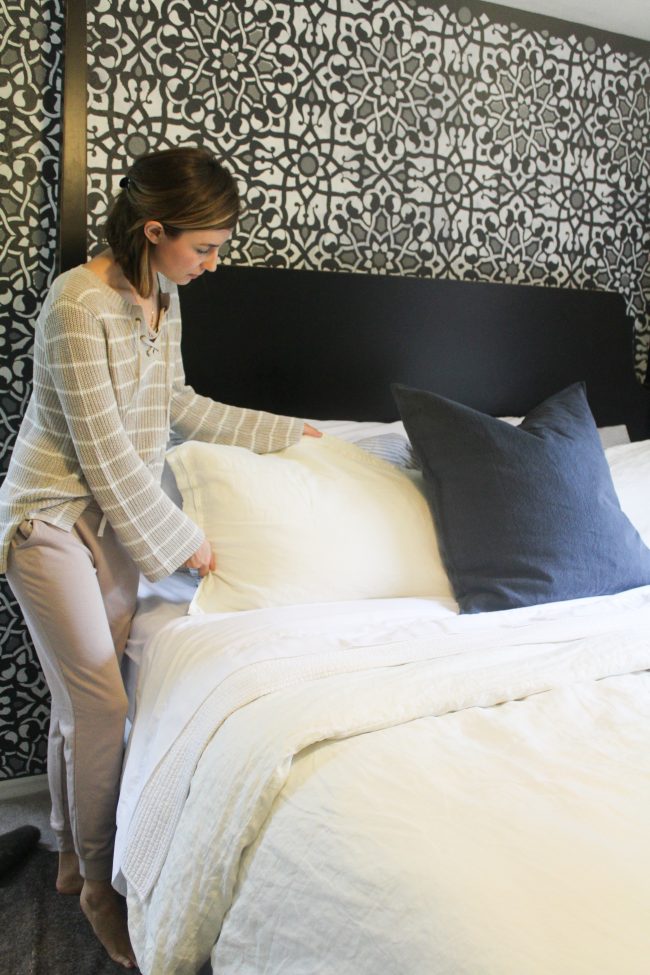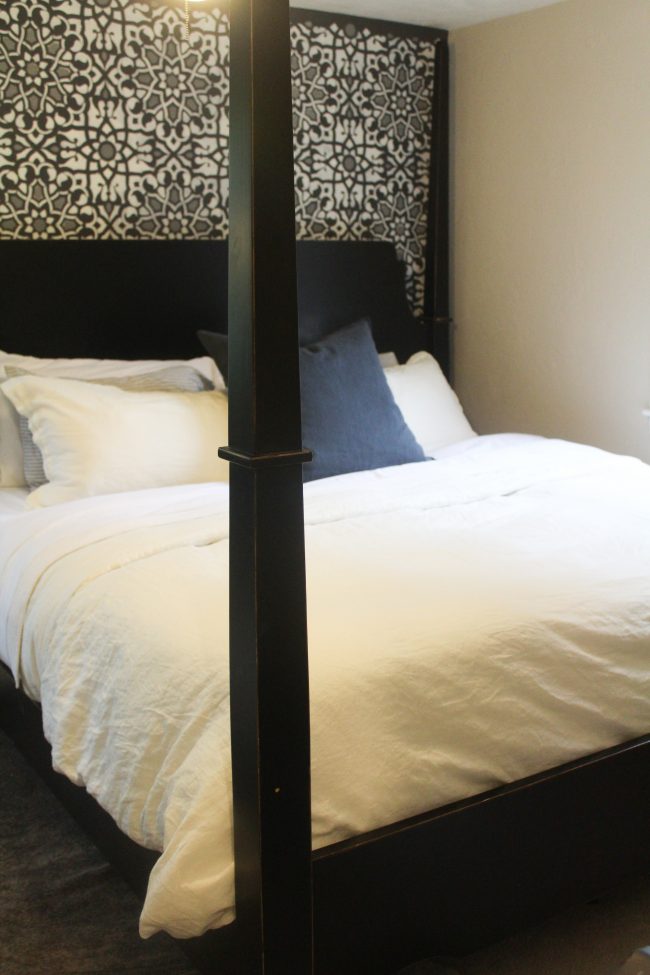 That's it! Pretty simple, right? I may add a throw at the foot of the bed for Fall or Winter (or switch up my throw pillows) but I really love how laid-back and relaxed this bed looks.
Are you bedding obsessed like I am, too?!
I hope you enjoyed this How to make the perfect bed blog post!