Cookie jars and coffee canisters for your kitchen organization | Sometimes all your kitchen needs is a tiny little refresh to make it feel new. I cleaned up, rearranged, and freshened our coffee bar area this weekend and the tiny tweaks I made created a simplified, more special-feeling space. My favorite part? The cookie jar I repurposed as a coffee canister! The exact one that I used was from a few years ago (and is now sold out) but I'm linking several really pretty options here for you today.
Shop cookie jars and canisters for your kitchen organization below!
This post may contain affiliate links
————–
I hope you'll check out some of my other posts while you're here, too!
See my DIY projects and inspiration [here]
Check out a home tour [here]
Okay hear me out. Cookie jars make great coffee canisters. Why, you ask? Well…they're typically a little wider than your average coffee canister, making it easier to get your hand + a scoop for coffee grounds in and out of. Plus, they're just so darn CUTE! If it doesn't say "COOKIES" on the front, who says you can't use it for coffee?
That's what I did this weekend when I was feeling a little uninspired by our coffee bar. I've always just kept my coffee grounds in the plastic bag it comes in. I stored the bags in a cabinet along with my mugs. But, coffee is something I make every single day – why not keep it out on the counter, but make it pretty? I realized I had a cookie jar that was just sitting on a shelf unused, so I washed it out, dumped my coffee grounds in, and it just feels a little more special!
Does anyone else love putting things into prettier jars? It may seem trivial, but why not make your food & kitchen storage feel special like the rest of your home?
PS you can see a roundup of kitchen & pantry organization items here
The exact cookie jar I used was from Target, but I bought it several years ago and it has since been discontinued. I've put together a roundup of several different options you can use below. Some are cookie jars, some are storage containers…but I think they can all be used for your coffee (or whatever else you want to store in a pretty way!).
Links to all of the cookie jars and coffee canisters included below the image for easy shopping!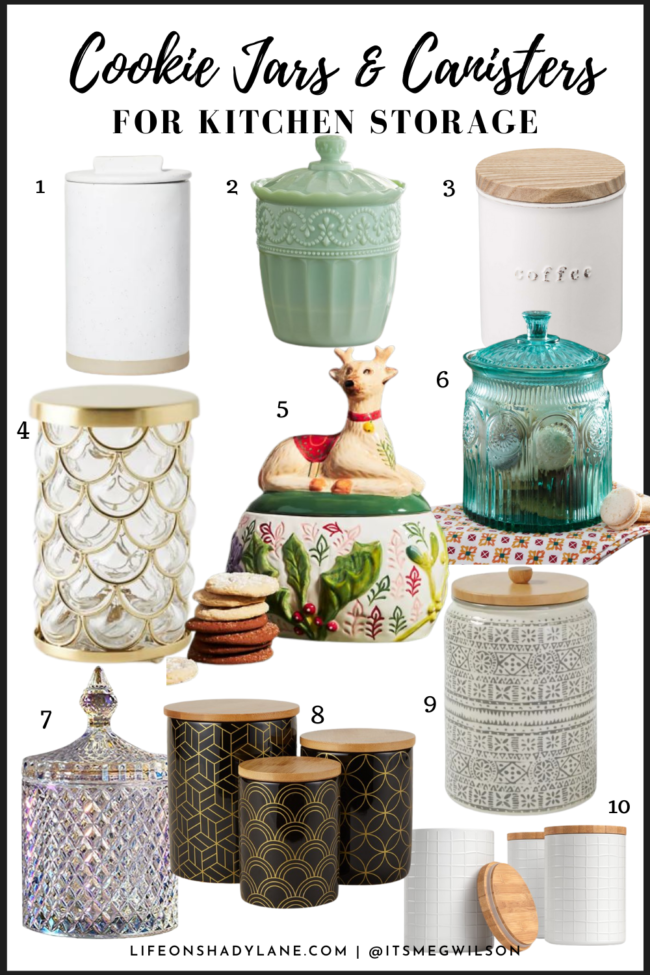 Shop cookie jars and coffee canisters
1 | 2 | 3 | 4 | 5 | 6 | 7 | 8 | 9 | 10 
————–
I hope you'll check out some of my other posts while you're here, too!
See my DIY projects and inspiration [here]
Check out a home tour [here]