Lots of Christmas gift ideas for women – there's something for every woman in your life (or pick something nice out for YOURSELF!).
I put Christmas gift guides together every year…and the one for girls is always easiest, because, well….I'm a girl. ;) This is a great resource to send to your significant other, your mom,….whoever wants to buy you a gift. And it's also a great resource for ideas on what to gift the special women in your life!
This post may contain affiliate links
See all of my holiday gift guides here
I will be putting lots of other Christmas gift guides together – this is just the first for 2020! Be sure and bookmark this site to come back and see more.
————–
I hope you'll check out some of my other posts while you're here, too!
See my DIY projects and inspiration [here]
Check out a home tour [here] 
Check out some more fashion posts [here]
Links to all of the christmas gift ideas for women included for easy shopping!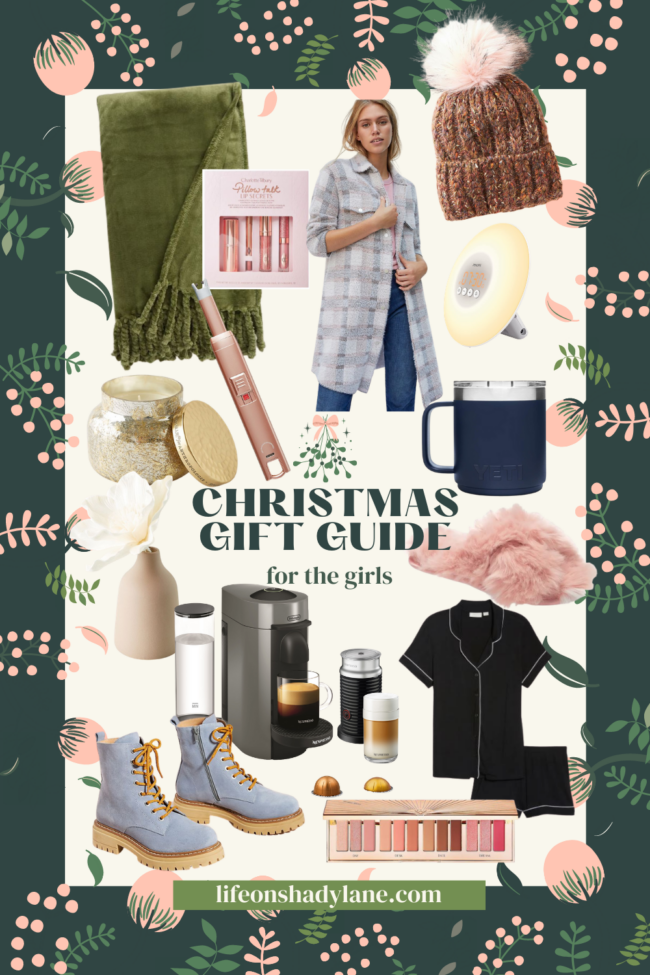 Bliss plush throw – I have two of these blankets and they are amazing. So soft and cozy, perfect for cuddling up on the couch….and they also look pretty thrown on a chair! Love this color for the holidays, but there are lots of color options.
Charlotte Tilbury Pillow Talk lip secrets lip set – I love everything Charlotte Tilbury makes and these lip colors are super pretty and would look great on everyone!
Pilcro Eyelash sweater jacket – I have this "shacket" and it's incredible. It can be worn with anything – comfy joggers, an all black outfit, denim, over a dress, etc. It's SO soft and really warm, and it just elevates any outfit to make it feel extra special.
Beanie and pom – Love these beanies! You get to choose your own pom so it's customizable and interchangeable so you can switch up your look!
Philips SmartSleep alarm clock with sunrise simulation – I've always wanted one of these cool alarm clocks that simulates the sunrise in the morning! They're supposed to be an easier, gentler way to wake up that improves your energy and well being.
Capri Blue spiced cider candle – anything spiced cider-scented and I'm in. Makes your home feel so cozy for the colder months! Plus, the jar is really pretty and can be used after the candle is all gone.
USB candle lighter – A great gift to give along with a candle, and I love the pretty color options this comes in!
Yeti travel coffee mug – To be honest, I'd use this even at home to keep my coffee hot in the mornings! They come in several fun color options and are really great quality!
Bloom fragrance diffuser set – I just think this is so pretty, and I'm all about a great smelling home!
Rachel Parcell faux fur slippers – These slippers comes in three color options….and honestly who doesn't like new slippers?!
Harvest hiker boots in light blue – These hiker boots are selling out quickly! They come in four different color options, but I just LOVE this light blue option. So fun and unique! Would be really pretty with the Pilcro sweater jacket.
Nespresso machine with milk frother – This has been on my wishlist for several years. Perfect for the coffee lover in your life!
Charlotte Tilbury instant eyeshadow palette – I have this eyeshadow palette…it's actually the only one I use! It makes applying your eyeshadow really easy because it has colors paired together for day, date, work, etc. Worth the splurge – the colors are REALLY pretty, and very pigmented. The colors go on so smoothly.
Moonlight short pajamas – I love pajamas with shorts (I prefer shorts over pants, even in colder months!). These are really cute and simple – love them!
————–
I hope you'll check out some of my other posts while you're here, too!
See my DIY projects and inspiration [here]
Check out a home tour [here] 
Check out some more fashion posts [here]
Hopefully this gave you some christmas gift ideas for women!! Stay tuned for my next gift guides.