Finding activities to keep your kids busy can be challenging enough, but during a time like this when you're under quarantine or a "Stay at Home" order, I'm finding that it's more challenging than ever. I put together a list of 10 things to do with your young kids while you're stuck at home to hopefully give you a little inspiration if you're looking for it. None of them involve TV/screens, but I promise we get our fair share of that around here too. ;)
————–
I hope you'll check out some of my other posts while you're here, too!
See my DIY projects and inspiration [here]
Check out a home tour [here]
Check out some fashion posts [here]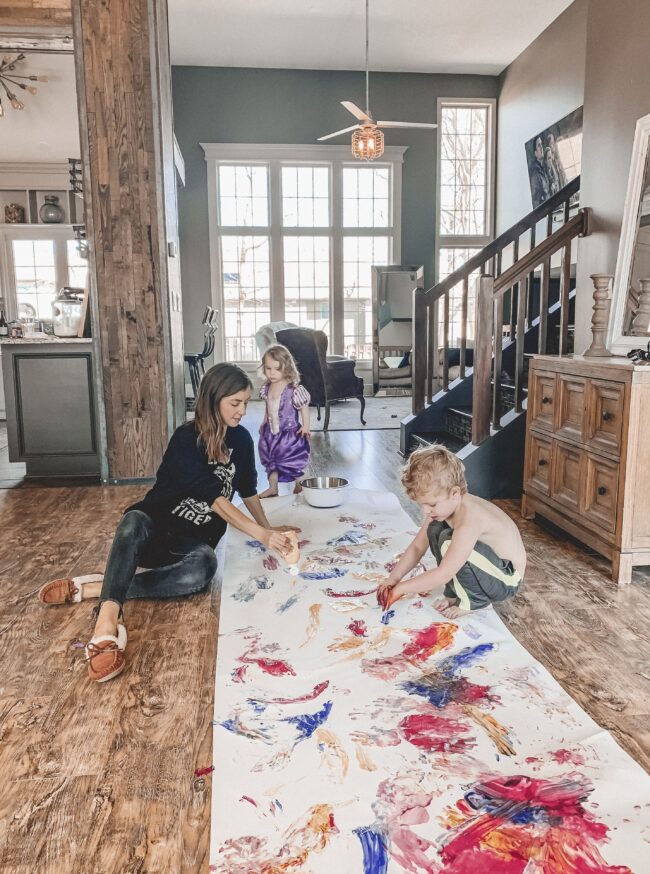 1. Roll out some kraft paper and let them finger paint (with washable paints!)
We like this finger paint and this kraft paper
2. Do a "nature collage" – send them into the backyard to find various items from nature (sticks, leaves, flowers, pebbles, etc.) and then hot glue into a collage on a paper plate. So simple, but they love it!
Here are some paper plates, in case you need them! And you can find a hot glue gun here.
3. Play a game of I Spy or Hide & Go Seek…or just a fun board game!
Find some great board games here
4. Get out ALL the Play-Doh and let them go nuts, mixing colors if they want!
Here's a link to some Play-Doh!
5. Bake cookies…and let them help.
Need some cookie dough delivered to your house? Here's a good one!
6. Go for a walk around the block
7. Make a blanket fort in the living room
These blankets are awesome (read the reviews!)
8. Purge some of their toys + organize their bedroom or playroom! I like to have my kids help make the decision which toys to keep and which to donate (and I always respect those decisions, even if they want to keep something I think is silly/they don't play with anymore)
9. Make slime!
You'll need this foam soap, some contact solution, and this glue!
10. Get out the crayons and paper, turn on some relaxing music, and ask them to draw you a picture (or better yet, one to send to a friend or relative they miss!)
Hopefully these ideas gave you a little inspiration to keep those kids busy! If you have any awesome ideas that you do with your own children, let me know – I'm always looking for new things to keep them entertained!