Happy Friday friends! I apologize for the lag in blog posts – this past week was crazy busy!
A few days ago I mentioned on Instagram that I was considering broadening my blog topics to include style and beauty. Home renovation and design are my biggest passions, but I want to challenge myself by including a wider range of topics.
If you are subscribed to receive my emails and not interested at all in style or beauty, don't worry! I'm going to work on creating separate email lists so you can choose what topics you'd like to receive updates on. Please bear with me while I'm in this transition phase. I so appreciate that you are here reading my posts and hope you'll continue to read along! As always, if you have any feedback or suggestions about what you'd like to see (or not like to see) on this blog, please just let me know.
I have done a few style posts in the past – you can see them [here]. I kind of pushed those aside while we were going full-steam on the house, but like I mentioned…I want to challenge myself in 2017! I thought that I'd start today by sharing my favorite beauty products.
I always like to try out new beauty products, and every once in a while some of those become my new favorites. Sometimes I like to try products I read about on sites like jeba.jp, and other times I go after those from my fellow bloggers. I'm a pretty simple girl when it comes to beauty though. I try to completely finish one product before buying another, and I have several tried and true products that I buy over and over again because they just work.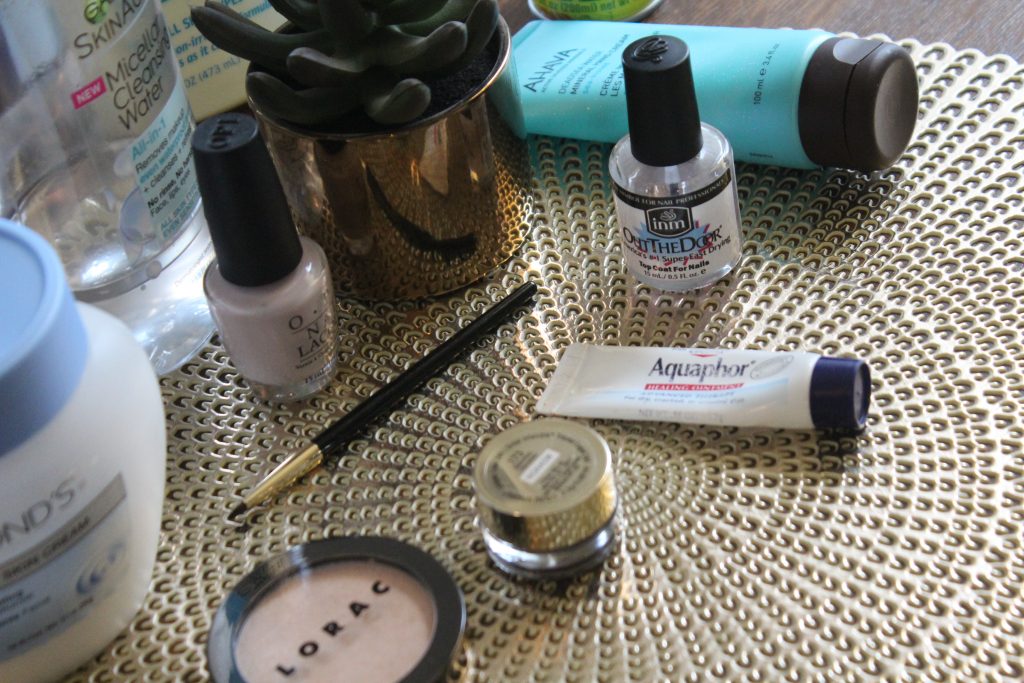 Hair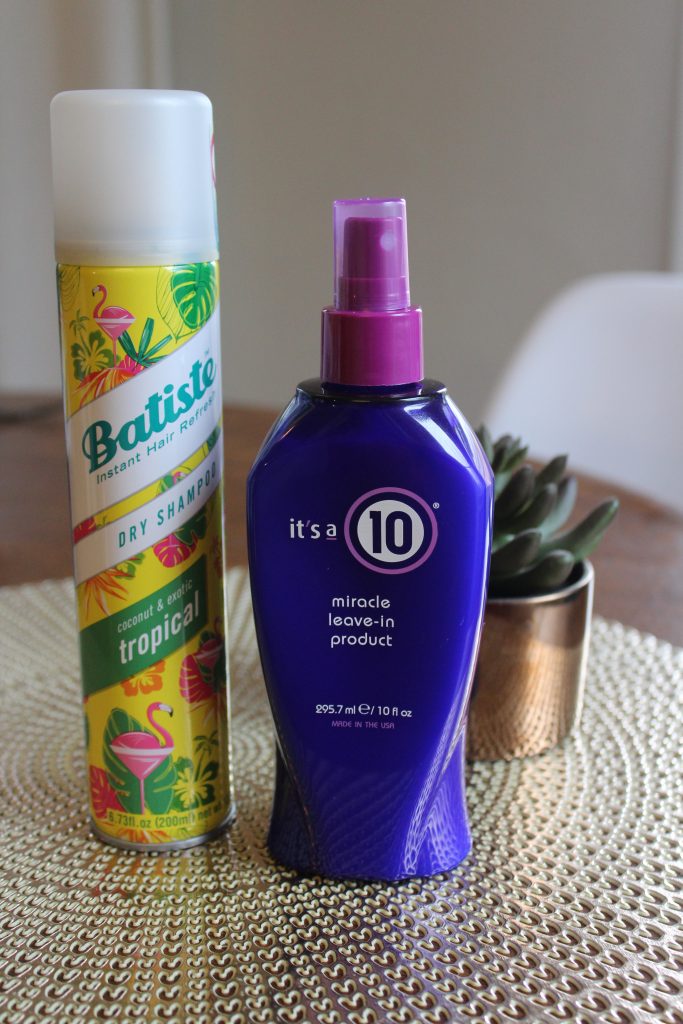 I'm super low maintenance with my hair. I get it cut just once or twice a year and I don't remember the last time I colored it. Because I don't get it cut often, I try to take good care of it and avoid split ends/breakage as much as possible. I spray this it's a 10 miracle leave in product in after towel drying my hair. This spray is so awesome – it makes combing through wet hair super easy, protects against heat damage (from curling irons, blow dryers, etc.) and smoothes and shines hair, leaving it feeling really soft and silky.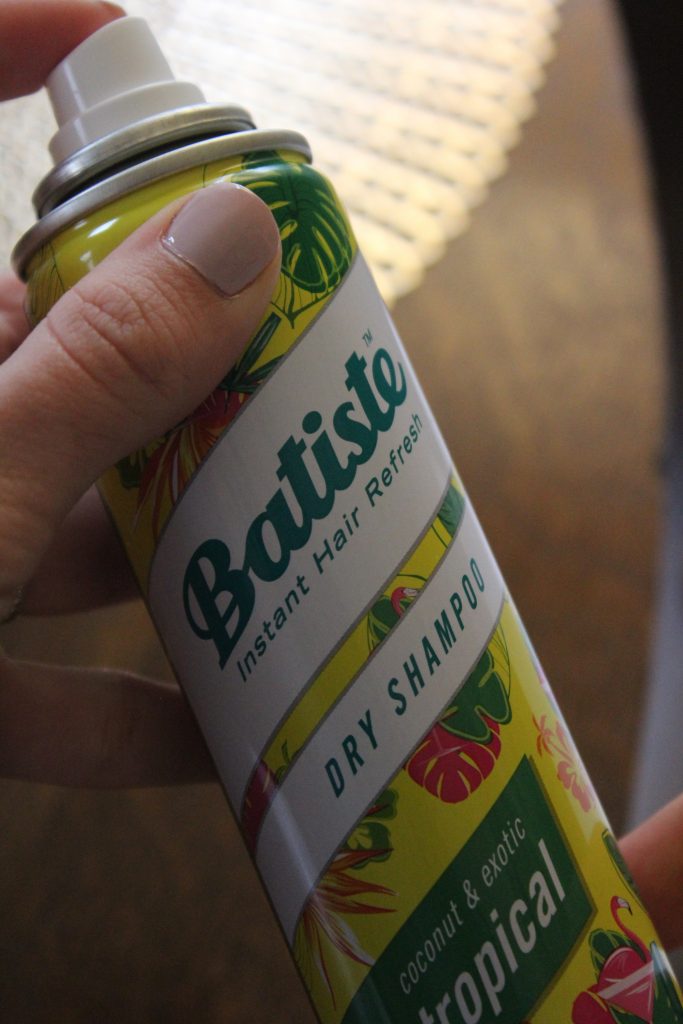 I try to wash my hair only once every couple days. Let's be real…sometimes I let it go a little longer than I probably should, but that's what hats are for right? ;) I've tried a LOT of dry shampoos, but the Batiste line is my favorite. It's affordable, no-frills and actually works. Plus they make a couple different scents (cherry, coconut, blush, original) so even dirty hair smells good! I spray it in at the roots in-between washes and it makes my hair look freshly washed! Tricky-tricky.
Hands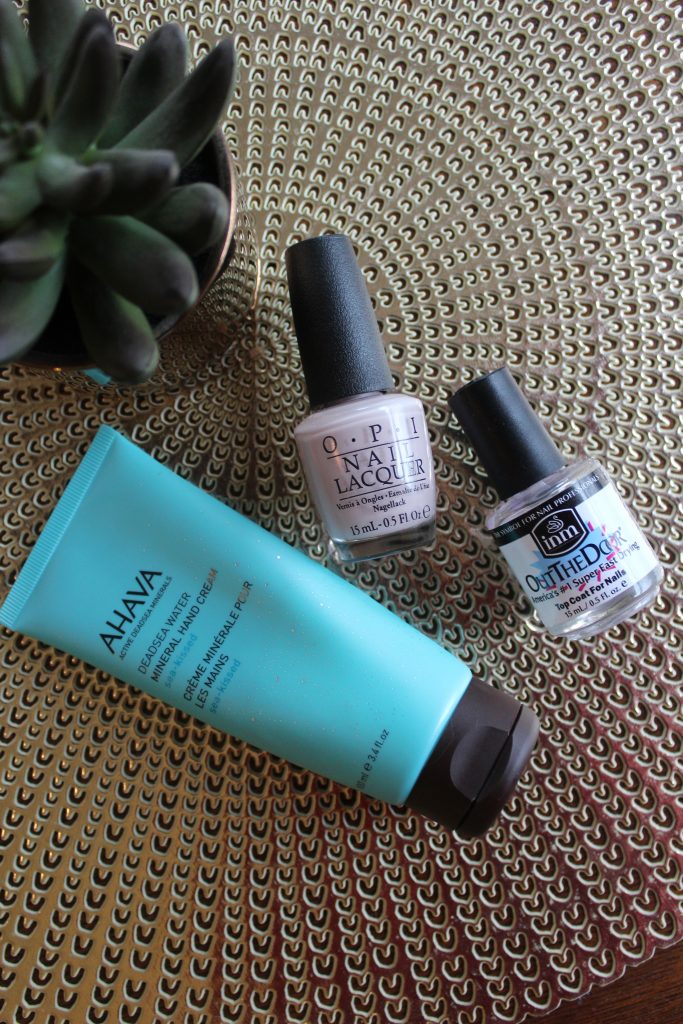 I own far too many bottles of nail polish. By looking in my linen closet you'd think I painted my nails in a different color every day…which used to (practically) be the case. But since I've become a mom, I really don't have time to paint my nails every day. I'm all about simplifying here too…so I stick to about 2-3 colors and only paint my nails about once a week. My favorite color is this OPI lacquer in "Don't Bossa Nova Me Around" .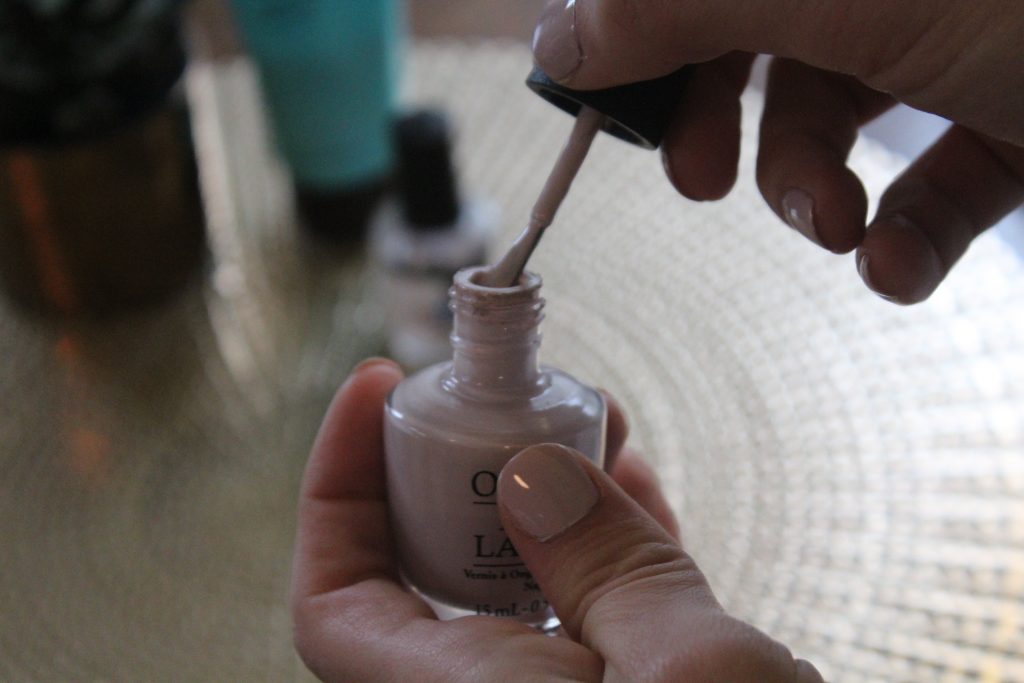 It never fails: as soon as I finish painting my nails, Henry starts crying or trying to get into something he shouldn't (he now knows how to pull out those outlet covers – awesome). So I need my nails to dry really fast. I am obsessed with this "Out the Door" top coat . It leaves my nails shiny, dries the polish fast, and makes my manicure last a lot longer than any other top coat I've used.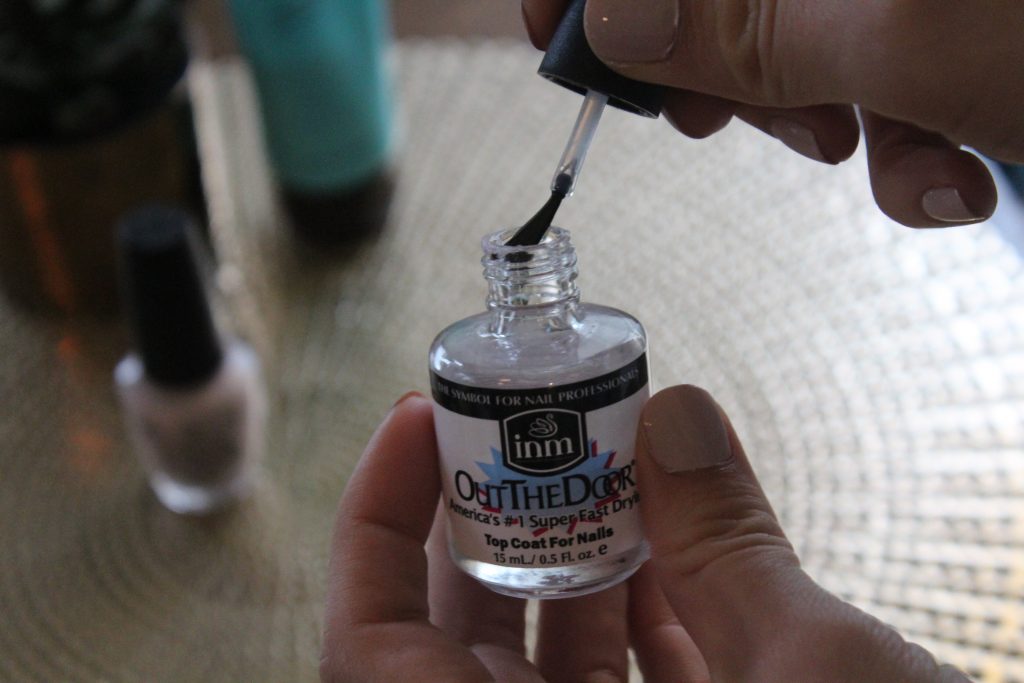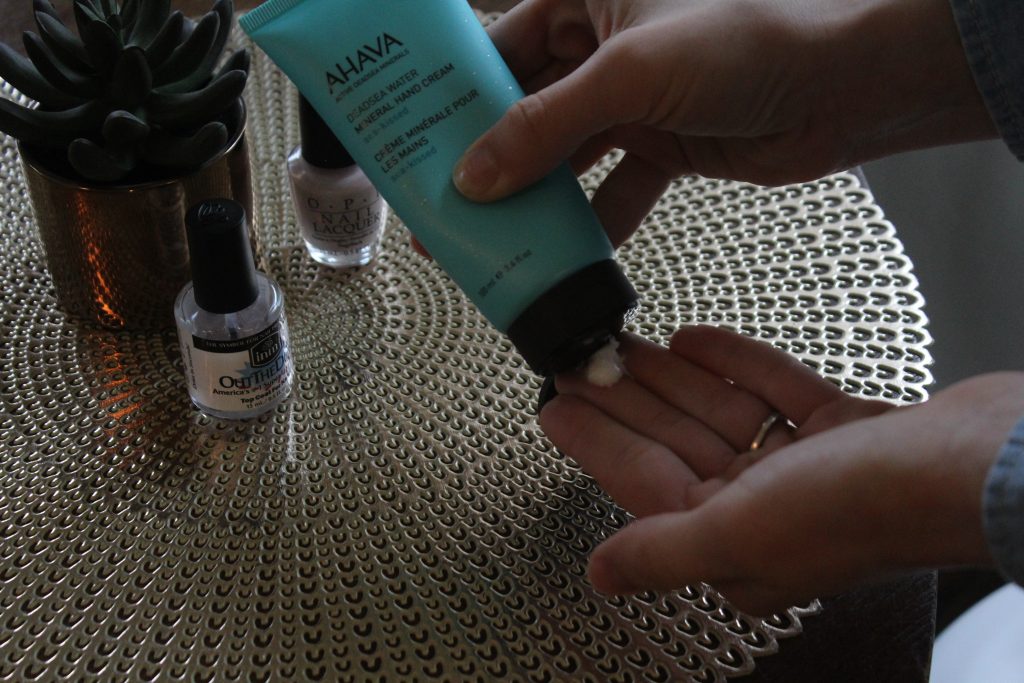 The Ahava mineral hand cream is amazing. It's thick and super-moisturizing, exactly what you want a hand cream to be. I love it in the sea-kissed scent.
Face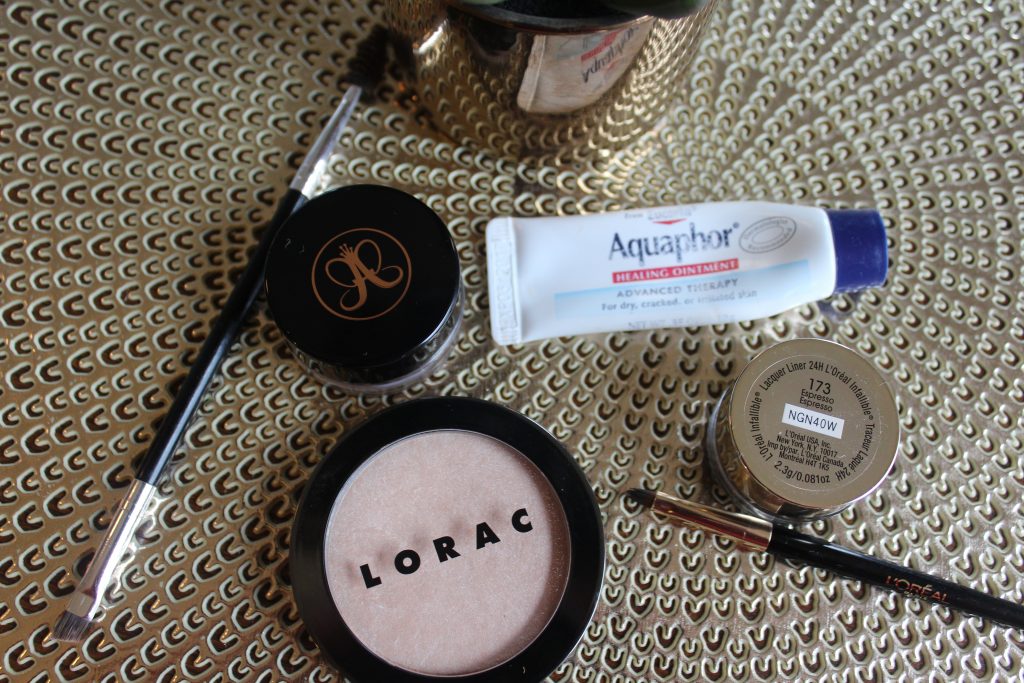 I really don't put makeup on every single day during the week, because a lot of times we don't even leave the house. But I do have some tried and true favorites.
L'oreal's Infallible 24 Hour Lacquer Gel Liner is amazing. I actually just tried it for the first time the other day but I immediately knew it was one of those products I'll buy over and over again. It comes in black and espresso (I have the latter), and comes with a brush that works really well. It goes on smooth and stays put for a long time.
The Lorac Light Source Illuminating Highlighter in Starlight is really pretty and gives you a nice glow. It's not too harsh – the amount of "glow" is just right! For special occasions, I also like to use luxury makeup like Chanel setting powders. One of my friends recently told me that Chanel health glow powder now has a limited edition product. I'll definitely be giving it a try!
Can you tell by the picture that I love my Aquaphor Healing Ointment? The writing is practically worn off the tube! I use it on my lips all the time because it makes lipstick go on really smoothly and is extra-moisturizing. I also like to rub the "extra" into my cuticles, and sometimes I put it on Henry's sensitive cheeks when they're windburned (his skin is really sensitive to the cold weather!). It's multi-purpose, which is perfect in my book! I keep a tube in my makeup bag and one in my car.
The Anastasia Beverly Hills Dipbrow Pomade is hands down the best eyebrow filler I've ever used. It stays on all day and the color choices are perfect (I use "medium brown"). I also use the #12 duo brush – it makes really straight lines and there's a spooley end to soften and blend the color into your brows.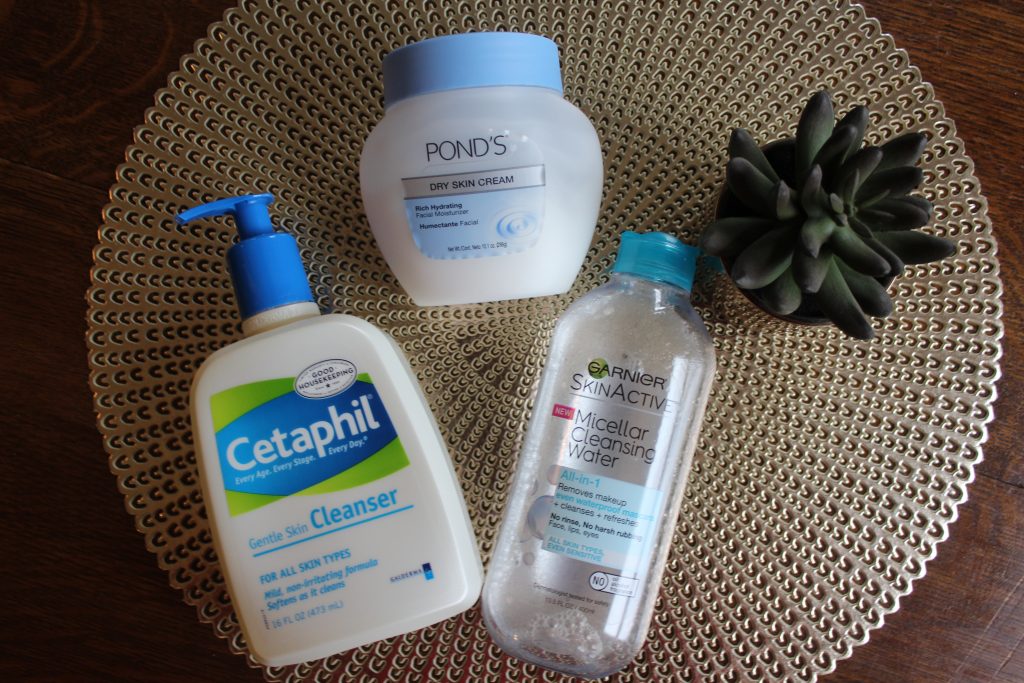 I have used Cetaphil for several years to wash my face. I like the gentle version because its simple, easy on your skin and it just cleans really well. I use it to take off makeup if I'm washing my face in the shower, but if I'm just taking my makeup off at night before bed, I am in love with Garnier's SkinActive Micellar Cleansing Water. You don't even have to get your face wet! I just put it on a cotton ball, wipe away makeup, and I'm done.
Pond's dry skin cream is my go-to moisturizer. I use it at night after taking off my makeup. I've used this one for years too, and love it because it's affordable and feels really good on your skin! However, one of my friends uses a cbd face cream which helps her skin combat anti-aging. CBD oils can also help lift and heal the skin, making them a great idea for a moisturizer. You could look for some CBD face products online if you're interested. If not, there are so many face and skin creams available, you've just got to find the one that benefits your skin the most. Everyone's skin has different needs, so that's why it's so important to make sure that your skin care routine benefits your skin and doesn't irritate it. However, that doesn't mean that you can't look at other people's routines and advice. For example, a few people have mentioned that they follow some Korean skin care tips. The people I've spoken to seem to be really enjoying Korean skin care, they've mentioned how much nicer their skin feels after using it. Of course, it's worth researching first before changing your routine, just to make sure that it will positively impact your skin. Make sure you find some skin care products that make your face feel beautiful!
Do you have any tried and true beauty favorites? Tell me about them in the comments – I'm always open to suggestions!
Don't forget that you can sign up to receive my emails – I send one out every time I publish a new post, so you'll never miss out on anything that's happening on Shady Lane! There's a sign up form at the very top of the page. Let me know if you need any help!
I'm all over the web – follow me! Instagram, Twitter, Snapchat (lifeonshadylane), Facebook, Pinterest, and Bloglovin'.