The best family friendly couch options that are pretty but also super durable, get great reviews, and are comfortable!
This post may contain affiliate links
We're on the hunt for a new couch, and I don't know why…but it feels like such a big decision! It probably has something to do with the fact that couches are so dang expensive and they're basically big fabric easels for kids to write all over in sharpie (or spill their chocolate milk, wipe snotty noses, etc.). Not to mention there's a very high likelihood mama will probably spill red wine on it at some point. ;)
I want something that looks pretty but is also really comfortable. It's important to me that it looks good, because interior design is important to me. BUT our family will live real life on it. We'll watch movies on the couch, lay on it when we're not feeling well, gather for Christmases, host football parties…all the things. A couch sees a lot of life! So, it needs to be durable.
I took a poll over on Instagram the other day, and got a bunch of responses about where you guys have found couches you love (or hate!). I shared a roundup of all of those options on Instagram, but thought I would share here too!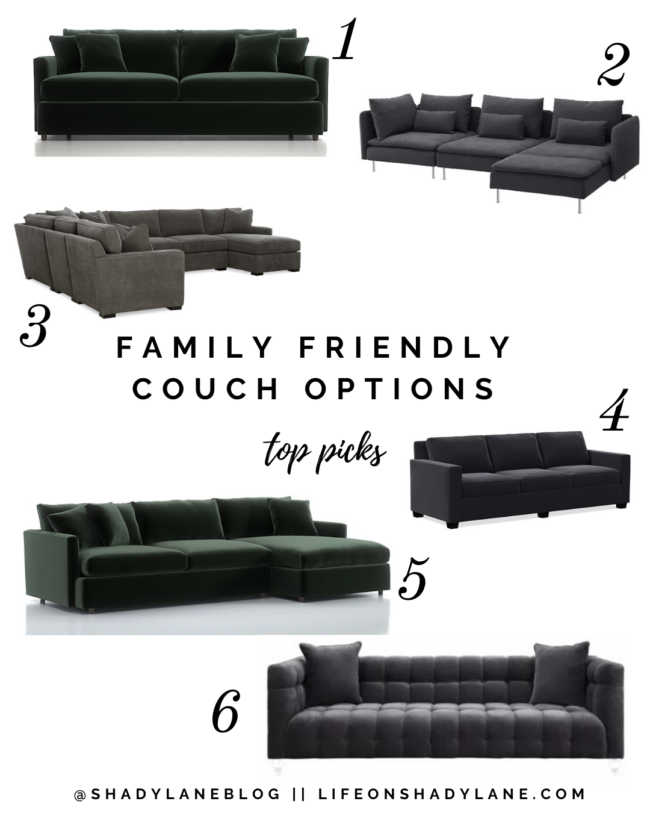 I searched high and low and narrowed it down to the six couches above. I'm not sure which one we'll purchase, yet, but all of these have great reviews – so I'm thinking any of them will be a great choice!
Stay tuned to see which one we pick!
I hope you enjoyed this The Best Family Friendly Couch Options blog post!