Today I'm sharing the best chocolate chip cookie recipe ever – I've mentioned it several times over on Instagram but am finally getting around to sharing my recipe! I haven't made a different recipe in YEARS – that's how good these are.
A big thank you to PFISTER for sponsoring this post!
This post may contain affiliate links
We recently replaced our broken sink faucet with the Lita from Pfister, and I LOVE it. I honestly don't even mind cleaning up after I bake anymore – it's just fun to use new kitchen stuff, right?! And especially when it's a faucet as pretty as the Lita. We chose the stainless steel finish, but it also comes in polished chrome!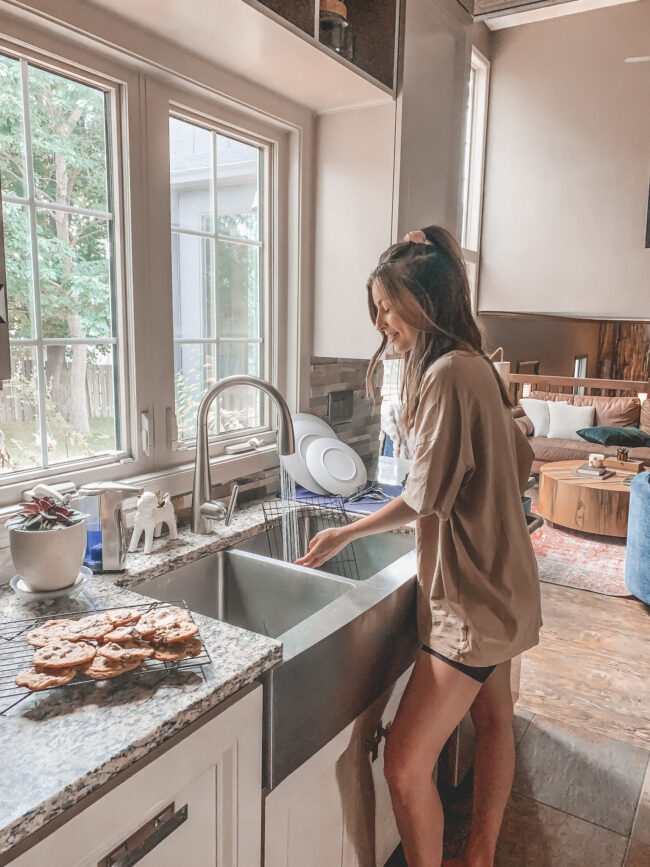 Linking my bike shorts and tee shirt in case you came here looking for those! ;) (went up a size in both!)
You can see our old faucet in my kitchen tour here
PS the Lita faucet has Xtract filtration technology, too, which means it makes FILTERED water. How cool is that?! I use it ALL of the time to fill up a glass of drinking water, in my coffee maker, in recipes…and it would also be perfect for making baby bottles!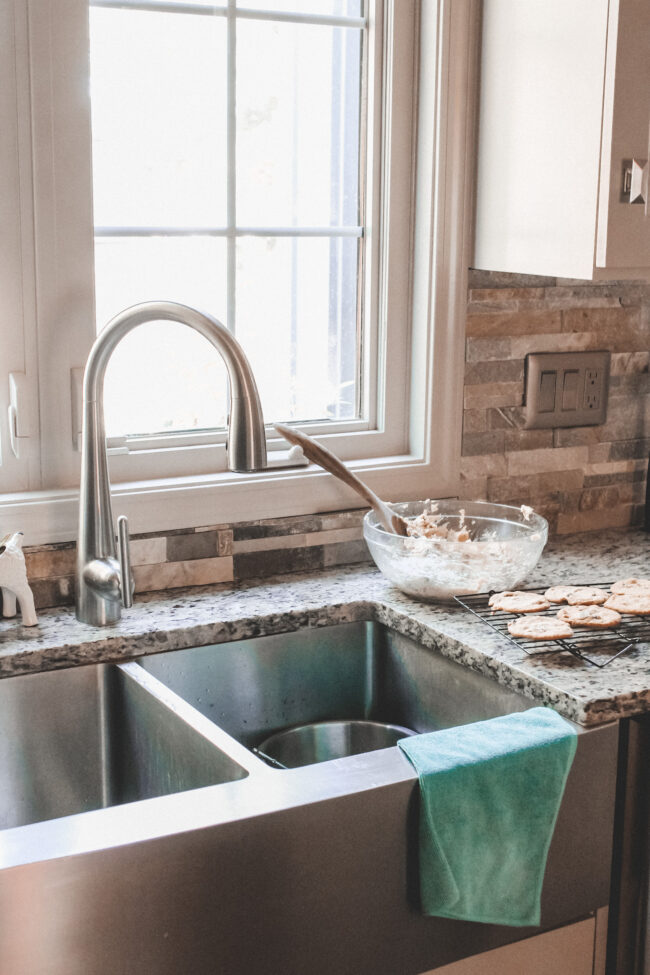 You can read more about the Lita faucet from Pfister here
OK so let's talk about these cookies!
I am not even kidding when I say they're the best chocolate chip cookies ever. They're the perfect ratio of cookie to chocolate chip (I actually put a little less chocolate chip cookies in now because I prefer a little more COOKIE to chocolate chip. But, to each his own – that's something that can be easily adjusted! They're soft, too, if you take them out just before they turn golden brown. You'll think they're not quiiiiite finished baking, but trust me on this, take them out of the oven and let them sit on the pan for a few minutes…and then transfer them to your cooling rack. They'll bake just a tiny bit more on the pan and they'll be perfect. Promise.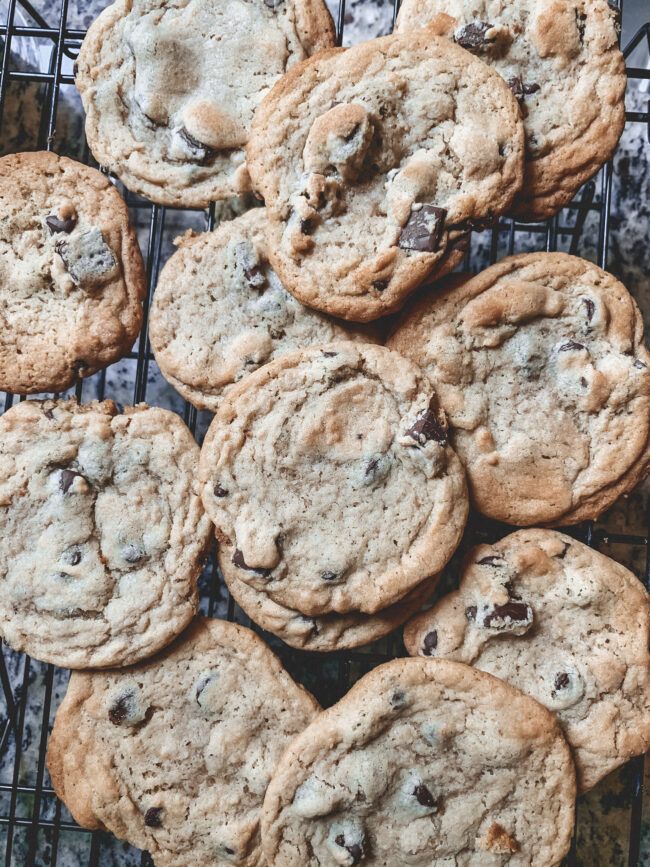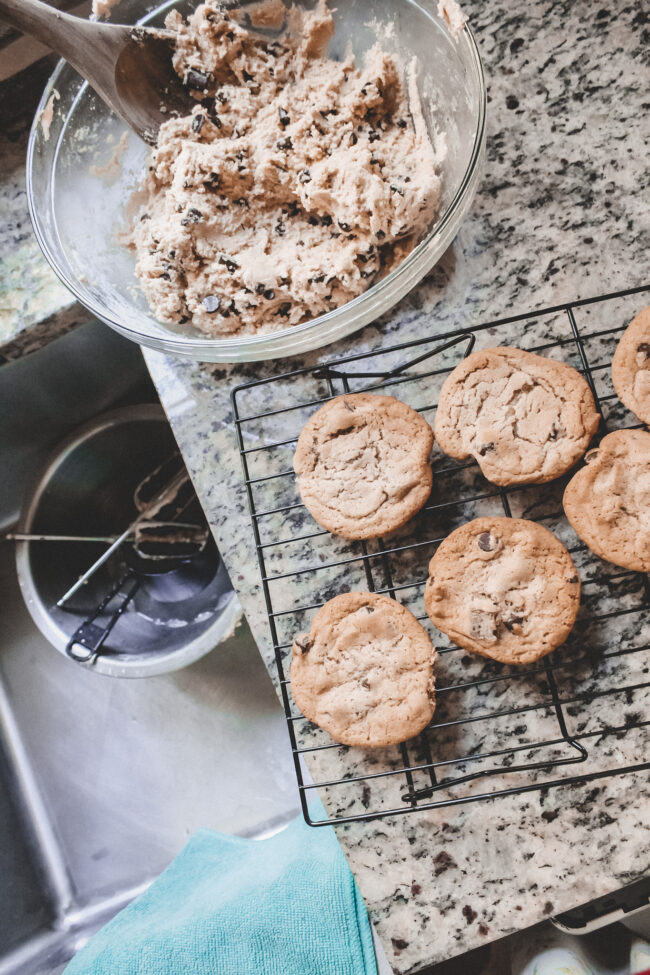 Chocolate chip cookie recipe
You'll need:
1.5 cups all purpose flour
1 teaspoon baking soda
1/2 teaspoon salt
1/2 cup room temp unsalted butter (use salted if you want them just a little extra salty) – this one is important! Make sure the butter is ROOM TEMP. I typically set it out the night before I bake.
1/2 cup firmly packed light brown sugar
6 tablespoons granulated sugar
1 large egg
1 teaspoon vanilla extract
2 cups of chocolate chips (*I actually have cut this down to 1 cup because I like them a little less chocolate-y, but you do you!!)
Directions:
Preheat oven to 350 degrees
In medium bowl, sift together flour, baking soda, and salt
In another bowl, beat together butter and sugars for two minutes with electric mixer at medium speed until smooth. I like these glass bowls and this electric mixer
Add egg, vanilla, and mix on low
Slowly add flour mixture and mix until just incorporated. Do not overmix.
Add chocolate chips and stir with a wooden spoon
Bake for approximately 10 minutes or just until the cookies start to turn golden brown. Take them out and let them finish "baking" on the baking sheet for a few minutes and then transfer to a wire cooling rack. I've used these stackable cooling racks for years and love them, and these nonstick baking sheets are great.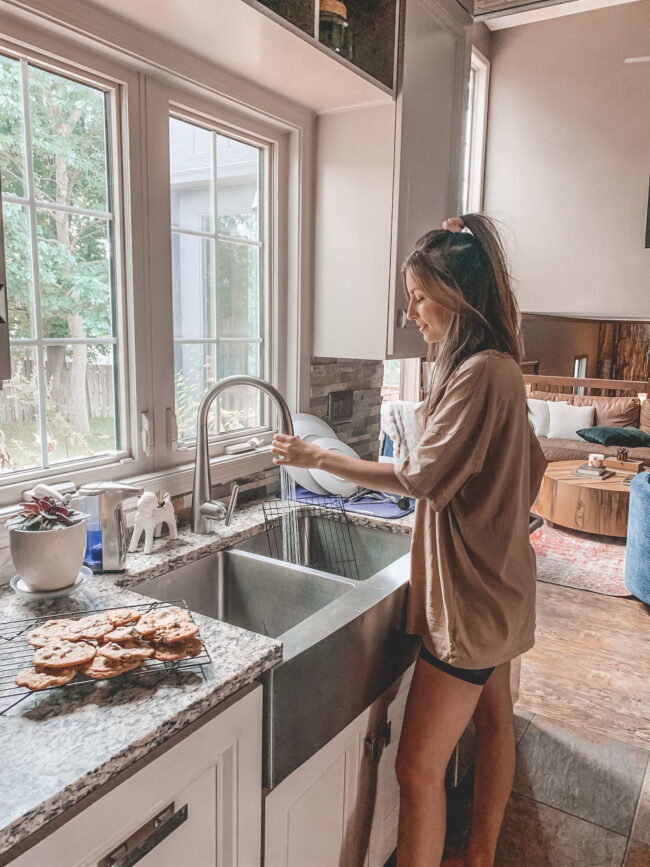 And here's a picture of this little cutie washing her feet off in the sink, just because. ;) Even she loves our new faucet!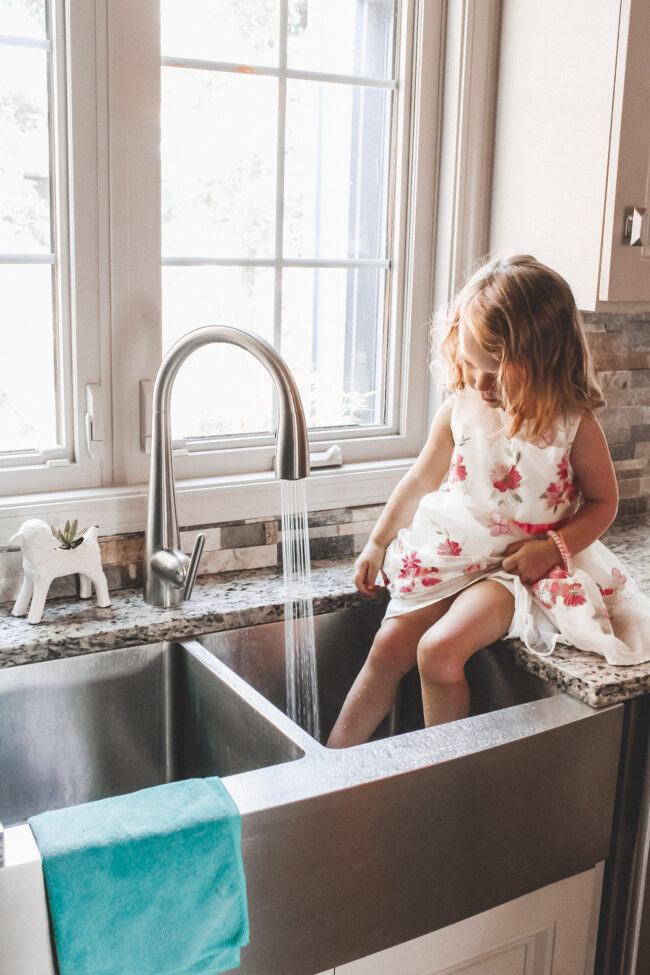 ————–
I hope you'll check out some of my other posts while you're here, too!
See my DIY projects and inspiration [here]
Check out a home tour [here]
Check out some fashion posts [here]