Target is killing it with early-Fall fashion right now. I visited this past weekend and tried on SO MANY CLOTHES. Luckily nobody was working at the fitting room desk, so I just strolled in with my cart piled high  (no 6 limit max!) and tried everything on. You guys seem to love these types of posts – please let me know if there are any other stores you would like to see a try-on from! I just did an Old Navy try-on session recently, too. You can see it [here].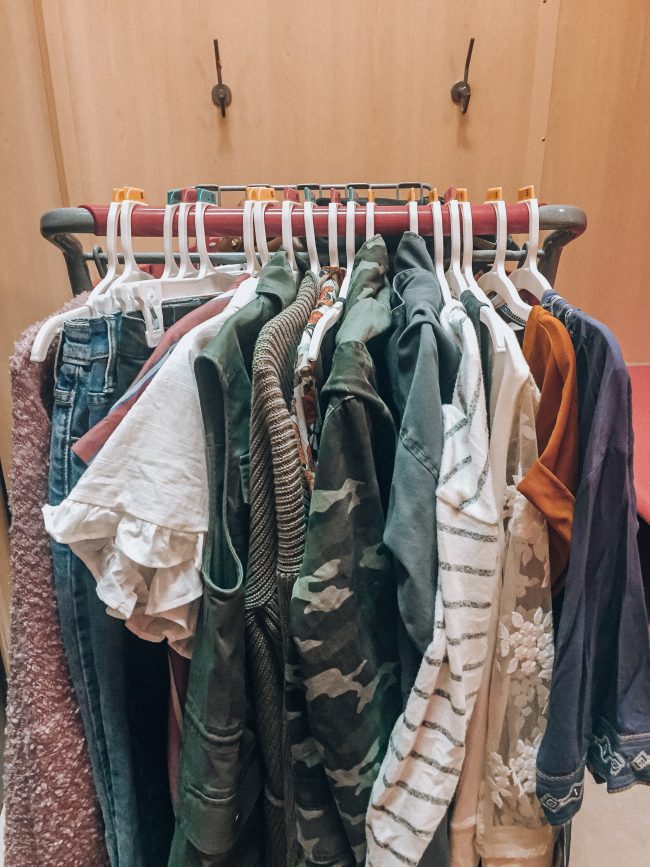 Told you I tried on a bunch (this isn't even all of it!)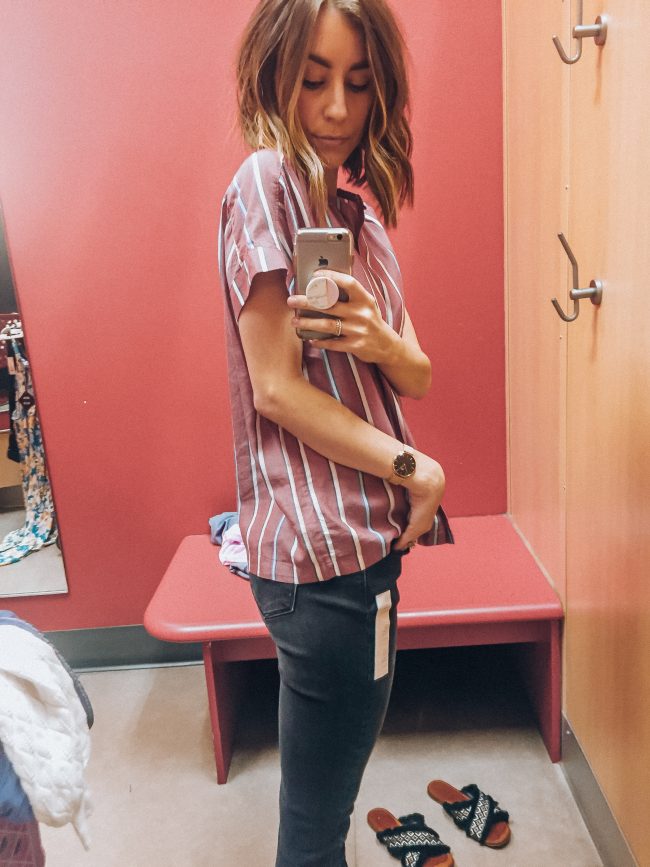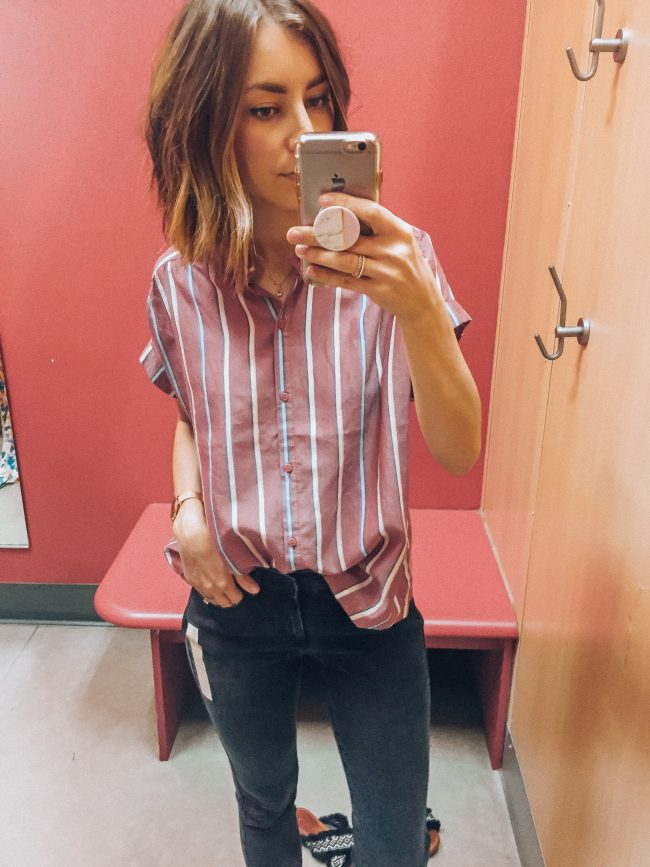 I loved, loved, loved this top and these vintage wash black jeans. In fact, I tried on several pairs of jeans and these were the only ones I even took photos in because I loved them so much. The others didn't come close!
The top would be cute with jeans + sandals now (or even shorts, depending on how warm it is where you live!) and with jeans + a cardigan or jacket later when the weather cools off.
[Buy top here] + [Buy jeans here]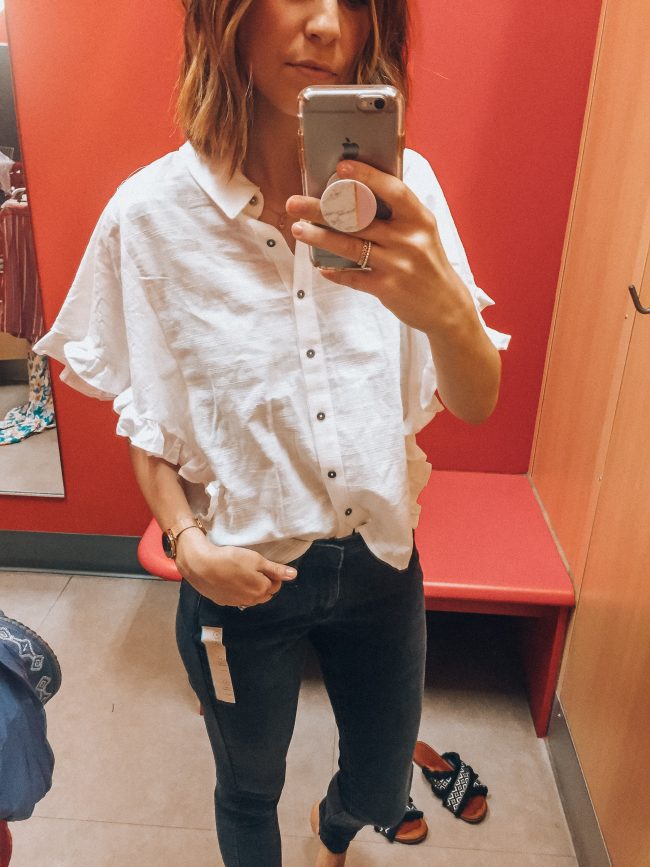 I wasn't sure about this top at first, but I think I really like it's uniqueness now. It might be a little funky paired with a jacket (because of the sleeves), but I'm not positive. Looks cute with a skinny jean!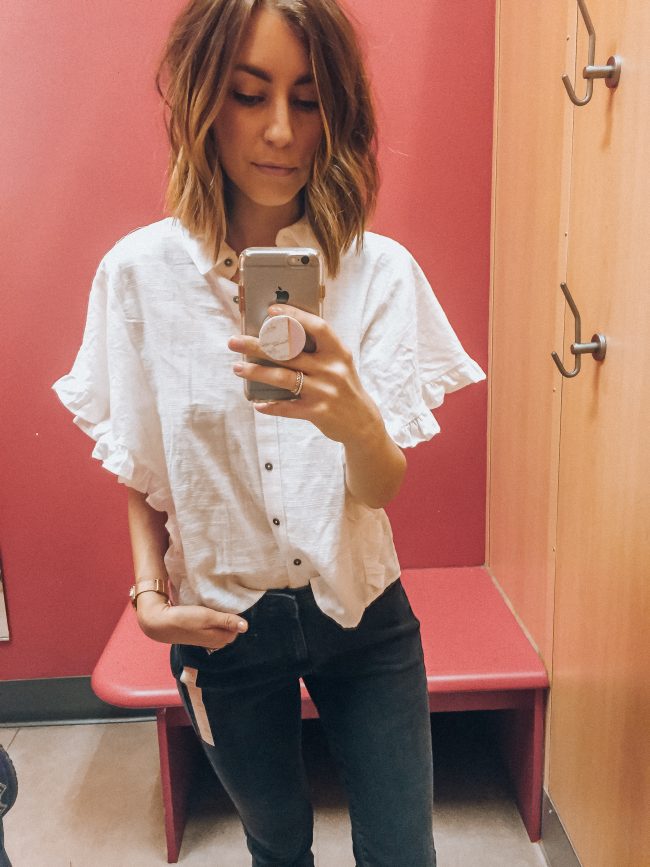 [Buy top here]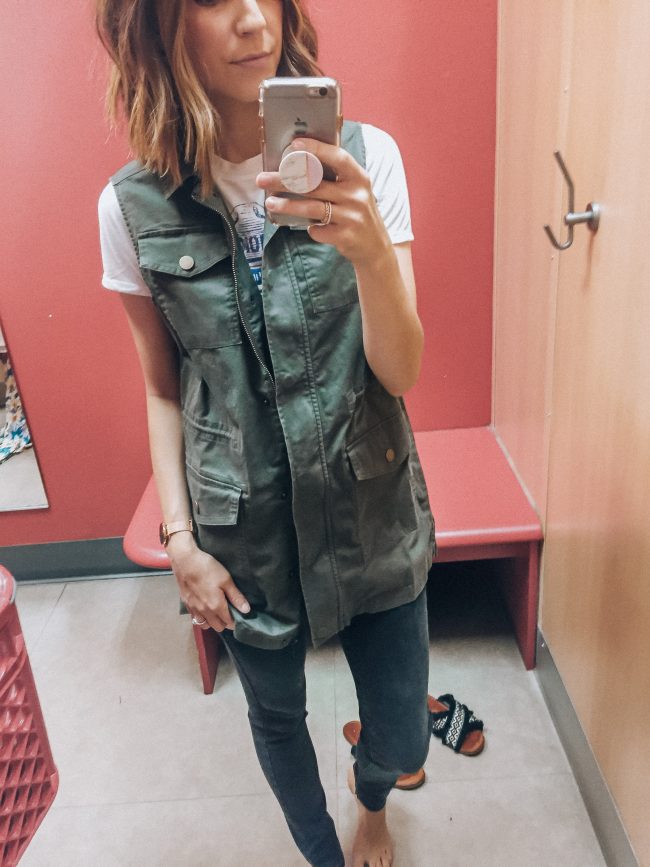 OBSESSED with this military vest! I grabbed a size small, but I'd probably size down. So, soooo cute with a tee (short sleeve or long sleeve!)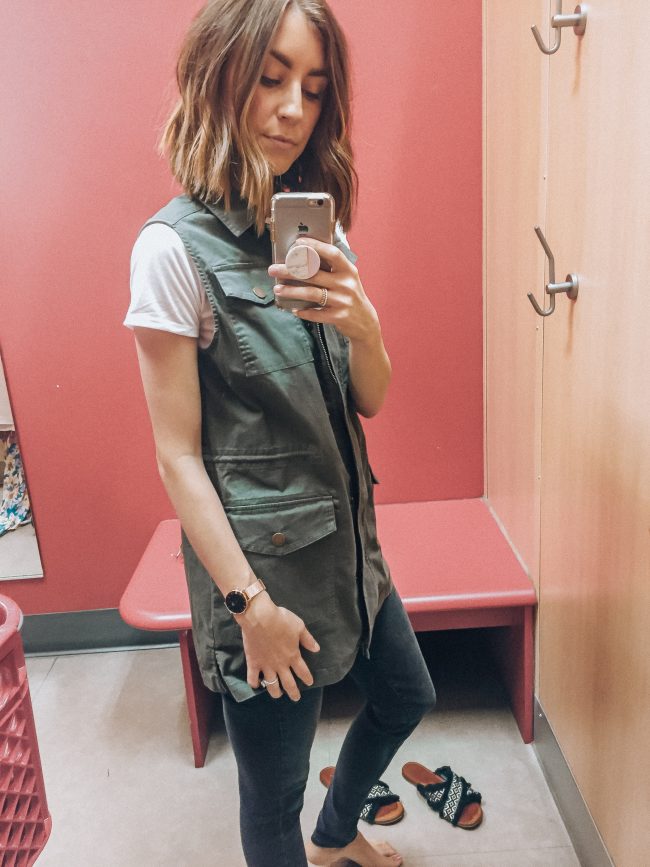 Can you tell I'm loving olive green right now? This cardigan is super cute and cozy and comes in several colors. The tee was one of my most favorite items, too.
I'm wearing a size medium in the cardigan because I waanted it to be a little slouchier. If you want it more fitted, I'd say go with your normal size.
I have a size small tee – it's pretty TTS but I think I'd actually size up just to allow for shrinking when you dry (and to make it a teensy bit more drapey).
Oh! My shoes are from Target, too – I already own them. You can buy there [here].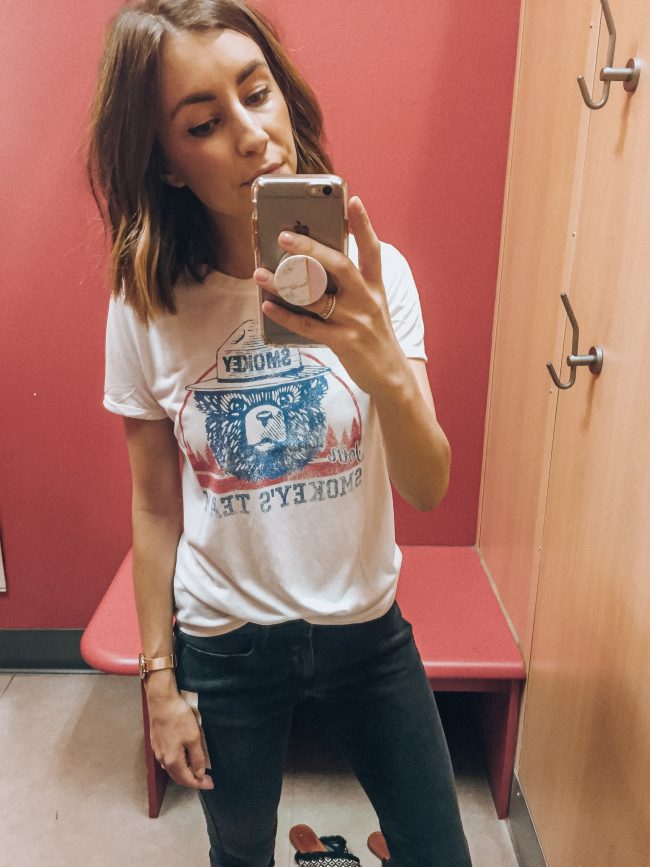 Here's the tee without a cardigan covering it! So cute, right?!
This tank is sooo pretty and feels more expensive than it is. It's actually sold out online (I'll update you when it comes back!) but I found a similar one [here].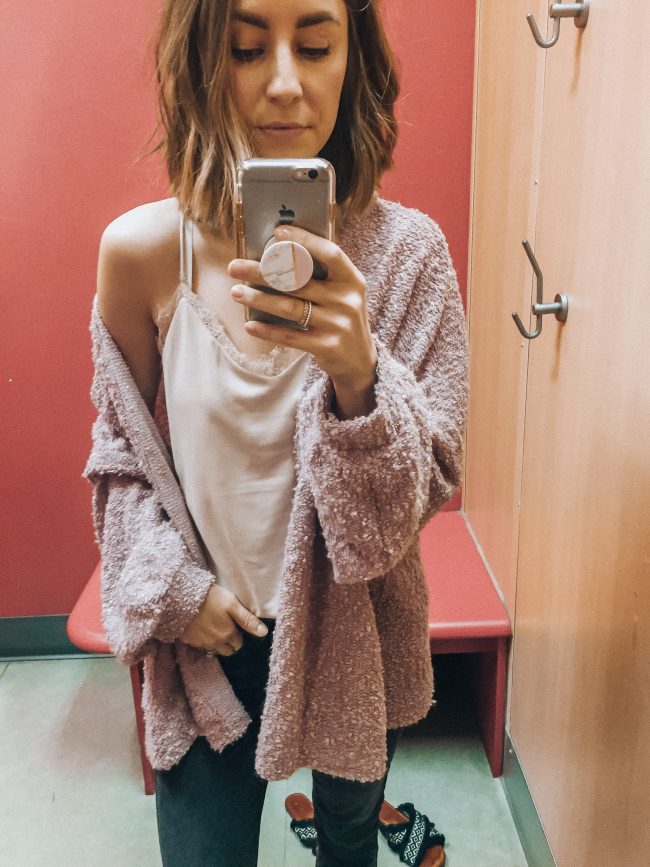 This cardigan was my #1 pick! I'm wearing a size M/L because I wanted it to be slouchy. It's a great dupe for a more expensive version I've seen floating around social media, too. ;)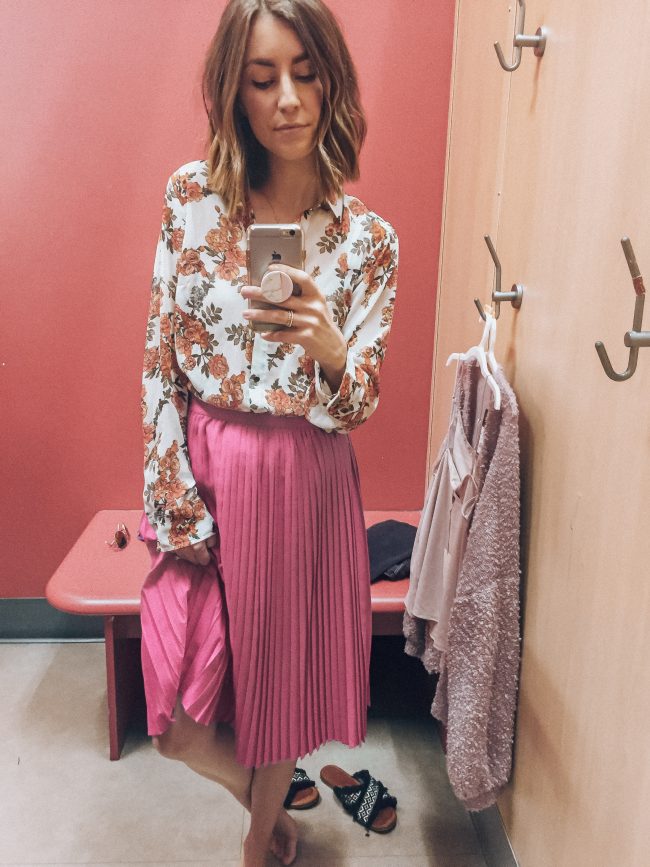 This outfit is so fun…and just the right amount of "funky" (do hot pink and orange even go together? I'm not sure, but I love it).
I sized down in the skirt so I could wear it around the small of my waist.
[Buy skirt here] + [Buy top here]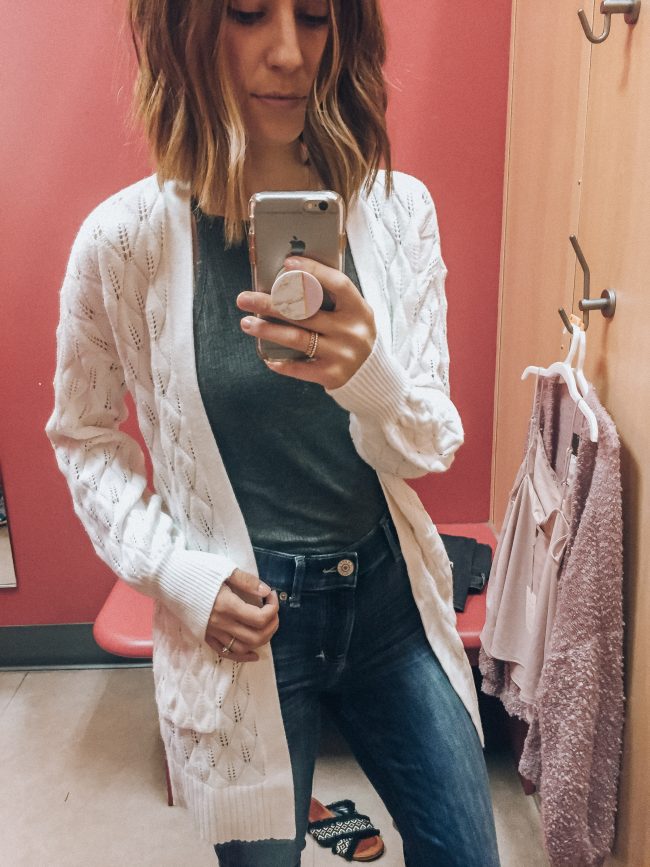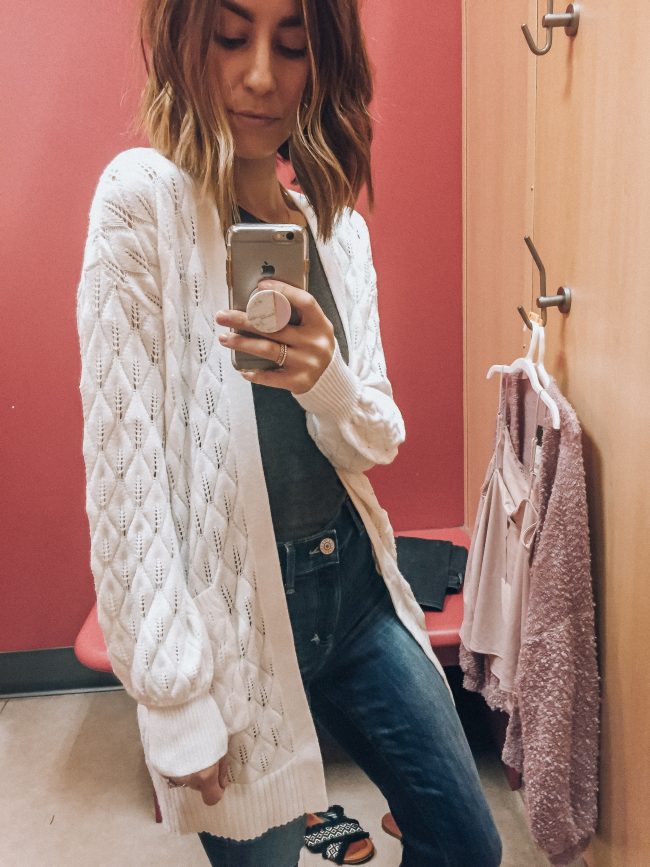 Well, I've officially tried my first bodysuit aaand…it was a little weird, I have to say. I felt sort of like I was wearing my 11 month old's clothes. If bodysuits are your thing, though, you can buy this one [here].
The cardigan was super cute (I loved the sleeves!).
I'm not finding it online – I'll let you know when it's back in stock! For now, here is a similar one.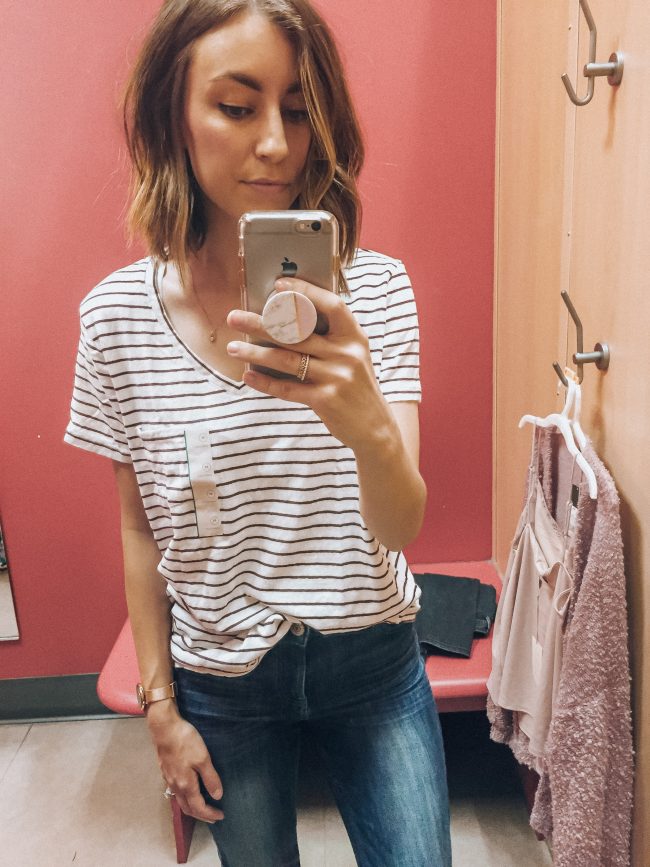 I always feel like cute v-neck tees are hard to find. This one is so perfect!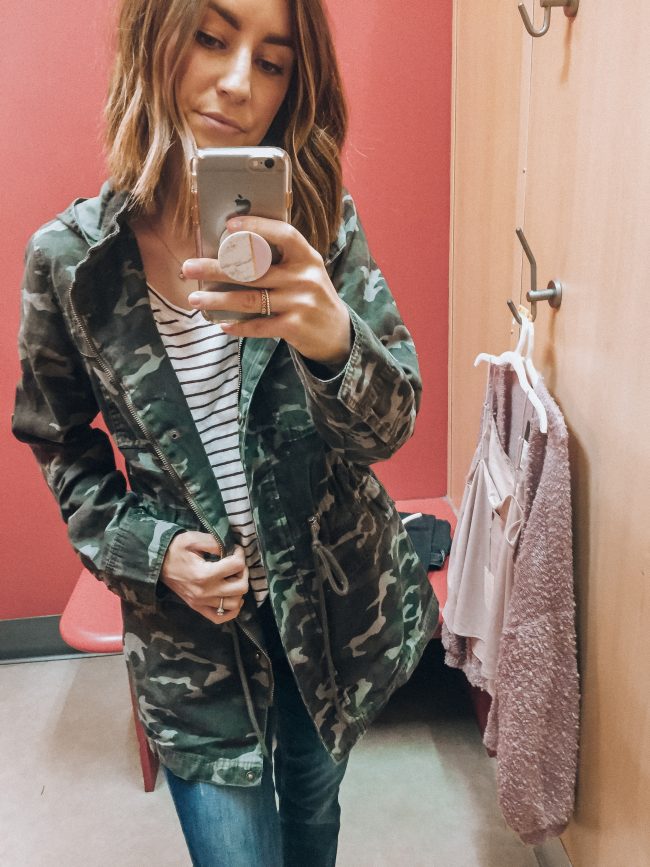 If you saw my Old Navy try-on, you saw the camo jacket that I tried on (and looooved). This is Target's version! It's cute, but fits big so I would definitely size down.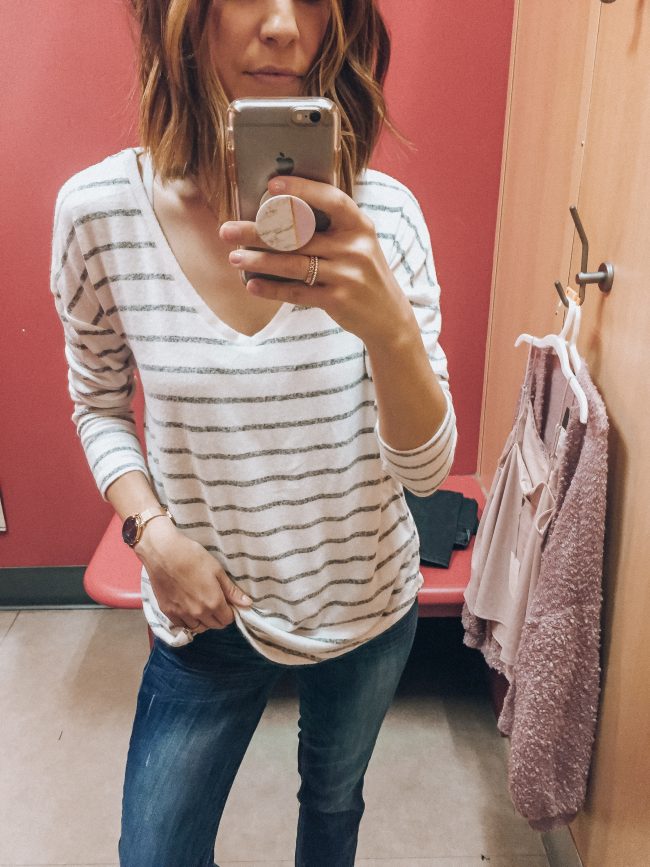 This striped long sleeve is CRAZY soft and the perfect length. The back of the shirt is even cute!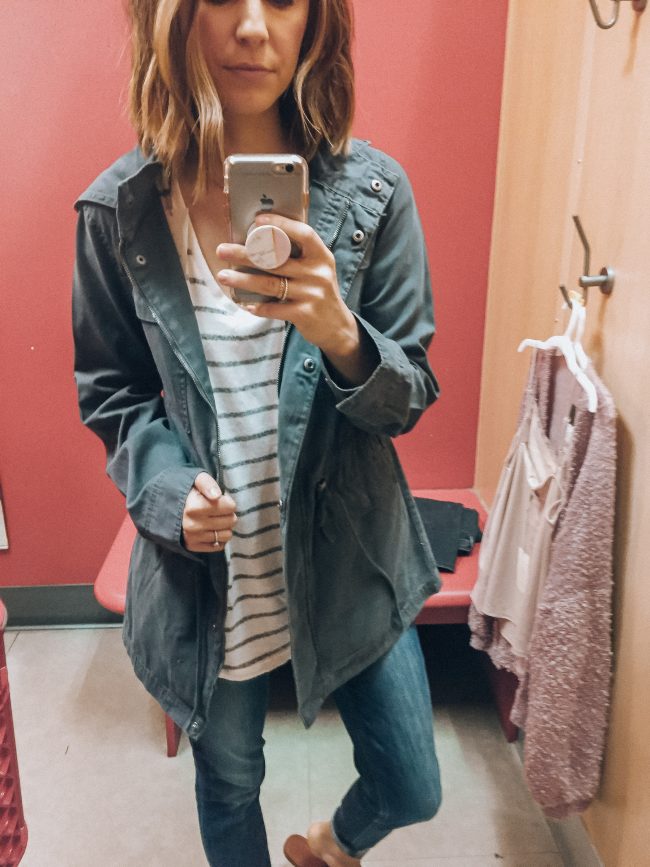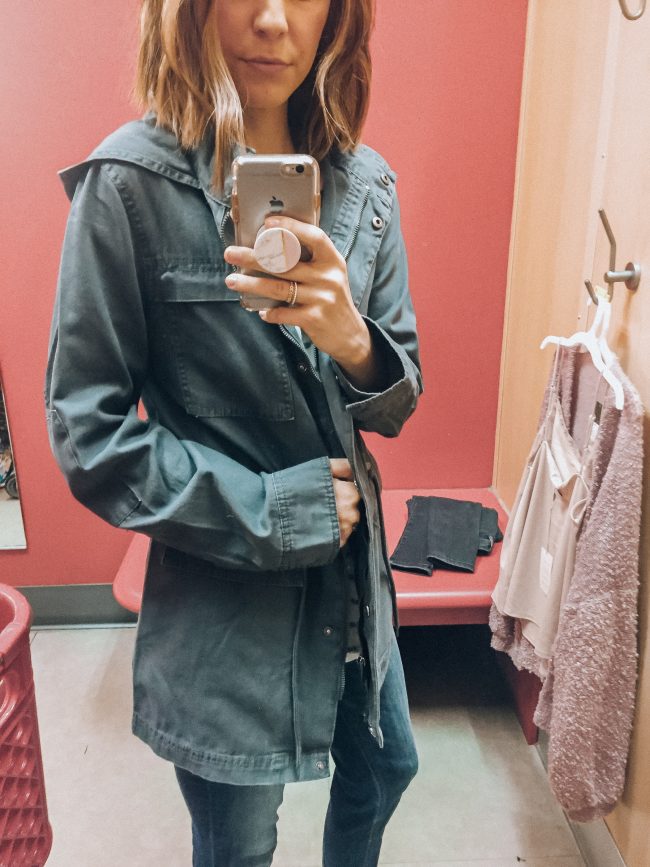 This gray-blue jacket is the same as the camo one – just a different color! ;) Again, size down!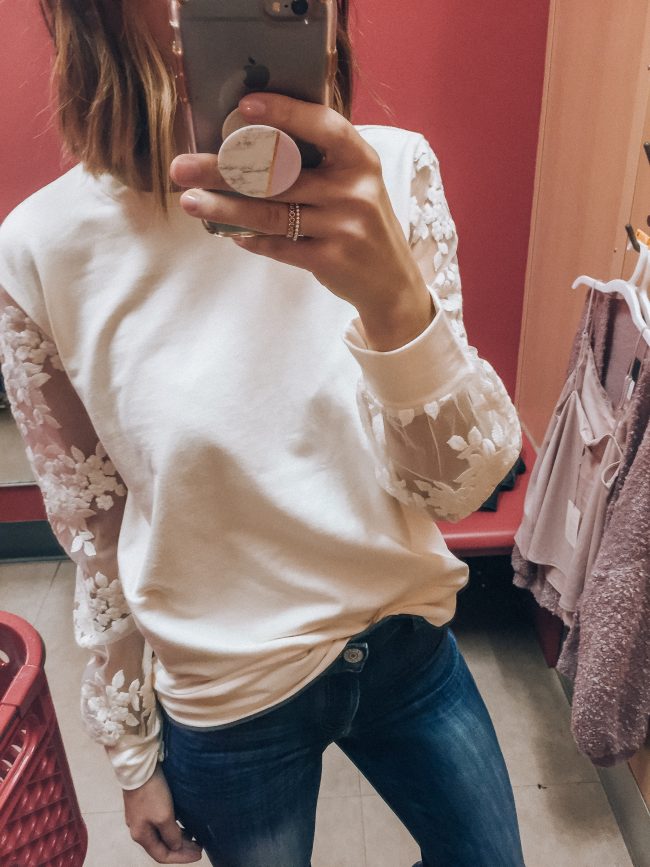 How cuuute is this sweatshirt?! I love that it's a prettied up version of a regular sweatshirt…but still super comfy.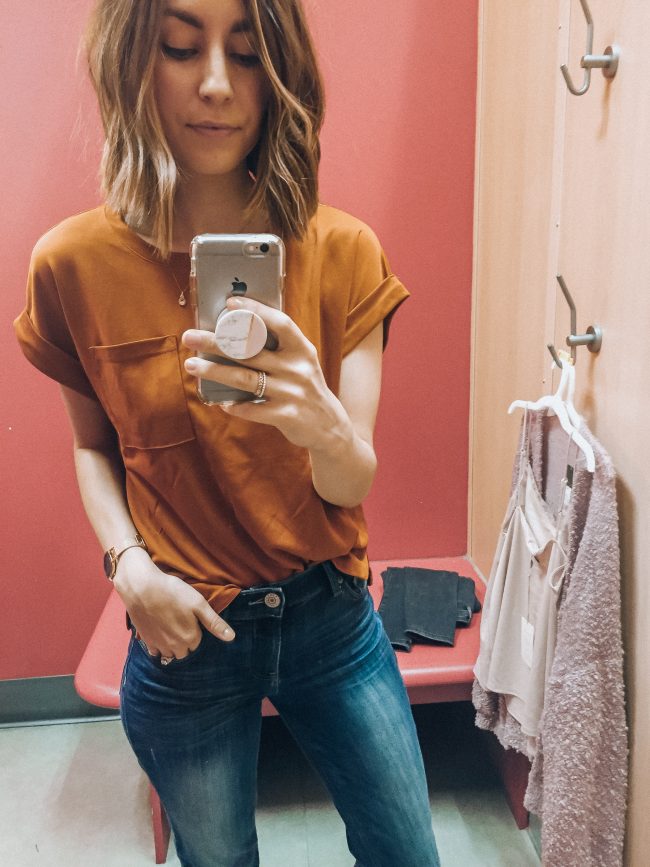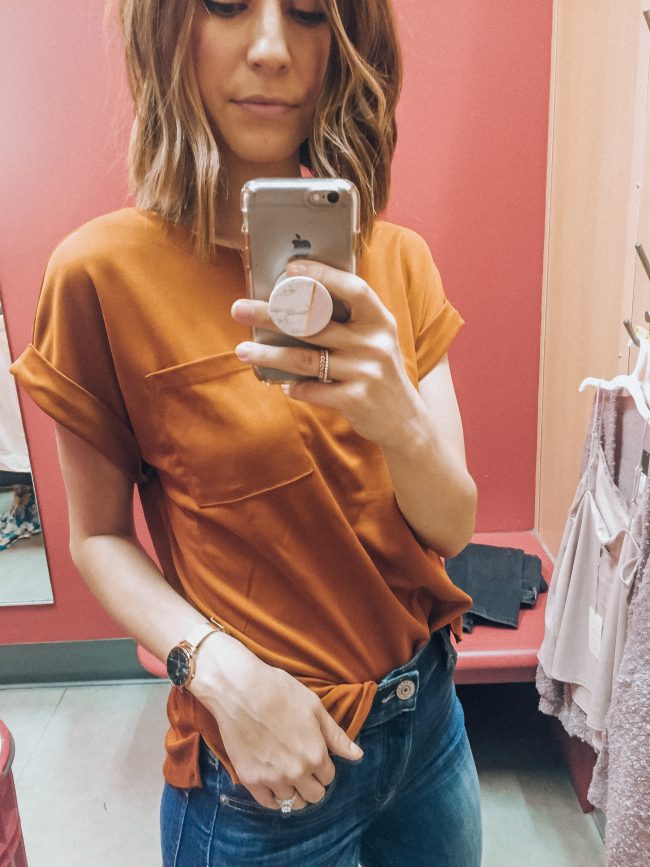 This tee is silky soft and the rust color is PERFECT for Fall!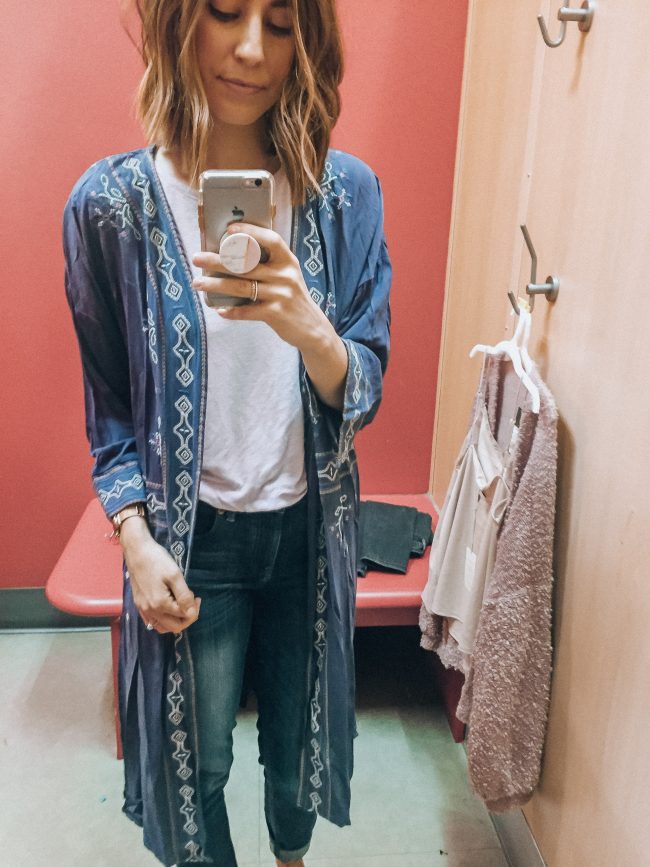 I loved this kimono – the color is really pretty and it would make a great Fall transition piece.
What's on your Fall shopping list?! Is there anywhere else you would like to see me try on? Let me know in the comments!