The Best of Target's "A New Day" Line: In-Store Try On
This post may contain affiliate links
The other day I made my first trip to Target with two babies…and managed to try on ONE sweater, so basically it was a huge success. I mean, shopping with an almost two year old and a newborn AT THE SAME TIME ain't for the faint of heart, you guys. So trying on an article of clothing (albeit not in the dressing room, just over my tank top in the store) and getting a few groceries is a major success in my book. #momlife
But anyway, that sweater I tried on was from Target's new line, "A New Day." I was so impressed that I had to go back (with only the sleeping newborn in tow) and try on a trillion different tops and sweaters. I decided to share it here on the blog because I figured it might be useful for you guys…especially for you mamas who don't have much time to spare in the dressing room. This post is not sponsored…I just really was impressed with the new line and wanted to share!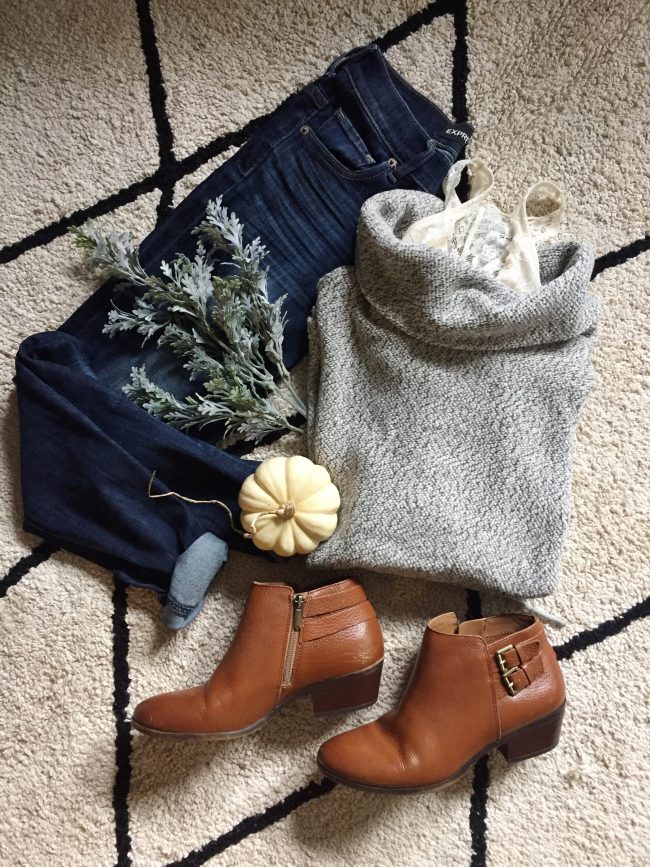 I'm going to link everything to make this post easily shoppable. They're affiliate links, which just means that if you decide to purchase something, I'll make a (very small) commission. It doesn't cost you anything extra.
I picked my top ten favorite items out of everything I tried on, and they're all shown below!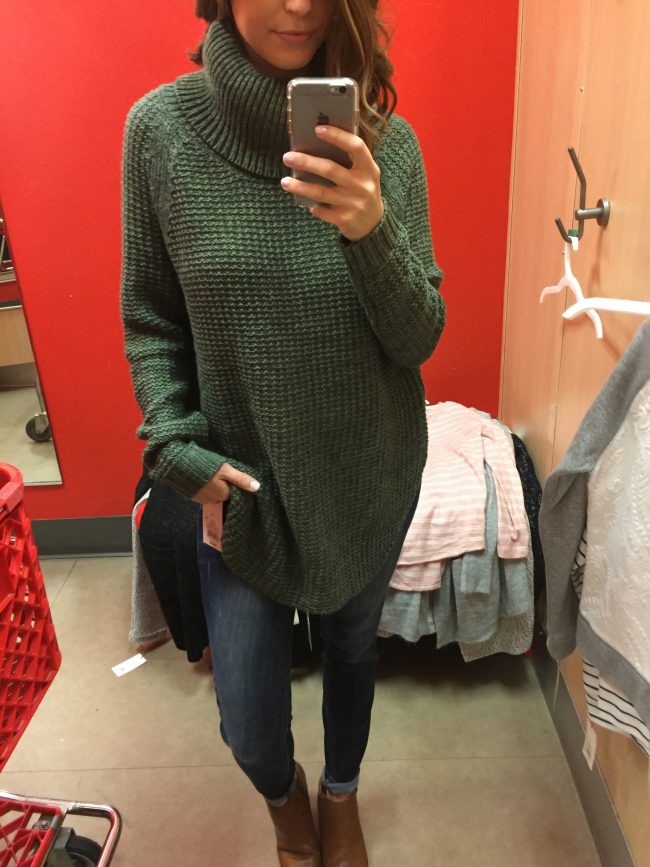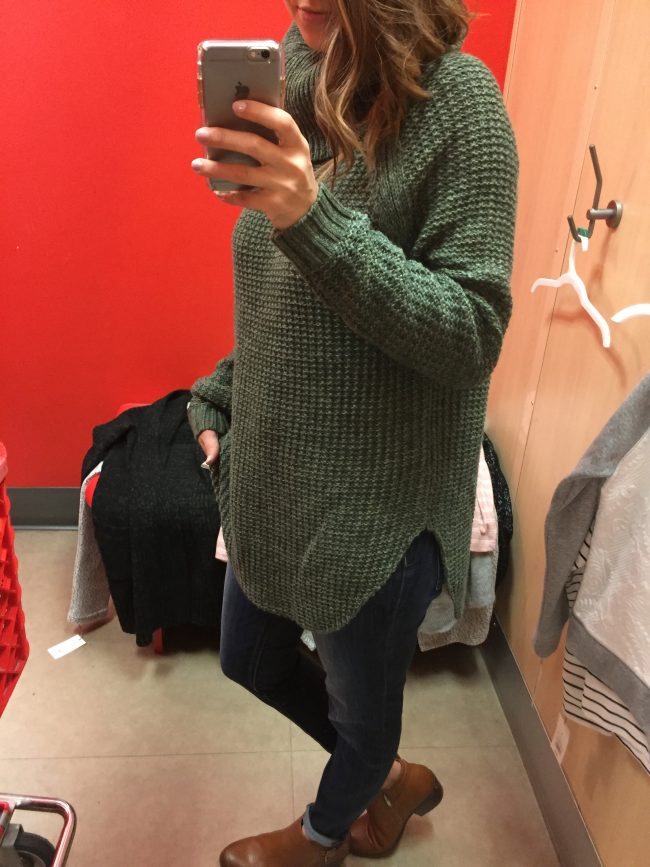 Cowl Neck Tunic // Jeans // Booties
*Jeans + booties are not from Target! They're a few years old but I've linked similar ones from the same brands! 
This sweater was one of my top five favorites. It's super cozy, the perfect length, and has cute side slits.
Wearing size medium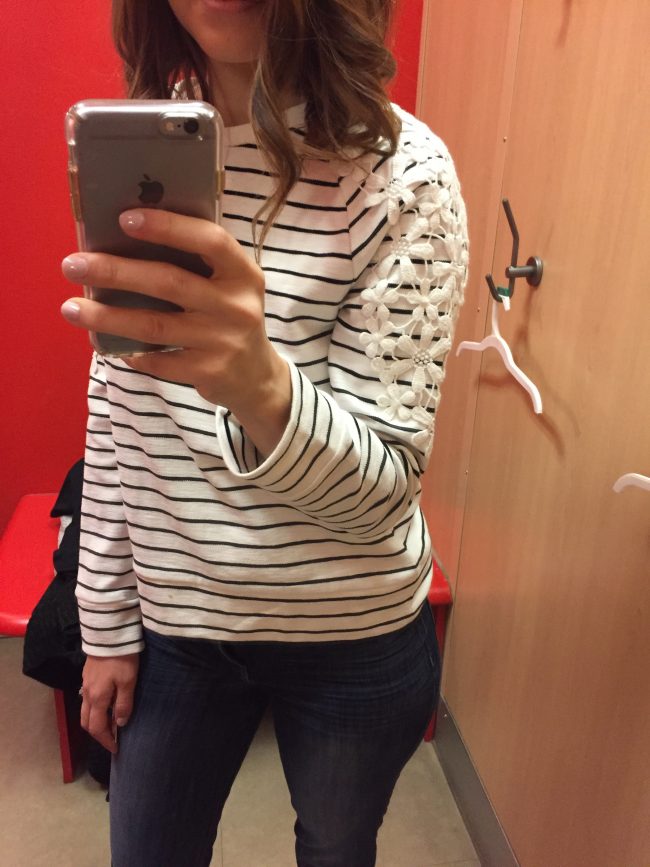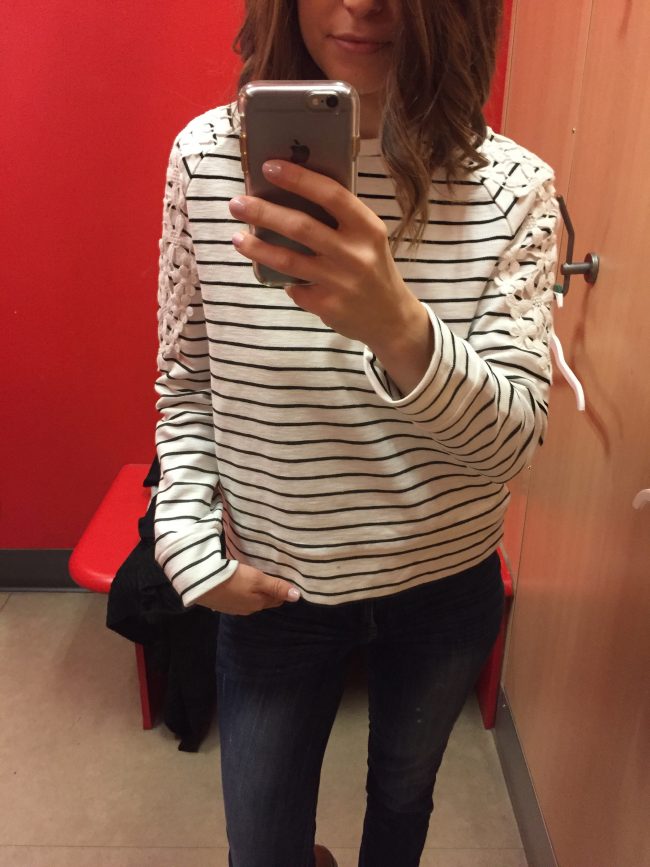 This pullover is a "fancier" version of a sweatshirt. It's really comfortable, has pretty detailing on the sleeves, and could be dressed up or down.
Wearing size small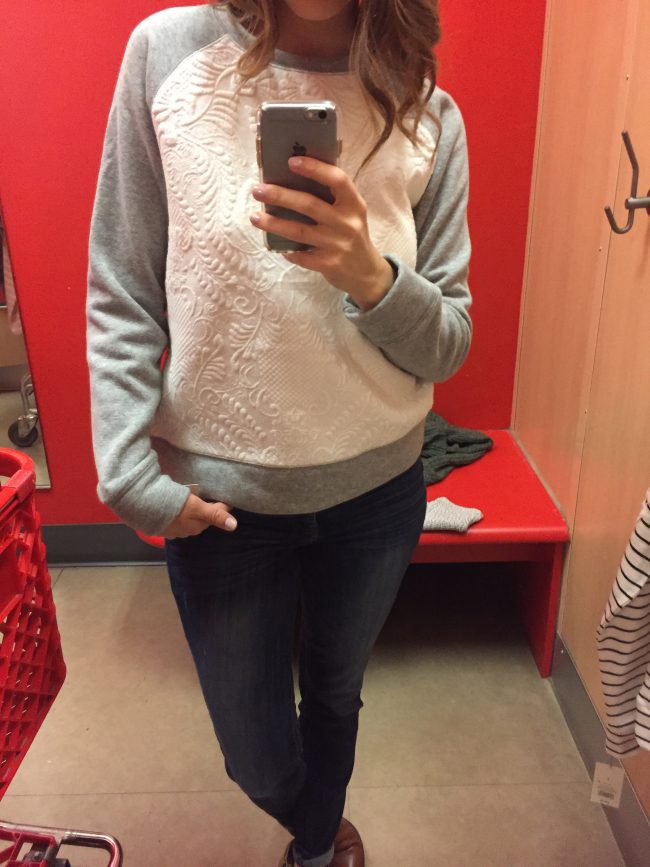 This pullover is the same style as the striped pullover above and so cute! Again, it could be dressed up or down.
Wearing size small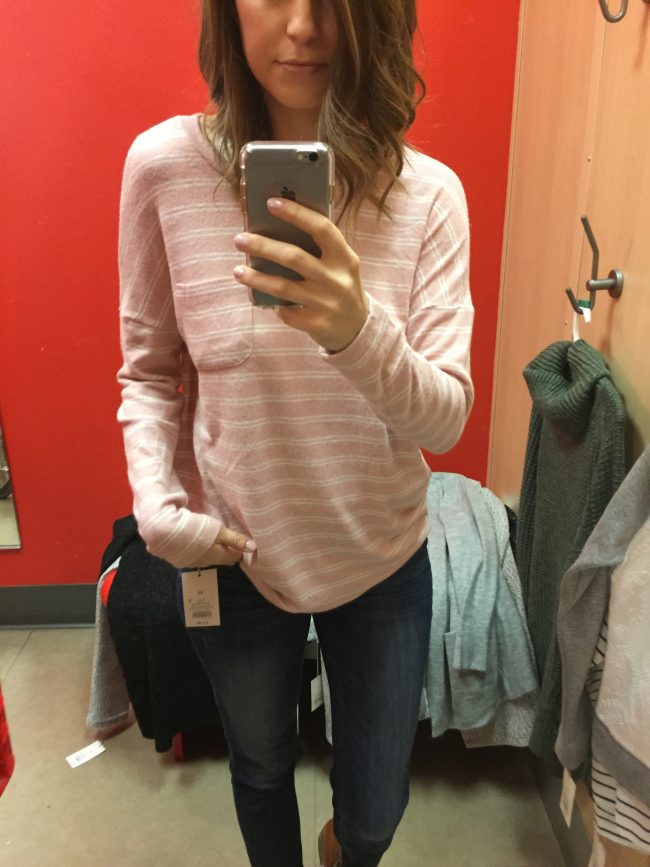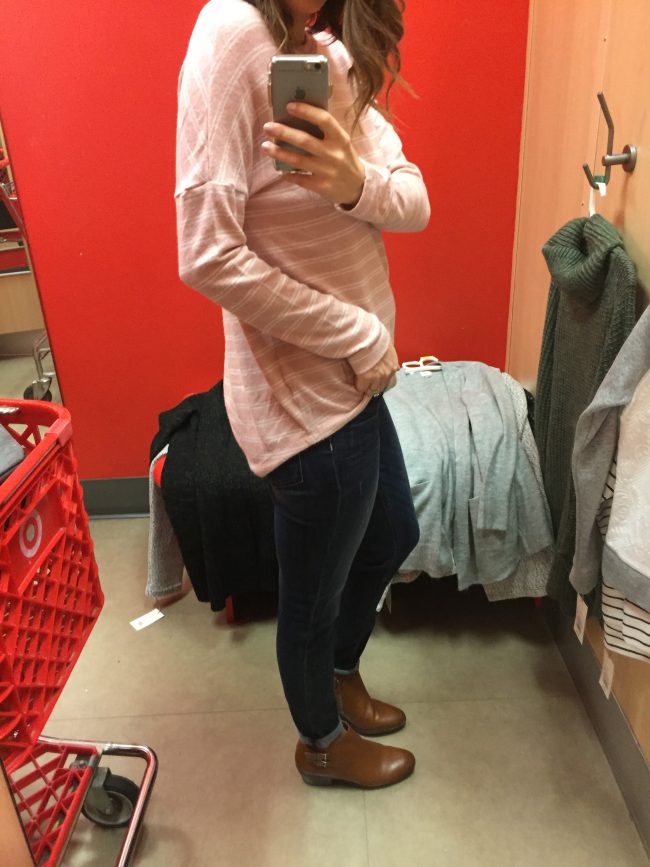 Striped long sleeve top
This top comes also comes in a gray and white version and is SO dang soft. It's a little longer in the back and the fit is casual and relaxed. I'm in love with it! It runs a little big so size down.
Wearing size extra small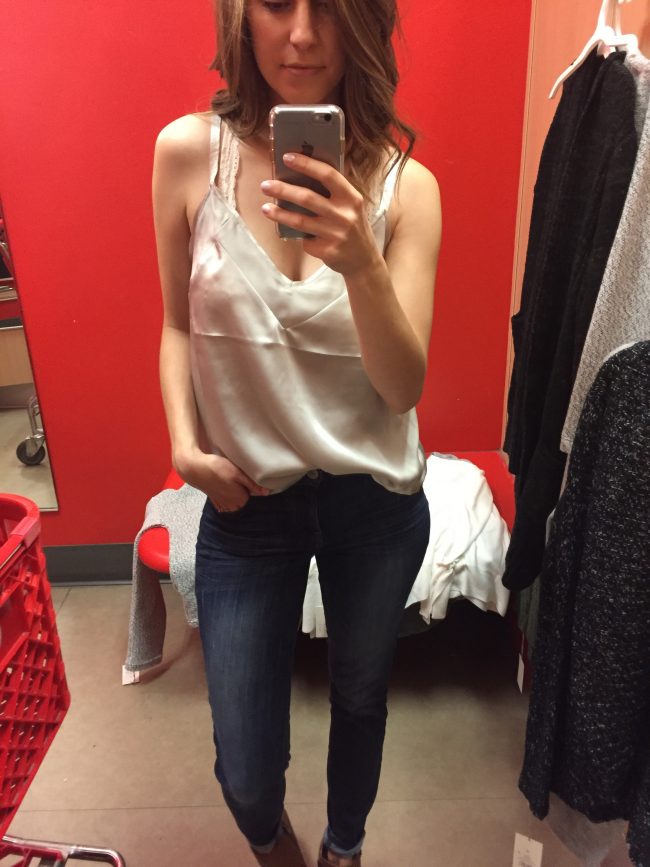 This cami is perfect for layering under cardigans. It comes in three colors (cream, black, and cherry) – I'm wearing cream but all three are really pretty!
Wearing size small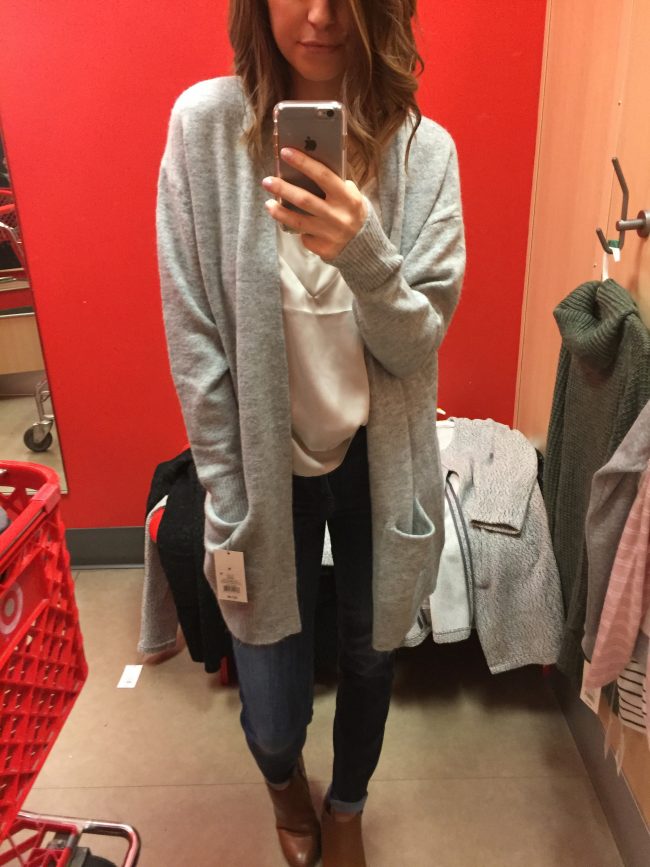 Cardigan
This cardigan was another one of my top five favorites! SO soft, SO comfortable. Plus it has pockets. The perfect cardigan. Seriously, you need this one.
Wearing size medium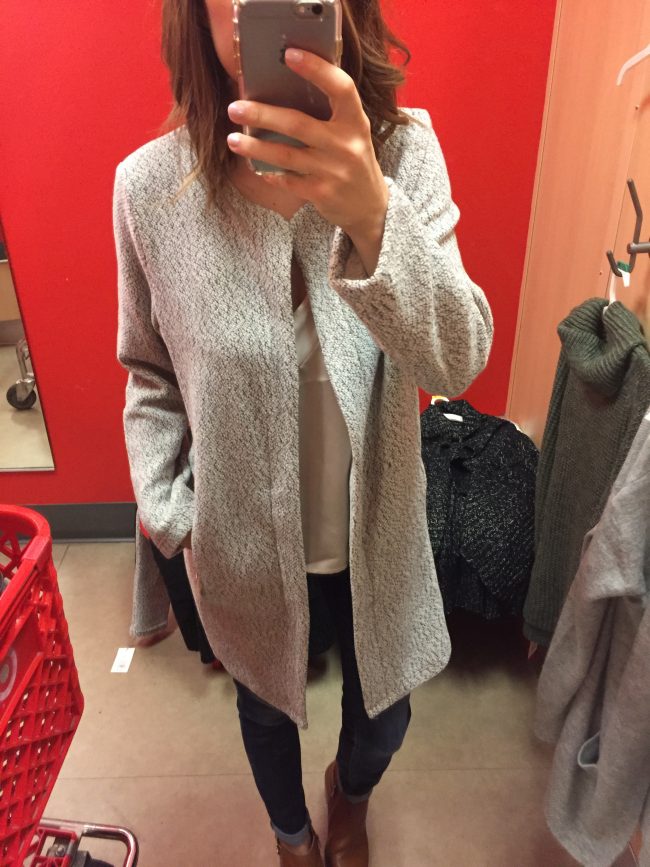 This coat is the perfect color – it would go well with almost anything! I love the simplicity of it.
Wearing size small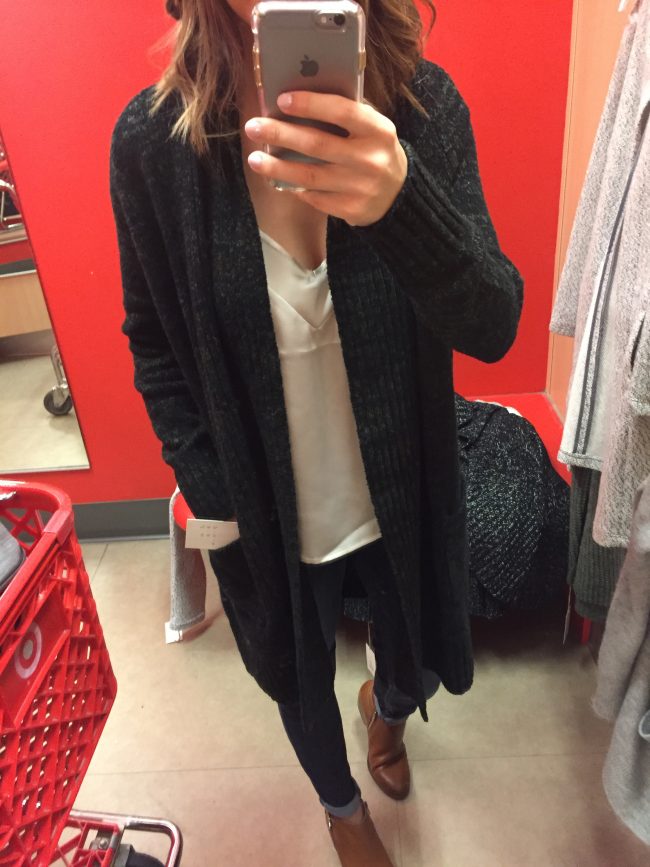 Chenille Cardigan
Another one of my top five faves!! This sweater comes in gray and green and I love how long it is. Could be worn with jeans or leggings, and is extremely soft. Target didn't have the gray version in my size, or I would have tried that on. I think I'll probably get the gray but loved the green too.
Wearing size small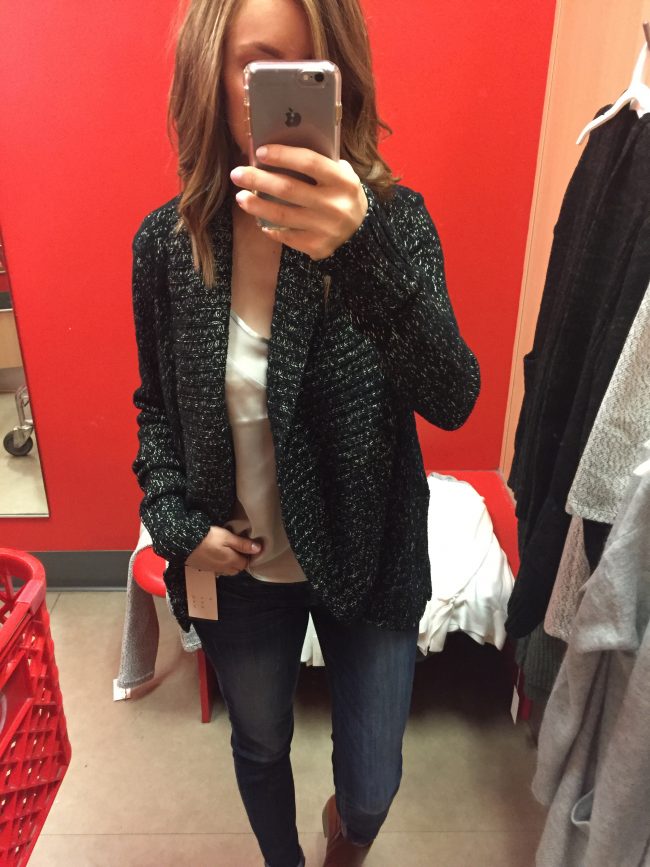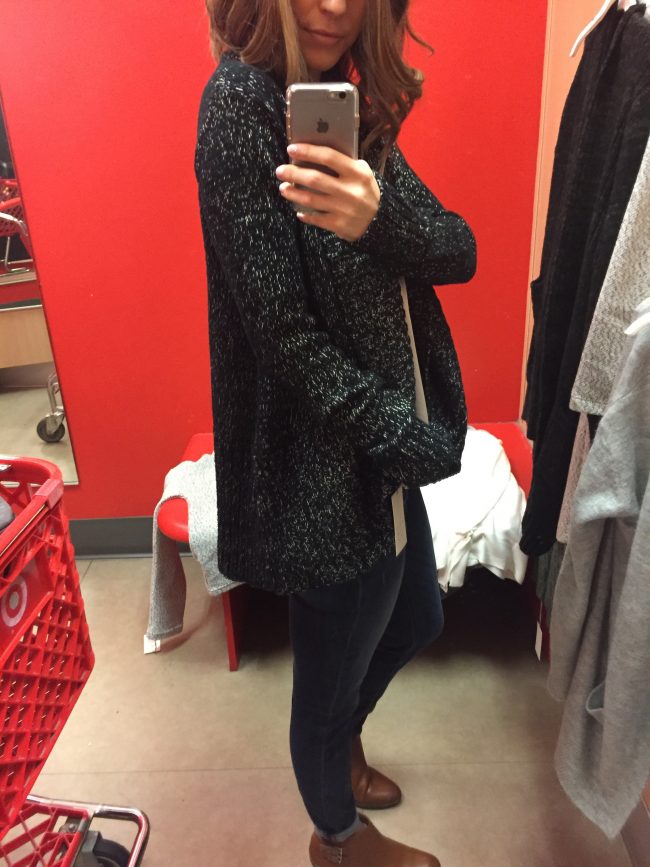 Cocoon Cardigan 
This cardigan was the first thing I picked up and is seriously so soft its crazy. I love how it drapes and is a little bit longer in the back. I'd say size up on this one if you want it to look looser/more relaxed.
Wearing size medium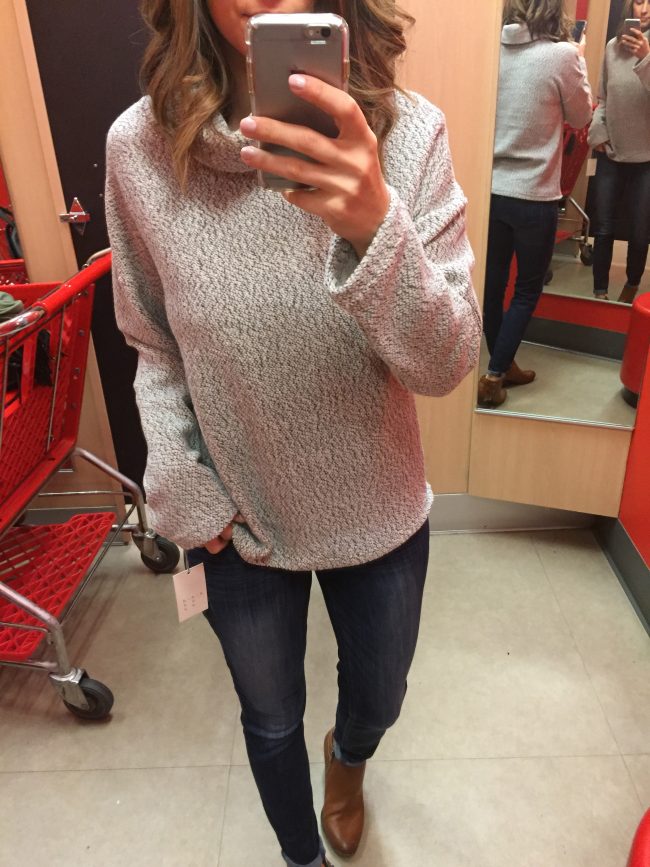 This sweater is number one on my favorites list!
Wearing size medium
Shop these items below:

Here are some additional favorites that I couldn't find in-store!

Let me know if you like this type of post and if you'd like to see anything else in particular!