I got my hair cut a week or so ago, and my hair has been looking and feeling SO shiny and healthy. I thought I'd share my current hair care routine and favorite products (it's all still the same as before my cut, just so much more effective on freshly cut hair!) for healthy shiny hair at HOME!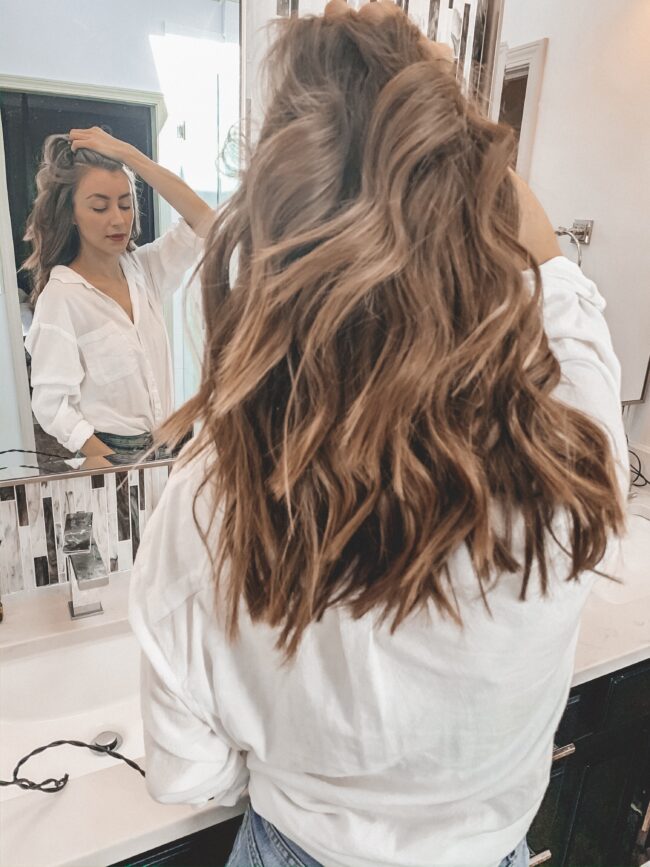 This post may contain affiliate links
————–
I hope you'll check out some of my other posts while you're here, too!
See my DIY projects and inspiration [here]
Check out a home tour [here]
Check out some more fashion posts [here]
It's always really important, in my opinion, to use quality hair care products. You can have the best curling iron or fancy new blow dryer…but if your hair isn't healthy to begin with, it's not going to look its best.
My biggest hair care tips:
Always, ALWAYS use a heat protectant. It will protect your hair from all the stress you put on it (blow dryers, a flat iron, curling iron, etc.)
A little product goes a long way. If you use good quality products, you typically don't need a ton of it to get the results you're looking for. Good quality products are typically a little more expensive, but you don't need as much of it per use!
If you can manage it, don't wash and style your hair every day! This will give your hair a bit of a break between all of the "stress" of styling. I typically only wash my hair about twice a week. If you're not able to do that, though, a good quality heat protectant is even more important.
Get regular trims. Chopping off those straggly dead ends drastically improves the look and health of your hair. Seriously, you'll be amazed at how much shinier your hair looks with a fresh cut!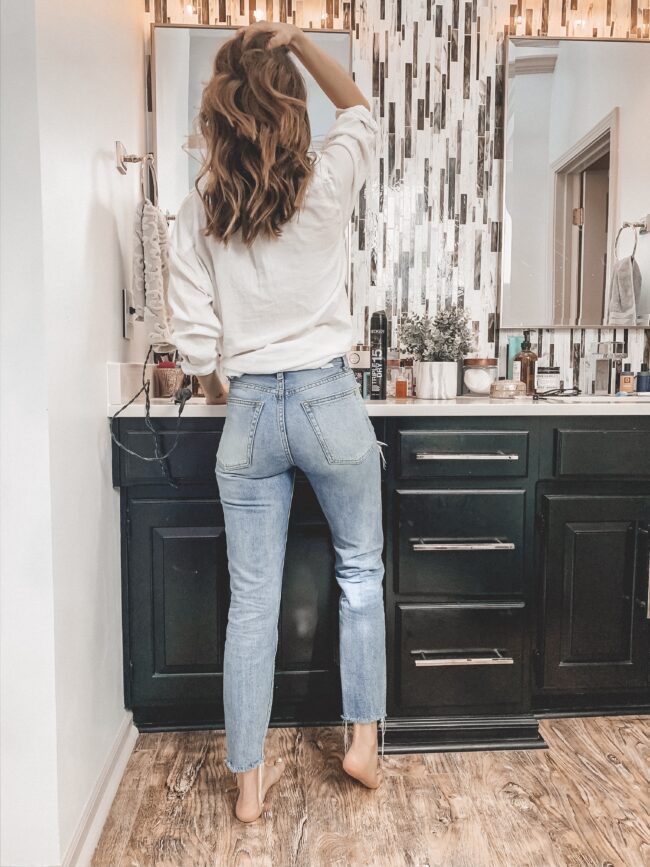 Okay so now, let's talk about my current hair care routine and favorite products: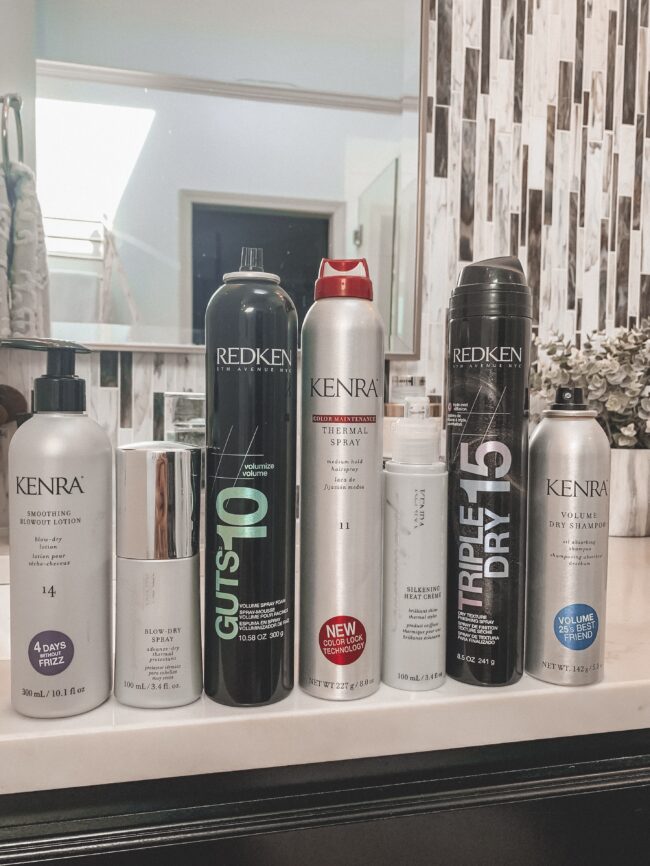 I always start with a good quality shampoo and conditioner. My current favorites are the Tea Tree shampoo and conditioner – they have peppermint and tea tree oil in them and do an awesome job of getting rid of the impurities in your hair.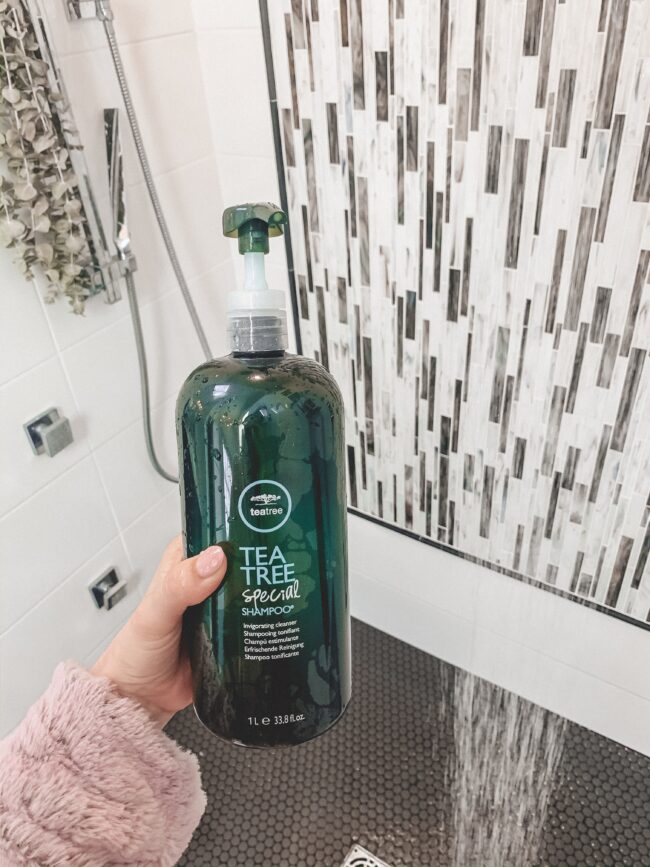 When I get out of the shower, I gently towel dry my hair and then wrap it up in the towel. I'll let it "dry" like that for about ten minutes while I start my makeup (or get ready for bed, depending on the time of day I'm washing my hair). I take the towel off, brush it out with my wet brush (perfect for detangling wet hair!) and then let it air dry for about another ten minutes. I like to give my hair a little bit of a chance to dry on its own without applying heat right away. Less heat = less damage.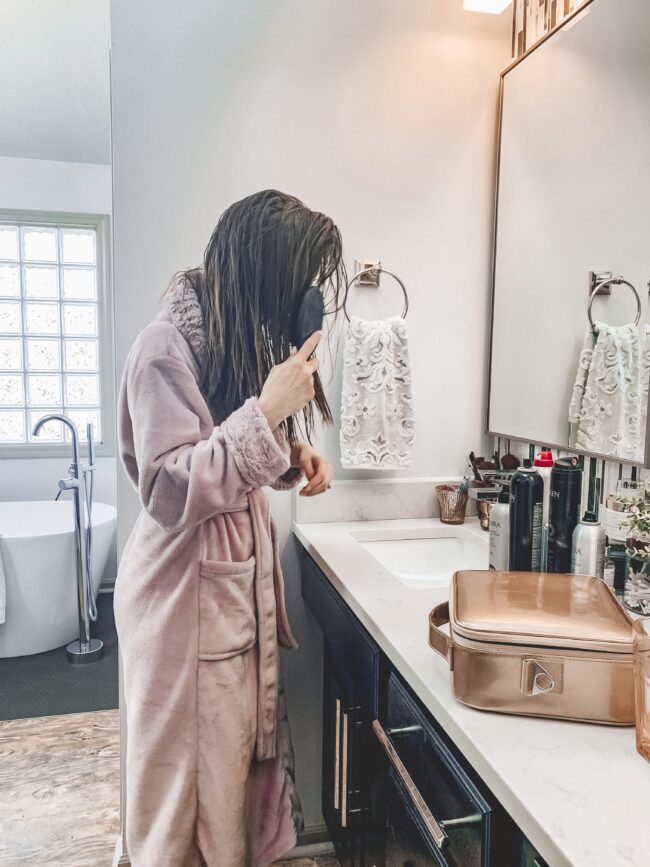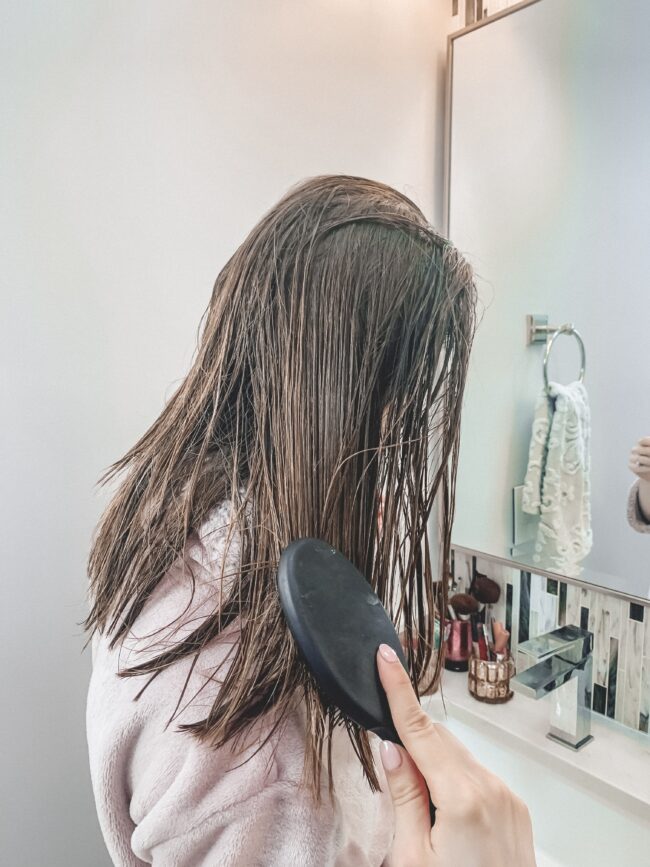 Next, I apply a heat protectant before blow drying. Heat protectants are your BFF (and if they aren't already, it's time to get acquainted!). They're the key to healthy shiny hair. I really love Kenra's smoothing blowout lotion OR the blow-dry spray. I use these interchangeably (but the spray smells REALLY good!).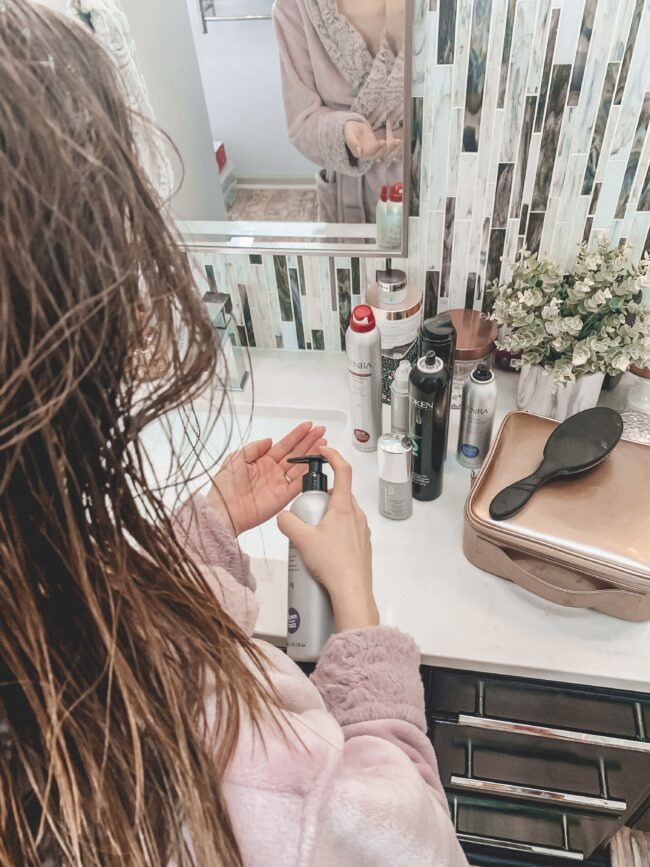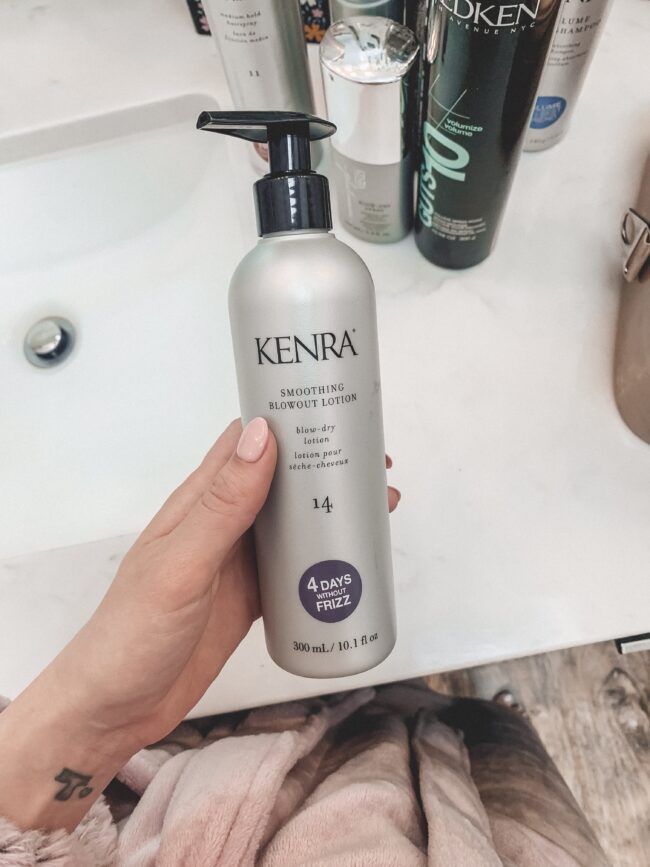 Buy smoothing blowout lotion here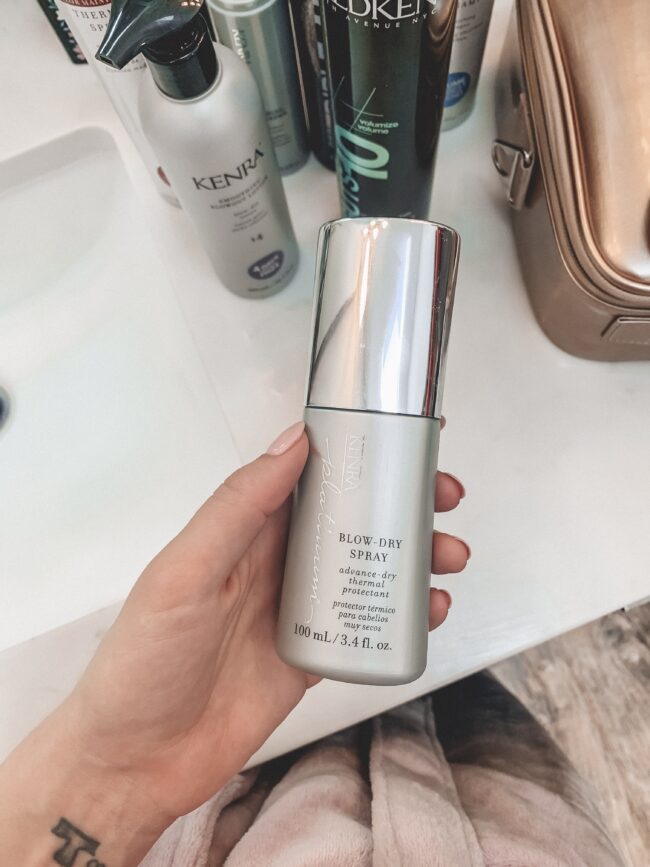 If I want a little extra volume, I add in some of the Guts 10 volume spray foam by Redken, concentrating at the roots.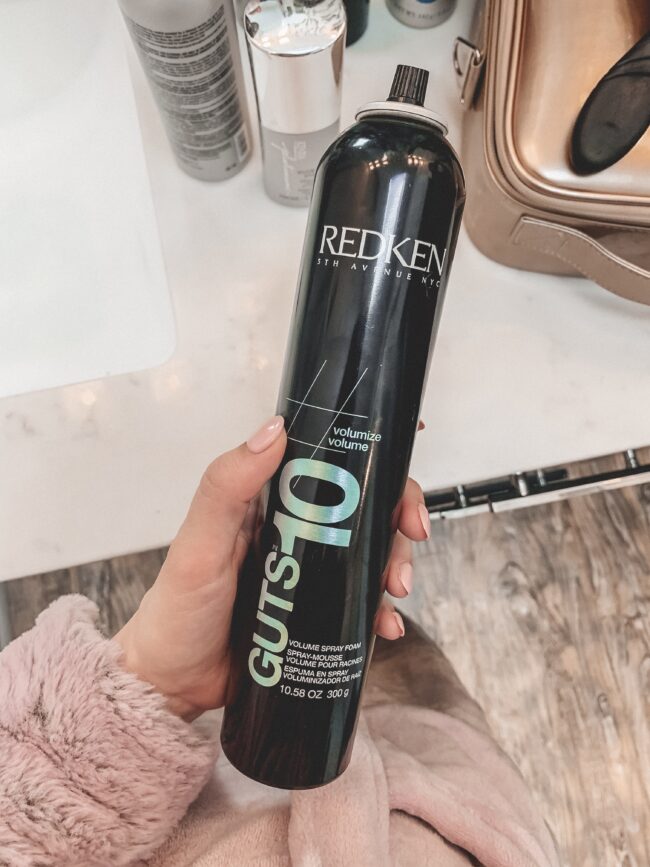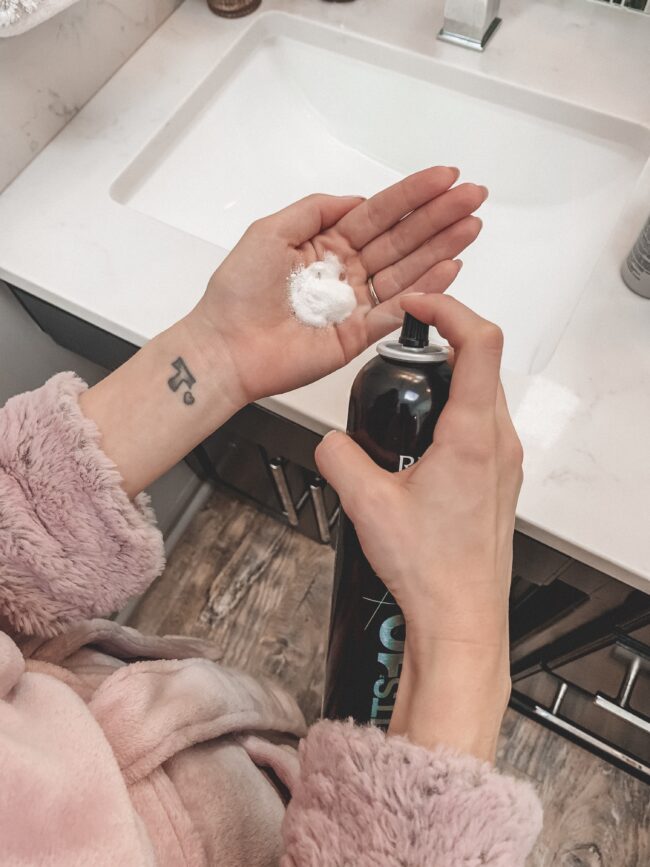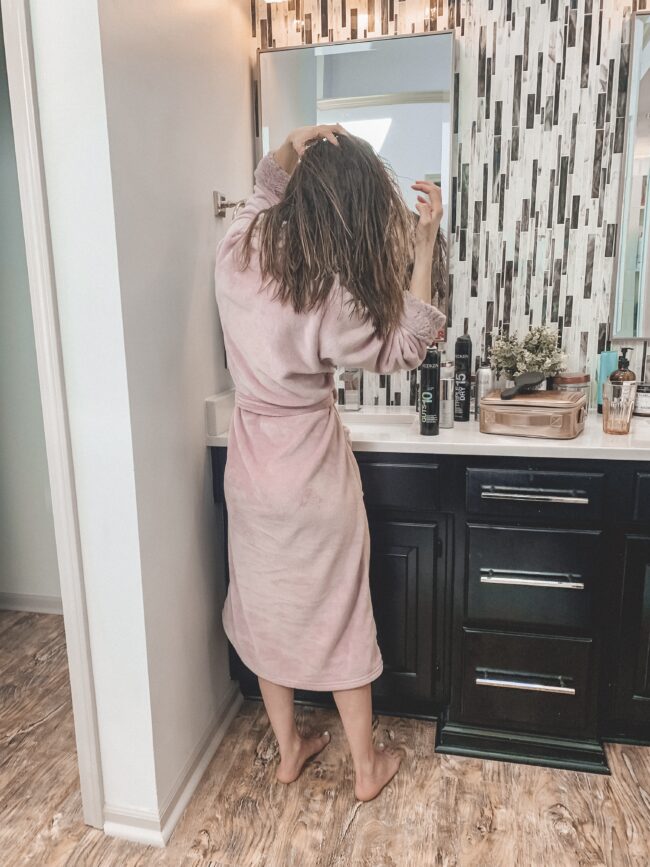 I've been using the Revlon one-step volumizer hair dryer for about a year and really love it! It does run pretty hot, so just be aware of that. I typically dry on "high" for just a couple minutes and then switch it to the "low" setting to finish. That way I'm able to focus on styling and smoothing without just blasting high heat at my hair.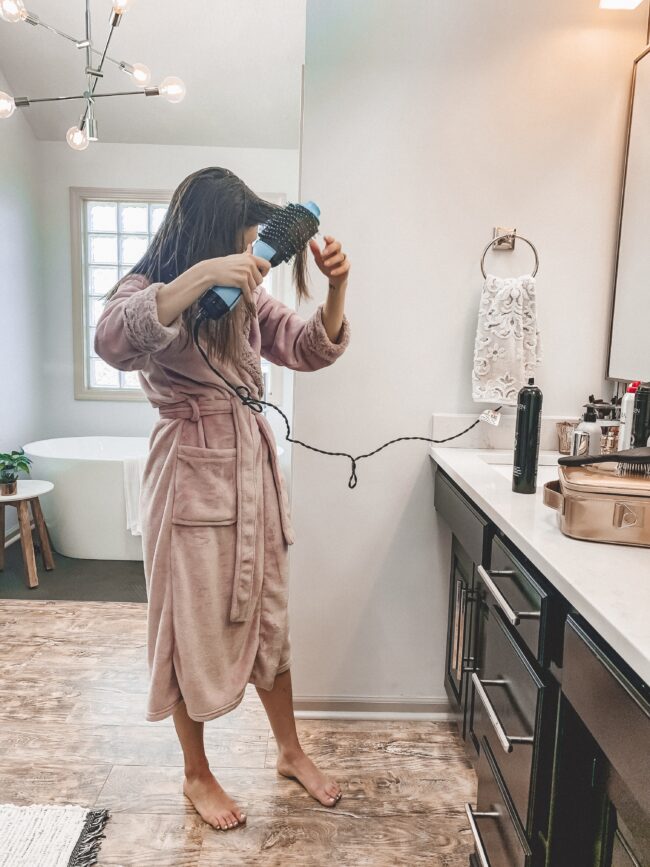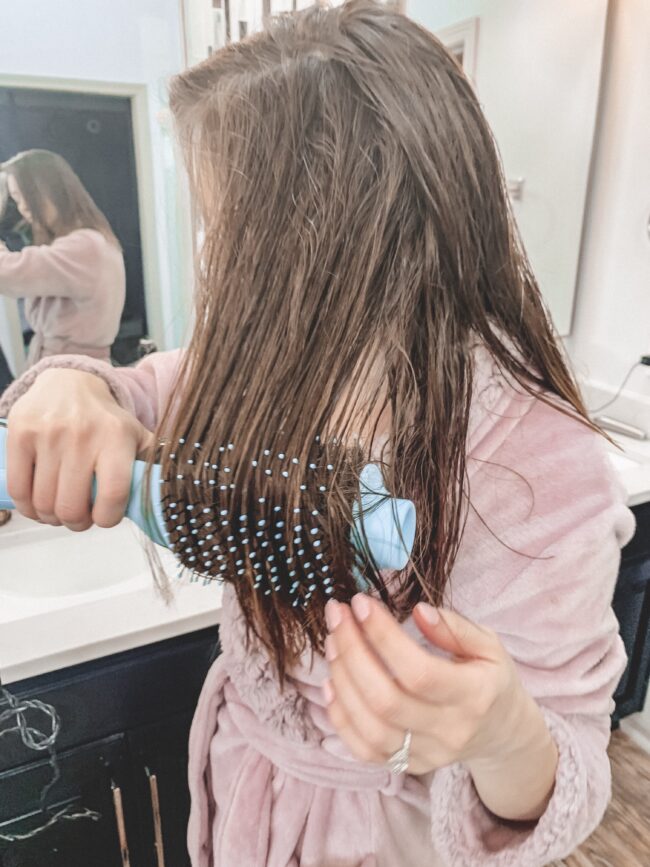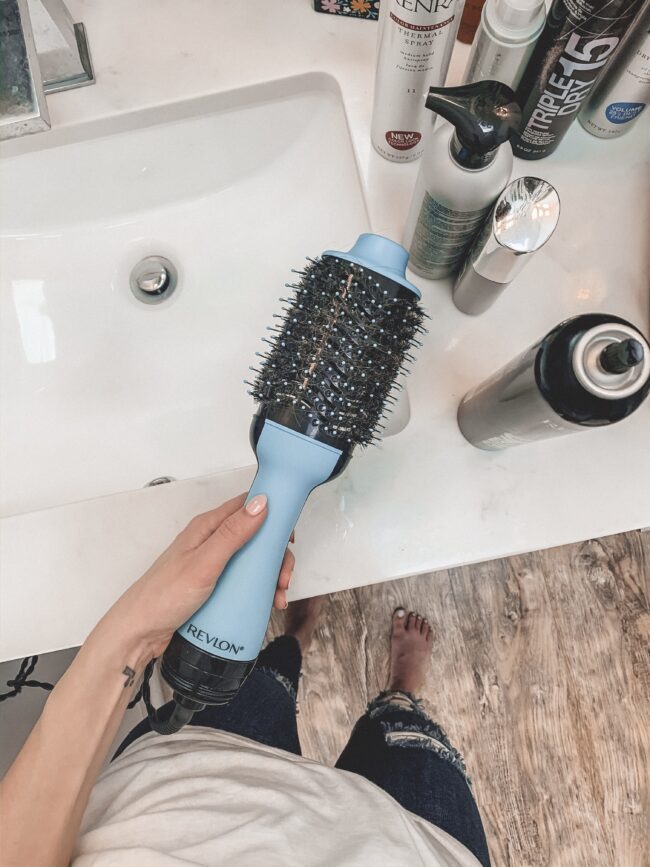 If I'm leaving my hair straight, that's typically the end of my hair care routine…unless I want to add in a little extra smoothing balm. In that case, I really love the Platinum luxe leave-in spray from Kenra.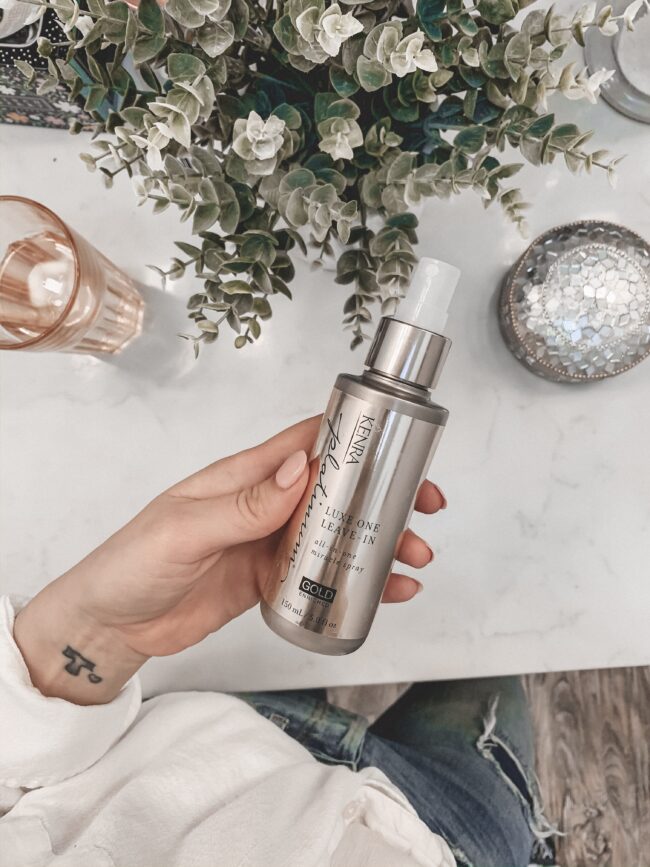 Buy platinum luxe leave-in spray here
If I'm going to curl my hair, I spray in Kenra's thermal spray – it's a medium hold hairspray that also acts as a heat protectant. I LOVE this stuff – it gives my hair a little extra grip before curling (freshly washed hair never curls as well, so adding in some hairspray helps it hold)…but it also aids in protecting it from heat. It also helps to protect color, if your hair is color treated!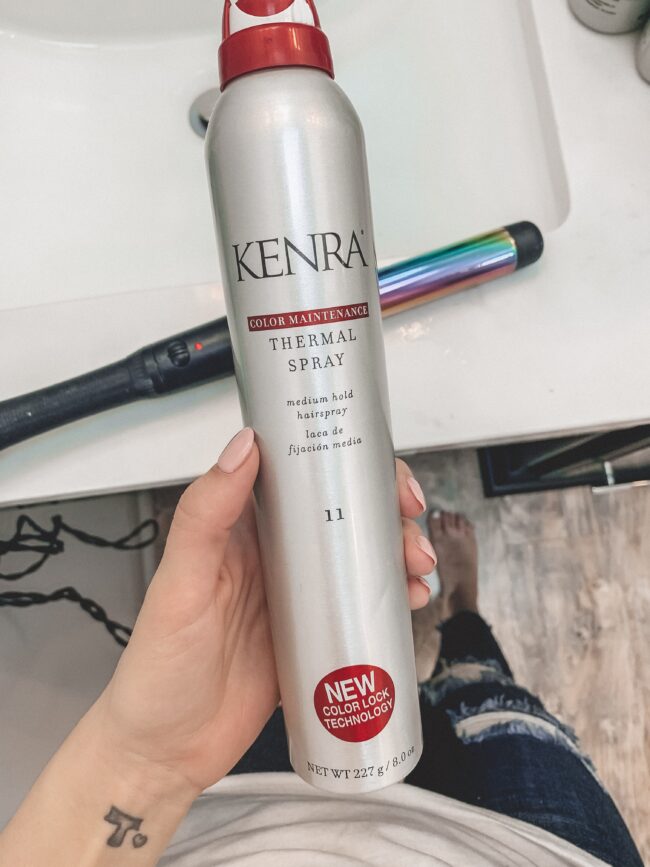 Next, I curl with my Conair Infiniti Pro Rainbow titanium curling wand. I use the 1″ barrel, but you can use a 1.25″ barrel version for looser curls.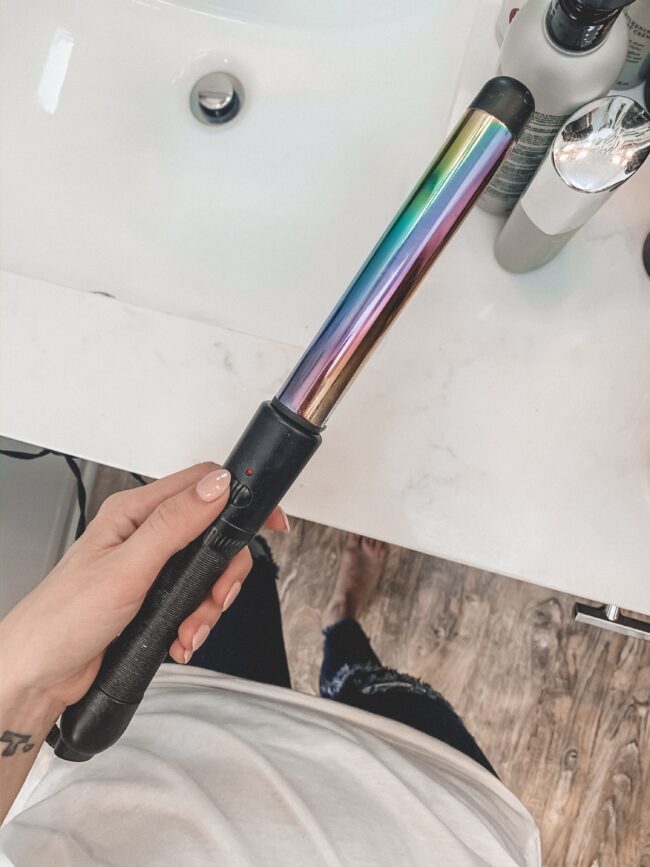 I typically clip half of my hair up, spray the bottom half with my thermal spray and then curl. Then I'll let the top half down, spray again, and curl the top. These are my favorite hair clips because they're big enough to hold all of the hair securely!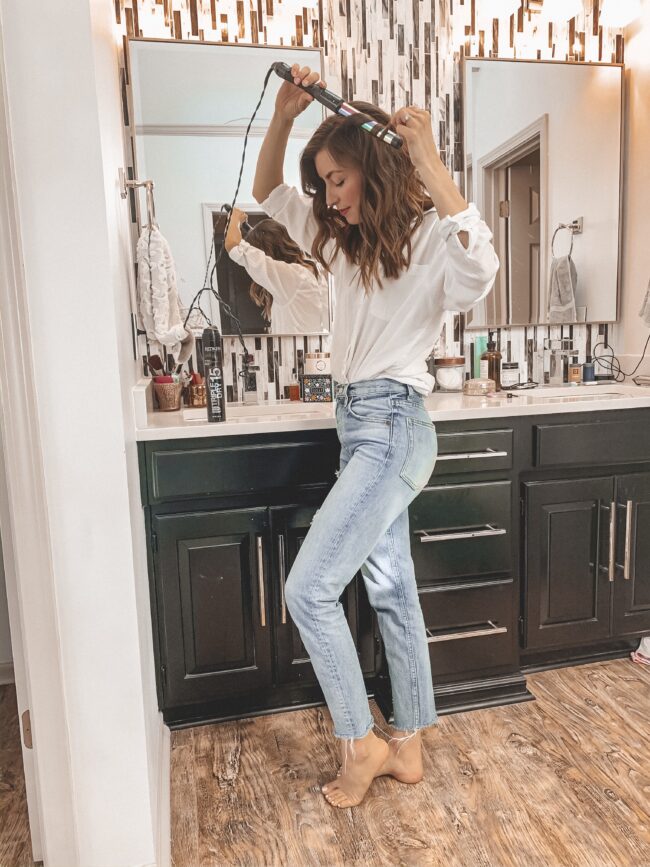 I hope all of this was helpful! Please let me know if you have any questions at all!