Our screened in porch door makeover – super quick transformation!
If you follow me over on Instagram, you may have heard me talking about how I've been thinking about painting our front door pink. It's a gutsy move, I guess, but not really…because it's a super fast and super easy change! However, I just couldn't bring myself to commit and decided to go with something a little more on the "safe" side – painting our screened in porch door. I went to the hardware store with a pink swatch in hand, completely prepared to come home with pink paint for the door. But when I left, I walked out with TEAL paint. Seriously you guys, I have issues. ;)
I hope you'll check out some of my other posts while you're here, too!
See my DIY projects and inspiration [here]
Check out a home tour [here]
Check out some more fashion posts [here]
A color makeover on a door is one of my most favorite ways to change things up – the color of a door can make such a drastic difference in the vibe of your home. PLUS: it's really inexpensive. When I paint a door, all I do is get one of those tiny little sample jars of paint from the hardware store for around $3.50. That's all you need to paint one side of a door!
You can see more photos of our porch [here]. I'm in the process of creating a cover for the daybed on our porch (more on that later) and finding some coordinating pillows. And when I work on one project in a space, it sort of spirals and I see other things that I'd like to makeover. The door on our porch was white when we moved in, and I hadn't done anything to the door other than clean it up a little.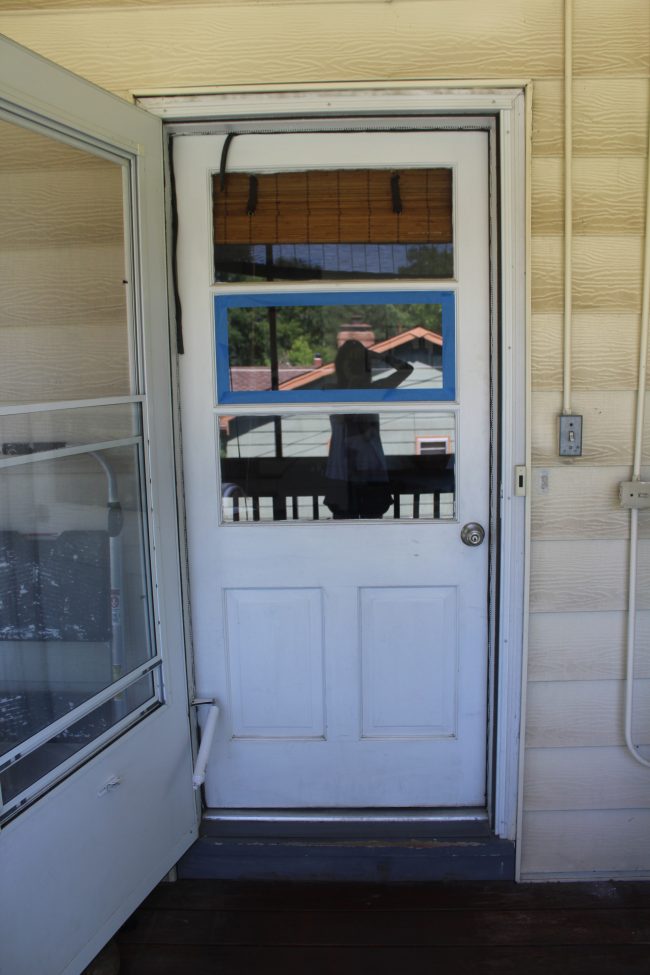 We got a company to come and power wash around the house on Memorial Day weekend, but didn't get to the porch (because that would mean we had to move a bunch of furniture around and that's a hassle LOL). Anyway, we didn't get to clean all of it so…the siding out here is pretty dirty. We'll get to it eventually!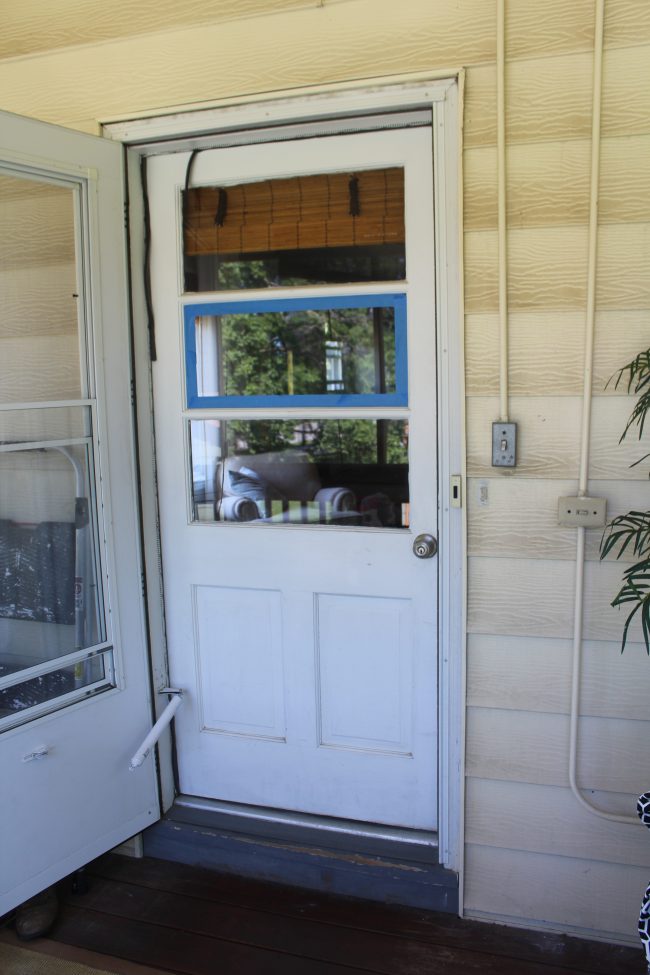 I got a little excited to paint and taped up one of the windows before I thought to take "before" pictures, so just pretend that blue tape isn't there for a second. ;)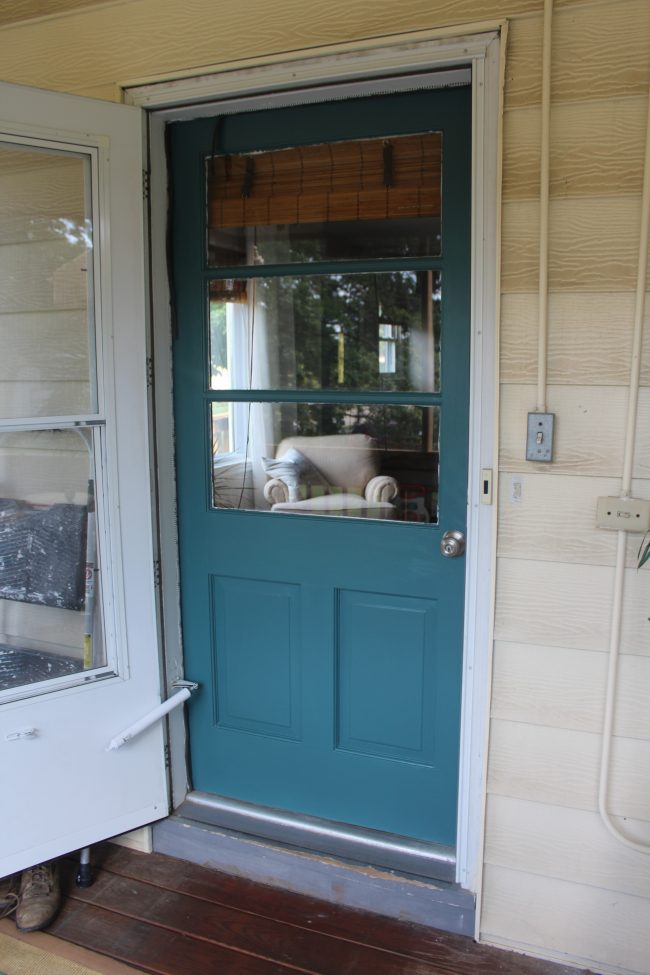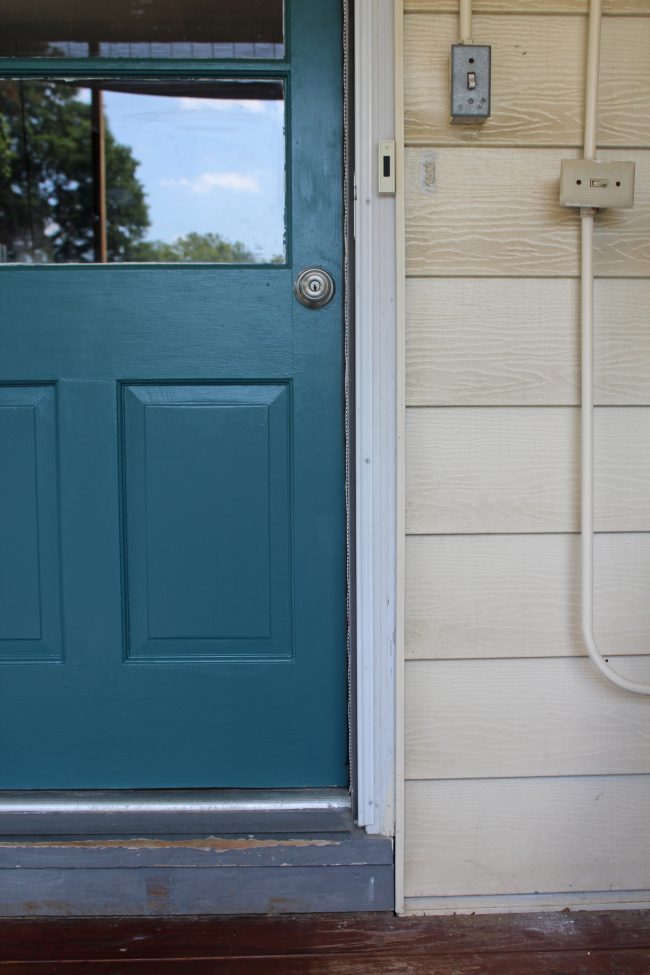 Ta-da! Easiest makeover ever. Plus this door has the three window panes, so it didn't even take a full jar of paint. It's always good to have some touch up paint, because doors inevitably get banged up!
Door color: "Tealish" by Behr
I want to also paint the blue step underneath the door – it'll probably be white. It looks a little rough, so it definitely needs some love! See what I mean about spiraling? Homeownership = never ending projects.
You can see what the back of this door looks like [here] and [here].
I love this color so much I'm thinking about possibly putting it on our front door as well. Or maybe the shutters. I can't decide!
I hope you enjoyed this screened in porch door makeover blog post!