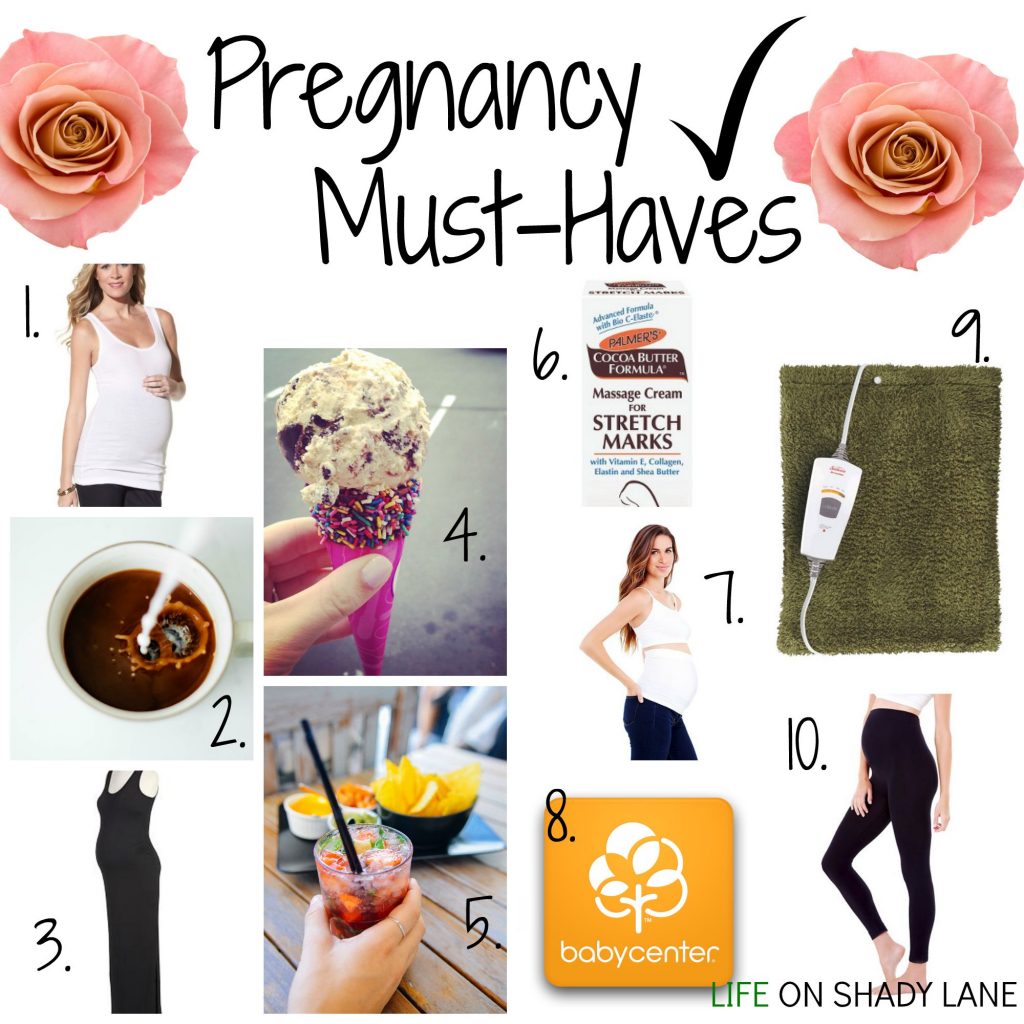 There haven't been a ton of things I've felt that I absolutely NEEDED during this pregnancy. I've managed to make non-maternity clothes fit for a long time and I really didn't have much morning sickness. However, here's the list of items that I have found myself reaching for again and again in the past six months.
1.) This maternity tank is super-soft and comfortable. Plus, it's affordable so you can buy ALL THE COLORS! Seriously though, when my belly got big enough that it was sticking out of the bottom of my "regular" tanks (It was hilarious. And no, I did not go out in public like that), these were a life-saver.
2.) Decaf coffee. During the first trimester, I barely drank any coffee at all because it just plain didn't sound good. I was a daily coffee drinker before I got pregnant, so when I finally felt like drinking coffee again, I just did some adjusting and drank decaf. Healthier for the baby, and still allowed me to enjoy my morning coffee.
3.) Maxi-dresses (this one is really cute) have been my go-to outfit because they're not restricting and take practically zero thought when getting ready but still make you feel put-together. When we moved to Reno, I sorted out my Fall clothes + clothes that no longer fit me, and ended up with ONLY a suitcase full of stuff. Yes, one suitcase. And it mostly contained dresses.
4.) This pregnancy has made me crave ice cream more than I ever have in my life. Before I got pregnant, I only ate it every once in a while. Now, I could eat it every day. The fact that we lived in Las Vegas for the majority of my pregnancy probably didn't help either – it gets REALLY hot there, folks.
5.) Mocktails and sparkling water, because nobody wants to go out to eat with friends and family and get plain old water all of the time. When everyone else at the table is drinking, sometimes I ask the bartender to make me something fun and non-alcoholic. They have come up with something great every time, but if you're looking for some recipes, here are some great ones.
6.) Palmer's cocoa butter for stretch marks. This stuff smells really good and so far, I haven't seen any stretch marks (fingers crossed that it continues that way). Something else that works for stretch marks is the process of microneedling. This stimulates the skin and improves the appearance of stretch marks and scarring. If this sounds like something you want to try, with doctors who have 30 years experience in cosmetic surgery/treatments, you know you'll be in good hands and hopefully get the results you're after.
7.) A BeBand. These are made my a lot of different retailers and are called a lot of different things, but they all do the same thing – make your pants fit! When I could no longer button my regular shorts/pants, I used mine a LOT! It helped me wear my regular clothes for as long as I possibly could.
8.) I downloaded the My Pregnancy Today App almost as soon as I found out I was pregnant, and love that it has daily updates for your baby's growth. It compares your baby every week to the size of a new fruit/veggie, which is really helpful in imagining what they look like, size-wise. It has a "bumpie" feature that lets you upload weekly pictures of your baby bump so you can see how you're growing! Plus, there's even a message board so you can chat with other moms-to-be. This was super useful as lots of the moms-to-be had some great advice on what to buy and suggested pages like mommyhood101 for reviews on the best products out there.
9.) This heating pad has come in handy for me a lot when my lower back hurts due to pregnancy aches + pains.
10.) Yoga Pants because let's be real, they're the most comfortable thing in the history of ever, and when you're pregnant and nothing else fits, yoga pants surely will.
Bonus! Something you should definitely consider is how you're going to keep fit before and after your pregnancy. Are you going to do easy exercise while you're pregnant? Will you need a babysitter or au pair (check out Cultural Care Au Pair for more information or to become an au pair) to look after your kid while you go to a fitness class? It's important for you and your baby that you think about your own health, not just your babies.
Did I leave anything out? Let me know!
Follow Life on Shady Lane with Bloglovin'