A Traeger grill veggie burger recipe – plus the reasons we absolutely LOVE our new Traeger!
This post may contain affiliate links
A huge THANK YOU to Nebraska Furniture Mart for sponsoring this post!
I've talked a lot in the past about how much we love spending time in our backyard. We recently added a Traeger to our fire pit area and we love it even more now! We use the Traeger SO much and everything we make turns out delicious.
Nebraska Furniture Mart has several Traeger pellet grills to choose from – we went with the Pro 780 in black and we love it SO. DANG. MUCH.
We had a fun photoshoot at our house with NFM a few weeks ago and grilled some burgers, veggies, and made some smoked cocktails. Everything was amazing, but I'm going to share the veggie burger recipe with you here today! Keep scrolling down if that's what you're here for. :)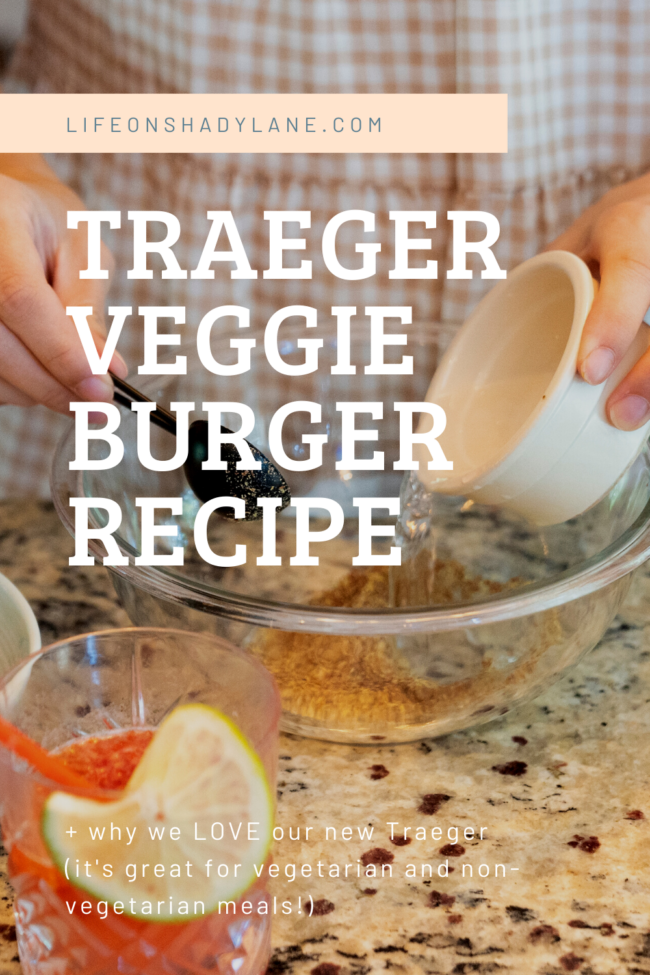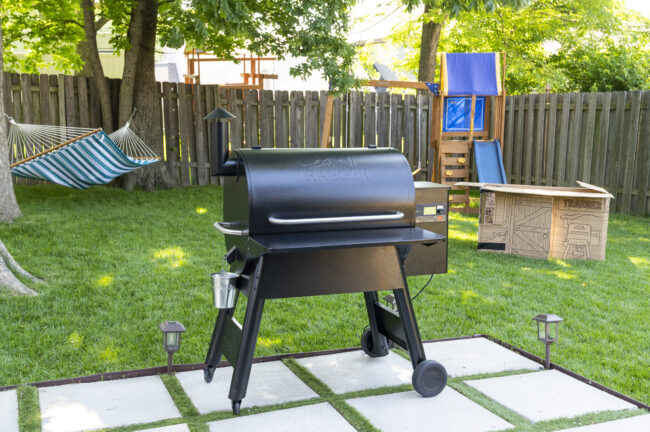 ————–
I hope you'll check out some of my other posts while you're here, too!
See my DIY projects and inspiration [here]
Check out a home tour [here]
Check out some fashion posts [here]
The Traeger Pro 780 is perfect for us. I especially love that it has a probe (for the meat) + an app for your phone, so you can keep an eye on the temperature of your food from inside the house. No constant babysitting!
I'm a vegetarian, and my husband, Brandon, is not, so we do lots of meals that combine food for both of us. The Pro 780 has plenty of room for both of our meals, and the Traeger app has a ton of recipes that are vegetarian-friendly (and not!).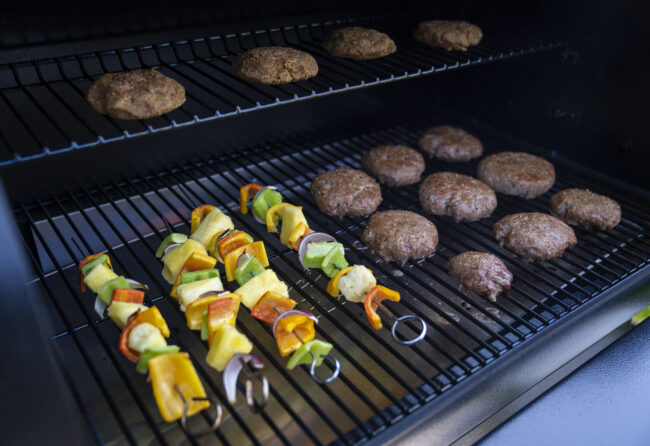 Veggie burgers on top, regular burgers on the bottom! Plus some veggie kebabs. YUM!
This grill set has LOTS of great reviews!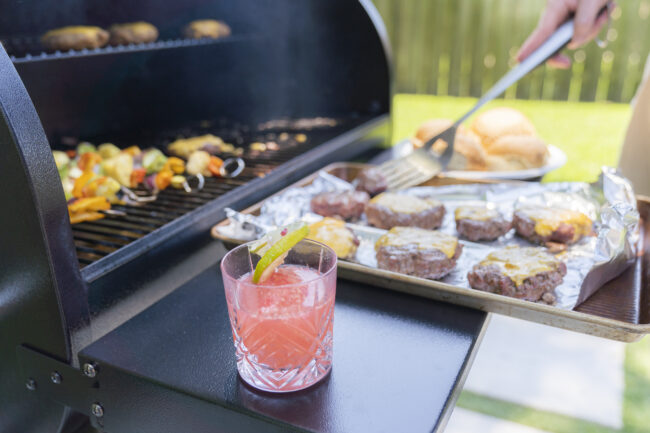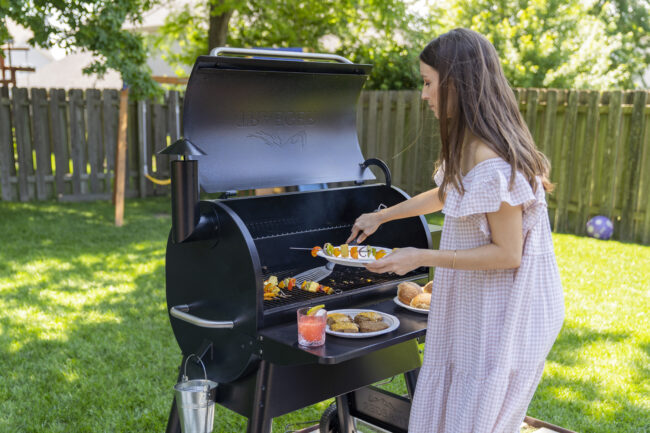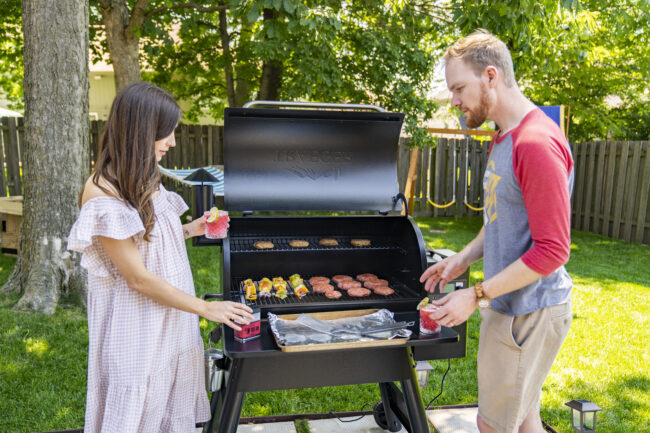 I feel like I also need to mention two really important things: you can even do DESSERTS and COCKTAILS with the Traeger. Seriously! We made a smoked raspberry cocktail that was amazing as well as a couple different (super-easy) desserts. I may need to share a recipe or two here soon for those, because they were DELICIOUS.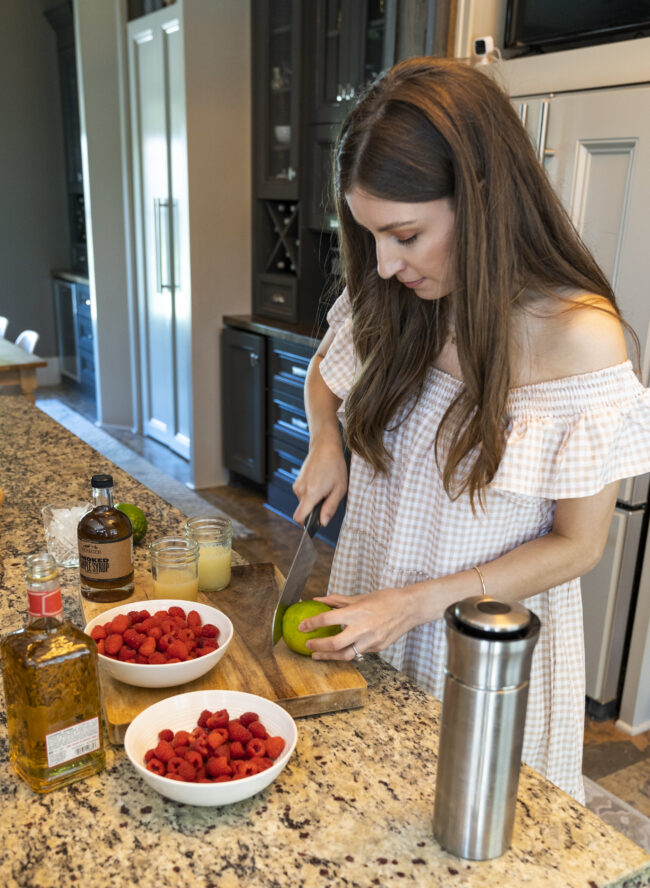 You can buy our knife set here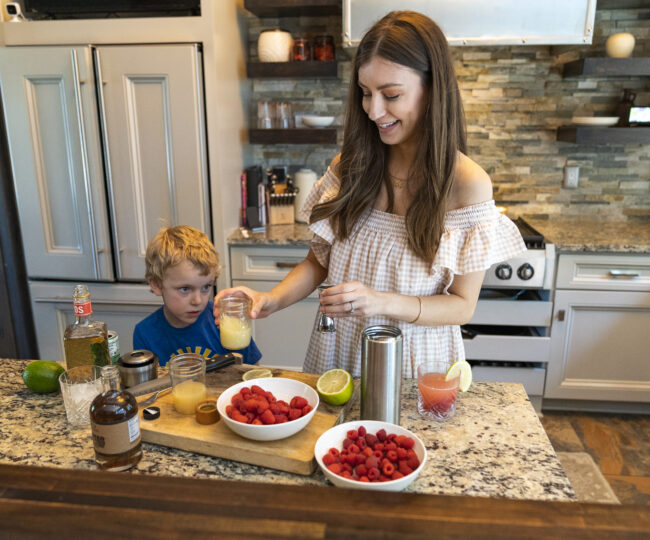 Buy similar cocktail shaker here
Buy similar wood cutting board here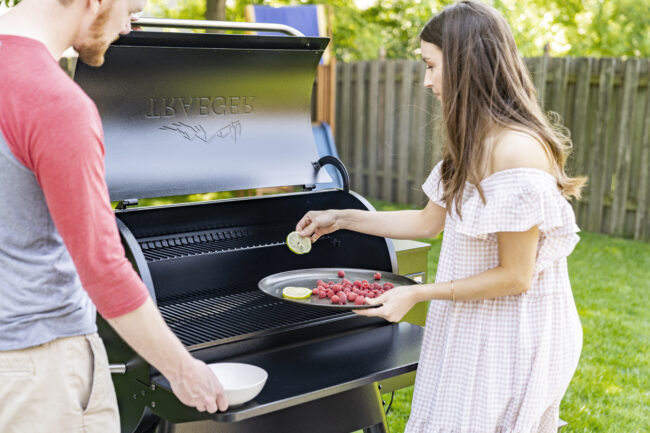 We love our pizza pan for making pizza on the grill, or even grilling veggies!
You can find the recipe for the smoked raspberry cocktail we made here (it's actually called the Smoked Barnburner Cocktail!).
Brandon made Traeger's triple cheeseburger recipe, and I was in charge of the Grilled Veggie Burgers with Lentils and Walnuts. This is one of Traeger's recipes as well – we found everything through the app on our phones, or you can also access them on a computer!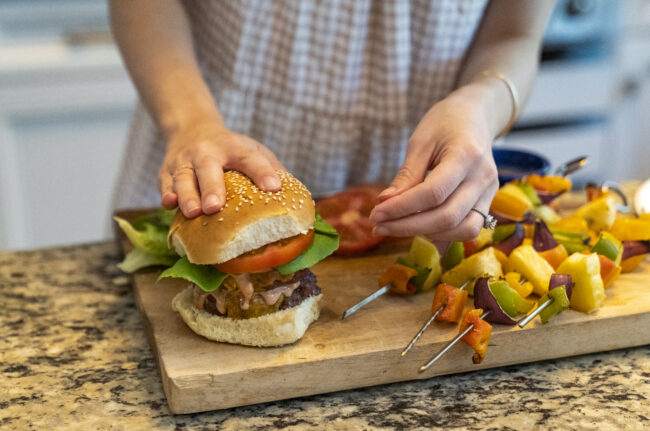 Grilled Veggie Burgers with Lentils and Walnuts
Ingredients Needed
3/4 cup dried green lentils
1 tablespoon ground flaxseed
1 onion, diced
2 tablespoons of olive oil
2 cloves of garlic, minced
Salt
Black pepper
3/4 cup breadcrumbs
1 tsp ground cumin
1 tsp paprika
1 cup toasted walnuts
6 hamburger buns
Step-by-step instructions
*reminder that this is a Traeger grill veggie burger recipe! I'm just sharing it with you! You can find the original post on Traeger's website here
Bring a medium pot of water to boil. Add the lentils and cook the lentils for about 15 minutes or until soft. Drain and set aside.
In a small bowl, combine the flaxseed with 4 tablespoons of water. Let mixture sit for 5 minutes.
In a medium saute pan over medium heat, add the onion and olive oil. Cook onion for about 4 to 6 minutes or until translucent. Add the garlic and a pinch of salt and pepper and continue to cook for another 30 seconds.
Add the onion and garlic mixture, along with 3/4ths of the lentils, the flaxseed, breadcrumbs, cumin, paprika, and toasted walnuts into the bowl of a food processor.
Pulse until mixture is smooth and comes together. If the mixture is dry add 1 tablespoon of water at a time until mixture comes together. Fold in the remaining lentils.
Form the lentil mixture into 4 to 6 patties and place on a parchment lined plate. Refrigerate the patties for at least 30 minutes or up to 24 hours.
When ready to cook, start the Traeger according to grill instructions. Set the temperature to 425 degrees F and preheat, lid closed 10-15 minutes.
Grill the veggie burgers for 8 to 10 minutes flipping halfway through.
Serve burgers on toasted hamburger buns topped with lettuce, tomato, ketchup, and mayonnaise. Enjoy!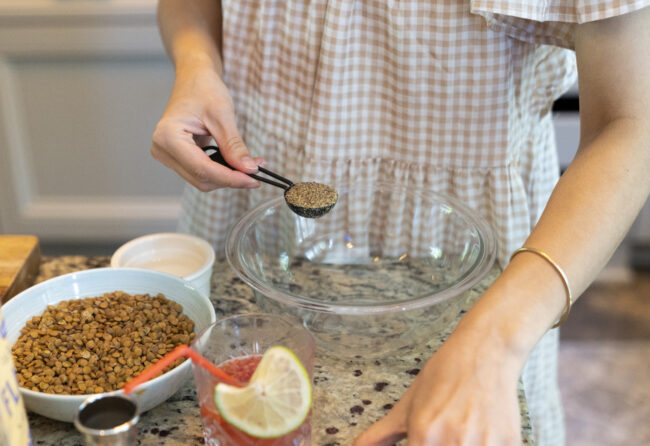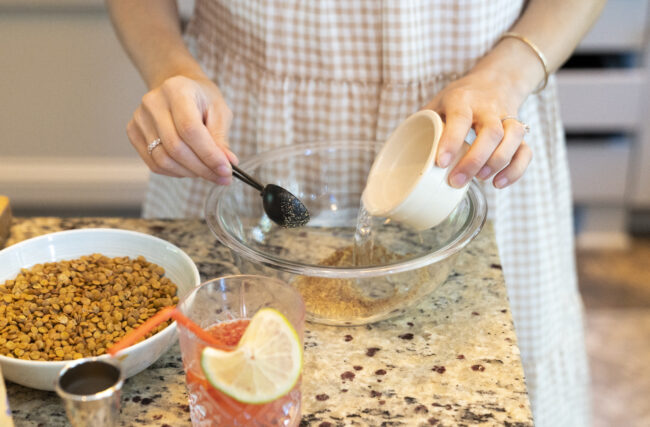 Buy similar measuring spoons here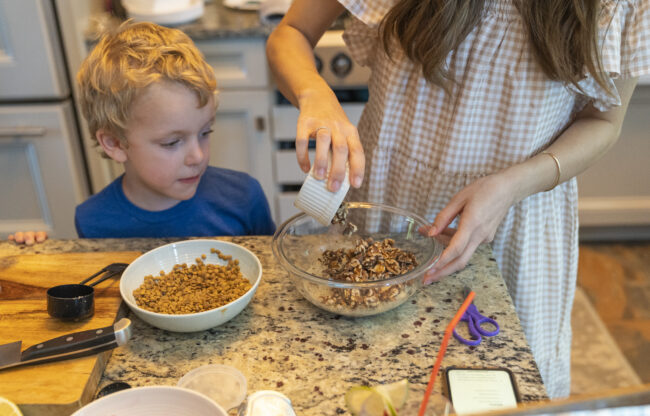 I bought raw walnuts and then toasted them in my oven just until they were fragrant and toasty brown. You have to be careful not to over-toast…they can burn easily. Love tossing these on salads if there are any leftover after you make your burgers!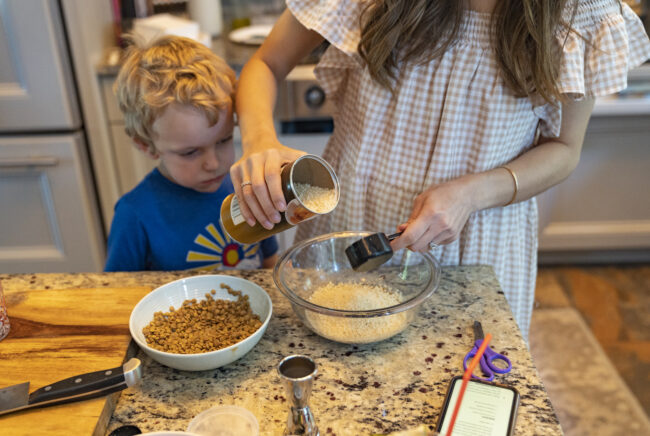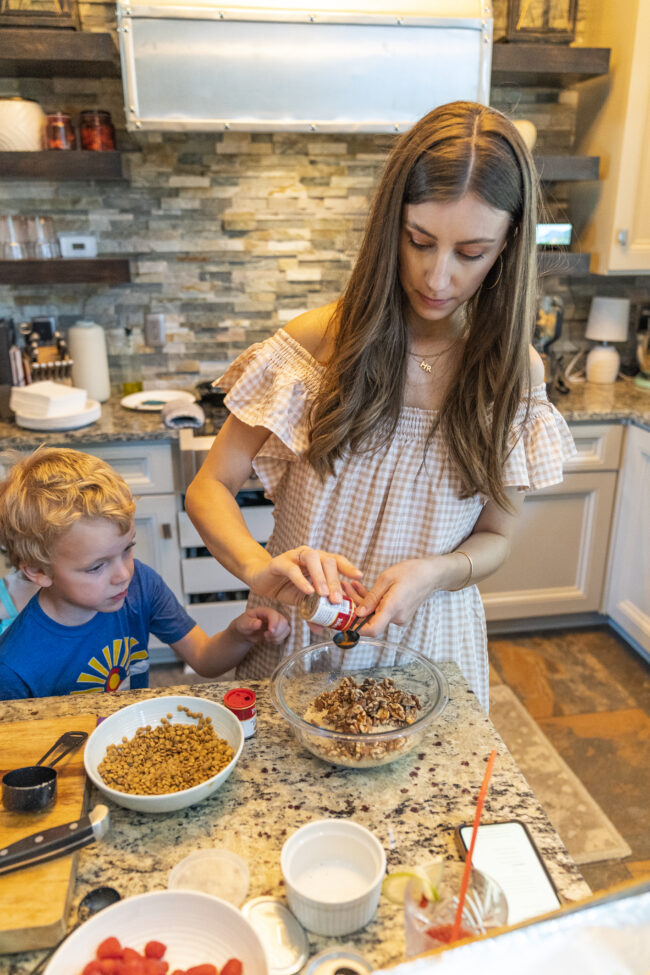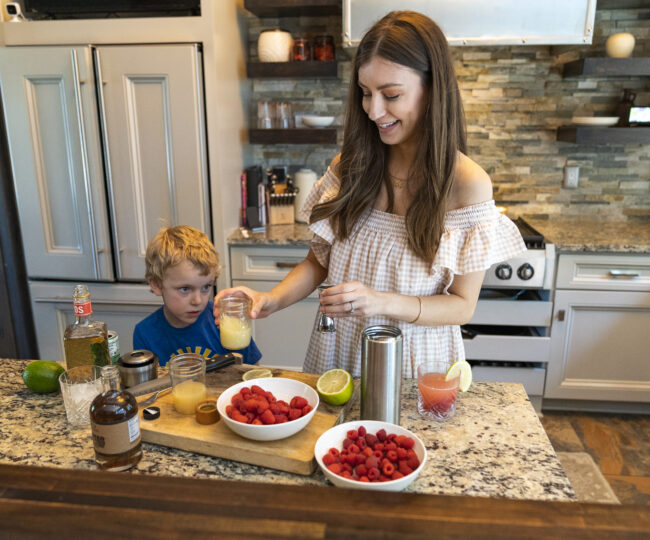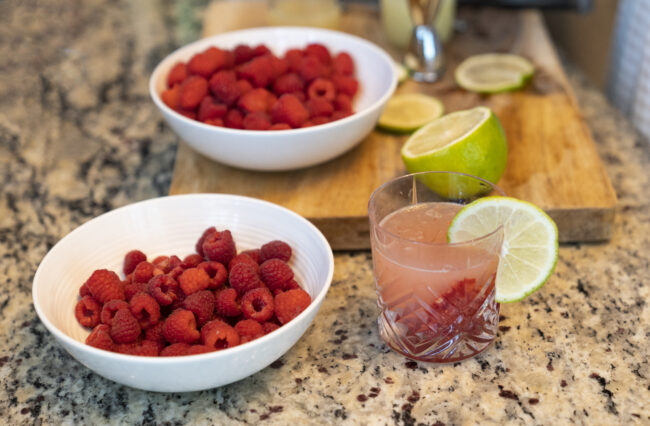 Cocktail break! ;) Well, mocktail for me since I'm pregnant!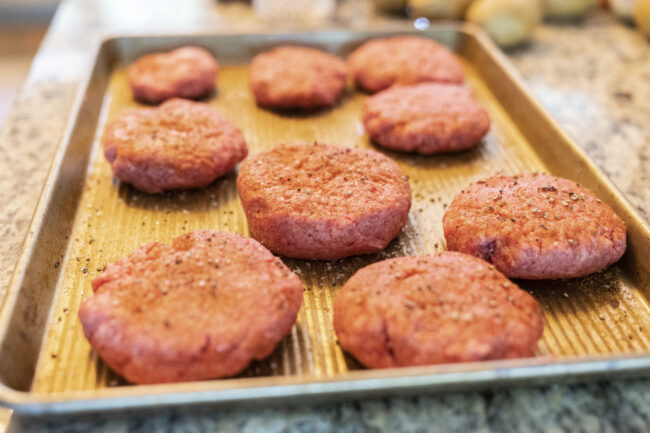 *These are Brandon's burgers!
We've had these cookie sheets for several years and still love them!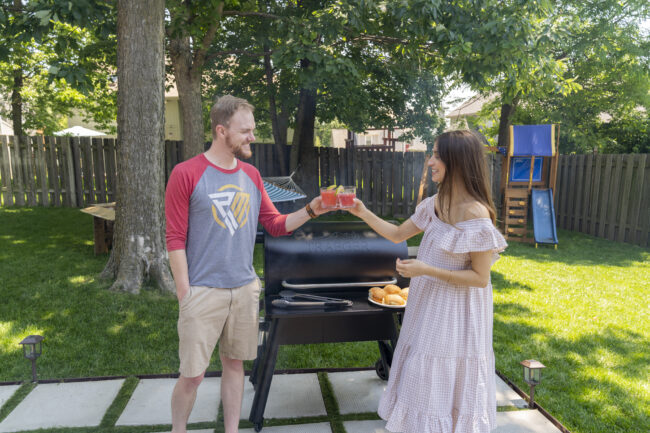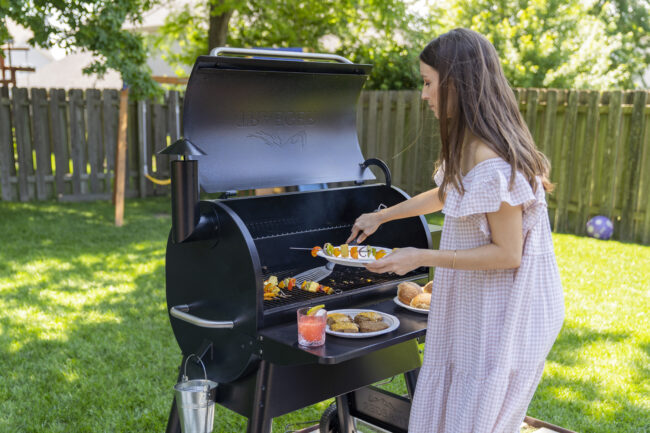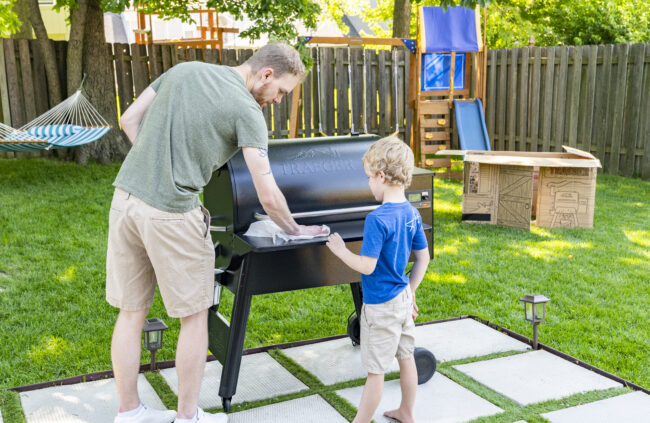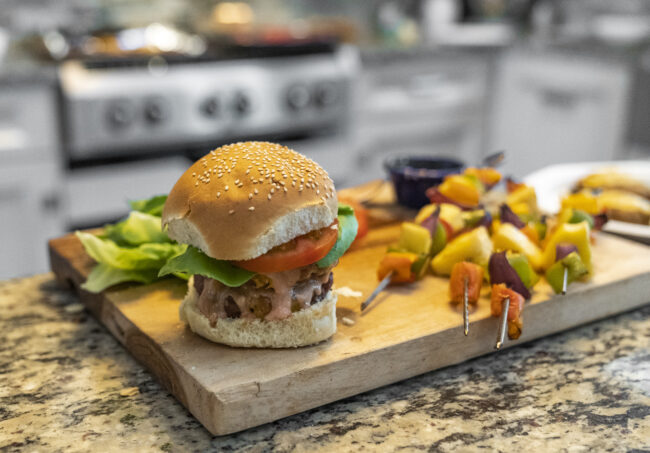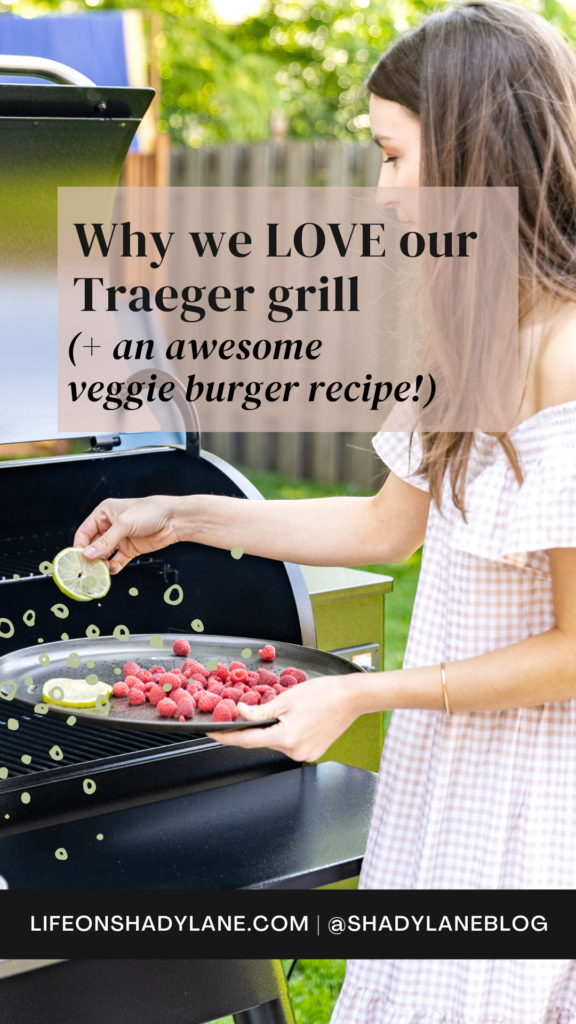 I have made this Traeger grill veggie burger recipe several times since then – it's seriously that good!
————–
I hope you'll check out some of my other posts while you're here, too!
See my DIY projects and inspiration [here]
Check out a home tour [here]
Check out some fashion posts [here]