I shared a few weeks ago that we bought a new house – you can see a video tour of it [here]. I haven't shared more about it (other than that video tour) on the blog, but I've been sharing quite a bit over on Instagram. I'm slowly working on decorating, but picking out furniture, decor, and area rugs is not an easy task…and I don't want to rush it and make the "wrong" decisions!
————–
I hope you'll check out some of my other posts while you're here, too!
See my DIY projects and inspiration [here]
Check out a home tour [here]
Check out some more fashion posts [here]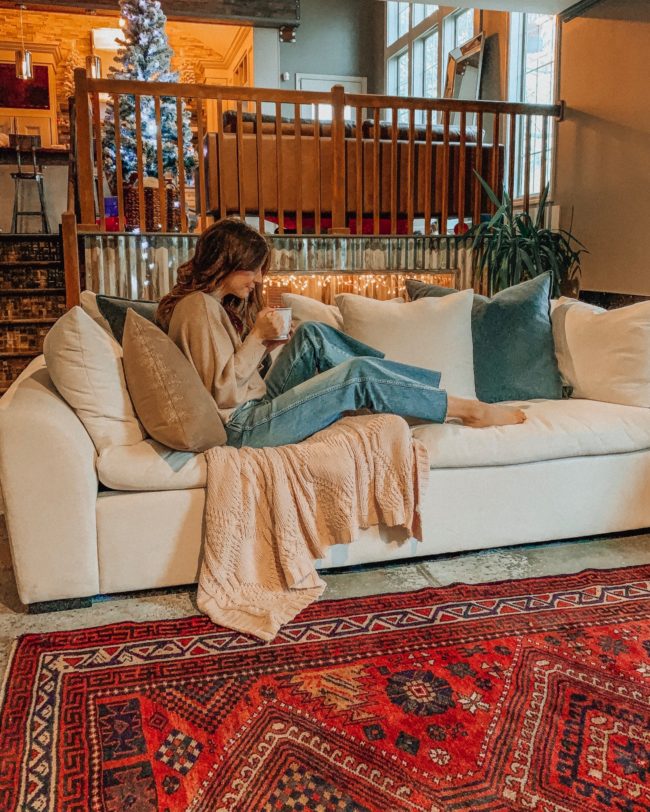 We purchased new living room furniture a few weeks ago but I haven't been able to choose a rug. The furniture is neutral, so I wanted a "statement" area rug. I have always loved the look of vintage rugs but, honestly, the process of finding a good quality one and then picking out the right design, etc. seemed entirely too daunting. But when Shandy and Abby from Collected Living reached out and invited me to come take a look at their shop, I said absolutely YES! I had been "stalking" their rugs via Instagram for a while (so, so beautiful you guys…and the selection is incredible) and was so excited to see what they had in person.
I went in to the shop this past Friday looking for a rug for either our living room or master bedroom, but wanted to keep my options open since I know vintage rugs come in alllll shapes and sizes. I had some rough measurements of the spaces, but was hoping to just fall in love with one particular rug and figure out a way to work in my home.
I have felt so incredibly indecisive about decor for our new home, and I think it's because we've practically started from scratch. We had almost a whole home to fill, and getting the look I was going for has felt like a lot of pressure. BUT Shandy and Abby were extremely helpful in making my selection. They showed me a book of all the rugs they had available, unrolled any of them that I thought I might like, made suggestions, and gave advice on sizing/placement. They're interior designers so they know what they're doing…and I could 100% tell. Making a big purchase like a vintage rug seems scary, but they honestly made it feel like a breeze.
I cannot recommend Collected Living enough!
They have more than just rugs, too: lots of perfect Christmas gifts, unique home decor (I even spied some marble Arrowhead cheeseboards while I was there – so fun for KC Chiefs fans!).
It's the perfect time to cozy up your home a little bit for the holidays OR pick out a special gift for someone on your list!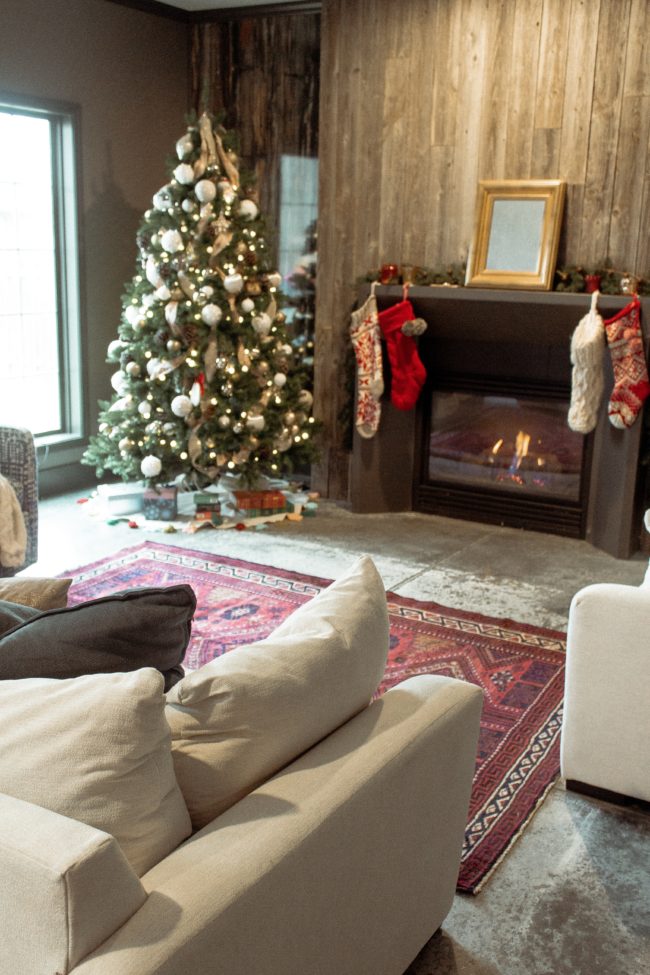 I'm planning on layering a neutral 9×12 area rug underneath this vintage one – I can't wait to cozy things up in here even more! The floors are concrete, so area rugs are definitely necessary. Since adding our vintage rug on Friday, though, I've noticed we're all hanging out in the living room a little more (even without a TV – can you believe it!?) ;)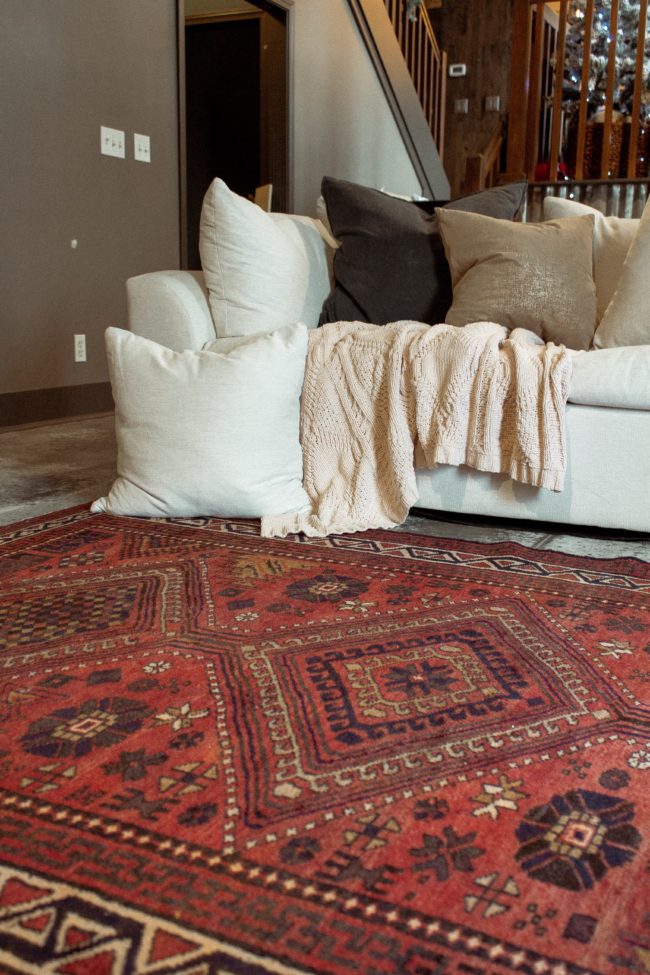 I can't stop looking at it. I mean…it's SO beautiful and gives the room so much personality. I am obsessed.
I can't wait for Christmas morning in this room, it just feels so cozy already.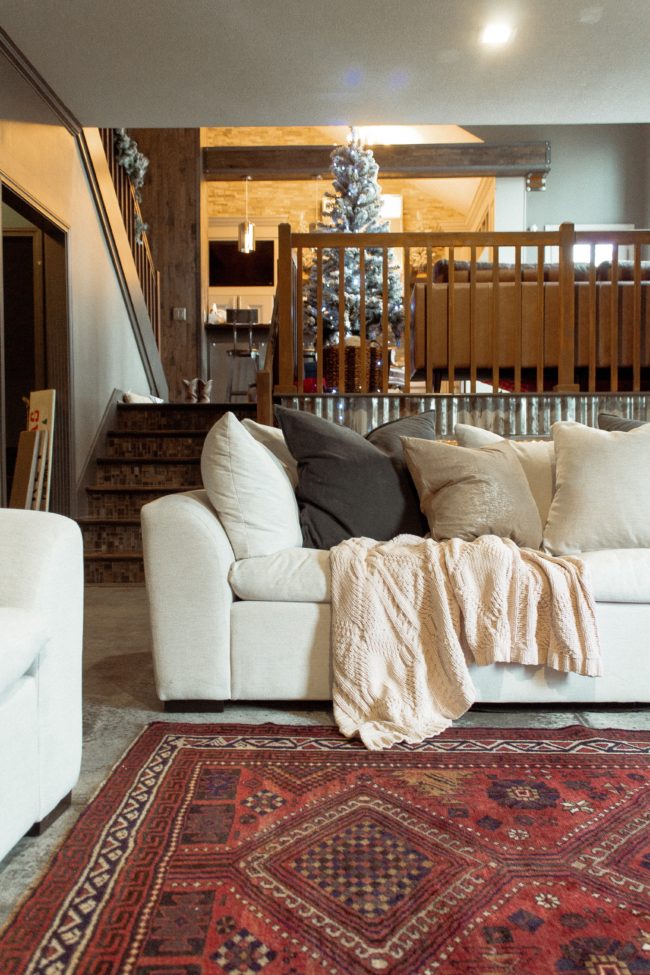 I'm on the hunt for that larger, neutral area rug – it needs to be a low pile (so I can layer it) and neutral so that it doesn't compete with this beauty! It's a process, but we're making this house feel more like "home" every day! I'll let you know when I find one. ;)
————–
I hope you'll check out some of my other posts while you're here, too!
See my DIY projects and inspiration [here]
Check out a home tour [here]
Check out some more fashion posts [here]