I've been so busy the past couple weeks planning a complete makeover for our bedroom and wanted to share the design plans I have for it with you guys today! I am so excited to see this room change – keep reading for my master bedroom design plans!
This post may contain affiliate links.
I already love our bedroom, but we have the same bed and dresser that we had in our last home, and something a little different would suit this space better. When we first walked through this house, the previous owners had their bedroom set up this way…and we just put our furniture exactly the way they had it. I've been feeling like it may be a better use of the space to put the bed in front of the window, though (*gasp* I know! But it's totally doable, I promise!). Less wasted space, a little more room to walk around the bed, better feng shui, you get the idea.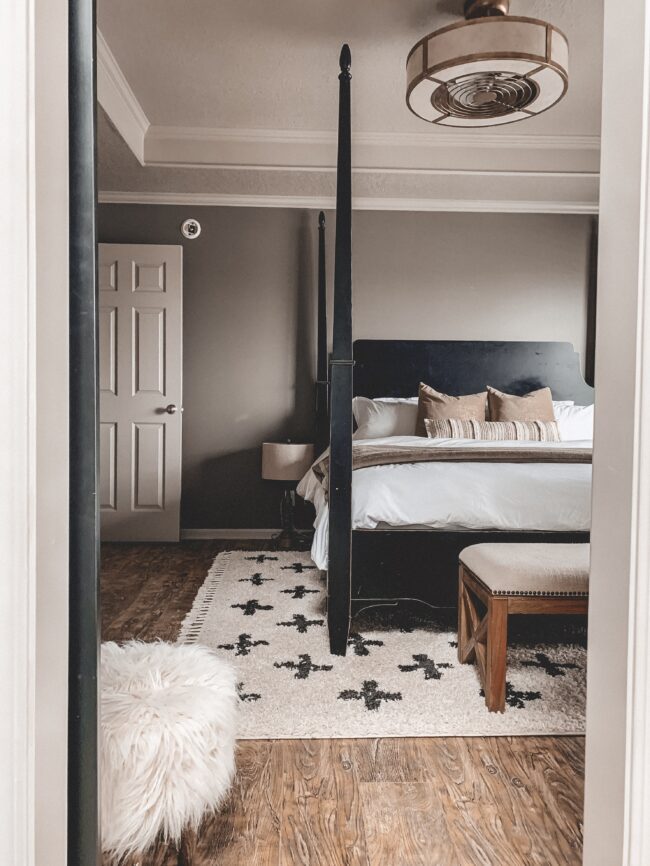 PS I'll share a master bedroom design source list for everything I can link at the bottom of this post! Scroll down if that's what you're here for!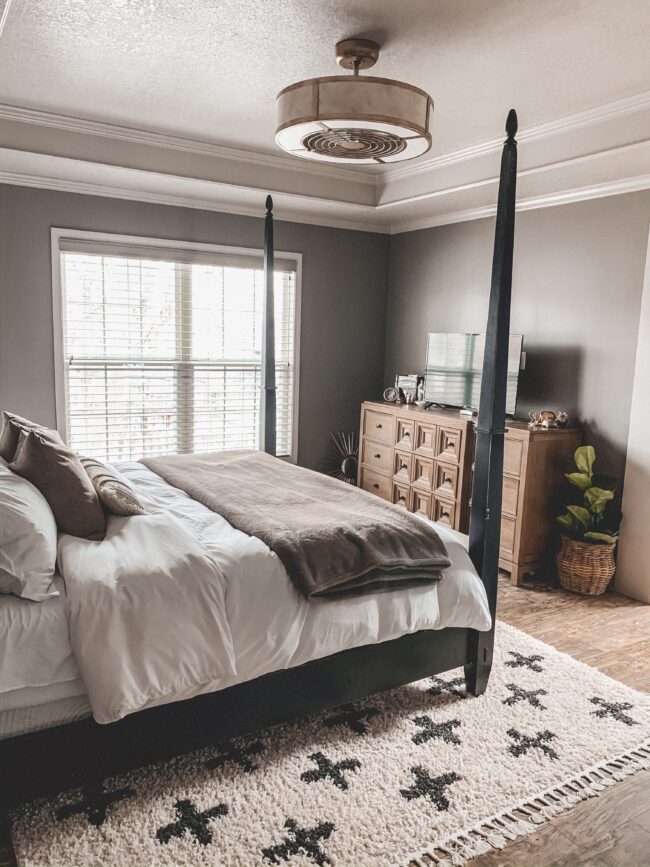 Here's what the room looks like from the hall (our bedroom door). I really don't love it's "first impression" – the side of the bed just isn't as pretty as a full view of the bed would be.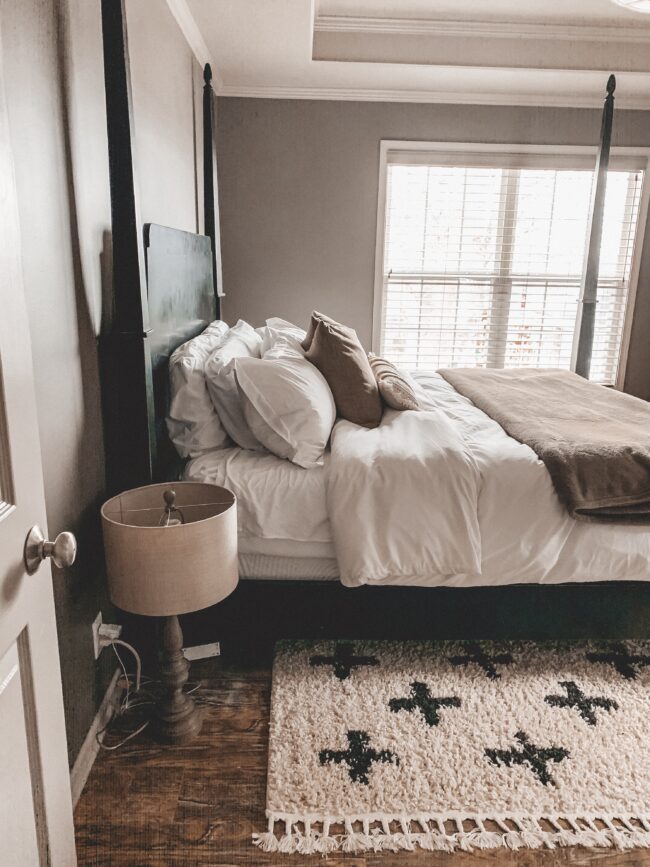 And yes, I know that for the most part, it's just US who sees this room. But I'm a huge believer in making your bedroom feel pretty and cozy. I'm also slightly (okay majorly) passionate about bed making – I LOVE fresh sheets, a big comfortable comforter, fluffy pillows…you know, all the things that make getting into bed feel like you're on vacation. I'm not sure there's anyone who loves staying in a hotel more than me, and it's always because of the fresh comfy bedding (and also I love a good noisy AC unit in those less expensive hotels. You know what I'm talking about. And yes, I know that's weird.).
But anyway, I digress.
In short, I want to feel like a princess when I get into bed. That's not so much to ask, is it? ;)
We spend 1/3 of our lives in bed. Did you know that? A THIRD! It only makes sense to have a great bed. Creating a bedroom that feels like an escape at the end of the day is just really, really important to me.
SO…this space is getting a makeover!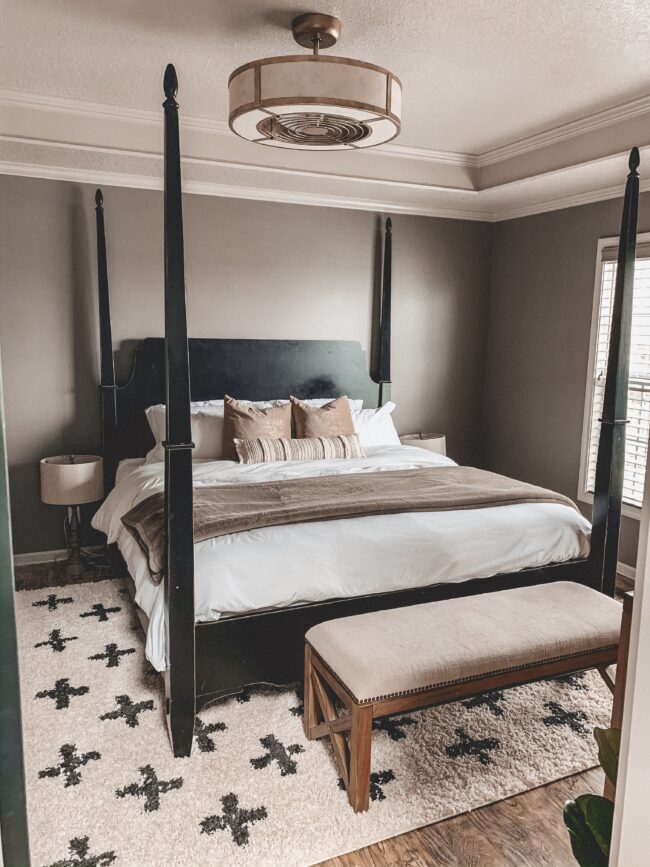 We obviously need nightstands. Somehow Brandon hasn't had a nightstand in any of the bedrooms we've had…except for the bedroom at our Las Vegas apartment. It's his number one request, and I think I can make that dream a reality for him pretty easily. ;)
BUT, since I'm planning on putting the bed in front of the window, we obviously need a different bed. One that's a lower profile, or at least has a lower headboard. We only have the one window in our room, and I'd like to keep as much natural light in here as possible.
I've been looking at headboards with slats, so they can let some light through, but also at rattan beds and just plain old lower profile platform beds. What I'd REALLY like is a little too specific, I think, and proving extremely hard to find: a french style upholstered bed with tufting…or a french style rattan bed. BUT each of those would need a lower headboard, and that's the issue. Apparently they're hard to find! I'm still looking though – can't wait to see what I end up with. ;)
Anyway…moving on.
I'd like to put a new dresser on the wall across from the window. It's just kind of a waste of space, now, with a mirror and chair on it but nothing else.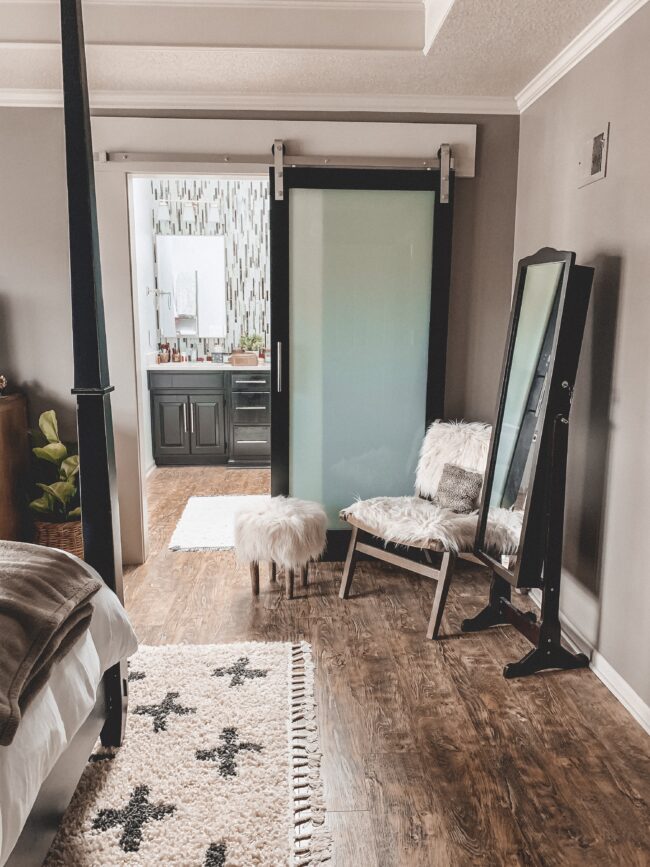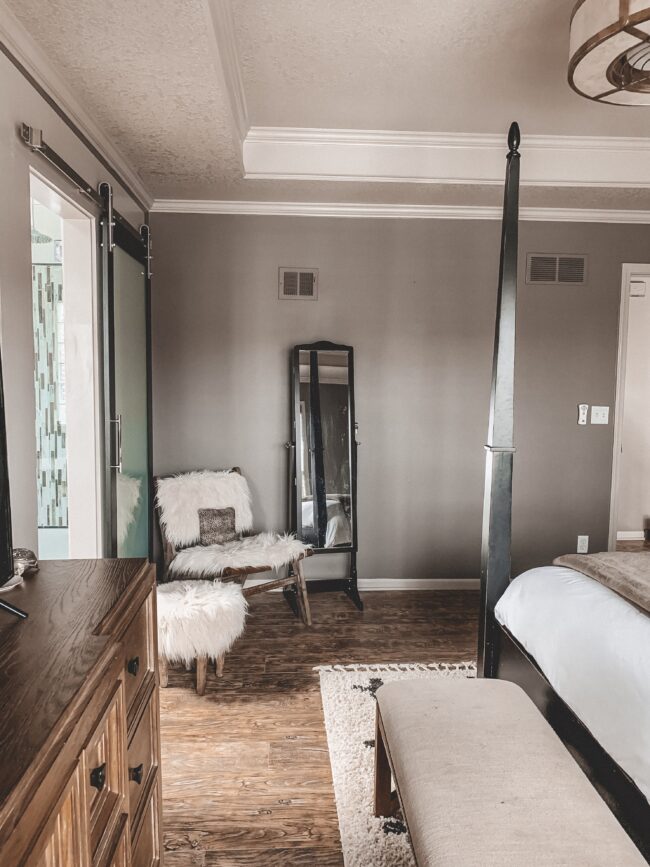 This new layout would give us more room for a bench at the foot of the bed, too. We have a bench right now but it just feels a little too tight between it and the dresser.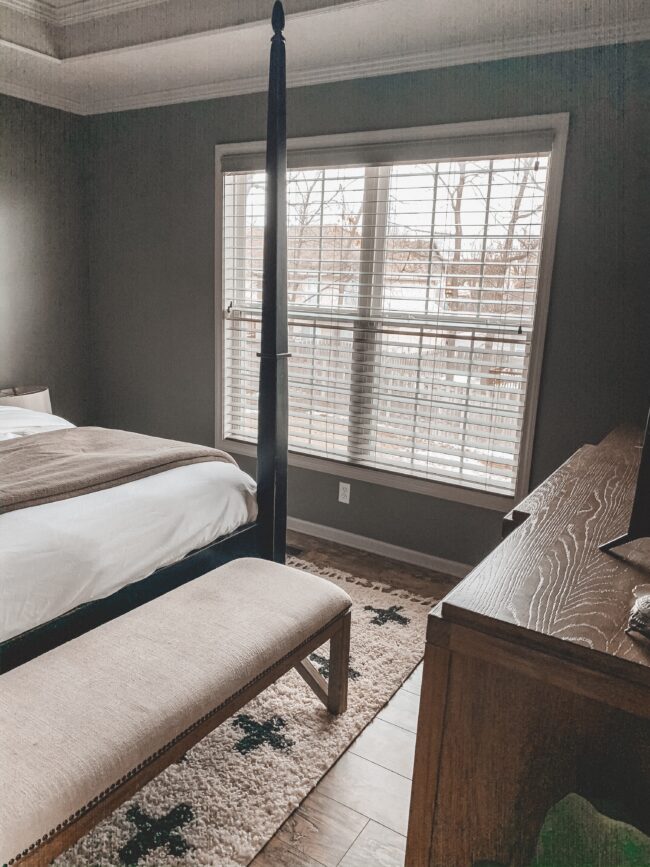 SOURCE LIST:
(Click any of the links below to find the products we currently have in our bedroom!)
Goose down comforter/duvet insert
Four post bed (similar) or here's another BEAUTIFUL option
I'll keep you posted on the progress of this master bedroom design, so stay tuned! In the mean time, would you like to see some of the different beds I've been considering throughout the process? Let me know in the comments!