A Neutral Fall Capsule Wardrobe – create the perfect Fall wardrobe, endless possibilities with just 15 pieces!
This post may contain affiliate links
I've been on a mission to simplify my life, and the idea of doing a capsule wardrobe has intrigued me for quite a long time. While I'm still not quite there, I've got my "base" wardrobe put together for this Fall. These are the items that I essentially wear every day. If I'm being honest with myself, I totally only wear a handful of pieces on a day-to-day basis.
If you're new to capsule wardrobes, the general idea is this: you have a base wardrobe of neutral, essential pieces that can all be mixed and matched to create different outfits. They generally stick to a similar color palate (to make mixing and matching easier!) and have a set number of tops, outerwear, bottoms, etc. Every item included in the capsule should be something that you love – it needs to fit well, too! Otherwise, you won't wear it…trust me. Everyone has that pair of ill-fitting jeans in their closet that they skip over when getting dressed in the morning (that, or you wear the bad jeans and hate how you look all day. Been there!).
If you're a hardcore minimalist or a capsule wardrobe pro, you'll have ONLY the items that are included in your capsule – nothing else! This would probably be pretty easy for me, truthfully, because I do only wear a handful of clothing regularly. I'm just not quite there yet (I love shopping!). I will say, though, that having my base set takes a lot of the pressure off when shopping because I know that I really do have what I need. It makes getting dressed in the morning easier, too.
Fall seems like a great time to start a capsule because you get to start incorporating outerwear with your basic tops and bottoms.
I stay home with our kids, work from home, run errands, and go to the gym – those are the things I do most often. So it doesn't make sense for me to have a bunch of fancy items or office clothes. If that makes sense for YOUR capsule wardrobe, you can still totally base yours off of mine. Just include some pieces to mix and match!
I'm including links to everything too, so you can shop easily!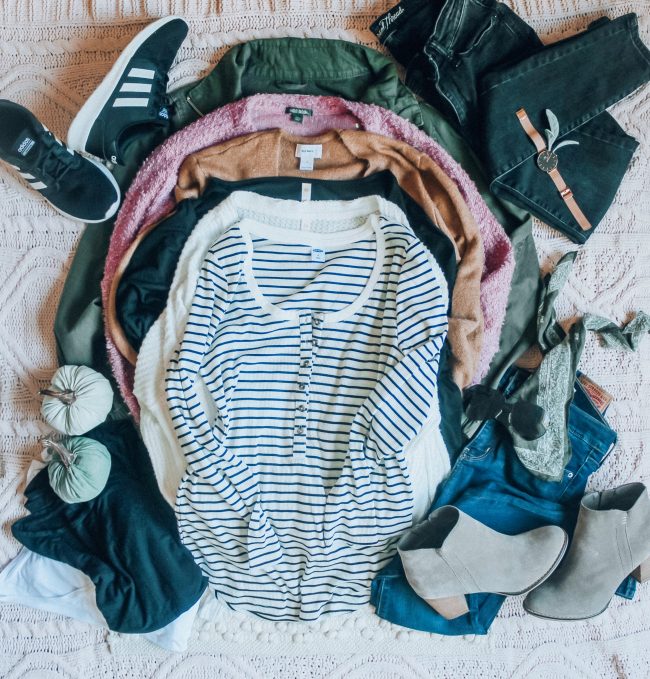 SHOP THE POST

PIN IT for later: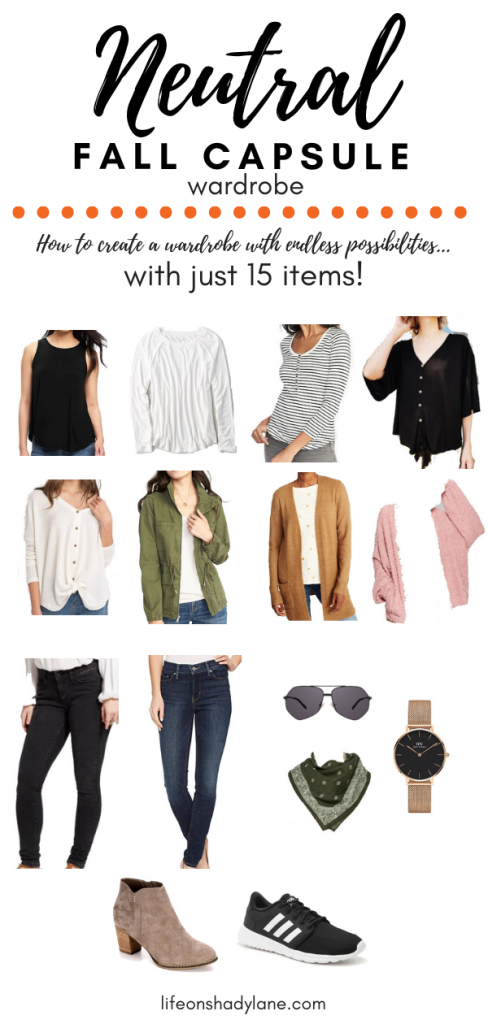 So for my capsule, I have a total of 15 items broken down like this:
4 tops
4 "outerwear" pieces (one that can also be worn as just a long sleeve shirt – bonus!)
2 pairs of jeans – one black and one blue
2 pairs of shoes
3 accessories
Here are 12 outfit ideas – can you come up with more combinations?!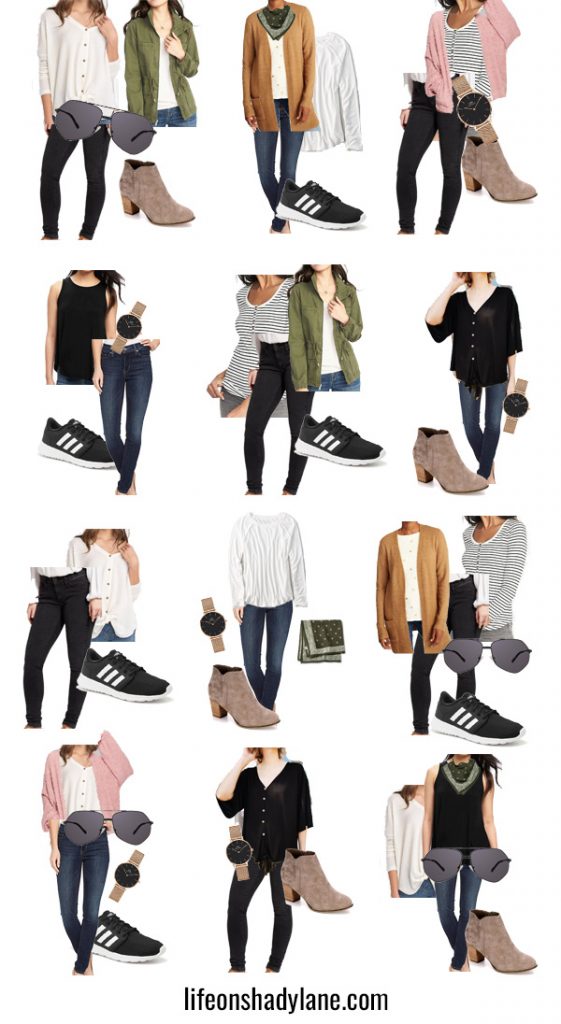 It makes getting dressed in the morning SO easy – pick a bottom + a top, add a cardigan or jacket if you want (or not!), and throw on some shoes + accessories. I know that everything fits me well, and that I love all of my options…so there's always something to wear. So much better than a closet full of nothing to wear, amiright?!
SHOP THE POST

PS: there are a few items that I'm not able to include in the "shop the post" slider above. (If I could find a similar option, I included it in the slider!) My exact items are:
What do you think? Would you try a neutral fall capsule wardrobe?