A roundup of must haves for new moms: fall basics // style edition
This post may contain affiliate links
With baby's due date quickly approaching, I thought I would put together a roundup of basic fall must haves for new moms! I'm planning on putting together a roundup of must have products for baby + new moms as well, but I have been on the hunt for Fall basics recently and thought I'd share my finds!
See below for links!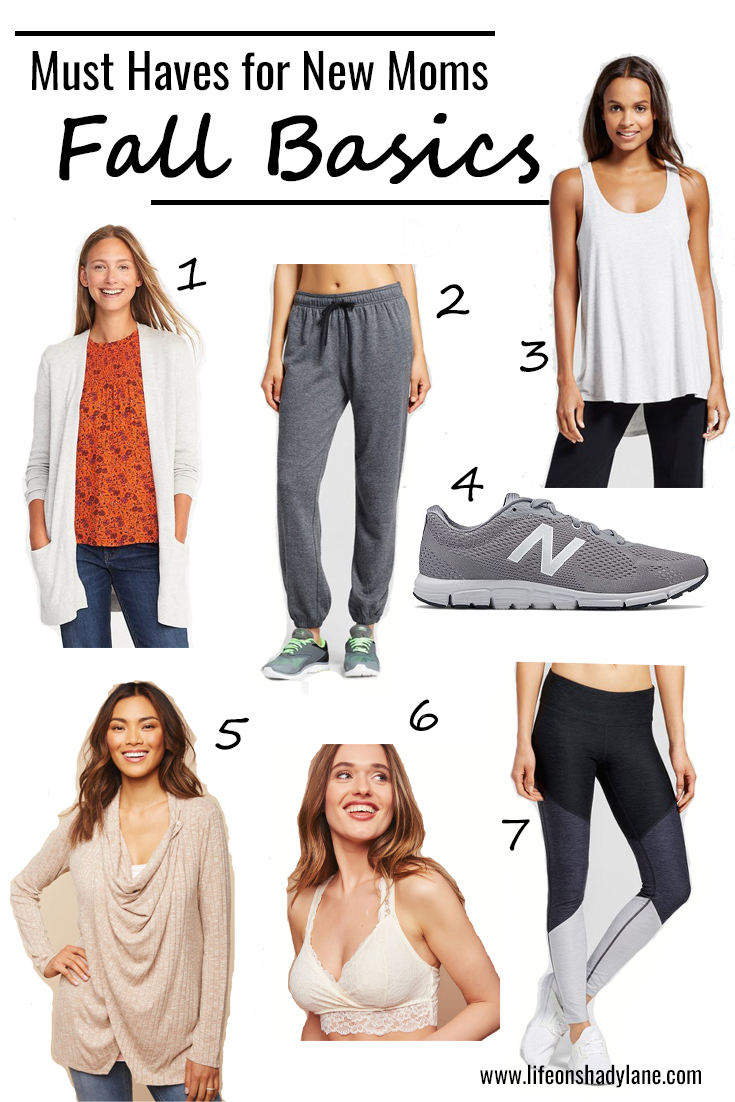 Gray long line cardigan | 2. Gray Joggers | 3. Nursing sleep tank| 4. Gray sneakers | 5. Pull over nursing cardigan | 6. Lace racerback nursing bra | 7. Tri-color leggings
My "basics" list for Fall is pretty simple, because lets be real…as a brand new mom I know that my main priority when it comes to style will be COMFORT! When I had Henry, I wanted pieces that were both comfortable and stylish (for all of those visitors who dropped by and wanted to see baby) and I know that I will want the same this time around. I love pieces that I can mix and match, and bonus points if they'll look cute long after baby is a newborn! I'm a big fan of neutrals because they can be mixed with other neutrals OR with statement items.
All of the items in the roundup are on my "to buy" list – with the exception of the sneakers and gray joggers…because I've already purchased them! ;)
*NOTE: The racerback nursing bra is on sale TODAY ONLY for $15 (with free shipping!). Pretty nursing bras are extremely hard to find, so this is a must have. Plus, it comes in several colors!
Oh, and that nursing sleep tank will definitely be worn with leggings and jeans during the day – who says it has to be just for sleep?
What else would you include on your basics list? Did I miss anything?