It's MAY! That means warm weather is on its way right, right? ;) It has been raining non-stop here, but somebody once told me that "April Showers Bring May Flowers" sooo…I'm hoping for sunshine and flowers very soon.
I hope you had a great May Day yesterday. Does anyone else remember celebrating May Day by leaving flowers on peoples porches as a kid? It's a tradition that I'd like to continue with Henry when he gets older – I always loved surprising people with pretty flowers!
Anyway, since its the beginning of May, I wanted to put together a Mother's Day Gift Guide for anyone looking for a little extra help in the idea department. These are all things that I think a mom would REALLY, truly want…mostly because I know I'd love to get them and I'm a mom!  Mother's Day is May 14 (don't forget!). Give the mamas in your life a little extra love with one of these thoughtful ideas.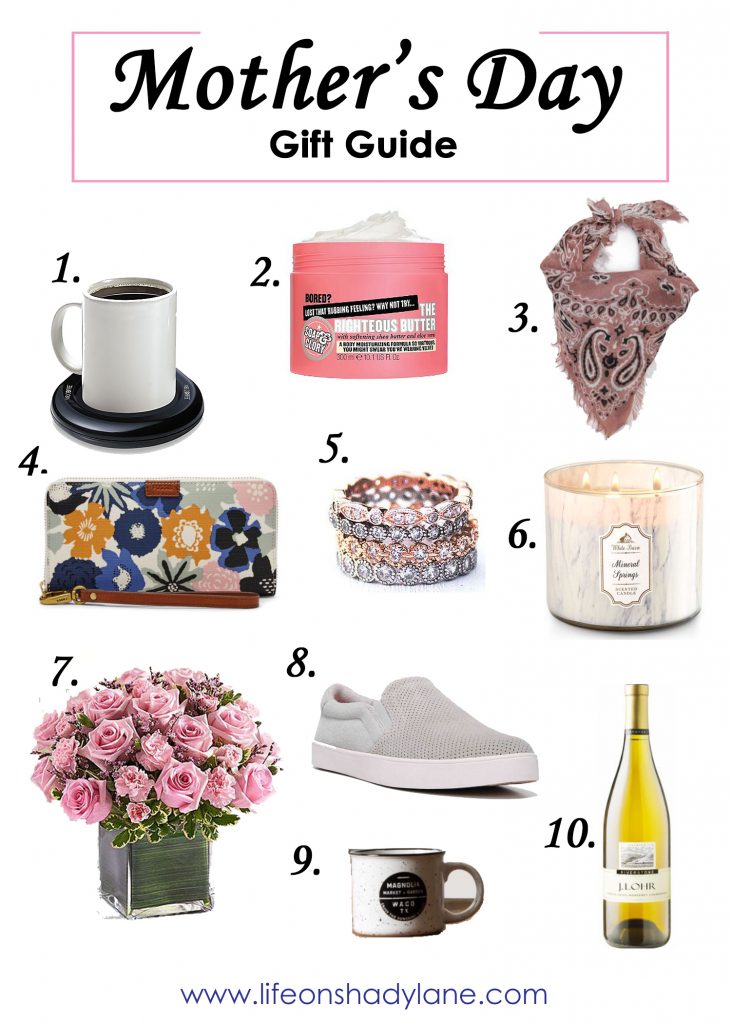 1. Coffee Warmer – This coffee warmer is only $10, and would be perfect on your desk or on your kitchen counter to keep your mug of coffee warm. Because let's be real, most moms don't get to sit down and drink a FULL cup of coffee before it cools off. That would be ridiculous, right?
2. Soap & Glory Body Butter – This body butter smells amazing, and feels really luxurious. Perfect for making tired hands feel pampered.
3. Frayed Bandana Scarf – I just like the color and fraying on this! It would look really cute for Spring or Summer paired with some denim shorts and a tank.
4. Zip Clutch – This clutch/wallet is so pretty for Spring and Summer!
5. Stackable Rings – I'm love, love, loving simple and stackable rings! These are 3 for $150 or 4 for $199 – or you can also buy them individually.
6. 3-Wick Candle – These 3-wick candles are my favorite because they burn evenly and always smell amazing. This one says it smells like "soothing mineral water, night-blooming water lily, and a dash of lime." YUM!
7. Pink Flowers Bouquet – Because you can never go wrong with a pretty bouquet!
8. Dr. Scholl's Slip-On Sneakers – How cute are these? They just slip on, great for mamas on the go. Plus they're made by Dr. Scholl's so they have to be really comfortable.
9. Magnolia Mug – For the Fixer Upper, coffee loving mom in your life.
10. J Lohr Chardonnay – What mom doesn't want (need) a glass of wine from time to time? This is my favorite chardonnay, and it would be perfect for sipping on a picnic or just sitting on the back deck while the kids are at a babysitters house. ;)