Mom hack: A shopping cart hammock for baby so there's more room in the cart for your groceries and Target "essentials" like coffee…and wine!
This post may contain affiliate links
Grocery shopping is stressful at the best of times. There's a lot to think about. You need to make sure you get everything on your list, there's always one item you can't find, the budget is always lingering in your mind. A lot of people have their own techniques to make their lives a little easier, like using the amex everyday credit card to get the big rewards that AMEX offer, but all of this is made 10 times harder when children are involved.
Before Ruby was born, I shared a roundup of our tried and true baby gear must-haves…and included a few items that I hadn't tried yet but was excited to. You can see the whole roundup [here] and my review of the DockATot [here]. I'm back with another review today – this time of the Binxy Baby shopping cart hammock.
PS: There's a discount code for you at the bottom of this post if you want to purchase one for yourself or a friend!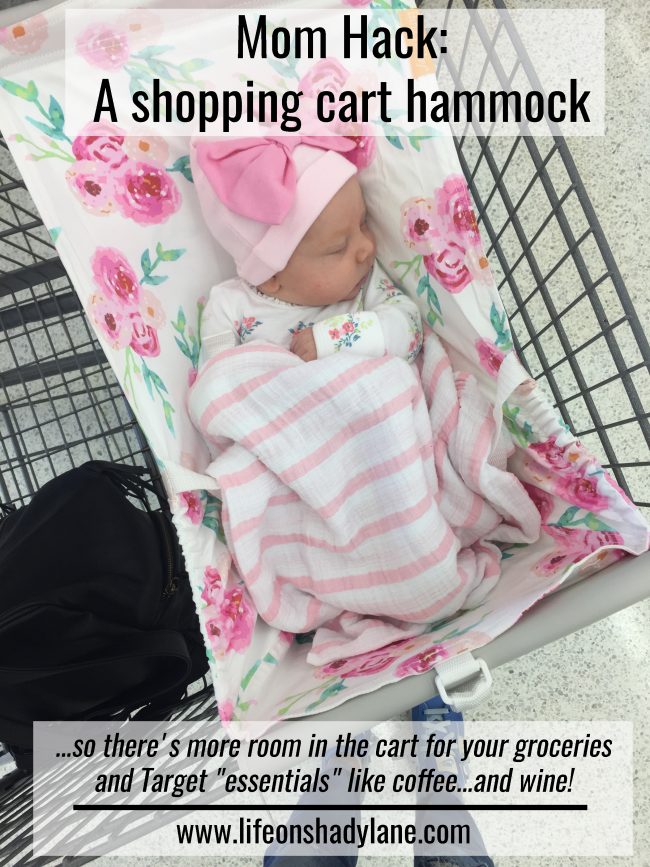 Alright, you guys, I'm gonna be honest: shopping with a toddler and a newborn is equal parts hilarious and ridiculous. Let me tell you a little story.
We went to Target about a week and a half after Ruby was born because I just had to get out of the house and needed to walk around somewhere that wasn't my home. I bought a coffee from the Starbucks inside, and everything was off to a great start. And then the sheer chaos set in: Henry dropped his straw from the water I had just gotten for him, so I took his cup away. Because a toddler and a cup with no straw is a recipe for disaster (or just a soaked outfit). Cue the screaming.
So I did the bad mom thing and gave him back his cup without a straw because picking your battles is KEY with a toddler. And guess what? He spilled the entire thing on himself and was then mad that his outfit was cold and wet. He screamed and cried, tried to escape the cart, ran away from me. It was a mess.
I'm not kidding when I say that only ONE person would make eye contact with me in the store. I can't blame them…I looked like a hot mess.
And on top of it all, I could basically fit five tiny things in the cart, all jammed around Ruby's infant carseat. Whoever invented the carseat sure wasn't thinking about how little room it would leave in a shopping cart. ;)
Enter: Binxy Baby. Talk about a mom win. It fits right into a shopping cart and suspends baby over all of your groceries (or Target "essentials") so you can actually fit things in your cart while you're shopping. Brilliant, right?!
More room for mom essentials like coffee and wine. And chocolate! Plus, they come in the cutest patterns.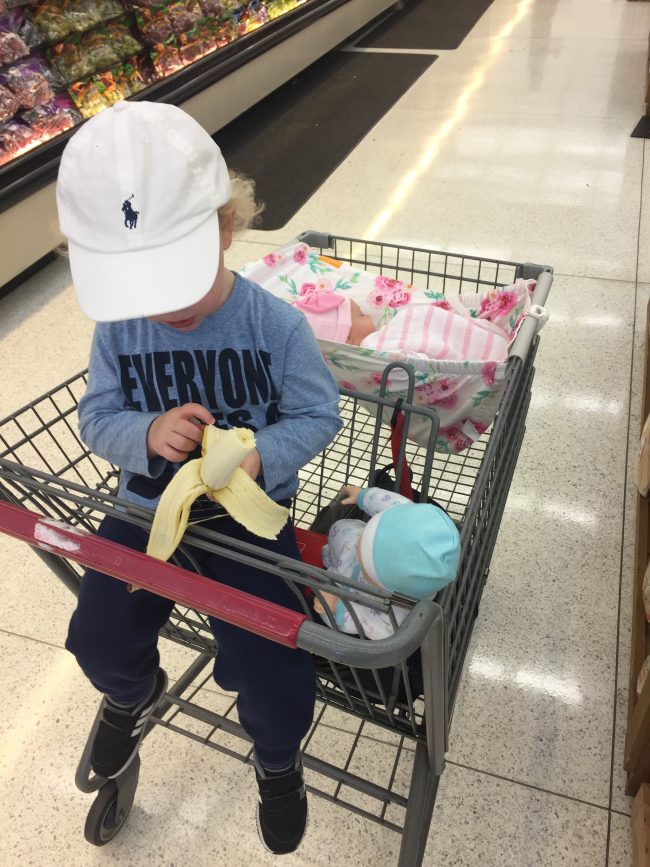 OK now for the actual important stuff. The Binxy Baby is safety tested and can support up to 50 pounds. There's a strap so even squirmy older babies will be safe! PLUS, if you'd rather keep baby bundled up in the car seat, you can carry that into the store and just set it right on top of the Binxy Baby hammock. So there's still room for the things you need!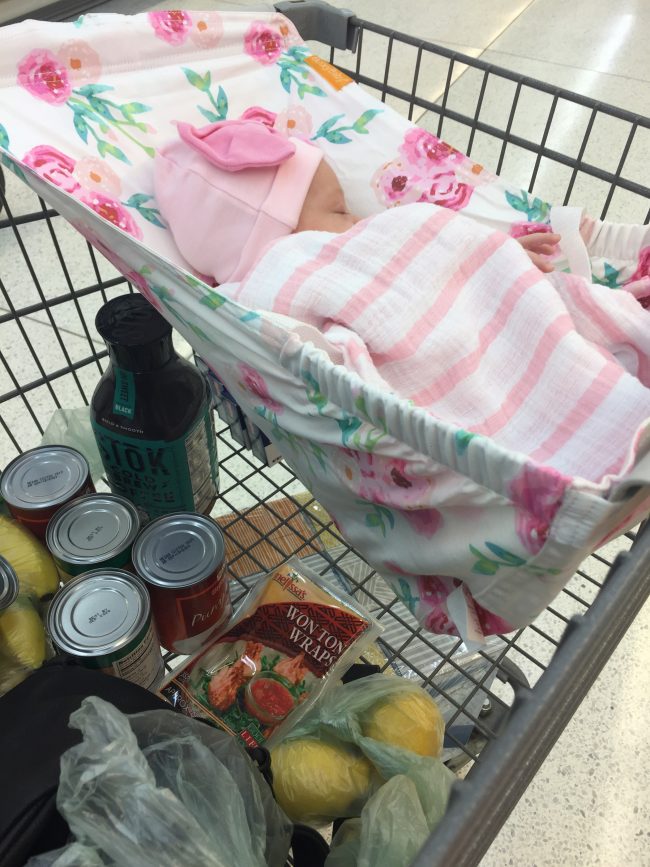 Use this link to get 10% off of a Binxy Baby hammock for yourself or a friend!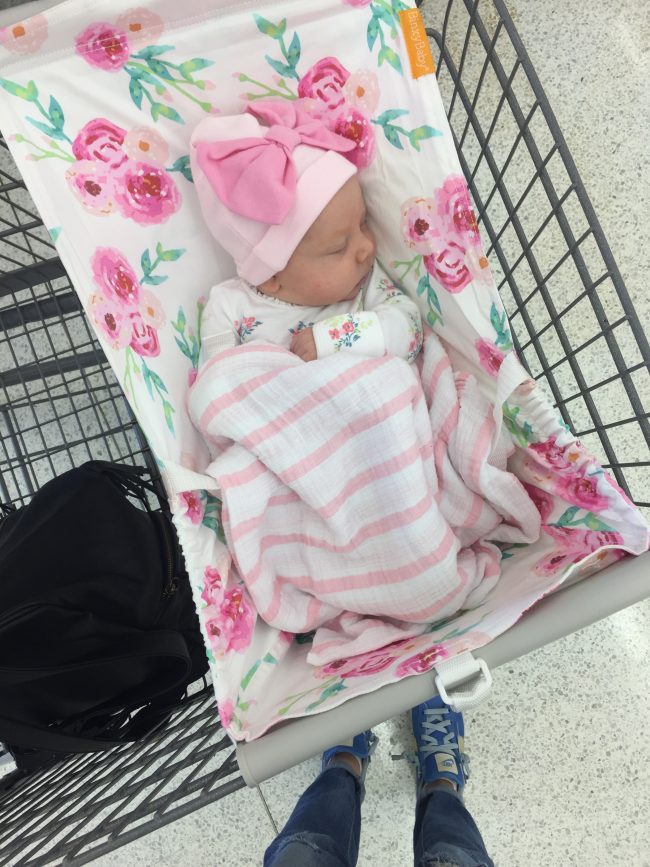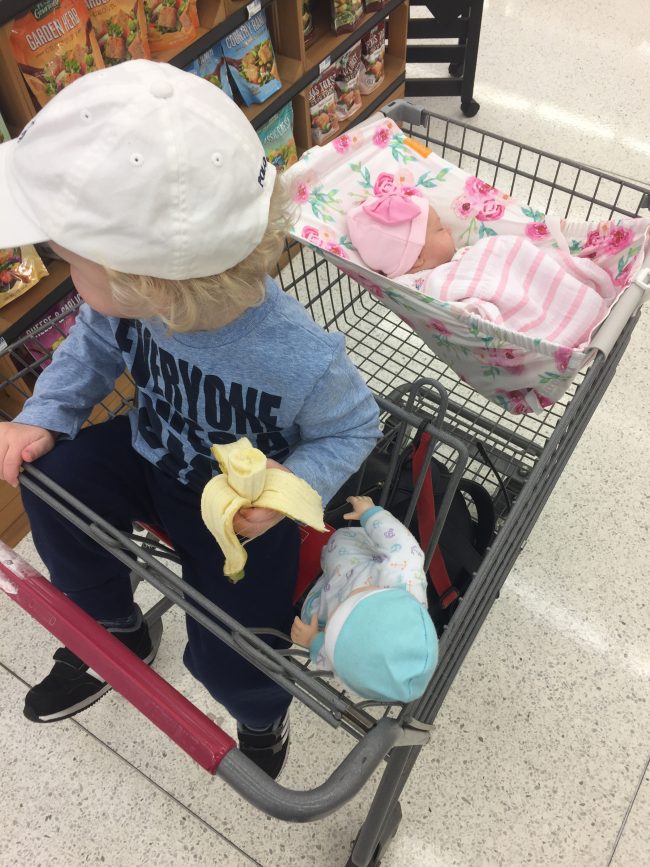 A shopping cart hammock (complete with sleeping newborn) AND those free bananas for kids at the grocery store = a peaceful shopping trip. Can I get an AMEN?!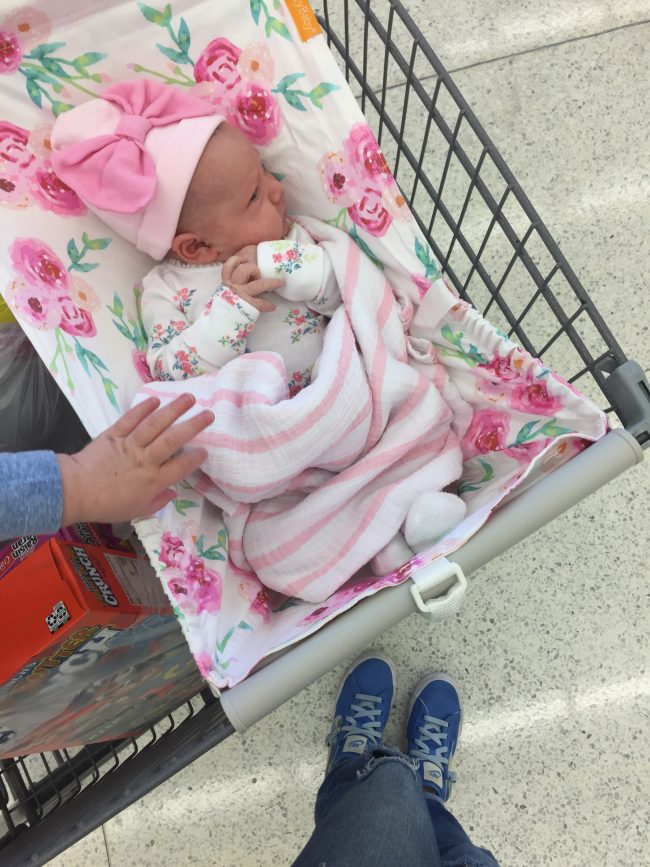 Need a blooper photo? See below! I feel like this picture already shows their loving sibling relationship. ;) Hey – at least everything was peaceful until we were leaving the store!
Use this link to get 10% off of a Binxy Baby hammock for yourself or a friend!
I hope you'll check out some of my other posts while you're here, too!
See my DIY projects and inspiration [here]
Check out a home tour [here]
Check out some fashion posts [here]
I hope you enjoyed this Mom Hack: A shopping cart hammock blog post!