Media consoles and cabinets with storage – options to keep your home looking stylish and organized!
I have been searching for a cabinet for our hallway that we can use to store the kids artwork and school papers in. I found several options I really love, all at different price points!
Right now, we have an old bench in our hall that has somehow become a catch-all space for junk. It looks messy, feels unorganized, and just isn't functional. I really want a cabinet that, like I mentioned, has storage space, but I also want something I can set a lamp on, hang some family photos above, etc. Basically, I just want the spot to be pretty and functional!
Shop media consoles and cabinets for your home below!
This post may contain affiliate links
————–
I hope you'll check out some of my other posts while you're here, too!
See my DIY projects and inspiration [here]
Check out a home tour [here]
I searched several different sites for options at all different price points. There are a lot of cool options out there, and you really don/t have to spend a ton of money if you're not looking for an "investment" piece (ours will be used by the kids so I don't need something super fancy!). I even found affordable options at Target that I loved!
I've rounded up my favorites below. These can all be used as media consoles or just as cabinets for storage!
Links to all of the media consoles and cabinets included below the image for easy shopping!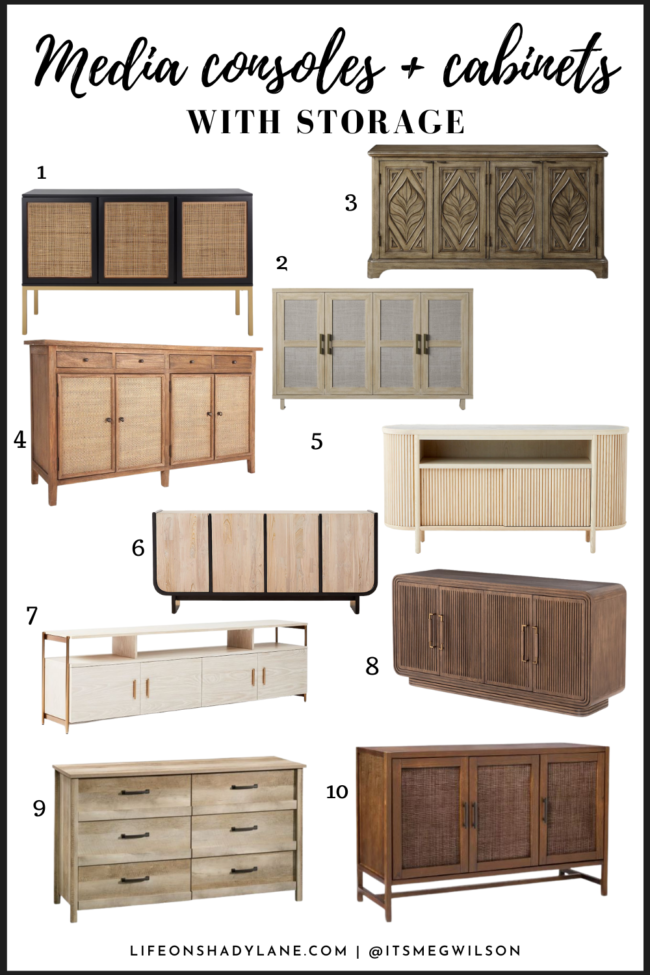 1 | 2 | 3 | 4 | 5 | 6 | 7 | 8 | 9 | 10 
Which one is your favorite?
————–
I hope you'll check out some of my other posts while you're here, too!
See my DIY projects and inspiration [here]
Check out a home tour [here]