A variety of master bedroom nightstands at several different price points so there's something for everyone!
This post may contain affiliate links
It's kind of become a running joke in our house…we don't have nightstands. We haven't had them for about 5 years, since we moved from Las Vegas back to Kansas City. I honestly don't know why…I think it's just that I couldn't make up my mind, to be quite honest. But now that baby #3 is on its way…I'm starting to "nest" and really want a comfy, cozy bedroom. Plus, I want something to set all of that STUFF on when baby comes – a nightlight, pump, water, etc. All the things you inevitably end up needing in those early newborn/nursing days. So – in my hunt for the "perfect" nightstands, I figured I'd round up my favorites and share them here in case you're needing some inspiration, as well!
Next up on my mini master bedroom makeover – a new rug!
You can see what our master bedroom currently looks like here.
————–
I hope you'll check out some of my other posts while you're here, too!
See my DIY projects and inspiration [here]
Check out a home tour [here]
Check out some fashion posts [here]
I have shared links to all of the master bedroom nightstands under the image for easy shopping!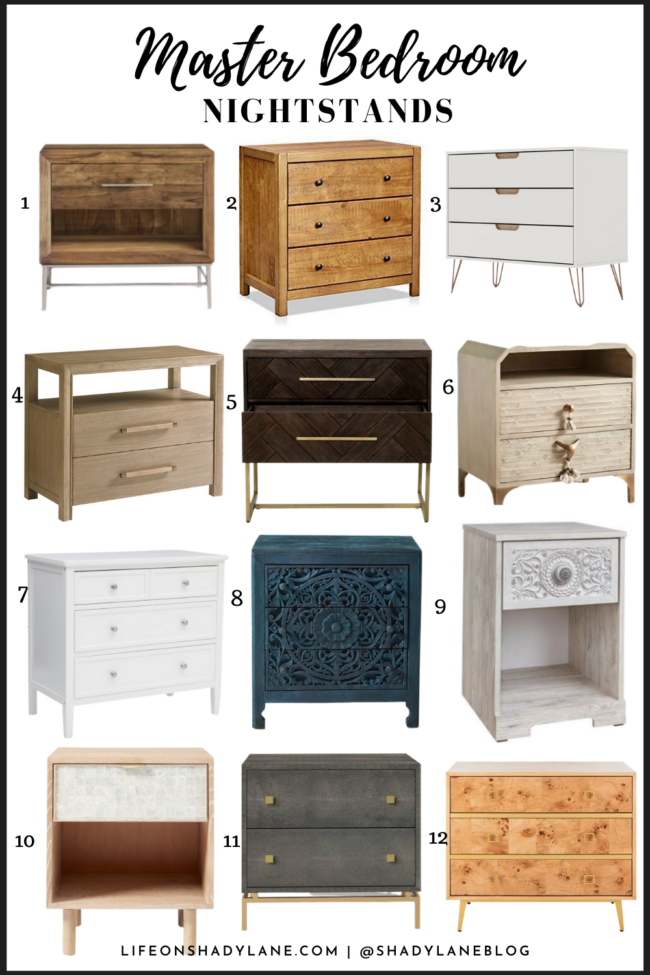 Shop the master bedroom nightstands below
1 | 2 | 3 | 4 | 5 | 6 | 7 | 8 | 9 | 10 | 11 | 12
I think number 12 might be my favorite – which master bedroom nightstand would you choose!?